Music 101 for Saturday 13 September 2014
7:45 PM.Electric Wire Hustle, under the hood of Love Can Prevail, Kanye West in Sydney and J Mascis on meditation. Read more Audio
2-3pm
Electric Wire Hustle - Love Can Prevail
Electric Wire Hustle return this week with Love Can Prevail, the follow-up to their 2009 eponymous debut. EWH's Mara TK and Dave Wright join us in studio to talk through a tasting plate of cuts from their sophomore release.
Listen to a 'Director's Cut' of Love Can Prevail here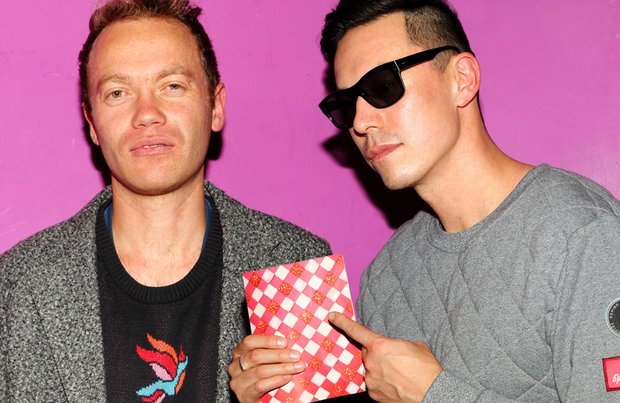 Electric Wire Hustle's Mara TK and Dave Wright / Photo by Chika Takami
Gig review: Kanye West Live in Sydney
"There's only two times in history: before Yeezus, and after," Kanye West told an audience at the Perth Arena last Friday. West is touring Australia this week, playing Sydney's Qantas Credit Union Arena on the weekend. The Wireless's Elle Hunt, a Weezy acolyte, will be at his Friday show - we check in to get her thoughts on West's bombastic stage show.
Slow Magic
We talk with masked electronic producer Slow Magic on the benefits of anonymity and mask hygiene 101.
3-4pm
J Mascis
Dinosaur Jr's frontman J Mascis is a man of few words, but we manage to extract a few about meditation, his guru, and his new solo album Tied to a Star.

J Mascis / Photo by Justin Lapriore
The Sampler: Josef K - The Only Fun in Town
Kiran Dass take a listen to the literate post-punk of Josef K on The Only Fun in Town.
Rhythm Interactive
Starting in a garage in Queenstown a decade ago, Rhythm Interactive's John Boone has performed his immersive, wordless drumming workshop hundreds of times a year to ever growing audiences - culminating in a recent TEDx show to over 2000 people. We talk to John Boone about what he has learned about improvisation, creativity, and the state of flow.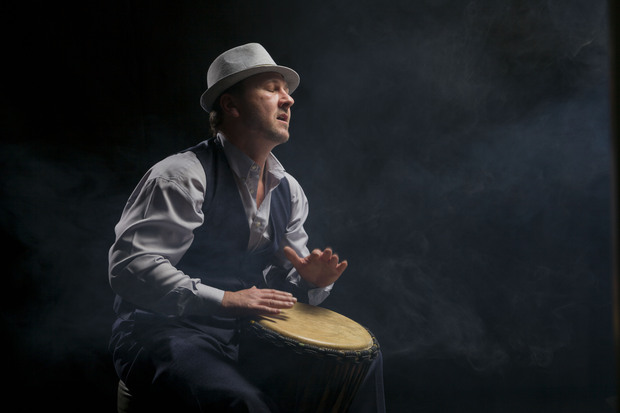 John Boone
Gig Guide
4-5pm
Ruban Nielson's Guide to Portland
Unknown Mortal Orchestra's Ruban Nielson has been based in Portland, Oregon for seven years now, but we'll never stop claiming him as our own. Melody Thomas met up with the UMO frontman for a tour of the city he now calls home, including visits to a steakhouse-cum-stripclub, a famous donut shop, and a store dedicated solely to synthesisers.

UMO's Ruban Nielson and Melody Thomas outside Portland's Mississippi Records / Photo by Simon Love
The Sampler: Roy Montgomery - 324 E 13th St #7 reissue
Kiran Dass reviews the reverb-drenched melancholy of Roy Montgomery's 324. E. 13th Street #7.
Music played in this show
2-3pm
Artist: Myele Manzanza
Song: Delay
Composer: Manzanza,Wright
Album: One
Label: Every
Interview: Electric Wire Hustle - Love Can Prevail
Artist: Electric Wire Hustle
Song: By & Bye, If These Are the Last Days, Light Goes a Long Way, Loveless, Numbers and Steel
Composer: Mara TK/D.Wright
Album: Love Can Prevail
Label: Okayplayer/somethinksounds
Artist: Jungle
Song: Drops
Composer: Lloyd-Watson / McFarland
Album: Jungle
Label: XL
Artist: Primal Scream
Song: Slip Inside This House
Composer: Gillespie/Innes/Young
Album: Screamadelica
Label: Sony
Kanye West Sydney Show Review
Artist: Kanye West
Song: Blood on the Leaves
Composer: West/ Birchard/ Rutberg/ Jones/ Tony Williams/ Young Dean/ Lewis Allen
Album: Yeezus
Label: Def Jam
Artist: SBTRKT
Song: Higher feat. Raury
Composer: Aaron Jerome/Raury
Album: Wonder Where We Land
Label: Young Turks
Interview: Slow Magic
Artist: Slow Magic
Song:Youth Group, Waited For You, Girls
Composer: Slow Magic
Album: How To Run Away
Label: Downtown
Artist: Kodak To Graph
Song: IAMANTHEM
Composer: Maleki
Album: unreleased
Label: Bad Panda Records
3-4pm
Artist: The Cure
Song: Hello Goodbye
Composer: McCartney
Album: The Art of McCartney
Label: Arctic Poppy
Artist: Dinosaur Jr
Song: Just Like Heaven
Composer: R Smith
Album: You're Living All Over Me
Label: Shiny
Interview: J Mascis - Tied To A Star
Artist: J Mascis
Songs: Wide Awake, Drifter, Heal The Star
Composer: Mascis
Album: Tied To A Star
Label: Sub Pop
Artist: Soda Estereo
Song: De Musica Ligera
Composer: Cerati
Album: Cancion Animal
Label: Sony
The Sampler: Josef K, The Only Fun in Town
Artist: Josef K
Songs: Applebush , Romance, Sorry for Laughing, Chance Meeting
Composer: Josef K
Album: The Only Fun in Town
Label: Les Disques Du Crépuscule
Artist: The Drums
Song: Magic Mountain
Composer: Pierce/Graham
Album: Encyclopedia
Label: Pod
Interview: Rhythm Interactive
Introducing: Groeni
Artist; Groeni
Song: Rearing
Composer: Green, Isaacs
Album: Groeni EP
Label: Self-Released
Gig Guide Bed
Artist: The Black Keys
Song: The Year In Review
Composer: Auerbach/Carney/Burton
Album: Turn Blue
Label: Nonesuch
Artist: Julien Dyne
Song: Limes
Composer: Dyne
Album: December
Label: BBE
Ruban Nielson's Guide To Portland
Artist: Unknown Mortal Orchestra
Song: From the Sun, Swim and Sleep (Like a Shark), So Good At Being in Trouble
Composer: Ruban Nielson
Album: II
Label: Jagjaguwar
Artist: Unknown Mortal Orchestra
Song: Thought Ballune, Ffunny Ffrends, Rebuild the Theatres, How Can You Luv Me
Composer: Ruban Nielson
Album: Unknown Mortal Orchestra
Artist: Dead Moon  
Song: Graveyard
Composer: Fred Cole
Album: In The Graveyard
Label: M'Lady 
Artist:  Karen O
Song: Day Go By
Composer: Karen O
Album: Crush Songs
Label: Cult Records
The Sampler: Roy Montgomery, 324. E. 13th Street #7
Artist: The Shallows
Songs: Suzanne Said, Trial By Separation
Composer: R. Montgomery/M. Heney/M.S. Argo
Album: 324. E. 13th Street #7
Label: Yellow Electric
Artist: Roy Montgomery
Songs: Submerged and Colourful, German Sister, Long Night,
Composer: R. Montgomery

Album: 324. E. 13th Street #7
Label: Yellow Electric
Artist: Pin Group
Song: Ambivalence
Composer: Brice/Pin Group
Album: Ambivalence
Label: Flying Nun
Artist: Ariel Pink
Song: Put Your Number In My Phone
Composer: Rosenberg
Album: Pom Pom
Label: 4AD
Artist: Kraus
Song: A Cat And A Gentleman
Composer: P Kraus
Album: Interior Castle
Label: Self-Released