Music 101 for Saturday 6 September 2014
7:30 PM.Sharon Jones meets local soul sister Tyra Hammond, RIP New Zealand rock 'n' roll pioneer Johnny Cooper and why New York wasn't working for Mulholland. Read more Audio
2-3pm
Sharon Jones In Conversation with Tyra Hammond
Soul survivor Sharon Jones returns to the country this week with her go-to funk'n'soul outfit The Dap-Kings, a band that's backed up artists as diverse as Amy Winehouse, Muse and Michael Bublé. We get our very own Queen of Funk, Tyra Hammond, in conversation with the Queen of Funk ahead of The Dap-Kings' Auckland show.

Sharon Jones and Tyra Hammond - photo by Dru Faulkner
The Sampler: The Bug, Angels And Devils
Reviewer Scott Kara takes a listen to the menacing, apocalyptic sounds on Angels And Devils, the latest album from London electronic producer The Bug.
3-4pm
Johnny Cooper
We pay tribute to 'The Māori Cowboy' Johnny Cooper, who recorded New Zealand's first rock 'n' roll record.
Mulholland
Jol Mulholland, the eldest of the Mulholland brothers, is following up his solo debut, Eugene Told Me You Were Dead, with a new album, Stop & Start Again. The record finds the prolific producer and session man at home in his favourite recording environment, The Lab in Mount Eden, Auckland. Nick Atkinson investigates.

Jol Mulholland / Photo by Tony Nyberg
The Sampler: Robert Plant, Lullaby and... The Ceaseless Roar
Former Led Zeppelin singer pushes the boundaries of bluegrass, as well as dabbling in desert blues, on his latest album Lullaby and... The Ceaseless Roar - Scott Kara takes a listen.
Gig Guide
4-5pm
Herriot Row Album Diary
In late June 2014, Auckland based singer-songwriter Simon Comber flew to San Francisco to record the debut Herriot Row album at Tiny Telephone Studios with John Vanderslice, renowned producer for artists such as The Mountain Goats, Spoon and Samantha Crain.
Comber's album diary follows him through the process of making a LP in what Vanderslice describes as his "functioning museum", a studio full of archaic synths and tape machines that went out of production decades ago.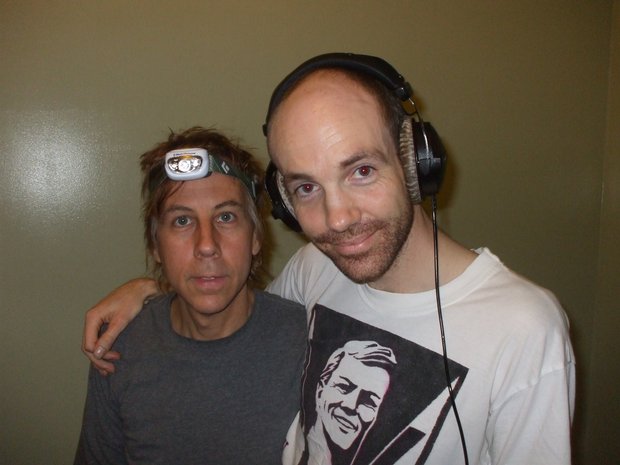 John Vanderslice and Simon Comber / Photo by Laurence Wasser
Kerretta - Pirohia
Local band Kerretta talk about avoiding post-rock cliches, and the handclaps, Māori chant and marimba on their new album Pirohia.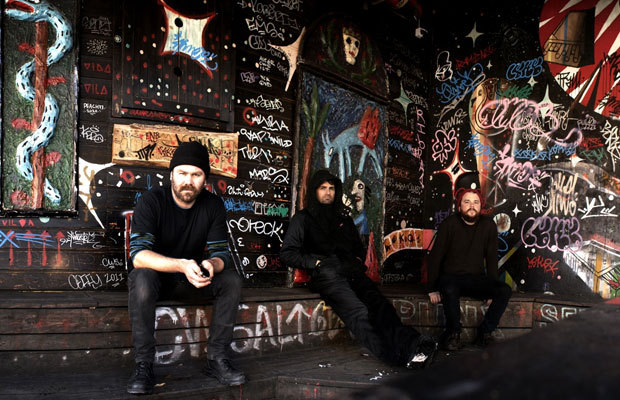 Kerretta L-R - Hamish Walker, Will Waters, and Dave Holmes
Music played in this show
2-3pm
Artist: Menahan Street Band
Song: The Contender
Composer: Menahan Street Band
Album: Make The Road By Walking
Label: Daptone
Sharon Jones and Tyra Hammond in Conversation
Artist: Sharon Jones and the Dap-Kings
Song: Damn It's Hot (Part 1)
Composer: G.Roth
Album: Damn It's Hot (Part 1)
Label: Desco
Artist: Sharon Jones and the Dap-Kings
Song: Genuine Pt. 2
Composer: G.Roth
Album: Soul Time!
Label: Daptone Records
Artist: Sharon Jones and the Dap-Kings
Song: Now I See, Get Up and Get Out
Composer: H.Steinweiss
Album: Give the People What They Want
Label: Daptone Records
Artist: Sharon Jones and the Dap-Kings
Song: Retreat!, People Don't Get What They Deserve
Composer: G.Roth
Album: Give the People What They Want
Label: Daptone Records
Artist: Sharon Jones and the Dap-Kings
Song: 100 Days, 100 Nights
Composer: Mann
Album: 100 Days, 100 Nights
Label: Daptone Records
Artist: Sharon Jones and the Dap-Kings
Song: You'll Be Lonely
Composer: C.Gastelum
Album: 100 Days, 100 Nights
Label: Daptone Records
Artist: Sharon Jones and the Dap-Kings
Song: The Dap Dip
Composer: Mann
Album: Dap Dippin With Sharon Jones and the Dap-Kings
Label: Daptone Records
Artist: Tyra Hammond
Song: Break The Chains
Composer: Hammond
Album:Break The Chains EP
Label: From The Crate
Artist: Flying Lotus
Song: Never Catch Me feat. Kendrick Lamar
Composer: Ellison/Lamar
Album: You're Dead
Label: Brainfeeder
Artist: Aphex Twin
Song: minipops 67 [120.2][source field mix]
Composer: R D James
Album: Syro
Label: Warp

Introducing: Civilian Sol
Artist: Civilian Sol
Song: Blinded These Days, featuring Fiona McMartin
Composer: Fairley/McMartin
Album: When Tomorrow Comes
Label: Gravitas Recordings
Artist: Louis Baker
Song: Just Want To Thank You
Composer: Baker, Rakei
Album: Just Want to Thank You
Label: Aston Rd
The Sampler: The Bug, Angels And Devils
Artist: The Bug
Songs: Void, The One, Pandi, Fall, Mi Lost, Function, Fat Mac, Dirty
Composer: Martin
Album: Angels and Devils
Label: Ninja Tune
3-4pm
Tribute to Johnny Cooper
Track: Chew Tobacco Rag
Artist: Johnny Cooper and the Range Riders
Composer: Briggs
Album: Ridin Along with Johnny Cooper and the Range Riders
Catalogue Number: Sonic SON 011
Track: 'Look What You've Done'
Artist: Johnny Cooper
Composer: Johnny Cooper
78rpm disc: HMV HR61
Track: One By One
Artist: Johnny Cooper, Margaret Francis and the Range Riders
Composer: Wright
Album: Kiwi Nostalgia Hits of the 50s
Catalogue Number: BMG 139283
Track: Rock Around the Clock
Artist: Johnny Cooper
Album: Waiata: Maori Showbands, Balladeers & Pop Stars
Composer: DeKnight-Freedman
Label: EMI 50999 6802952
Track: Pie Cart Rock'n'Roll
Artist: Johnny Cooper
Album: Pie Cart Rock'n'Roll
Composer: Johnny Cooper
Label: Zerox DZERO2
Track: 'Look What You've Done' (live)
Artist: Johnny Cooper
Album: Nga Matua: When the Haka Became Boogie's Greatest Bits
Composer: Johnny Cooper
Label: Tangata TANGCD507
Artist: Tama Waipara
Song: Sunshine on the Water
Composer: WAIPARA/WAITITI
Album: Fill Up The Silence
Label: Tama
Mulholland - Stop and Start Again Interview
Artist: Mulholland
Song: Cry If You Want Too, Sleep Forever, Before It All Falls Apart
Composer: Jolyon Mulholland
Album: Stop and Start Again
Label: Private
Artist: Perfume Genius
Song: Queen
Composer: Mike Hadreas
Album: Bright
Label: Matador
Artist: TV On The Radio
Song: Happy Idiot
Composer: TV On The Radio
Album: Seeds
Label: Harvest Records
The Sampler: Robert Plant - Lullaby … and the Ceaseless Roar
Artist: Robert Plant
Songs: Rainbow, Little Maggie, A Stolen Kiss, Turn It Up, Pocketful of Golden
Composer: Plant
Album: Lullaby … and the Ceaseless Roar
Label: Nonesuch
Artist: The Ghost of a Sabertooth Tiger
Song: Xanadu
Composer: S Lennon/C Kemp Muhl
Album: The Ghost of a Sabertooth Tiger
Label: Chimera
Artist: Blonde Redhead
Song: No More Honey
Composer: K Makino, A Pace, S Pace
Album: Barragán
Label: 4AD
Artist: Lttle Phnx
Song: Ethiopian Opal
Composer: Lucy Beeler
Album: Pyrexia
Label: Crystal Magic
Gig Guide
4-5pm
Artist: John Vanderslice
Song: How The West Was Won
Composer: Vanderslice
Album: Dagger Beach
Label: Tiny Telephone
Herriot Row-  Recording Diary
Artist: Lil Wayne
Song: Dr. Carter
Composer: Dwayne Carter, Kaseem Dean
Album: Tha Carter III
Label: Universal Motown

Artist: Herriot Row
Song: Learning Not To Talk / Song For A Shadow / Neon Lights / The Beggar / Farewell Spit / Out Of The Ordinary / Beautiful And Harmless
Composer: Simon Comber
Album: Unreleased and untitled
Label: Unreleased
Artist: Tortoise
Song: Glass Museum
Composer: Tortoise
Album: Millions Now Living Will Never Die
Label: Thrill Jockey
Artist: Kerretta
Songs: Sister, Come Home, Kawea Tātou Ki Ngā Hiwi, Iron Hail, His Streets Of Honey, Her Mouth Of Gold
Composer: Walker/Holmes/Waters
Album: Pirohia
Label: Golden Antenna Records
Artist: Earth
Song: Primitive and Deadly
Composer: Carlson
Album: Torn By The Fox Of The Crescent Moon
Label: Southern Lord Records