Music 101 for Saturday 20 September 2014
6:00 PM.Tributes to Peter Gutteridge, Fishrider's Temporary compilation, M'Lady's Records, and Courtney Barnett in session. Read more Audio
2-3pm
Peter Gutteridge
Dunedin musician Peter Gutteridge - a founding member of The Chills, The Clean and The Great Unwashed, and the founder and frontman of Snapper - passed away on Monday, only a couple of weeks after he played his first-ever U.S. shows. Music 101 pays tribute to one of New Zealand's great sonic architects.

Peter Gutteridge playing Auckland's Kings Arms with Snapper in 2013 / Photo by Nigel Moore
Fishrider Records - Temporary
Over the last five years Fishrider records has emerged as one of the most interesting new labels in NZ, releasing the psychedelic pop of bands such as Opposite Sex, Males, and Trick Mammoth. Martyn Pepperell heads to Dunedin to meet label head Ian Henderson, and to find out more about Fishrider's new compilation, Temporary.
3-4pm
2014 APRA Silver Scroll Award Finalists
We check out the top five songs in the running for the 2014 APRA Silver Scroll Award.
Listen to the finalists via Spotify here
Courtney Barnett
Slacker in sound, philosophical in content, Courtney Barnett has transitioned from Australian musician to major international artist with incredible speed. In the process, she has put a spotlight on the Melbourne band scene she developed in, through her own record label, Milk Records. She plays us a few songs and tells us about where her music comes from.
Courtney Barnett - 'History Eraser' live at Radio New Zealand from Radio New Zealand on Vimeo.
The Sampler: Wildest Dreams, Wildest Dreams
Jim Pinckney reviews the slinky psychedelia of Wildest Dreams, the new project of U.K. stalwart DJ Harvey, who has jumped from punk, to disco, to techno throughout his career.

DJ Harvey - Wildest Dreams 
Fiona Campbell
Melody Thomas heads to the Portland headquarters of independent radical feminist label M'lady's Records and meets with Kiwi co-owner and ex-Coolies drummer Fiona Campbell.
Fiona Campbell at M'lady's Records / Photo by Melody Thomas
4-5pm
Who Polices the Noise Police?
The demographic of New Zealand cities has shifted dramatically in the last 10 years with apartments popping up on seemingly every inner city corner in Auckland and Wellington. The Phoenix Foundation's Samuel Scott explores how this change has affected the live music scene. How does noise affect your sleep and wellbeing? Who judges how loud something has to be before it's too loud? And who polices the noise police? Scott takes a late night cruise with his local noise officer, meets heavy metal gods at the Wellington City Council and talks to venue owners and promoters to find out what all this noise is really about.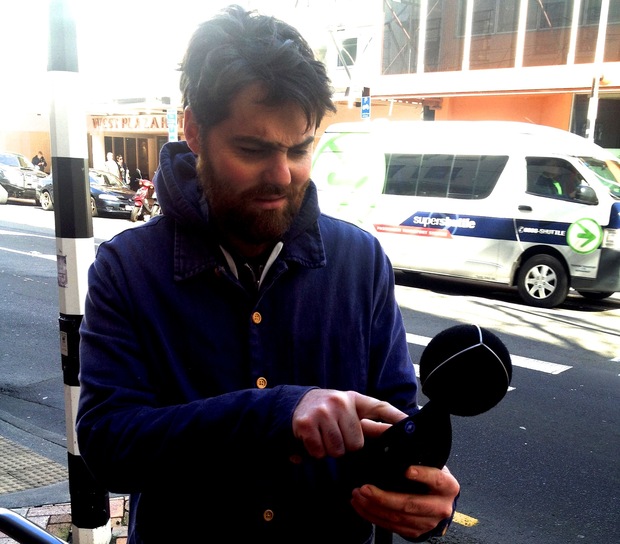 Samuel Scott policing the noise police / Photo by Clayton Anderson
Bulletbelt
Black metal horde Bulletbelt are set to release Rise of the Banshee this week, their new album that features the Wellington-based band's new vocalist Joelene Tempest. Craig Hayes sits down with Bulletbelt on the eve of their latest nationwide tour to talk about the more expansive sound on the record, the importance of touring outside of New Zealand's main centres, and what drives the band.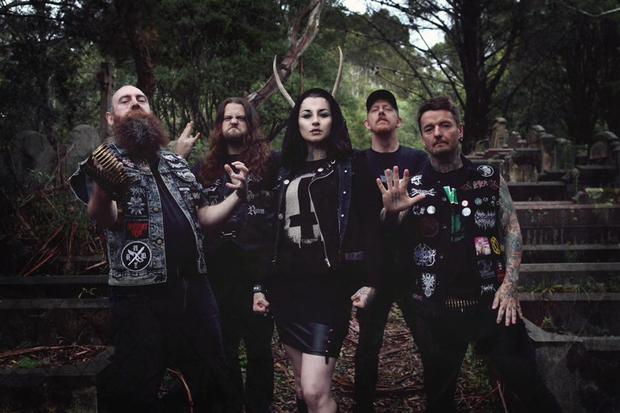 Bulletbelt / Photo by Paradox Photography
The Sampler: Brian Reitzell - Auto Music
Composer and music supervisor Brian Reitzell is best known for his work on film soundtracks The Virgin Suicides and Lost In Translation. He's just released a solo set of Krautrock influenced instrumental songs - Jim Pinckney takes a listen.
Music played in this show
2-3pm
Artist:The Clean
Song: Point That Thing Somewhere Else
Composer:Gutteridge, Kilgour, Kilgour
Album: Boodle, Boodle, Boodle
Label: Flying Nun
Peter Gutteride Tribute
Artist: Snapper
Song: Dry spot
Composer: Gutteridge/Snapper
Album: Shotgun Blossom
Label:Flying Nun

Artist:Peter Gutteridge
Song: Universe of Love
Composer: Peter Gutteridge
Album: Arc Music Dunedin
Label: Arc Life

Artist: Peter Gutteridge
Song: Hang On
Composer: Peter Gutteridge
Album: Pure
Label: Xpressway

Artist: Peter Gutteridge
Song: Planet Phrom
Composer: Peter Gutteridge
Album: Pure
Label: Xpressway

Artist:Peter Gutteridge
Song: Cause of You
Composer:Peter Gutteridge
Album: Pure
Label:Xpressway

Artist: The Puddle
Song: Magic Words
Composer: Henderson
Album: In The Moon
Label: Flying Nun

Artist:Peter Gutteridge
Song:Ocean
Composer:Peter Gutteridge
Album:Pure
Label:Xpressway
Artist: Snapper
Song: Buddy
Composer: P Gutteridge, Snapper.
Album: Snapper EP
Label: Flying Nun
Fishrider TEMPORARY launch
Artist: Bad Sav
Song: Buy Something New
Composer: Bad Sav
Album: T E M P O R A R Y
Label: Fishrider

Artist: Opposite Sex
Song: Supermarket
Composer: Supermarket
Album: T E M P O R A R Y
Label: Fishrider

Artist: Kane Strang
Song: Winded
Composer: Strang
Album: T E M P O R A R Y
Label: Fishrider

Artist: Mavis Gary
Song: Home Video
Composer: Ng
Album: T E M P O R A R Y
Label: Fishrider

Artist: Death and The Maiden
Song: Flowers for the Blind
Composer: Death and the Maiden
Album: T E M P O R A R Y
Label: Fishrider

Artist: Shifting Sands
Song: All the Stars
Composer: Shifting Sands
Album: T E M P O R A R Y
Label: Fishrider

Artist: Prophet Hens
Song: All Over The World
Composer: Prophet Hens
Album: T E M P O R A R Y
Label: Fishrider
Introducing: The Violet-Ohs
Artist: The Violet Ohs
Song: Vent
Composer: Nicholls/ Blackie / Nicholls/ Tipa
Album: Demos EP
Label: Self Released
Artist: Goats
Song: Words
Composer:Boats
Album: Commune
Label: Subpop
Artist :Electric Phin Band
Song: Lai Sing
Composer: Electric Phin Band
Album: Khun Narin
Label: Innovative Leisure Records
3-4pm
APRA 2014 Silver Scroll Finalists
Artist: Louis Baker.
Song: Back on My Feet
Composer: Baker
Album: Louis Baker EP
Label: Self-Released

Artist: Tiny Ruins
Song: Me at the Museum, You in the Winter Garden
Composer: Fullbrook, Freer, Mitchell
Album: Brightly Painted One
Label: Spunk

Artist: Tami Neilson
Song: Walk (Back To Your Arms)
Composer: T Neilson/ J Neilson
Album: Dynamite
Label: Neilson

Artist: The Phoenix Foundation
Song: Bob Lennon John Dylan
Composer: Sam Scott, Luke Buda, Conrad Wedde, Will Ricketts, Tom Callwood and Chris O'Connor
Album: Tom's Lunch
Label: Universal

Artist: Broods
Song: Bridges
Composer: Georgia Nott, Caleb Nott, Joel Little
Album: Broods EP
Label: Island
Courtney Barnett Session
Artist: Courtney Barnett
Song: Avant Gardener
Composer: Courtney Barnett
Album: RNZ Recording
Label: RNZN

Artist: Courtney Barnett
Song: Depreston
Composer: Courtney Barnett
Album: RNZ Recording
Label: RNZN
Artist: Tame Impala
Song:Mind Mischeif
Composer:Kevin Parker
Album:Lonerism
Label:Modular
The Sampler: Wildest Dreams
Artist: Wildest Dreams
Songs: Rollerskates, Gypsy Eyes, Last Ride, 405, Scorpion Bay
Composer: H Bassett
Album: Wildest Dreams
Label: : Smalltown Supersound
Artist: The Golden Awesome
Song:Astronomy
Composer: Golden Awesome
Album:Autumn
Label:M'Lady's
Fiona Campbell/M'lady's Records
Artist: Reynosa
Song: Carinito
Composer: Reynosa
Album: Carinito/Cabarellas
Label: M'lady's

Artist: Coasting
Song: Kids, Portland
Composer: Coasting
Album: You're Never Going Back
Label:M'lady's

Artist: The Coolies
Song: Holiday/Vacation
Composer: The Coolies
Album: Bless the babies and the Mothers
Label: Self released

Artist: Dead Moon
Song: Graveyard, Out On a Wire
Composer: F. Cole
Album: In the Graveyard
Label: M'Lady's
Artist: Dark
Song: Darkside
Composer: Dark
Album: Dark Round the Edges
Label: Machu Pichu
Gig Guide Music Bed
Artist: Mariah Carey
Song: Dream lover
Composer: Carey, Hall
Album: Greatest Hits
Label: Columbia

Artist:Shlohmo
Song: Places
Composer: Shlohmo
Album: Places 7"
Label: Friends of Friends

Artist: Kraus
Song: Cardigan in Cashmere
Composer: Pat Kraus
Album: Interior Castle
Label: Private
4-5pm
Who Polices the Noise Police?
Artist: Beastwars
Song: Daggers
Composer: C.Anderson, N.Hickey, M.Hyde, J.Woods
Album: Beastwars
Label: Destroy

Artist: Bill Sevesi
Song: Steel Guitar Haunt
Composer: B.Sevesi
Album: 25 Hawaiian Favourites
Label: Ode

Artist: Inner Circle
Song: Bad Boys
Composer: I.Lewis
Album: Bad Boys
Label: Big Beat

Artist: Blur
Song: Death Of A Party
Composer: D.Albarn
Album: Blur
Label: Food Records

Artist: The Cosby's
Song: How'm I Gonna Lose You This Christmas
Composer: M.Crawley
Album: How'm I Gonna Lose You This Christmas
Label: Self released

Artist: The Maori Volcanics
Song: Tokyo Twilight
Composer: B.Peters
Album: Maori Volcanics Showband 1967–2002
Label: Rajon

Artist: Bongmaster
Song: Ground My Ego
Composer: D.Tamaira, C.Faiumu, I.Gordon
Album: Loop Select 003
Label: Loop

Artist: The Upbeats
Song: Macabre 
Composer: J.Glenn, D.Jones
Album: Big Skeleton
Label: Non Vogue

Artist: The Beastie Boys
Song: (You Gotta) Fight for Your Right (to Party!)
Composer: A.Horovitz, M.Diamond, A.Yauch, R.Rubin, T.Cushman
Album: Licensed to Ill
Label: Def Jam
Artist:Bailterspace
Song: Splat
Composer: Halvorsen, McLachlan, Parker
Album: Splat
Label: Flying Nun
Interview: Bulletbelt
Artist: Bulletbelt
Song: Sniper, Minnie Dean, Deathgasm, Black Banshee, Tarawera
Composer: Bulletbelt
Album: Rise of the Banshee
Label: Headless Horseman
Artist: Air
Song: Dead Bodies
Composer: Air
Album: Virgin Suicides
Label: Source
The Sampler: Brian Reitzell
Artist: Brian Reitzell
Songs: Last Summer, Ozu, Ozu Choral,Auto Music 1, Auto Music 2
Album: Auto Music
Label: : Smalltown Supersound