Music 101 for Saturday 23 August 2014
7:30 PM.Trinity Roots break the song drought, Yumi Zouma take on the world, synths and alter egos with Little Bark and the story of OMC's How Bizarre. Read more Audio
2-3pm
Trinity Roots - Haiku
Much loved Wellington band Trinity Roots are back with their first new recording in a decade. We speak to songwriter Warren Maxwell about Haiku.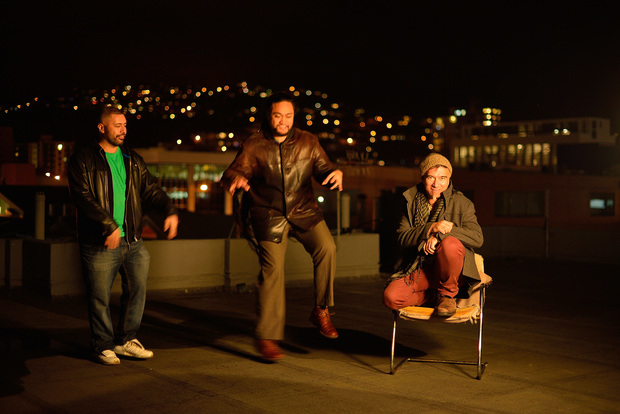 Trinity Roots - Rio Hunuki-Hemopo (Bass/vocals), Ben Wood(Drums/vocals) and Warren Maxwell (Lead vocals/guitars/keys)
Broods - Evergreen
We cross-examine Broods, the Nelson-born brother and sister duo of Georgia and Caleb Nott, amidst a busy release schedule that sees them drop their Joel Little-produced debut album Evergreen one continent at a time.

Broods
Yumi Zouma
With members spread across three continents, Yumi Zouma have to try harder than most to find time to rehearse. We check in with Yumi Zouma, at home for a rare New Zealand tour.
3-4pm
OMC
OMC's How Bizarre, co-written by the late Pauly Fuemana and producer Alan Jansson, topped the New Zealand charts, then repeated this success in Australia, Ireland, South Africa and Austria, as well as making the Top 10 in eight other countries.
The story of OMC has been made into a documentary, directed by Stuart Page which gets its first screening on Māori Television on Monday (25 August). Trevor Reekie talks with Page, producer and co-songwriter Alan Jansson and Simon Grigg from huh! Records about OMC's global success.
Hanson
We talk with Isaac Hanson about keeping his band of brothers together for twenty years and turning their love of craft beer into a brew of their own- Mmmhops.
Little Bark
By day Sophie Burbery is a mild mannered synthesiser enthusiast; by night she is Little Bark, otherworldly purveyor of electronic pop. Matthew Crawley speaks with Burbery about the forthcoming Little Bark album USB, her synth collection, and her love of all things Phil Collins.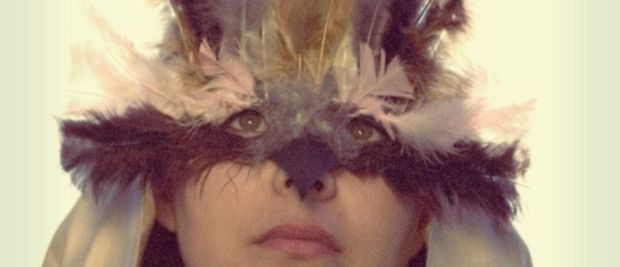 Little Bark
4-5pm
Tiny Ruins Live at the Crystal Palace
When Tiny Ruins' Hollie Fullbrook and band performed songs from her critically acclaimed album Brightly Painted One at the Crystal Palace, a disused movie theatre on Mt Eden Road in Auckland, demand for tickets saw a queue line up around the block. Radio New Zealand engineer Andre Upston was on deck to capture the performance, ensuring Music 101 listeners a front row seat.
The Sampler: Miril Wagner, When the Cellar Children See the Light of Day
Born in Ethiopia, and raised in Finland, Miril Wagner's lyrics and cadence are chilling, with bare bones accompaniment. Nick Bollinger takes a listen to Wagner's first album for Sub Pop.

Mirel Wagner, photo courtesy of Sub Pop
Music played in this show
Artist: Eru Dangerspiel
Song: Hikoi Teaki
Composer: Turner-Gooch,Gooch
Album: Great News For Modern Man
Label: Eru
Trinity Roots - Warren Maxwell Interview
Artist: Trinity Roots
Song: Haiku
Composer: W Maxwell
Album: Single
Label: Self-released
Broods Interview
Artist: Broods
Song: Never Gonna Change, Bridges, Everytime, Four Walls, Superstar
Composer: Georgia Nott, Caleb Nott, Joel Little
Album: Evergreen
Label: Island
Artist: Zen Mantra
Song: Fossils
Composer: Perry
Album: How Many Padmes Hum
Label: Muzai
Yumi Zouma Interview
Artist: Yumi Zouma
Song: The Brae, Salka Gets Her Hopes Up
Composer: Yumi Zouma
Album: Yumi Zouma EP
Label: Cascine
Artist: Yumi Zouma
Song: It Feels Good To Be Around You
Composer: Air France
Album:
Label:
Artist: Juniore
Song: Dans le noir
Composer: Anna Jean
Album: Single
Label: Enterprise Records
Introducing: Open
Artist: Open
Songs: War Criminal
Composer: Open
Album: Chasing Returns
Label: Private
3-4pm
OMC- Stuart Page Documentary Interview
Artist: Otara Millionaires Club
Song: We Are the OMC
Comp: Pauly Fuemana / Phillip Fuemana / H Lotto / Paul Ave
Album: Proud-An Urban Pacific Streetsoul compilation
Label: Second Nature/Volition/Sony

Artist: Sisters Underground
Song: In The Neighbourhood
Comp: Hasara / Brenda / Jansson / Baker
Album: Proud-An Urban Pacific Streetsoul compilation
Label: Second Nature/Volition/Sony

Artist: Otara Millionaires Club
Song: We Are the OMC (Depth Charge remix)
Comp: Pauly Fuemana / Alan Jansson
Album: We Are the OMC single
Label: Second Nature/Volition/Sony

Artist: OMC
Song: How Bizarre (live)
Comp: Pauly Fuemana / Alan Jansson
Album: I Love L.A single
Label: Huh Records – distributed by Universal

Artist: OMC
Song: How Bizarre (instrumental)
Comp: Pauly Fuemana / Alan Jansson
Album: How Bizarre single
Label: Huh Records – distributed by Universal

Artist: OMC
Song: How Bizarre
Comp: Pauly Fuemana / Alan Jansson
Album: How Bizarre
Label: Huh Records – distributed by Universal

Artist: OMC
Song: How Bizarre remix
Comp: Pauly Fuemana / Alan Jansson
Album: courtesy Alan Jansson
Label: Huh Records

Artist: OMC
Song: How Bizarre remix
Comp: Pauly Fuemana / Alan Jansson
Album: courtesy Alan Jansson
Label: Huh Records

Artist: OMC
Song: I Love L.A
Comp: R. Newman
Album: I Love L.A single
Label: Polydor / Universal

Artist: OMC
Song: No Problemo
Comp: Pauly Fuemana
Album: unreleased
Label: Paul Fuemana ©2014 Kirstine Fuemana

Artist: OMC
Song: 4 All of Us
Comp: Pauly Fuemana / Alan Jansson
Album: 4 All of Us single
Label: Orpheus Entertainment / OMC.

Artist: OMC
Song: Land of Plenty
Comp: Pauly Fuemana / Alan Jansson
Album: How Bizarre
Label: Huh Records – distributed by Universal
Artist: 3 The Hard Way
Song: Hip Hop Holiday
Composer: Maiai/Paton/G Gouldman/E Stewart.
Album: Single
Label: Deepgrooves
Hanson Interview
Artist: Hanson
Song: Mmm Bop
Composer: I Hanson/Z Hanson/T Hanson
Album: Mmm Bop
Label: Self Released

Artist: Hanson
Song: Where's The Love
Composer: Mark Hudson, Sander Salover
Album: Middle Of Nowhere
Label: Polygram/Mercury

Artist: Hanson
Song: Thinking Of You
Composer: I Hanson/Z Hanson/T Hanson
Album: 3 Car Garage
Label: Polygram/Mercury
Artist: Conrad Wedde
Song: Cabby
Composer: Wedde
Album: Space World EP
Label: Self Released
Little Bark Interview
Artist: Little Bark
Song: Modern Love, Arpeggiator, New Day, Tone, Hmmm, Crystal Ball
Composer: Sophie Burbery
Album: USB
Label: Flying Out
Gig Guide
Artist: Rodriguez
Song: Sugar Man
Composer: Rodriguez
Album: Cold Fact
Label: Light In The Attic

Artist: The Upbeats
Song: Tangerine
Composer: Glenn,Jones
Album: Primitive Technique
Label: Vision

Artist: The Nomad ft Lotek
Song: Brok Down
Composer: Schwalger,
Album: 7
Label: Self Released
4-5pm
Tiny Ruins Live At The Crystal Palace
Artist: Tiny Ruins
Song: Carriages, Reasonable Man, Death of a Russian, Night Owl, White Sheet Lightning
Composer: H.Fullbrook
Album: RNZ Recording
Label: RNZ Recording
Artist: Neko Case
Song: City Swans
Composer: N Case
Album: RNZ Recording
Label: RNZN
The Sampler: Mirel Wager
Artist: Mirel Wagner
Songs: Elipsis, 1 2 3 4, The Dirt, The Devil's Tongue, Dreamt Of A Wave, Goodnight
Composer: Wagner
Album: When The Cellar Children See The Light Of Day
Label: Sub Pop
Artist: Laura Marling
Song: Sorry
Composer: B Hansen
Album: Songbook
Label: Universal
Artist: Will Wood
Song: Sick Of It All
Composer: Wood
Album: Broken Man
Label: Lyttleton Records
Artist: Thurston Moore
Song: The Best Day
Composer: Thurston Moore
Album: The Best Day
Label: Matador
Artist: Jakob
Song: Blind Them With Science
Composer: Boyle/Beckett/Johnson
Album: Sines
Label: Mylene Shealth