Music 101 for Saturday 9 August 2014
7:00 PM.Shihad and Jaz Coleman- together again, Die! Die! Die! on an easy SWIM, Kamandi with hot beats from a cold garage and the aesthetics of wine and sound with Jo Burzynska and the Auricle Sonic Arts… Read more Audio
2-3pm
Shihad
By their own description, Shihad are a band that swing between extremes, following hook-laden hard rock albums with hard, fast and heavy riffage records. For their ninth studio album FVEY, Shihad re-team with Jaz Coleman, the production ears behind their 1993 debut, for a searing set that the band reckon is their hardest in years. Sam Wicks investigates.

Shihad
Die! Die! Die!
After their most difficult album, local trio Die! Die! Die! are back this month with their fifth album, Swim. Joe Nunweek speaks to Andrew Wilson, Michael Prain and Michael Logie about feeling like a band again, a decade of long tours and fast recording, and how their haphazard international distribution has made them into a different band.

Parents / Photo by Alex Meagher
3-4pm
Kamandi
We speak to rising beat-maker Kamandi about collaborating with Brainfeeder's Azizi Gibson in Los Angeles, from his icy cold Christchurch garage.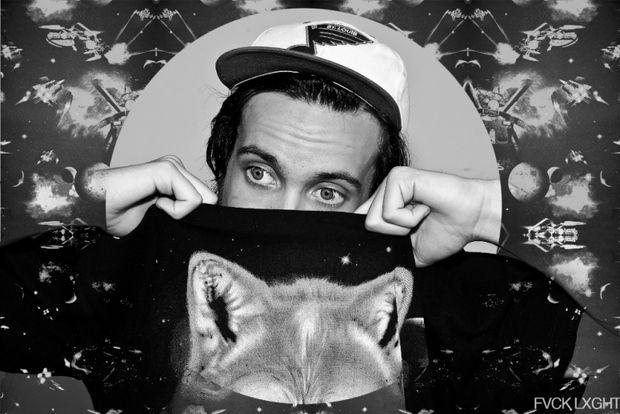 Kamandi, photo supplied
The Sampler: Common - Nobody's Smiling
On his new album Nobody's Smiling, rapper Common presents a grim picture of his hometown Chicago, backed by the dark and ominous beats of longtime collaborator No I.D. - Nick Bollinger takes a listen.
The Auricle Wine and Sound Bar
The Auricle Sonic Arts Gallery in Christchurch has opened what it claims is the world's first "oenosthetic" wine and sound bar, combining imbibing and listening. Jo Burzynska, a leading wine writer and sound artist, curates a monthly wine list to match the exhibitions, aiming to heighten the experience of both the wine and the music. Gemma Syme went in to do a tasting with Bruce Russell's new exhibition 'No Mean City' as a backdrop.

Jo Burzynska and The Auricle's Malcolm Riddoch / Photo by Gemma Syme
4-5pm
Slug's Saloon
Jerry Schultz and Robert Schoenholt opened Slug's Saloon in New York's Lower East Side in 1964, providing a raw alternative to Manhattan's glitzy jazz clubs and attracting a who's who of 60s' jazz. Jerry Schultz ran Slug's for eight years before heading first for India, then to Golden Bay, where he's been living a quieter life as Gopal Krishna. Daniel Beban talks to him about his memories of the seminal jazz club.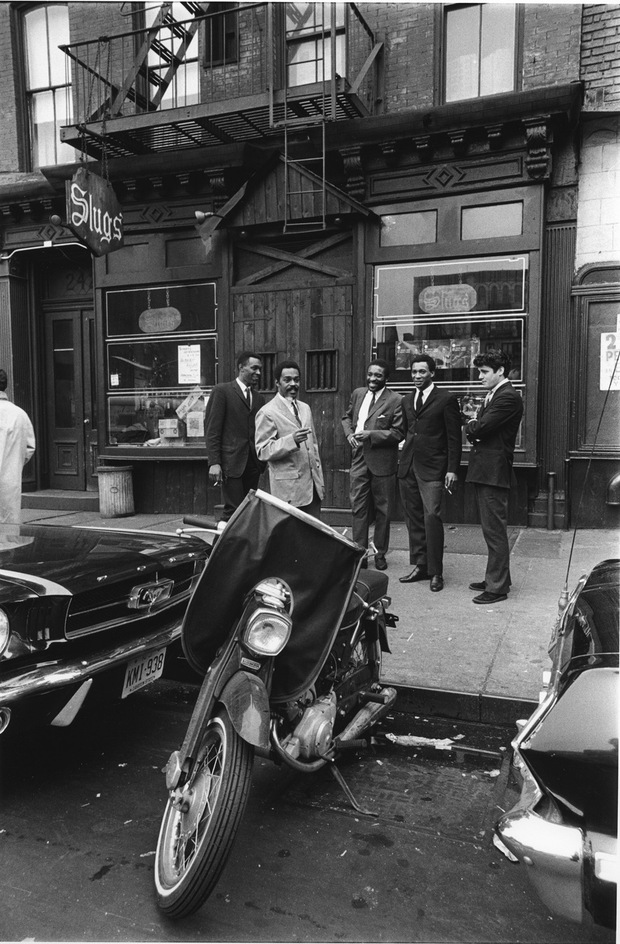 The Albert Ayler Quintet outside Slug's Saloon
Golden Curtain
Players from Garageland, Grand Prix and A Twin Moon all left the big smoke for the blossoms and shimmering light of Hawkes Bay where they eventually met and formed Golden Curtain, who've released their second album Dream City. Nick Atkinson checks in with the band.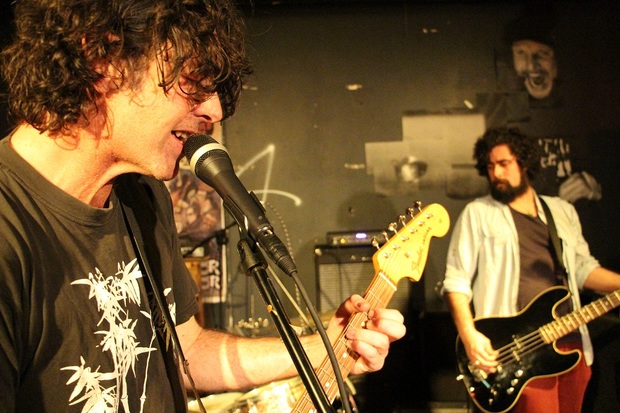 Golden Curtain - Photo by Nick Atkinson
Music played in this show
2-3pm
Artist: Killing Joke
Song: Bloodsport
Composer: Killing Joke
Album: Killing Joke
Label: Virgin
Shihad Interview
Artist: Shihad
Song: The Living Dead, Cheap As, Wasted in the West, Think You're So Free, FVEY, Grey Area
Composer: J.Toogood, T.Larkin, P.Knight, K.Kippenberger
Album: FVEY
Label: Warner Music

Artist: The Datsuns
Song: Caught In The Silver
Composer: The Datsuns
Album: Deep Sleep
Label: Hell Squad
Artist: Robert Scott
Song: Your Lights Are Low
Composer: Scott
Album: The Green House
Label: Flying Nun
Die! Die! Die! Interview
Artist: Die! Die! Die!
Song: Swim, Out Of Mind, Angel, Mirror, Crystal
Composer: Die! Die! Die!
Album: SWIM
Label: Records Etcetera
Introducing: Parents
Artist: Parents
Song: Bored/Boring
Composer: Parents
Album: Low Life
Label: Parents
Artist: Kerretta
Song: Kawea Tātou Ki Ngā Hiwi
Composer: Kerretta
Album Pirohia
Label: Midium
3-4pm
Artist: Flying Lotus
Song: Zodiac Shit
Composer: Fly Lo
Album: Cosmogramma
Label: Warp
Kamandi Interview
Details to come
Artist: Jordan Rakei
Song: Street Light
Composer: Rakei
Album: Groove Curse
Label: Soul Has No Tempo
Artist: Jonwayne
Song: Passing Fancies
Composer: Jonwayne
Album: Cassette on Vinyl
Label: Brainfeeder
The Sampler: Common- Nobody's Smiling
Artist: Common
Songs: Nobody's Smiling, The Neighbourhood, Blak Majik, Seven Deadly Sins, Kingdom, Rewind That
Composer: L.Lynn, Jr.,E.Wilson
Album: Nobody's Smiling
Label: Def Jam
Artist: Robert Tiso
Song: Hungarian Dance Number 5
Composer: Brahms
Album: Crystal Sound
Label: Robert Tiso
Auricle Wine and Sound Bar Interview
Artist: Brian Eno
Song: Discreet Music
Composer: B.Eno
Album: Discreet Music
Label: Obscure Records
Artist: Bruce Russell
Song: No Mean City
Composer: B.Russell
Album: Unreleased
Label: Private
Artist: Jonah Tolchin
Song: Mocking Bird
Composer: Tolchin
Album: Clover Lane
Label: Yep Roc
Gig Guide
Artist: Joan Armatrading
Song: Me Myself I
Composer: Armatrading
Album: Classics
Label: A + M
Artist: Manchester Orchestra
Song: Mighty
Composer: Manchester Orchestra
Album: Simple Math
Label: Columbia
Artist: BBC Radiophonic Workshop
Song: Dr Who Theme
Composer: D Derbyshire
Album: BBC TV Themes
Label: BBC
Artist: Pumice
Song: Covered In Spiders
Composer: Neville
Album: Puny
Label: Soft Abuse
4-5pm
Artist: Orchestra of Spheres
Song: Mind Over Might
Composer: Orchestra of Spheres
Album: Vibration Animal Sex Brain Music
Label: Sound Explorers
Slugs Saloon Interview
Artist: Alice Coltrane
Songs: Journey in Satchidananda
Composer: Alice Coltrane
Album: Journey in Satchidananda
Label: Impulse
Artist: Albert Ayler Quintet
Track: Our Prayer
Composer: Albert Ayler
Album: At Slug's Saloon, May 1 1966
Label: ESP Disk
Artist: Art Blakey and the Jazz Messenger
Track: New World
Composer: Slide Hampton
Album : Live at Slugs
Label: Empire Music Group Inc
Artist: Thelonius Monk
Track: Body and Soul
Composer: Johnny Green
Album: The Complete Riverside Recordings
Label: Riverside
Artist: Cecil Taylor
Track: Steps
Composer: Cecil Taylor
Album: Unit Structures
Label: Blue Note
Catalogue #: CDP 7 842372
Artist: Art Blakey and the Jazz Messenger
Track: Slide No. 2
Composer: Slide Hampton
Album : Live at Slugs
Label: Empire Music Group Inc
Artist: Sun Ra
Track: Discipline 11
Composer: Sun Ra
Album : Live at Slugs Saloon
Label: Transparency
Artist: Sun Ra
Track: Theme of the Stargazers
Composer: Sun Ra
Album : Live at Slugs Saloon
Label: Transparency
Artist: Elvin Jones
Track: Blues Inside Out
Composer: George Coleman
Album : Skyscrapers Vol. 1
Label: Honeydew Records
Artist: Lee Morgan Quartet
Track: Since I Fell For You
Composer: Buddy Johnson
Album : Candy
Label: Blue Note
Artist: Art Blakey and the Jazz Messenger
Track: New World
Composer: Slide Hampton
Album :'Live at Slugs'
Label: Empire Music Group Inc
Artist: Charles Lloyd
Track: Love Song to a Baby
Composer: Charles Lloyd
Album: Dream Weaver – The Atlantic Years 1966-69
Label: Rhino
Artist: Pharoah Sanders
Track: The Creator Has a Master Plan Part 1
Composer: Pharoah Sanders / Leon Thomas
Album: Karma
Label: Impulse
Artist: Jackie McLean
Track: Blue Rondo
Composer: Jackie McLean
Album: One Step Beyond
Label: Blue Note
Artist: John Coltrane
Track: Configuration
Composer: John Coltrane
Album: Stellar Regions
Label: Impulse
Artist: John Coltrane
Track: Naima
Composer: John Coltrane
Album: Live at the Village Vanguard Again
Label: Impulse
Artist: Albert Ayler
Track: DC
Composer: Albert Ayler
Album: Spirit
Artist: OOIOO
Song: Jesso Testa
Composer: OOIOO
Album: Gamel
Label: Thrill Jockey
Artist: Jordan Léser
Song: Berlin
Composer: Jordan Léser
Album: RNZ Recording
Label: RNZ Recording
Artist: Courtney Barnett
Song: Avant Gardener
Composer: Barnett
Album: The Double EP A Sea Of Split Peas
Label: Milk! Records
Golden Curtain Interview
Artist: Garageland
Song: Classically Diseased
Composer: J.Eade, Garageland
Album: Last Exit To Garageland
Label: Flying Nun Records
Artist: Andrew McKenzie
Song: Be Around solo instrumental
Composer: Andrew McKenzie
Album: Unreleased
Label: Radio New Zealand recording
Artist: Golden Curtain
Song: Be Around
Composer: Andrew McKenzie
Album: English Tuning
Label: Private
Artist: A Twin Moon
Song: When You Were Young
Composer: Brad Gamble
Album: Welcome To Hellfire Beach
Label: Private
Artist: Golden Curtain
Song: Everything's Fine
Composer: Andrew McKenzie
Album: English Tuning
Label: Private

Artist: Golden Curtain
Song: Dream City
Composer: Andrew McKenzie
Album: Dream City
Label: Private
Artist: Andrew McKenzie
Song: Dream City solo instrumental
Composer: Andrew McKenzie
Album: Unreleased
Label: Radio New Zealand recording
Artist: Golden Curtain
Song: Dream City, Network Space
Composer: Andrew McKenzie
Album: Dream City
Label: Private
Artist: Karen O
Song: Rapt
Composer: Orzolek
Album: Crush Songs
Label: Cult