Music 101 for Saturday 5 July 2014
2-3pm
Morning Gloryville Breakfast Raves
Morning Gloryville bills itself as "an immersive morning dance experience for those who dare to start their day in style". Music 101 NYC correspondent Gemma Gracewood sets her alarm to dance in the dawn with the Morning Gloryville party people at a Williamsburg rave.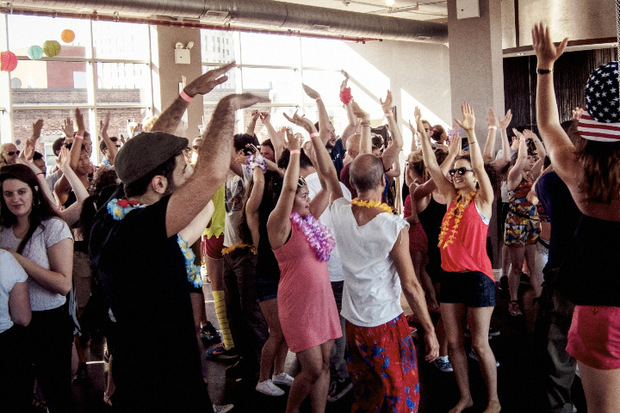 Moring Gloryville, photo by Renee Bevan
Crystal Magic
We talk soft synths, vaporwave and transitory technologies with Crystal Magic label head Fraser Austin and label mates Eyeliner, Lttle Phnx and Golden Axe.

CMR by Fraser Austin
Vaporwave Essentials
Luke Rowell aka Disasteradio/ Eyeliner makes us a playlist of his top 5 vaporwave classics.

Zara McFarlane
We speak to London jazz vocalist Zara McFarlane, about covering Junior Murvin's Police and Theives.
3-4pm
Dudley Benson in conversation with Johnson Witehira
Matariki celebrations around the country are now in full swing. In Wellington on 3 July, buses will deliver art enthusiasts to five galleries from Porirua to Upper Hutt to Wellington Central for for Art Night: Pō Whakaatu Toi, which includes a headline show at City Gallery by Ōtautahi (Christchurch)-born composer and performer Dudley Benson (Ngati Pakeha). On 23 July, artist and designer Johnson Witehira, of Tamahaki (Ngāti Hinekura), Ngā Puhi (Ngai-tū-te-auru), Ngāti Haua and New Zealand European descent, will present a collaborative artwork as part of Toi Te Reo, also at City Gallery.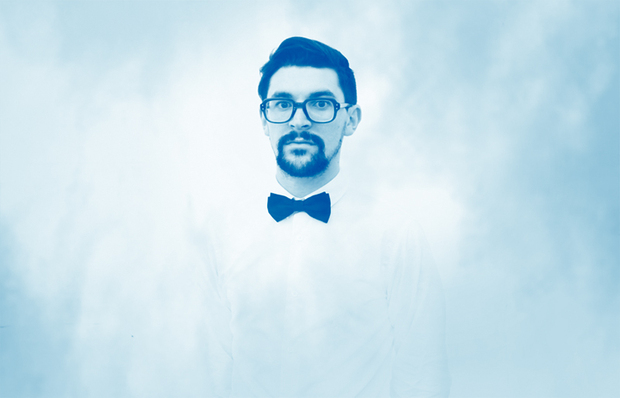 Dudley Benson, photo by Josh Thomas
Luckless
In 2013, Luckless's Ivy Rossiter left her job and her home base of Auckland in exchange for a part time life on the road, touring the small towns of New Zealand and basing herself in Lyttelton in between. The change produced a new album's worth of material, which she recorded at Lyttelton recording studio The Sitting Room. Now based permanently in Canterbury, she chats about her new album, Vindication Blues.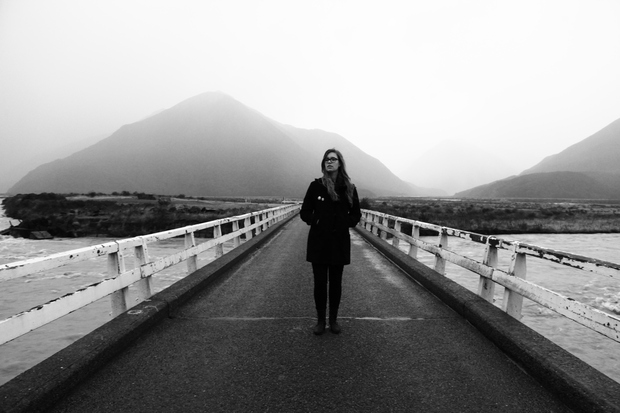 Luckless, photo by Sabin Holloway
The Sampler: Jolie Holland-Wine Dark Sea
Nick Bollinger reviews the latest from Texan singer-songwriter Jolie Holland - Wine Dark Sea
Gig Guide
4-5pm
Shapeshifter Tour Diary
On 9 April 2014, live electronic outfit Shapeshifter set off on their 12th Northern Hemisphere excursion, a 12-date run of shows that saw them shake venues from Prague to Vancouver. Shapeshifter's Sam Trevethick pulled double duties on the tour, playing musician and radio producer as he documented their travels for a fly-on-the-wall experience of the Shifters on the road.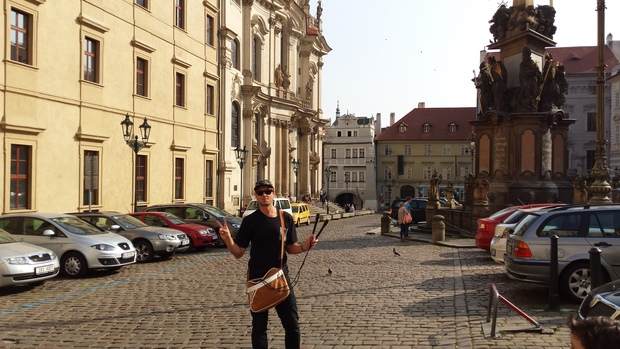 Sam Trevethick armed with microphones as he documents Shapeshifter's European run
DZ Deathrays
Raucous Australian rock duo DZ Deathrays were in town last week to perform with local partners in crime Die! Die! Die! at Auckland's Kings Arms. Joe Nunweek chats to bandmembers Shane Parsons and Simon Ridley before their show about growing up on Triple J, the challenges of being a two-piece, and not-so memorable on-stage injuries.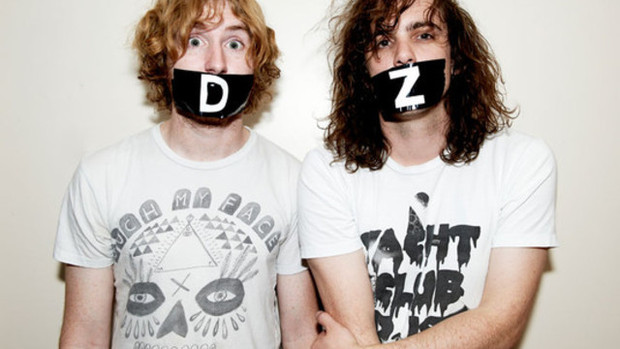 Music played in this show
2-3pm
Artist:Claude Vanstroke
Song: Urban Animal
Composer: Claude Vanstroke
Album: Tasha Blank Mix
Label: http://www.mixcrate.com/natashablank/too-deep-live-901606
Artist: Paul Woolford and Psycatron
Song: Stolen
Composer: Paul Woolford and Psycatron
Album: Tasha Blank Mix
Label: http://www.mixcrate.com/natashablank/too-deep-live-901606
Morning Gloryville- Breakfast Raves Interview
Artist: deadmau5
Song: My Pet Coelacanth, Infra Turbo Pigcart Racer, Avaritia, Coelacanth
Composer: J.Zimmerman
Album: while(1<2)
Label: Virgin EMI
Artist: Peking Duk
Song: Feels Like
Composer: A.Hyde, R.Styles
Album:
Label: Universal
Artist: Loose Joints
Song: Is It All Over My Face
Composer: Loose Joints
Album: The World of Arthur Russell
Label: Souljazz
Crystal Magic Records Interview
Artist: Secrets
Song: Bronze
Composer: Austin
Album: Critical Hits II
Label: Crystal Magic
Artist: Michael Land
Song: The Scumm Bar
Composer: Michael Land
Album: The Secret of Monkey Island
Label: Lucasfilm Games
Artist: Secrets
Song: Slacker
Composer: Austin
Album: Slacker
Label: Crystal Magic
Artist: Frase + Bri
Song: He's Going To Art School
Composer: Austin
Album: A Low Hum Issue 20
Label: A Low Hum
Artist: Golden Axe
Song: Free Time
Composer: Golden Axe
Album: Fantasy Footwork
Label: Crystal Magic
Artist: Lttle Phnx
Song: IWantTo
Composer: Beeler
Album: L'Esprit Luvrs
Label:Crystal Magic
Artist: Lttle Phnx
Song: Koromiko
Composer: Beeler
Album: Pyrexia
Label: Crystal Magic
Artist: Eyeliner
Song: America
Composer: Rowell
Album: High Fashion Mood Music
Label: Crystal Magic
Artist: Napolian
Song: All Night Long
Composer: Napolian
Album: Computer Dreams
Label: Beer On The Rug
Artist: Eyeliner
Song: iPod Touch
Composer: Rowell
Album: LARP of Luxury
Label: Crystal Magic
Artist: Daif
Song: Long Peace
Composer: King
Album: 2017
Label: Crystal Magic
Artist: Eyeliner
Song: Sauvignon Blanc
Composer: Rowell
Album: LARP of Luxury
Label:Crystal Magic
Artist: Matthias Jordan
Song: Cosmetic Torment
Composer: Jordan
Album: The Sound of Asia
Label: Self Release
Zara McFarlane Interview
Artist: Zara McFarlane
Song: Police and Thieves
Composer: Perry/ Murvin
Album: If You Knew Her
Label: Brownswood
Artist: Nora Dean
Song: Angie La La
Composer: Reid/ Dean
Album: Grounation
Label: Music Club
3-4pm
Johnson Witehira and Dudley Benson Interview
Artist: Dudley Benson
Song: Tui
Composer: D Benson, H. Melbourne
Album: RNZ Recording
Label: RNZ Recording
Artist: Dudley Benson
Song: On the Shoulders of the Earth
Composer: D. Benson
Album: RNZ Recording
Label: RNZ Recording
Artist: Dudley Benson
Song: Pungawerewere, Pipi Manu E
Composer: H. Melbourne
Album: RNZ Recording
Label: RNZ Recording
Artist: Toni Huata
Song: Tipuranga
Composer: Huata/ Free
Album: Tonokia
Label: Toni Huata
Artist: The All Seeing Hand
Song: Fog and Debris
Composer: The All Seeing Hand
Album: Fog and Debris
Label: Self Release
Luckless Interview
Artist: Luckless
Songs: Telephone Song/Port In A Storm/ Dry Eyes/Road Retreats/When You Asked Her To Stay/All I Want Is Sleep/Better Than Being Blue
Composer: Ivy Rossiter
Album: Vindication Blues
Label: Self - released
Artist: Aldous Harding
Song: Beast
Composer: Harding
Album: Aldous Harding
Label: Lyttleton Records
The Sampler: Jolie Holland- Wine Dark Sea
Artist: Jolie Holland
Songs: Route 30, First Sign Of Spring, On and On, Dark Days, Out On The Wine Dark Sea
Composer: Holland
Song: The Love You Save
Composer: Tex
Album: Wine Dark Sea
Label: Anti-
Gig Guide
 
4-5pm
Shapeshifter Tour Diary
Artist: Shapeshifter
Songs: Dutchies, Tokyo
Composer: Shapeshifter
Album: The System is a Vampire
Label: Truetone
Artist: Shapeshifter
Songs: The Touch (Netsky remix)
Composer: Trevethick, Robinson, Abrams, Apera, Grenell, Daenen
Album: System Remix
Label: Truetone
Artist: Shapeshifter
Songs: Bloodstream, Snake Wold
Composer: Shapeshifter
Album: Unreleased
Label: Truetone
Artist: Shapeshifter
Songs: Endless, Diamond Trade, Gravity, Monarch, In Colour, 141
Composer: Abrams, Apera, Robinson, Trevethick
Album: Delta
Label: Truetone
Artist: Shapeshifter
Songs: New Day Come
Composer: Shapeshifter
Album: Soulstice
Label: Truetone
Artist: Die! Die! Die!
Song: Crystal
Composer: Die! Die! Die!
Album: SWIM
Label: Records Et cetera
DZ Deathrays Interview
Artist: DZ Deathrays
Song: Northern Lights, Reflective Skull, Black Rat, Nightwalking
Composer: DZ Deathrays
Album: Black Rat
Label: I OH You Records
Artist: DZ Deathrays
Song: Teenage Kickstart
Composer: DZ Deathrays
Album: Bloodstreams
Label: I OH You Records
Introducing: Cool Runnings
Artist: Cool Runnings
Song: Blister
Composer: Cool Runnings
Album: I Hate It Here EP
Label: Private
Artist: Fumaça Preta
Song: A Bruxa
Composer: Fumaça Preta
Album: A Bruxa
Label: Music With Soul
Artist: Elvis Presley
Song: That's All Right
Composer: Crudup
Album: The Sun Story: Essential Rockabilly
Label: Sun
Artist: Vera Lynn
Song: Room Five Hundred and Four
Composer: Maschwitz/Ponsford
Album: More Hits of the Blitz
Label:His Master's Voice
Artist: Bad Bad Not Good
Song: Hedron
Composer: Bad Bad Not Good
Album: III
Label: BBNG