Music 101 for Saturday 7 June 2014
Low Leaf
Low Leaf is a harp-playing, beatmaking Fillipina Californian whose lyrics are focussed on channelling the cosmic energies of the universe. We pin her down for a chat during her NZ tour.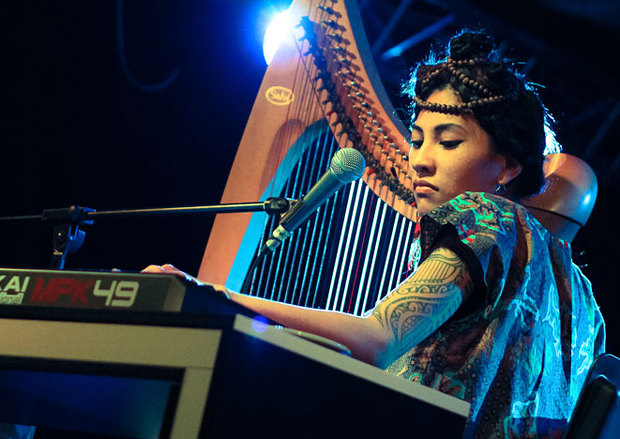 Fatima- Yellow MemoriesThe Swedish born vocalist and Floating Points collaborator on how she hand picked the production talent on her debut Yellow Memories.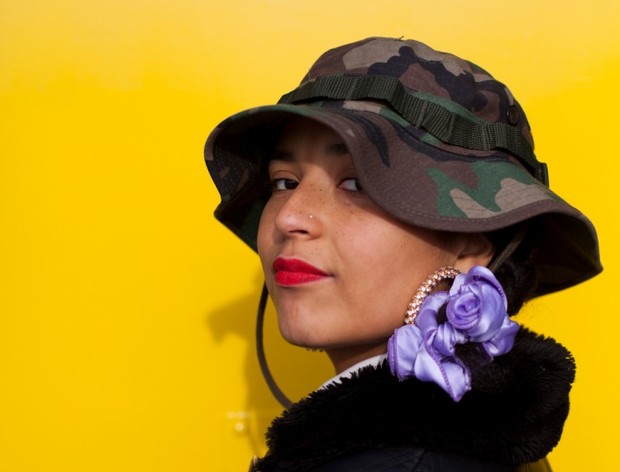 Fatima, photo by Sebastian Hallqvist
Dawn of Midi
Upright bass player Aakaash Israni on how to make a classic piano, bass, drums jazz trio sound like a trance DJ, and the group's African roots.
Sorceress
Sorceress (formerly Funkommunity) band leader Isaac Aesili talks metaphorically about polyrhythms on their new album Dose; "it's definitely a love hate thing. They're in too deep, they can't separate, but they can't be together."
3-4pm
York St Studios
Auckland's York St Studios is being converted into apartments - we speak to long-time engineer Simon Gooding about his time there and what the plans are for the gear and people.
The Sampler: The Roots – …And Then You Shoot Your Cousin
Nick Bollinger reviews a new album by The Roots that combines hip hop, jazz and European avant-garde.
Doprah
The creative nucleus of Christchurch trip hop outfit Doprah is producer Stephen Marr and front woman Indi Force, who met after Marr spotted his future collaborator performing at the 2012 Smokefree Rockquest. We talk to Stephen Marr about how his savvy talent spotting set them both on a new musical path.
Gig Guide
4-5pm
South of Heaven - A History of New Zealand Extreme Metal Part 1 of 2
South of Heaven documents the extreme metal scene in New Zealand. The series travels back to the birth of this country's most challenging and confrontational music scene in the early '90s, and visits New Zealand extreme metal today, where a hidden realm of homegrown bands reap worldwide acclaim.
Listen here to producer Craig Hayes speaking to Emma Smith about making the program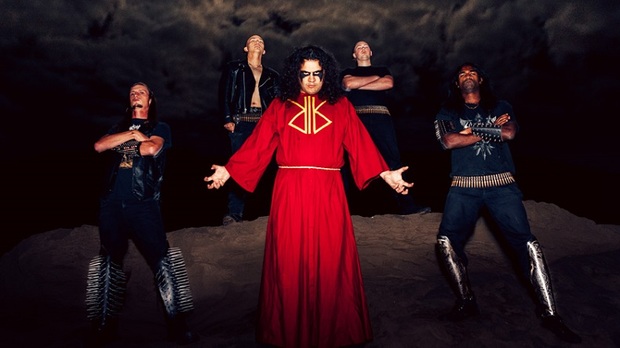 Exordium Mors, photo by Jake Skipper
Pablo Ziegler
Argentine pianist Pablo Ziegler on a decade working with  nuevo tango pioneer Astor Piazzolla, and taking tango from the dancehall to the concert hall.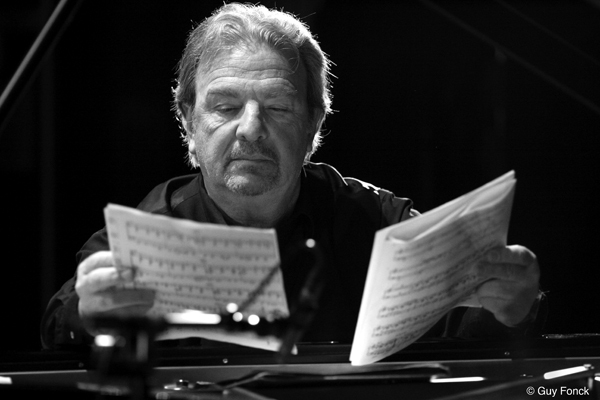 Pablo Ziegler, photo by Guy Fonck
Music played in this show
2-3pm
Artist: Mark de Clive-Lowe
Song: The Processional
Composer: Clive-Lowe
Album: Church
Label: Mashibeats
 
Low Leaf
Artist: Low Leaf
Song: Bahay Kubo, Umaga, Set Me Free, Slaveless Master
Composer: Lopez
Album: Akashaalay
Label: Fresh Selects
Artist: Low Leaf
Song: Take Time
Composer: Lopez
Album: Giga Gaia
Label: Self Released
Fatima
Artist: Fatima
Song: La Neta, Knowledge, Ridin' Round (Sky High)
Composer: Fatima
Album: Yellow Memories
Label: Eglo
Artist: Theo Parrish and Tony Allen
Song: Day Like This Rework feat. Eska and Andrew Ashong
Composer: Parrish/ Allen
Album: Day Like This Rework
Label: Peacefrog

Dawn of Midi
Artist: Dawn of Midi
Song: Io, Synope
Composer: Dawn of Midi
Album: Dysnomia
Label: Thirsty Ear
Sorceress
Artist: Rachel Fraser
Song: Rachel Fre demo
Composer: Rachel Fraser
Album: Unreleased
Label: Private
Artist: Isaac Aesili
Song: I'm All In
Composer: Isaac Aesili, Rachel Fraser
Album: Eye See
Label: EYE
Artist: Recloose
Song: Catch A Leaf
Composer: Rachel Fraser, Matthew Chicoine
Album: Perfect Timing
Label: LOOP
Artist: Sorceress
Song: Teacups
Composer: Isaac Aesili, Rachel Fraser
Album: The Dose
Label: FKM
Artist: Stevie Wonder
Song: Too High
Composer: Stevie Wonder
Album: Inner Visions
Label: MOTOWN
Artist: Sorceress
Song: Dragon Fly
Composer: Isaac Aesili, Rachel Fraser
Album: The Dose
Label: FKM
Introducing: Naram
Artist: Naram
Song: MC Magic
Composer: Langford/Jah Screechy
Album: March Of The Gremlins
Label: Jahtari
 
3-4pm

Artist: Jennifer Zea
Song: Ven
Composer: Zea
Album: The Latin Soul of Jennifer Zea
Label:Mama Wata
The Sampler: The Roots- ... and Then You Shoot Your Cousin
Artist: The Roots
Song: The Unravelling
Composer: DeVaughn/Trotter/Angry
Song: Theme From The Middle Of The Night
Composer: Bassman/Chayesky
Song: Never
Composer: Trottere/Spearman/Anthony/Salazar/Guzman/Newman
Song: When The People Cheer
Composer: Ward/Spearman/Trotter
Song: The Devil
Composer: Williams/Moore
Song: Understand
Composer: Jenkins/Trotter/Spearman/Simpson/Bradsher
Song: Dies Irae
Composer: Chion
Song: The Coming
Composer: Simmons/Jackson/Nichols/Spearman
Song: Tomorrow
Composer: DeVaughn/Angry
Album: … and Then You Shoot Your Cousin
Label: Def Jam/Universal
Artist: Kate Tempest
Song: Lonely Daze
Composer: Tempest
Album: Everybody Down
Label: Big Dada
Artist: Massive Attack
Song: Black Milk
Composer: DelNaja, Fraser, Marshall
Album: Mezzanine
Label: Circa/ Virgin
Doprah
Artist: Doprah
Song: Stranger People, San Pedro, Whatever You Want, Love That I Need
Composer: S.Marr, I.Force
Album: Doprah
Label: Arch Hill Recordings
Gig Guide
Artist: Cold Cave
Song: Confetti
Composer: Wesley Eisold
Album: Cherish The Light Years
Label: Matador
Artist: Earth
Song: Old Black
Composer: Carlson
Album: Angels of Darkness, Demons of Light I
Label: Southern Lord Records

4-5pm
South of Heaven- Extreme Metal in NZ pt 1
Artist: Knightshade
Song: You Don't Need Me
Composer: Knightshade
Album: Knightshade S/T
Label: Mushroom Records
Artist: Bulletbelt
Song: Storming the Armoury
Composer: Bulletbelt
Album: Down in the Cold of the Grave
Label: Headless Horseman
Artist: Shihad
Song: It
Composer: Shihad
Album: Devolve EP
Label: Pagan Records
Artist: Demise
Song: Those to Perish
Composer: Demise
Album: Demise EP
Label: Self-released
Artist: Convulsion
Song: Bits of Dog
Composer: Convulsion
Album: A Pickled Feast
Label: Self-released
Artist: Eviscerate
Song: Severely Butchered Remains
Composer: Eviscerate
Album: Severely Butchered Remains
Label: Self-released
Artist: Sinistrous Diabolus
Song: Sleep of the Damned
Composer: Sinistrous Diabolus
Album: Opus One
Label: Self-released
Artist: Sinistrous Diabolus
Song: Aeon Ended
Composer: Sinistrous Diabolus
Album: Opus One
Label: Self-released
Artist: Malevolence
Song: Vengeance
Composer: Malevolence
Album: Almost like Something Completely Sinister
Label: Self-released
Artist: Demoniac
Song: The Return of the Darkness and Evil
Composer: Bathory
Album: Prepare for War
Label: Evil Omen Records
Artist: Sinistrous Diabolus
Song: Wipeout Christianity
Composer: Sinistrous Diabolus
Album: Opus One
Label: Self-released
Artist: Swans
Song: A Little God In My Hands
Composer: Gira
Album: To Be Kind
Label: Young God
Pablo Ziegler
Artist: Pablo Ziegler
Song: Chin Chin
Composer: Piazzolla
Album: Bajo Cero
Label: Enja
Artist: Pablo Ziegler
Song: La Rayuella
Composer: Ziegler
Album: Bajo Cero
Label: Enja
Artist: Astor Piazzolla y Su Quinteto Tango Nuevo
Song: Milong Loca
Composer: Piazzolla
Album: Nuevo Tango: Hora Zero/ Tango: Zero Hour
Label: IRS
Artist: Gotan Project
Song: Lunático
Composer: Makaroff, Mueller, Solal
Album: Lunático
Label: Ya Basta
Artist: Anna Calvi and David Byrne
Song: Strange Weather
Composer: Keren Ann Zeidel
Album: Strange Weather
Label: Domino