Music 101 for Saturday 31 May 2014
2-3pm
Tiny Ruins
Holly Fullbrook talks with Radio NZ Concert's Eva Radich about supporting Neil Finn in Europe, and her latest album Brightly Painted One.
Electric Wire Hustle
Dave and Mara talk with Melody Thomas live from Philidelphia.
The Sampler: Little Dragon- Nabuma Rubberband
Nick Bollinger checks out the fourth album from Swedish synth-pop group Little Dragon.
Jungle
UK duo Jungle talk about the making of their viral video 'Platoon', starring B-Girl Terra.
Patty Schemel Selection
Former Hole drummer Patty Schemel picks an early Hole rarity ahead of her NZ tour with her new band, Upset.

Introducing: Pals
3-4pm
Mark de Clive-Lowe Session
Our well-travelled jazz pianist continues his electronic journey immortalising his monthly residency in L.A. with his latest album Church.  He joins Nick Atkinson for a thumping live session.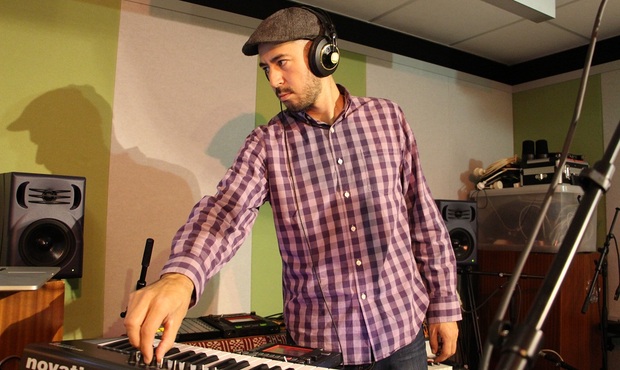 Mark De Clive-Lowe, photo by Nick Atkinson
The Sampler: Lykke Li- I Never Learn
Nick Bollinger takes a listen to the latest work from Sweden's Lykke Li.
RIP The Corner
We say goodbye to NZ Music website The Corner and hear the highest and lowest ranking local songs from their controversial Great Sounds Great/ Bad Sounds Bad column.
4-5pm
The Jam Bus
This mobile recording studio records pop songs written and performed by some of the country's youngest songwriters. Nick Atkinson visits two Auckland schools at opposite ends of the decile scale and finds an abundance of talent. From the humble music department of Redhill Primary in Papakura, to the gleaming pianos at Remuera Intermediate, The Jam Bus allows kids to express themselves in a unique way. You'll smile as these impressive youngsters sing passionately about about break-ups, multiculturalism and Lorde.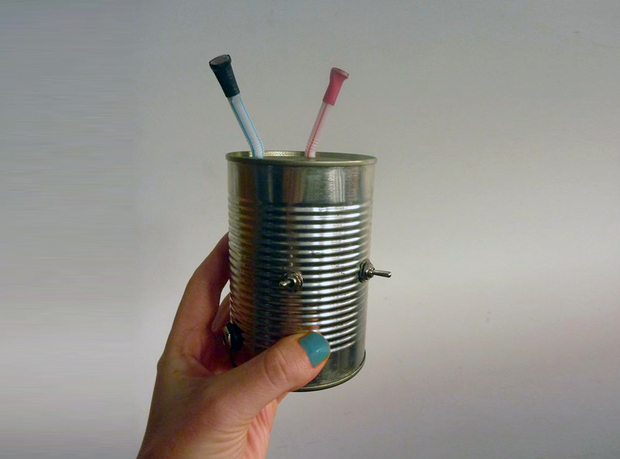 Melody's Hand-made Synth, photo selfie by Melody Thomas
Kraus' Synth Making Workshop
Melody Thomas heads along to a synthesiser-building workshop with Auckland-based musician and electronic music device-maker Pat Kraus (aka Kraus). As well as learning fantastic new terms like 'electrolytic capacitor' and 'rampwave oscillator', Melody speaks with Pat about the Musical Electronics Library he's curating, to be housed at the Audio Foundation in Auckland.
I.ryoko- Audio Foundation Residency
Thomas Lambert tells of the making of his debut I.ryoko album at the Audio Foundation HQ in Auckland.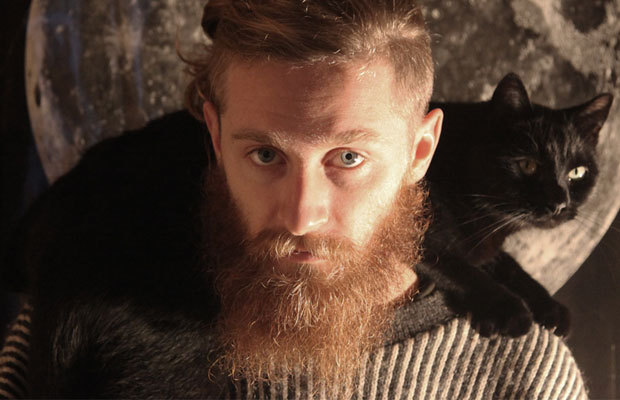 Thomas Lambert aka I.ryoko, photo supplied

 
Music played in this show
2-3pm
 
Artist: Carnivorous Plant Society
Songs: Slave Song
Composer: F.Scholes
Album: Carnivorous Plant Society
Label: Private
Tiny Ruins
Artist: Tiny Ruins
Song: Me at the Museum, You in the Winter Garden
Composer: Fullbrook
Album: Brightly Painted One
Label: Spunk
Artist: Tiny Ruins
Song: Chainmail Maker
Composer: Fullbrook
Album: Brightly Painted One
Label: Spunk
Artist: Tiny Ruins
Song: She'll be Coming Round
Composer: Fullbrook
Album: Brightly Painted One
Label: Spunk
Electric Wire Hustle
Artist: Electric Wire Hustle
Song: Bottom Line - Flako remix
Composer: Electric Wire Hustle
Album: If These Are The Last Days EP
Label: Every Waking Hour
Little Dragon
Artist: Little Dragon
Songs: Cat Rider, Underbart, Pretty Girls, Mirror, Klapp Klapp, Let Go
Composer: Nagano, Bodin, Wirenstrand, Wallen
Album: Nabuma Rubberband
Label: Because Music
NZMM: Estere
Artist: Lawrence Arabia
Songs: Apple Pie Bed
Composer: J.Milne/L.Buda
Album: Chant Darling
Label: Lil Chief
Jungle- Platoon
Artist: Jungle
Songs: Platoon
Composer: Jungle
Album: Jungle
Label: XL Recordings
Patty Schemel Selection
Artist: Hole
Song: Beautiful Son
Composer: Hole
Album: My Body The Hand Grenade
Label: City Slang
Introducing:Pals
Artist: Pals
Songs: Pipes
Composer: Pals
Album: Single
Label: Self-Released
Artist: Popstrangers
Songs: Don't Be Afraid
Composer: Popstrangers
Album: Fortuna
Label: UNSPK
Artist: Moon Duo
Song: Mazes (Walking Through Space)
Composer: Moon Duo
Album: Mazes
Label: Fuse
3-4pm
 
Artist: Sorceress
Song: Brother Dragonfly
Composer: Sorceress
Album: Dose
Label: FKM/Rhythmethod
 
Mark de Clive-Lowe in Session
Artist: Mark de Clive-Lowe
Song: Bruckstep, Ghaziya
Composer: M. de Clive-Lowe
Album: Unreleased
Label: Radio New Zealand recording
Artist: Mark de Clive-Lowe
Song: Sun Up Sun Down
Composer: M. de Clive-Lowe, I.Dessuit
Album: Unreleased
Label: Radio New Zealand recording
Artist: Low Leaf
Song: As One
Composer: A.Lopez
Album: AKASHAALAY
Label: Fresh Selects
The Sampler: Lykke Li- I Never Learn
Artist: Lykke Li
Songs: I Never Learn, Just Like A Dream, Heart Of Steerl, Never Gonna Love Again, Sleeping Alone
Composer: Lykke Li, Bjorn Yttling
Album: I Never Learn
Label: Atlantic
Artist: Hundred Waters
Songs: Down From The Rafters
Composer: Hundred Waters
Album: The Moon Rang Like A Bell
Label: OWSLA
RIP The Corner- GSG/BSB
Artist: Connan Mockasin
Song: I'm The Man That Will Find You
Composer: Connan Mockasin
Album: Caramel
Label: Phantasy
Artist: Six60
Song: In The Clear
Composer: Six60/ Mac
Album: Six60
Label: Massive
Gig Guide
Artist: Sweater Beats
Song: Giving Up On U
Composer: Sweater Beats
Album: Giving Up On U- Soundcloud download
Label: Self released
4-5pm
Jam Bus
Artist: Child's Play
Song: Again
Composer: Hugh of Child's Play
Album: Single
Label: Jam Bus
Artist: Sonia Li
Song: Made In New Zealand
Composer: Sonia Li
Album: Single
Label: Jam Bus
Artist: Power of Four
Song: Chasing Dreams
Composer: Venice
Album: Single
Label: Jam Bus
Artist: Dallas and Alfred
Song: Messy
Composer: Dallas and Alfred
Album: Single
Label: Jam Bus
Artist: Red Hill Primary Kapa Haka
Song: He Kakano Ahau
Composer: Traditional
Album: Single
Label: Jam Bus
Artist: Tereina and Madison
Song: Tangaroa Whakamautai
Composer: Maisey Rika, Erueti Korewha, JJ Rika, Mahuia Bridgeman-Cooper
Album: Unreleased
Label: Radio New Zealand recording
Artist: Tayzin
Song: New Zealand National Anthem
Composer: Thomas Bracken, John Joseph Woods
Album: Single
Label: Jam Bus
Artist: Maisey Rika
Song: Tangaroa Whakamautai
Composer: Maisey Rika, Erueti Korewha, JJ Rika, Mahuia Bridgeman-Cooper
Album: Whitiora
Label: Moonlight Sounds
Artist: John Maus
Song: Head For The Country
Composer: Maus
Album: We Must Become The Pitiless Censors of Ourselves
Label: Upset The Rhythm
Kraus- Synth Making Workshop
Artist: Kraus
Song: Ode to a delicious pudding, Let me eat cake.
Composer: Pat Kraus
Album: Golden Treasury
Label: Self-released
Artist: Kraus
Song: A mote in the middle distance
Composer: Pat Kraus
Album: Lamentations of an Ape
Label: Self-released
I.Ryoko Audio Foundation Residency
Artist: I.Ryoko
Song: Opening
Composer: Thomas Lambert
Album: Opening
Label: Sonorous Circle
Artist: I.Ryoko
Song: Future Window I
Composer: Thomas Lambert
Album: Opening
Label: Sonorous Circle
Artist: I.Ryoko
Song: Indica
Composer: Thomas Lambert
Album: Opening
Label: Sonorous Circle
Artist: I.Ryoko
Song: The Act of Killing
Composer: Thomas Lambert
Album: Opening
Label: Sonorous Circle
Artist: I.Ryoko
Song: Violin Wave
Composer: Thomas Lambert
Album: Opening
Label: Sonorous Circle
Artist: I.Ryoko
Song: Future Window II
Composer: Thomas Lambert
Album: Opening
Label: Sonorous Circle

Artist: I.Ryoko
Song: Conflict / Resolution
Composer: Thomas Lambert
Album: Opening
Label: Sonorous Circle
Artist: Minnelli
Song: The Deployee
Composer: Minnelli
Album: Sonorous Circle: Compilation Number One
Label: Sonorous Circle