Music 101 for Saturday 17 May 2014
2-3pm

Songs from The Inside II
Songs from the Inside is a television series that documents prison inmates writing and recording songs with a handful of New Zealand musicians. Now in its second season, the most recent series saw Anika Moa, Annie Crummer, Don McGlashan and Laughton Kora go into two Auckland correction facilities to mentor prisoners. Nick Atkinson talks with Laughton Kora about the project.

Laughton Kora, Annie Crummer, Anika Moa and Don McGlashan. Photo by Ross Brown
The Largest Vocabulary in Hip Hop
Data scientist Matthew Daniels has made waves internationally with a project that set out to uncover the world's wordiest rappers by comparing the works of Shakespeare with 85 different hip hop artists. He talks with Sam Wicks about the results of his lyric-heavy assignment.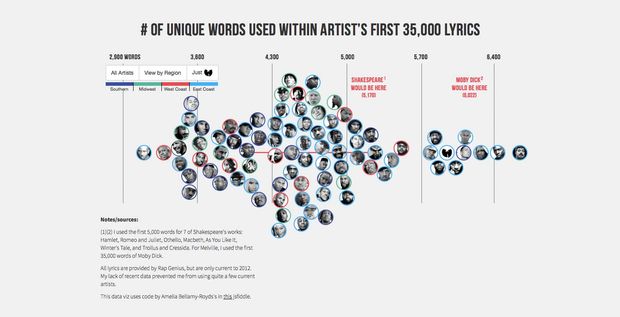 A screenshot of Mathew Daniels' chart of vocabulary size in hip hop. See the interactive chart here.
Nick Bollinger casts a critical ear over two new hip-hop releases, and wonders if the historically innovative genre has hit a plateau.
3-4pm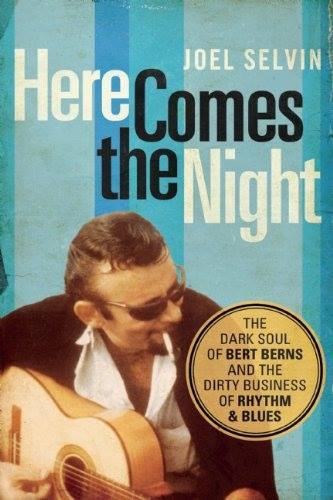 Bert Berns
Bert Berns was one of the greatest unknown songwriters and producers of the 20th century, with a song catalogue that includes 'Twist & Shout', 'Under the Boardwalk', 'Piece of My Heart', and 'Here Comes the Night'. Trevor Reekie talks to American author and music journalist Joel Selvin about his new Berns biography Here Comes the Night: The Dark Soul of Bert Berns and the Dirty Business of Rhythm and Blues.  
Native Tongue 10th Anniversary
The local music publisher behind Don McGlashan, The Phoenix Foundation, Gin Wigmore and countless others turn 10 this Saturday. Native Tongue founder Chris Gough takes us through a selection of his favourite tunes from Native Tongue's extensive roster.

4-5pm

The Secret Life of Music Poster Artists
Even before you've bought the record or gone to the show, the walls of New Zealand's cities and towns are a festival of music and colour thanks to our many prolific poster artists. From the psychedelic paintings of the 60s to the creme of the current digital producers, Joe Nunweek delves into The Secret Life Of Music Poster Artists. View a gallery of Music Posters
Music played in this show
Artist: Johnny Cash
Song: Orange Blossom Special
Composer: Johnny Cash
Album: Live at Folsom Prison
Label:Columbia
Songs From The Inside II
Artist: Elvis
Song: I Choose
Composer: Elvis
Album: Songs From the Inside Vol. II
Label: Songs From the Inside Records 2014

Artist: Abigail
Song: Gansta Love
Composer: Abigail
Album: Songs From the Inside Vol. II
Label: Songs From the Inside Records 2014

Artist: Lops
Song: Easy
Composer: Lops
Album: Songs From the Inside Vol. II
Label: Songs From the Inside Records 2014
Artist: Blackalicious
Song: Alphabet Aerobics (The Cut Chemist 2.5 minute workout)
Composer: Cut Chemist
Album: A2G
Label: 3-2-1 Records
The Biggest Vocabularies in Hip Hop
Artist: GENIUS/GZA
Song: Liquid Swords
Composer: Brigati, Cavaliere, Diggs, Grice
Album: Liquid Swords
Label: Geffen

Artist: Jack Edwards
Song: Sonnet IV
Composer: W.Shakespeare
Album: The Sonnets
Label: Helios

Artist: Schoolboy Q
Song: Man of the Year
Composer: Brigati, Cavaliere, Diggs, Grice
Album: Oxymoron
Label: Top Dawg, Interscope

Artist: Jay-Z
Song: 99 Problems
Composer: S.Carter, N.Lansberg, F.Pappalardi, B.Squier, J.Ventura, L.Weinstein
Album: The Black Album
Label: Roc-A-Fella, Def Jam

Artist: Jay-Z
Song: Moment of Clarity
Composer: S.Carter, M.Mathers, L.Resto
Album: The Black Album
Label: Roc-A-Fella, Def Jam

Artist: Eminem
Song: Role Model
Composer: M.Mathers, A.Young, M.Bradford
Album: The Slim Shady LP
Label: Aftermath, Interscope

Artist: The Notorious B.I.G.
Song: 10 Crack Commandments
Composer: Wallace, Martin
Album: Life After Death
Label: Bad Boy

Artist: Aesop Rock
Song: Fast Cars/Number Nine
Composer: I.Bavitz
Album: Fast Cars, Danger, Fire and Knives
Label: Definitive Jux

Artist: DMX
Song: Ruff Ryders Anthem
Composer: E.Simmons, K.Dean
Album: It's Dark and Hell Is Hot
Label: Ruff Ryders, Def Jam

Artist: 50 Cent
Song: In Da Club
Composer: C.Jackson, A.Young, M.Elizondo
Album: Get Rich or Die Tryin'
Label: Shady, Aftermath, Interscope

Artist: Talib Kweli
Song: Beautiful Struggle
Composer: T.Greene, T.Cottrell
Album: The Beautiful Struggle
Label: Rawkus, Geffen

Artist: Kendrick Lamar
Song: good kid
Composer: K.Lamar, K.Duckworth
Album: Good Kid M.A.A.D City
Label: Top Dawg, Aftermath, Interscope
The Sampler: Schoolboy Q/ Future
Artist: Grandmaster Flash & The Furious Five
Songs: The Message
Composer: Fletcher/Glover/Robinson/Chase
Label: RCA

Artist: Schoolboy Q
Songs: Gangsta, Los Awesome, Prescription, What They Want
Composer: not given
Album: Oxymoron
Label: Universal

Artist: Future
Song: Karate Chop
Composer: Wilburn/Wayne/Carter
Song: T Shirt
Composer: Wilburn/Rasser/Rackley
Song: Never Satisfied
Composer: Wilburn/Graham/Williams/Samuels/Slaughter
Song: I Won
Composer: Wilburn/West/Wayne/Seely/Thomas/Thomas
Song: Covered In Money
Composer: Wilburn/Uwaezuoke
Album: Honest
Label: Sony
Artist: Taylor McFerrin
Song: Degrees of Light
Composer: Taylor McFerrin
Album: Early Riser
Label: Brainfeeder
3-4pm
Artist: The Exciters
Song: Tell Him
Composer: Berns
Album:
Label: United Artists
Bert Burns
Artist: The Vibrations
Song: My Girl Sloopy
Composer: Berns, Farrell
Album: Bert Berns Story - Volume 1 - Twist And Shout 1960-1964
Label: Ace Records

Artist: The Top Notes
Song: Twist And Shout
Composer: Bert Russell, Phil Medley
Album: Bert Berns Story - Volume 1 - Twist And Shout 1960-1964
Label: Ace Records

Artist: Isley Brothers
Song: Twist And Shout
Composer: Bert Russell, Phil Medley
Album: Bert Berns Story - Volume 1 - Twist And Shout 1960-1964
Label: Ace Records

Artist: The Beatles
Song: Twist And Shout
Composer: Bert Russell, Phil Medley
Album: Please Please Me
Label: Parlophone

Artist: Solomon Burke
Song: Cry To Me
Composer: Bert Russell
Album: Home In Your Heart: The Best Of Solomon Burke [Disc 1]
Label: Atlantic Records

Artist: The Drifters
Song: Under The Boardwalk
Composer: Resnick, Young
Album: The Definitive Drifters
Label: Atlantic Records

Artist: Them (featuring Van Morrison)
Song: Here Comes The Night
Composer: Berns
Album: Best Of Van Morrison
Label: Polydor

Artist: The Strangeloves
Song: I Want Candy
Composer: Feldman, Goldstein, Gotteher, Berns
Album: I Want Candy: The Best of the Strangeloves
Label: Ace Recordings

Artist: Arsenio Rodriguez & The Afro-Cubano Sound Of Now!
Song: Sloopy Hang On
Composer: Berns, Farrell
Album: The Afro-Cubano Sound Of Now!
Label: Columbia (Japan)

Artist: Neil Diamond
Song: Solitary Man (Remastered) [Mono]
Composer: Diamond
Album: The Bang Years 1966 - 1968 (Remastered)
Label: Columbia Records

Artist: Erma Franklin
Song: Piece Of My Heart
Composer: Berns, Ragovoy
Album: Mr Success - The Bert Berns Story - Volume 2 (1964-1967)
Label: Ace Recordings
Introducing: Bailey Wiley
Artist: Bailey Wiley
Song: I XL
Composer: Bailey Wiley
Album: I XL
Label: Self Release
NZMM Selection- Samuel Flynn Scott
Artist: The Mint Chicks
Song: Sleeping During The Day
Composer: Nielson/ Nielson
Album: Crazy? Yes! Dumb? No!
Label: Flying Nun
Artist: Sherpa
Song: Love Film
Composer: Sherpa
Album: Blues and Oranges
Label: Self Release
Gig Guide
Artist: Fatima
Song: Technology
Composer: Fatima
Album: Yellow Memories
Label: Eglo
4-5pm
The Secret Life Of Music Poster Artists
Artist: The Underdogs
Song: Pretty Girls
Composer: The Underdogs
Album: The Underdogs Blues Band
Label: Ascension

Artist: Space Farm
Song: Gypsy Queen
Composer: Billy/Glen/Harvey
Album: Space Farm
Label: Ascension

Artist: The Axemen
Song: The Wharf With No Name
Composer: The Axemen
Album: Peter Wang Pud
Label: Flying Nun

Artist: The Axemen
Song: Mick's Dancefloor
Composer: The Axemen
Album: Peter Wang Pud
Label: Flying Nun

Artist: Toy Love
Song: Sheep
Composer: Toy Love
Album: Cuts
Label: Flying Nun

Artist: The Primmers
Song: You're Gonna Get Done
Composer: The Primmers
Album: AK79
Label: Flying Nun

Artist Disasteradio
Song: Personal Bubble
Composer: Disasteradio
Album: CRITICAL HITS 2012
Label: Crystal Magic

Artist: So So Modern
Song: The Love Code
Composer: So So Modern
Album: Friendly Fires EP
Label: self-released

Artist: Liam Finn
Song: Roll of the Eye
Composer: Liam Finn
Album: FOMO
Label: Liberation

Artist: Beastwars
Song: Imperium
Composer: Beastwars
Album: Blood Becomes Fire
Label: Destroy Records

Artist: Glass Vaults
Song: It Looks Like Winter Water
Composer: Glass Vaults
Album: Into Clear EP
Label: Jukebox Records

Artist: Black City Lights
Song: Rivers
Composer: Black City Lights
Album: Parallels EP
Label: Stars and Letters Records
Artist: The Ramones
Song: Danny Says
Composer: The Ramones
Album:End Of The Century
Label: Sire
Music Managers Awards 2014
Artist: Sol3 Mio
Song: No Diggity
Composer: Wither, Blackstreet
Album: Single
Label: Universal

Artist: Lorde
Song: Buzzcut Season, A World Alone
Composer: Ella Yelich-O'Connor, Joel Little
Album: Pure Heroine
Label: Universal
Artist: Lana Del Ray
Song: West Coast
Composer: Lana Del Rey, Rick Nowels
Album: Ultraviolence
Label: Interscope
Artist: The Black Keys
Songs: 10 Lovers, Fever, Weight Of Love, Year In Review, In Time
Composer: Auerbach/Carney/Burton
Album: Turn Blue
Label: Nonesuch
Artist: The Elder Statesman
Song: Montreux Sunrise
Composer: Yeabsley/ August
Album: Montreux Sunrise
Label: Bastard Jazz