Music 101 for Saturday 1 February 2014
2-3pm
Laneway
Highlights from this year's Laneway festival at Silo Park, including interviews from Kurt Vile, Watercolours and Unknown Mortal Orchestra.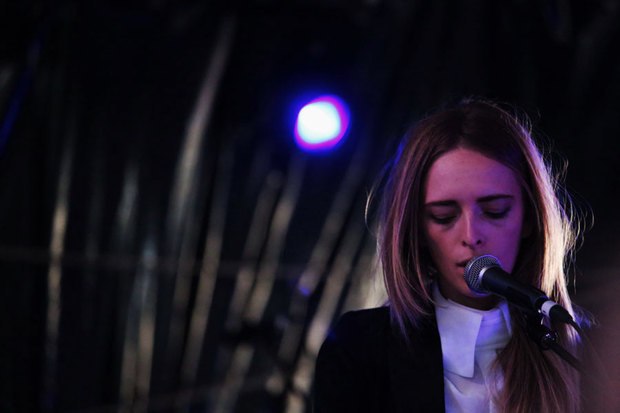 Watercolours, live at Laneway 2014. Photo by Getty Images
Lorde: Silo Park Review
Duncan Greive reviews Lorde's solo Laneway make-up show.
Queens Of The Stone Age
Queens of the Stone Age gunslinger Troy Van Leeuwen tells us about his experience of playing at this week's Grammys.
3-4pm
Pete Seeger
Nick Bollinger considers the life, work and influence of folk singer and activist Pete Seeger, who died this week aged 94.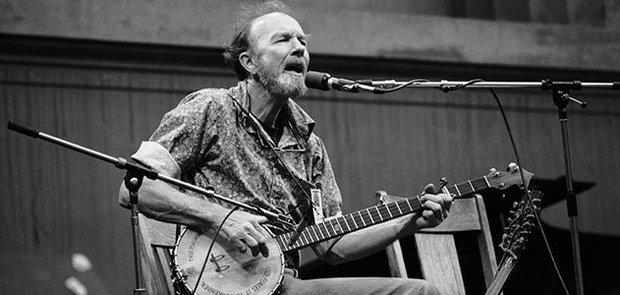 Pete Seeger performing at the Bread and Roses III benefit concert in 1979. Photo: Roger Ressmeyer / Corbis
RNZN Afternoons' Jim Mora speaking to Pete Seeger's half sister Peggy Seeger and Grandson Kitama Cahill-Jackson earlier this week.
Emma Smith's interview with Peggy Seeger in 2011.
Flora Knight and Ben Woolley In Session
Lyttelton fiddle player Flora Knight, often seen on stage with The Eastern, is heading over to West Virginia to steep herself in the folk music of the Appalachian Mountains. She and guitarist Ben Woolley join us to play tunes.
An interview with Helena Faust, a local banjo player who also went to learn the folk songs of West Virginia.
Delaney Davidson and Marlon Williams
Prolific country crooners Delaney Davidson and Marlon Williams are back with Sad But True Vol 3: Juke Box B Sides - We head to Lyttelton to meet their home crowd at The Wunderbar, hear the duo in rehearsal, and speak to them about the latest set of songs.

Delaney Davidson and Marlon Williams, photo courtesty of Lyttleton Records.
Gig Guide
4-5pm
Around the World in 80 Tunes - Catalan Rumba
When people think of the gypsy music of Spain, it is of course flamenco that springs to mind. But something different happened in the proud region of Catalonia that boasts the jewel of Barcelona as its capital. Their music took on a new flavour, brought from across the seas. Barnie Duncan explores the exciting hybrid of rumba catalana.
Smashproof
South Auckland rap trio Smashproof tell us about juggling their three distinctive musical personalities in-studio.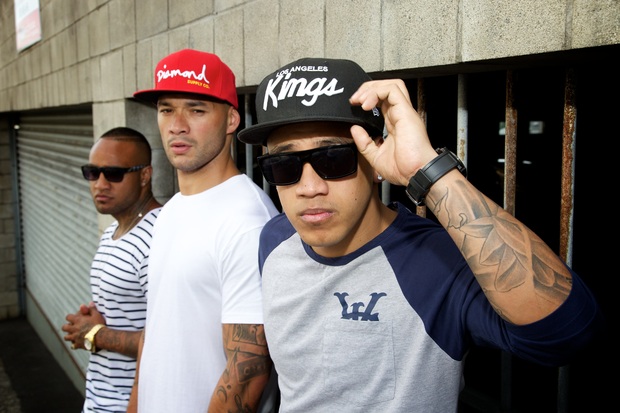 Smashproof: Tyree, Sid Diamond, and Deach.
Music played in this show
2-3pm
Artist: Mount Kimbie
Song: Made To Stay
Composer: Mount Kimbie
Album: Cold Spring Fault Less Youth
Label: Warp Records
Laneway 2014
Artist: Watercolours
Song: Under
Composer: Chelsea Jade
Album: Portals
Label: Private

Artist: Haim
Song: Don't Save Me
Composer: Haim
Album: Days Are Gone
Label: Columbia

Artist: Unknown Mortal Orchestra
Song: Monki
Composer: Ruban Neilson
Album: II
Label: JAGJAGUWAR

Artist: Kurt Vile
Song: KV Crimes, Walking On A Pretty Daze
Composer: Kurt Vile
Album: Walking On A Pretty Daze
Label: Matador
Artist: Lorde
Song: Ribs
Composer: Yelich-O'Connor/Little
Album: Pure Heroine
Label: Universal
Artist: James Blake
Song: Retrograde
Composer: J.Blake
Album: Overgrown
Label: Atlas
Artist: Broods
Song: Pretty Thing
Composer: Broods
Album: Broods EP
Label: EMI
Introducing: Lontalius
Artist: Lontalius
Song: For the Ideas
Composer: E.Johnston
Album: The World Will Never Know About Us
Label: Private
Artist: Lips
Song: Ghosts and Demons
Composer: S.Brown
Album: Ghosts and Demons EP
Label: Private
Artist: Nine Inch Nails
Song: Terrible Lie
Composer: T.Reznor
Album: Pretty Hate Machine
Label: TVT
Queens Of The Stone Age
Artist: Nine Inch Nails
Song: Copy Of A
Composer: T.Reznor
Album: Hesitation Marks
Label: Columbia Records

Artist: Queens of the Stone Age
Song: My God is the Sun
Composer: J.Homme
Album: ...Like Clockwork
Label: Matador
Artist: Sebadoh
Song: Skull
Composer: Barlow
Album: Bakesale
Label: Domino
Artist: Stephen Malkmus and The Jicks
Song: Chartjunk
Composer: S.Malkmus
Album: Wig Out at Jagbags
Label: UNSPK/Universal
Artist: Pete Seeger
Song: Fly Around My Blue Eyed Girl / Cripple Creek / Ida Red / Old Joe Clark
Composer: Traditional
Album: Darling Corey / Goofing-Off Suite
Label: Smithsonian
3-4pm
Pete Seeger Tribute
Artist: Pete Seeger
Song: We Shall Overcome, Where Have All the Flowers Gone
Composer: Seeger
Album: The Essential Pete Seeger
Label: Rounder

Artist: Pete Seeger
Song: Wimoweh
Composer: Traditional
Album: The Essential Pete Seeger
Label: Rounder

Artist: The Byrds
Song: Turn! Turn! Turn!
Composer: Seeger
Album: Turn! Turn! Turn!
Label: Columbia
Artist: 22
Song: Early in the Mornin'
Composer: Twenty Two, Little Red & Group
Album: The Alan Lomax Collection: Sampler
Label: Rounder
Session: Flora Knight and Ben Woolley
Artist: Ben Woolley and Flora Knight
Song: Greasy Coat, Piney Woods, Greenback Dollar
Composer: Traditional
Album: RNZ Recording
Label: RNZN
Artist: Hackensaw Boys
Song: Flora
Composer: Hackensaw Boys
Album: For The Love Of A Friend
Label: Leeways Homegrown Music Network
Delaney Davidson and Marlon Williams
Artist: Delaney Davidson
Song: Cold and Blibd
Composer: Conrad Wurt
Album: RNZN Recording
Label: Radio New Zealand recording

Artist: Delaney Davidson and Marlon Williams
Song: I'm Only On Fire
Composer: D.Jones
Album: RNZN Recording
Label: Radio New Zealand recording

Artist: Delaney Davidson, Marlon Williams, Tami Neilson, Dave Khan
Song: A Stranger
Composer: Leslie Riddle
Album: RNZN Recording
Label: Radio New Zealand Nationa

Artist: Marlon Williams
Song: State Hospital
Composer: Marlon Williams
Album:
Label: Radio New Zealand recording

Artist: Marlon Williams and Delaney Davidson
Song: Travelling Creature
Composer: Marlon Williams
Album:
Label: Radio New Zealand recording

Artist: Delaney Davidson, Marlon Williams
Song: Cool Water
Composer: Bob Nolan
Album: unreleased
Label: Lyttelton Records

Artist: Delaney Davidson and Marlon Williams
Song: Devils Right Hand
Composer: Steve Earle
Album: Sad But True Vol. III: Juke-Box B-sides
Label: Lyttelton Records

Artist: Delaney Davidson
Song: Lonesome Mile
Composer: Delaney Davidson
Album: Sad But True Vol. III: Juke-Box B-sides
Label: Lyttelton Records

Artist: Delaney Davidson and Marlon Williams
Song: Get Down On Your Knees And Pray
Composer: Bill Muroe
Album:RNZN
Label: Radio New Zealand recording

Artist: Delaney Davidson and Marlon Williams
Song: I'm Only On Fire
Composer: D.Jones
Album:RNZN
Label: Radio New Zealand recording
Artist: Tattletale Saints
Song: How Red Is The Blood From a Broken Heart
Composer: Winstanley
Album: How Red Is The Blood
Label: Old Oak
Gig Guide
Artist: Sebadoh
Song: Sister
Composer: Loewenstein
Album: Bubble & Scrape
Label: Domino

Artist: Clap Clap Riot
Song: Cold As Ice
Composer: Clap Clap Riot
Album: Nobody/Everybody
Label: Private<

Artist: Che Fu
Song: Get Up, Stand Up
Composer: B.Marley/P.Tosh
Album: Waka single
Label: BMG

Artist: Die!Die!Die!
Song: Oblivious, Oblivion
Composer: Die!Die!Die!
Album: Harmony
Label: DieDieDie
4-5pm
Around the World in 80 Tunes - Catalan Rumba
Artist: Paco Peña
Song: Sevillanas
Composer: Traditional
Album: Fabulous Flamenco
Label: Decca Music Group Ltd
Artist: Chano Pozo
Song: Rumba En Swing
Composer: Chano Pozo
Album: Best of Chano Pozo Vol. 1
Label: One World Productions
Artist: Los Amaya & Antonio Carmona
Song: Que Mala Suerte La Mia
Composer: Los Amaya
Album: Vuelven Los Amaya
Label: Universal Music Spain
Artist: Orquestra Panamericana
Song: El Charlatan
Composer: Ismael Rivera
Album: Saoco!
Label: Distrolux
Artist: Peret
Song: La Noche del Hawayano
Composer: Ismael Rivera
Album: Lo Más Grande De La Rumba
Label: Parlophone Music Spain
Artist: Peret
Song: Chaví
Composer: José María Bagardí
Album: Chaví (7 inch single)
Label: Ariola
Artist: Peret
Song: Voy Voy
Composer: Peret
Album: Voy Voy (7 inch single)
Label: Onyx
Artist: Los Golfos
Song: Que Pasa Contigo, Tio
Composer: Manuel Malou
Album: Que Pasa Contigo, Tio
Label: RCA Victor
Artist: Bambino
Song: Quiero
Composer: Bambino
Album: Bambino
Label: Columbia
Artist: Los Amaya + Txarly Brown/DJ Makala remix
Song: Que Mala Suerte La Mia
Composer: Los Amaya
Album: single
Label: Achilifunk
Artist: DJ Makala
Song: Anana Jib
Composer: Dolores Vargas
Album: single
Label: soundcloud
Smashproof
Artist: Smashproof
Songs: Survivor/Smashproof Watt/Paint Fade/Get By (Southside Edit)/Forever/L.A.B./ Out Of This World
Composer: Smashproof
Album: Forever
Label: Move the Crowd
Artist: Coco Solid
Song: 2 Wise 2 Wed
Composer: J.Hansell
Album: The Boogie Vol. 4
Label: Tokyo Dawn Records
Artist: Team Dynamite
Song: Coconut Lime
Composer: Team Dynamite/C.Ness
Album: Shepherd's Delight
Label: Young, Gifted and Broke
Artist: Daedelus
Song: Tiptoes
Composer: A.Darlington
Album: Drown Out
Label: Anticon
Camp A Low Hum Montage