Music 101 for Saturday 25 January 2014
2-3pm
Kim Dotcom
Mega mogul Kim Dotcom celebrated his 40th birthday this week by releasing Good Times, an über electronic dance music album six months in the making. We head out to the Dotcom mansion to get the skinny on Kim's foray on to the dancefloor.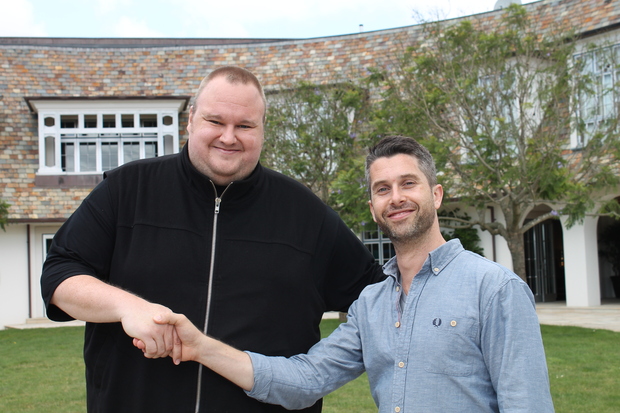 Kim Dotcom and Sam Wicks - Photo by Mikee Tucker.
Music Biz in 2014
Journalists Duncan Grieve and Matt Nippert mull over the state of the local and international music industry- the legend of Lorde, the downturning of digital sales and the upswing of streaming.
Music Biz 2014 - the local music industry and the legend of Lorde
Music Biz 2014 - Digital sales and Streaming
Music Biz 2014 - The local live music scene

3-4pm

Matmos, photo by AJ Farkas
Matmos
Baltimore based electronic music duo Matmos make music with a sense of humour. They gained notoriety for their work with Björk, and later an album which utilised samples from medical procedures such as liposuction and eye laser surgery. They join us during their first New Zealand shows.
Holly Herndon
Holly joins us to talk about the follow up to her debut Movement- The Chorus EP, which samples her everyday interactions with her computer.
Daniel Haaksman- Guest Selector
The German producer, and Man Records founder talks us through some of the latest developments in Berlin techno.
Gig Guide
4-5pm
Around The World in 80 Tunes - Aboriginal Australia
Barnie Duncan and Nick Dwyer take a musical journey around the globe, stopping to take in sounds not often heard by western ears. This week, Barnie heads to Australia, to find out more about contemporary Aboriginal musics.

Check out the spread of tribal and language groups in the ABC's map of Aboriginal Australia.
The Sampler: British Sea Power
Nick Bollinger listens to the atmospheric soundtrack to the silent documentary From the Sea to the Land Beyond, by British Sea Power.
French For Rabbits
Dream-pop duo Brooke Singer and John Fitzgerald have just returned from a few months touring around Europe. They share some stories from the road and a brand new song.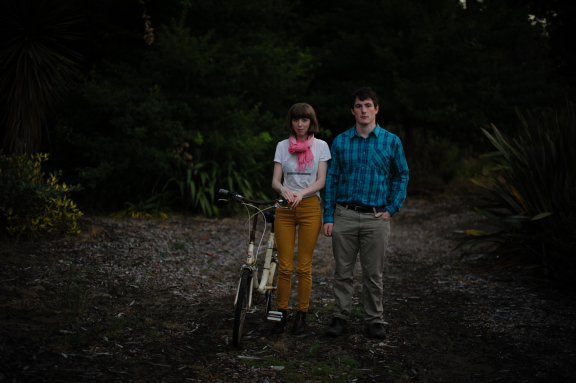 French For Rabbits
Music played in this show
2-3pm
Artist: Disasteradio
Song: Personal Bubble
Composer: Rowell
Album: Electric Blanket
Label: Self-Released
Kim Dotcom- Good Times
Artist: Kim Dotcom
Song: Wunderbar (Interlude)/Dance Dance Dance/Beathoven (Interlude)/Live My Life/Good Times/Wunderbar (Interlude)/Amazing/Party Electricity/Party Amplifier/Good Life
Composer: K.Dotcom
Album: Good Times
Label: Kimpire Music
Artist: Beyonce
Song: Partition
Composer: Knowles/ Nash/ Timberlake
Album: Beyonce
Label: Columbia
State of the Music Biz with Duncan Grieve and Matt Nippert
Introducing: Yumi Zouma
Artist: Yumi Zouma
Song: The Brae
Composer:Yumi Zouma
Album: Yumi Zouma EP
Label: Cascine
Artist: Son Little
Song: Cross My Heart
Composer: Livingston
Album: Cross My Heart
Label: Anti
2-3pm
Artist: Jean Jacque Perri
Song: E.V.A
Composer: Perri
Album: Moog Indigo
Label: Vanguard
Matmos
Artist: Matmos
Song: Teen Paranormal Romance, Very Large Green Triangles, In Search of a Lost Faculty, Ross Transcript, Tunnel
Composer: Matmos
Album: The Marriage of True Minds
Label: Thrill Jockey
Artist: Matmos
Song: For Felix
Composer: Matmos
Album: A Chance To Cut Is a Chance to Cure
Label: Matador
Artist: Matmos
Song: Pelt and Holler
Composer: Matmos
Album: The Civil War
Label: Matador
Artist: Matmos
Song: Mental Radio
Composer: Matmos
Album: The Marriage of True Minds
Label: Thrill Jockey
Holly Herndon
Artist: Holly Herndon
Song: Fade
Composer: Herndon
Album: Movement
Label: RVNG
Artist: Holly Herndon
Song: Chorus
Composer: Herndon
Album:Chorus
Label: RVNG
Artist: Moderat
Song:Bad Kingdom
Composer: Moderat
Album: Moderat II
Label: Monkeytown
Artist: Jeri Jeri
Song:Casamance with Ale & Khadim Mboup
Composer: Ale/ Khadim Mboup/ Ernestus
Album: Casamance
Label: Ndagga
Artist: Daniel Haaksman
Song: Lemba feat Coréon Dú
Composer: Haaksman/ Coréon Dú
Album: Lemba
Label: Man
Gig Guide
Artist: Skid Row
Song: Youth Gone Wild
Composer: Skid Row
Album: Rock Monsters
Label: Universal
Artist: Rolling Stones
Song Live With Me
Composer: Jagger, Richards
Album: Let It Bleed
Label: ABCKO
Artist: Dan Walsh
Song Jigs and Reels
Composer: Trad
Album: n/a
Label: n/a
4-5pm
Around The World in 80 Tunes- Aboriginal Musics
Artist:
Song: Yidaki
Composer: Kristian Didgeridoo
Album: Australia – Traditional Didgeridoo Australian Aboriginal Music
Label: Ark
Artist: Young boys of Fregon, Australia
Song: Traditional Gospel
Composer: Traditional Gospel
Album: Field recording
Label: n/a
Artist: Warumpi Band
Song: Blackfella/Whitefella
Composer: Warumpi Band
Album: Big Name, No Blankets
Label: Powderworks Records
Artist: North Tanami Band
Song: Makuju Yampiya
Composer: North Tanami Band
Album: Desert People
Label: CAAMA Music
Artist: Mimili Band
Song: Yankunytjatjara – All My Family
Composer: Harry Shannon
Album: Live Recording
Label: n/a
Artist: Williams Sisters
Song: Traditional Gospel
Composer: Traditional
Album: Field recording
Label: n/a
Artist: Young Women of Titjikalanya
Song: Ngura Titjikalanya
Composer: Beatrice + Young Women of Titjikalanya
Album: Sista Sounds
Label: n/a
Artist: Shakira and the girls of Papunya Community
Song: Rainbow Disco Girl
Composer: Beatrice + Shakira and the girls of Papunya Community
Album: Sista Sounds
Label: n/a
Artist: Monkey Marc, Elf Transporter, boys from Nyirrpi
Song: Bikey Boys
Composer: Monkey Marc, Elf Transporter, boys from Nyirrpi
Album: Red Sand Culture Vol. 2
Label: InCite Youth Arts and the Mt Theo Program
Artist: Impossible Odds
Song: Everything
Composer: Fred Leone
Album: Against All Odds
Label: Impossible Odds Records
Artist: Monkey Marc, Elf Transporter, boys from Nyirrpi
Song: Little Flowers
Composer: Monkey Marc, Elf Transporter, boys from Nyirrpi
Album: Red Sand Culture Vol. 1
Label: InCite Youth Arts and the Mt Theo Program
The Sampler: British Sea Power
Artist: British Sea Power
Songs: Berth 24, Melancholy of the Boot, Suffragette Riots, Be You Mighty Sparrow?, The Islanders
Composer: British Sea Power
Album: From The Sea To The Land Beyond
Label: Rough Trade
Artist: Keren Ann
Song: Que N'ai Je
Composer:Ann
Album: Nolita
Label:Capitol
French For Rabbits
Artist: French For Rabbits
Song: Wisdom, Marauder, A Ghosts Broken Heart, The Cats, Two's Company
Composer: Singer/Fitzgerald
Album: Claimed By The Sea EP
Label: Hope Alone Music
Artist: French For Rabbits
Song: Hard Luck Stories
Composer: Singer/Fitzgerald
Album: Unreleased
Label: Hope Alone Music
Artist: City Oh Sigh
Song: Sometimes
Composer: City Oh Sigh
Album: Fragments Fine
Label: Home Alone Music