Music 101 for Saturday 18 January 2014
12-1pm
Sharon Jones
The first lady of Funk, Sharon Jones tells what helped her through her recent battle with cancer, and her plans to head down under.
Ronny Jordan
Mark de Clive Lowe reflects on the life and influence of the late jazz guitarist, and pivotal figure in the acid jazz movement.
Estere and Odissee
One prodigy, one mentor, and 10 days of studio time. In October last year, Wellington soul singer Estere became the latest recipient of the Prodigy Project - an initiative that pairs new artists and studio veterans - with Estere mentored by Washington D.C.-bred MC and producer Oddisee at Red Bull Studio. We hear them in action.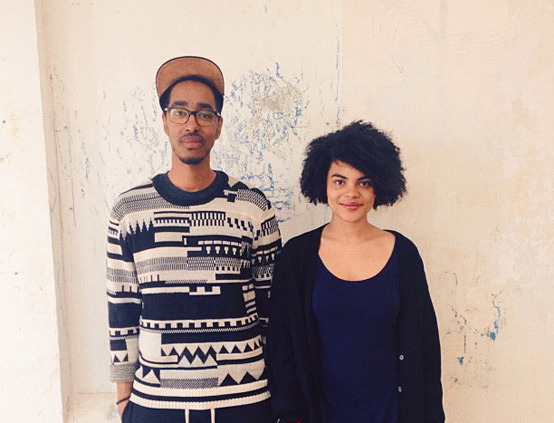 Estere and Odissee
1-2pm
Jagwar Ma
This Australian psychedelic/dance band on sounding like themselves.
Unknown Mortal Orchestra Live
Unknown Mortal Orchestra began as the solo sonic experiments of Portland-based expat and former Mint Chick Ruban Nielsen, growing to become an award-winning psychedelic three-piece opening for the likes of Grizzly Bear and Weezer. They returned for their third headline New Zealand Tour in July 2013, playing this show at Kings Arms in Auckland.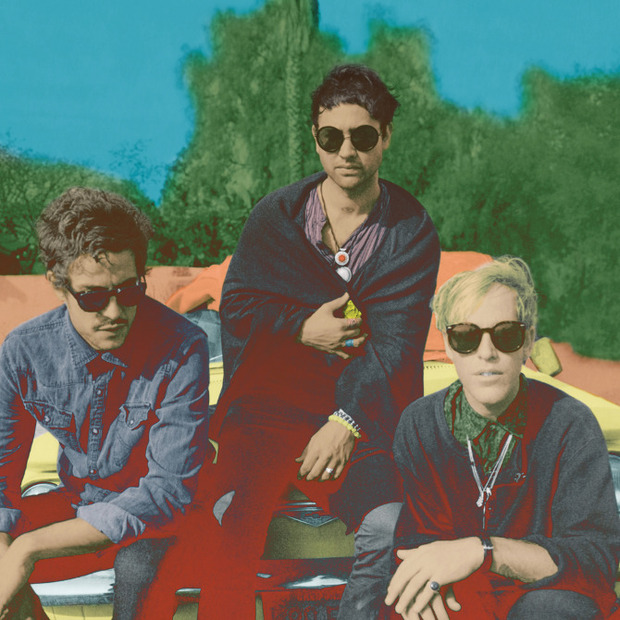 Unknown Mortal Orchestra, image by Neil Krueg.
2-3pm
The Nerve Part 5 - myTunes: Music & Identity
Today, it seems, everyone has the opportunity to create their very own personal soundtrack to their lives. There's a very simple reason that the iPod starts with the letter "I". On Episode 5 of The Nerve, host Jowi Taylor examines how music plays an integral part in everyone's identity, regardless of class, race, religion, education, gender, or sexuality.
3-4pm
Big Day Out 2014
Sam Wicks, Nick Atkinson and Joe Nunweek return to the Big Day Out, which is held for the first time at Western Springs Stadium. Includes interviews with Portugal the Man, Naked and Famous, Deftones, CSS, Beady Eye, and Mudhoney. Check out more of our Big Day Out coverage.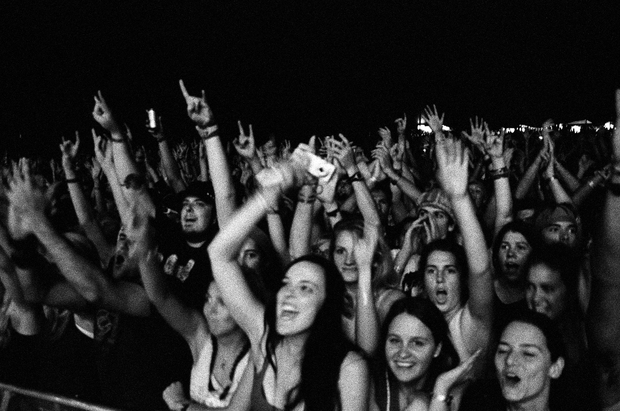 Crowd shot: Pat Shepherd
Chronophonium
Heleyni Pratley of Big Rick takes us inside one of the newest boutique music festivals- Chronophonium in Coromandel, which focusses on the experimental tip of local music.
Gig Guide
4-5pm
The Mixtape: Neil Finn
Invited musical guests compile a C60, and talk us through their selections. Today: new songs from both Neil and Liam Finn and classic recordings from Dizzy Heights producer Dave Fridman feature in a democratic, family selection.
Repeated: 11 pm Thursday 3 January 2013 in place of The Music Mix
Music played in this show
12-1pm
Artist: US3
Song: Cantaloop (Flip Fantasia) [Instrumental]
Composer: Herbie Hancock / R. Kelly / Mel Simpson / Geoff Wilkinson
Album: Hand On The Torch 20th Anniversary edition
Label: Bluenote
Sharon Jones- Give The People What They Want
Artist: Sharon Jones and the Dap-Kings
Song: Retreat
Composer: Mann
Song:You'll Be Lonely
Composer: Gastelum
Song: Get Up and Get Out
Composer: Steinweiss
Song: People Don't Get What They Deserve
Composer: Mann
Album: Give The People What They Want
Label: Daptone
 
Ronny Jordan with Mark de Clive Lowe
Artist: Ronny Jordan
Song: So What
Composer: Davis
Album: The Antedote
Label: Island
Artist: Ronny Jordan
Song: The Jackal feat Dana Bryant
Composer: Jordan/ Bryant
Album: The Quiet Revolution
Label:4th and Broadway
Artist: Madlib
Song: Please Set Me At Ease
Composer: Humphrey/ Madlib
Album: Shades of Blue
Label: Blue Note
Estere and Oddisee
Artist: Estere
Songs: Cruel Charlie
Composer: E.Dalton
Label: Private
Artist: Oddisee
Songs: No Rules For Kings
Album: The Beauty In All
Composer: A.Khalifa
Label: Mello Music Group
Artist: Estere/Oddisee
Songs: Noon/Curtains Down/Flash Light
Composer: E.Dalton/A.Khalifa
Label: Private
Artist: Janelle Monae feat. Prince
Song: Given em what they Love
Composer: Monae
Album: Electric Lady
Label: Atlantic
1-2pm
Artist: The Stone Roses
Song: Waterfall
Composer: Brown, Squire
Album: The Stone Roses
Label: Liberation
Jagwar Ma
Artist: Jagwar Ma
Song: Come Save Me, What Love, Man I Need, The Throw
Composer: Jagwar Ma
Album: Howlin'
Label: Marathon Artist
Artist: Warpaint
Song: Disco//Very
Composer: Warpaint
Album: Warpaint
Label: Rough Trade
Artist: Liars
Song: Mess
Composer: Liars
Album: Mess On A Mission
Label: Mute
UMO Live at the Kings Arms
Artist: Unknown Mortal Orchestra
Song: Thought Ballune, No Need For A Leader, Secret Xtians, Ffunny Friends
Composer: R Nielsen
Album: Unreleased
Label: RNZ Recording
Artist: Jonti
Song: Nightshift in Blue
Composer: Jonti
Album:Twirligig
Label: Stones Throw
2-3pm
The Nerve: part 5-Music and Identity
Artist: Mogwai
Song: No Medicine For Regret -
Composer: Mogwai
Album: Rave Tapes
Label: Rock Action
 
3-4pm
Big Day Out 2014
Artist:Dr Dre - Featuring Snoop Doggy Dogg
Song: Nuthin' But A G Thang
Composer: Dre/Dogg
Album: The Chronic
Label: Death Row
Artist: The Naked And Famous
Song: In Rolling Waves, A Stillness
Composer: Thom Powers, Alisa Xayalith, Aaron Short
Album: In Rolling Waves
Label: Fiction/Island
Artist: Mudhoney
Song: No One Has
Composer: Mudhoney
Album: Sub Pop Silver Jubilee
Label: MOJO/SUBPOP
Artist: Mudhoney
Song: I Don't Remember You
Composer: Mudhoney
Album: Sub Pop Silver Jubilee
Label: MOJO/SUBPOP
Artist: CSS
Song: Echo Of Love
Composer: Adriano Cintra, Ana Anjos, Adriano Cintra, Lovefoxx
Album: Liberación
Label: V2
Artist: CSS
Song: Ruby Eyes
Composer: Adriano Cintra, Lovefoxx
Album: Liberación
Label: V2
Artist: CSS
Song: You Could Have It All
Composer: Adriano Cintra, Lovefoxx
Album: Liberación
Label: V2
Artist: Beady Eye
Song: Flick of the Finger/Face the Crowd
Composer: Bell/Archer/Gallagher
Album: Be
Label: Sony
Artist: Arcade Fire
Song: We Exist/Refleckor
Composer: Arcade Fire
Album: Refleckor
Label: Merge
Artist: Portugal. The Man
Song: Plastic Soldiers/Purple, Yellow, Red and Blue
Composer: Portugal. The Man/ Danger Mouse
Album: Evil Friends
Label: Atlantic
Artist: Pearl Jam
Song: Mind Your Manners
Composer: McCready
Album: Lightening Bolt
Label: Monkeywrench
Chronophonium
Artist: Big Rick
Song: Under The Ground
Composer: Big Rick
Album: Under The Ground
Label: Self-released
Artist: Sheep Dog and Wolf
Song: Glare
Composer: McBride
Album: Egospect
Label: Lil Chief
Artist: The Conjurors
Song: Our Love Is Dead
Composer: Crawley/Shute
Album: Single
Label: Sound Recordings
Artist: Mice On Stilts
Song: Syds Socks
Composer: Mice On Stilts
Album: An Ocean Held Me
Label: Triple A Records
Artist: Glass Vaults
Song: Alight
Composer: Larson/Pierce
Album: Bright EP
Label: Self-Released
Artist: Long Horn Breed
Song: Headquarters
Composer: Long Horn Breed
Album: Single
Label: Self-Released
Artist: The Shocking And Stunning
Song: Breakdance
Composer: The Shocking And Stunning
Album: We Will Fight You
Label: Self-Released
Artist: Rackets
Song: Snake In The Grass
Composer: Rackets
Album: Could Do Better
Label: Self-Released
Artist: Indi
Song: Stay
Composer: Indira Force
Album: Single
Label: Self-Released
Artist: Doprah
Song: Whatever You Want
Composer: Marr/Force
Album: Single
Label: Self-Released
Gig Guide
Artist: The Motels
Song: Danger
Composer: Davis, McGovern
Album: The Motels: The Best Of (Compilation)
Label: EMI
Artist: King Crimson
Song: Indiscipline
Composer: Fripp, Belew
Album: Discipline
Label: Polydor
Artist: X Ray Fiends
Song: Tsunami
Composer: X Ray Fiends
Album: X Ray Fiends
Label: Private
Artist: Matmos
Song: Mental Radio
Composer: Matmos
Album: The Marriage Of True Minds
Label: Thrill Jockey
4-5pm
Neil Finn Mixtape
Artist: Tinariwen
Song: Lulla
Composer:
Album: Imidiwan: Companions
Label: World Village, Independiente
Artist: Breeders
Song: Drivin' On 9
Composer: D.Leone/S.Hickoff
Album: Last Splash
Label: 4AD/Elektra Records
Artist: Connan Mockasin
Song: The Man That Will Find You
Composer: C.Mockasin
Album: Caramel
Label: Phantasy Sound
Artist: Talking Heads
Song: This Must be the Place (Naive Melody)
Composer: D.Byrne.C.Frantz/J.Harrison/T.Weymouth
Album: Speaking in Tongues
Label: Sire
Artist: MGMT
Song:The Youth
Composer: A.VanWyngarden/B.Goldwasser
Album: Oracular Spectacular
Label: Columbia
Artist: David Bowie
Song: Moonage Daydream
Composer: D.Bowie
Album: 7-inch single
Label: B&C Records
Artist: Liam Finn
Song: Snug As Fuck
Composer: L.Finn
Album: The Nihilist
Label: Liberation
Artist: Lawrence Arabia
Song: The Listening Times
Composer: J.Milne
Album: The Sparrow
Label: Bella Union
Artist: Neil Finn
Song: Flying In The Face of Love
Composer: Finn
Album: Dizzy Heights
Label: Lester