Music 101 for Saturday 9 March 2013
2-3 pm
Atoms For Peace: Thom Yorke
The experimental rock & electronic supergroup have just released their debut album Amok.
Badd Energy
The electro punk outfit that brings together a United Nations of ethnicities and gender politics talk about the long awaited second album Underwater Pyramids.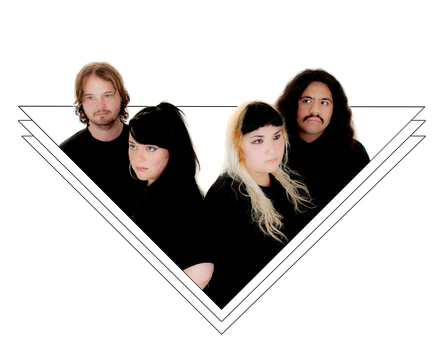 Picture by Milana Radojcic
Gold Panda
Acclaimed UK electro act and remixer Gold Panda has been touring our shores, bringing shimmering shuffling samples. His debut LP 'Lucky Shiner' won The Guardian First Album award and he's now followed it up with the 'Trust EP'.
3-4pm
Wu Man in Session
Wu Man is a virtuoso of the Pipa - a four stringed Chinese lute that dates back two thousand years and echoes ancient Chinese musical traditions. Wu Man preserves those traditions as well as exploring multi cultural collaborations that are bringing the pipa to a new global audience. Wu Man comes into the Music 101 studio to share her passion for the pipa ahead of two performances at the Auckland Arts Festival (with the Kronos Quartet and solo).
Hear more about the Pipa here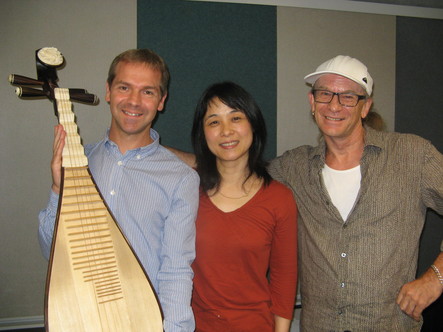 Anais Mitchell and Jefferson Hamer
American songwriters, Anais Mitchell and Jefferson Hamer, talk to Harriett Gilbert
about their arrangement of a selection of centuries old Celtic folk songs for their current release Child Ballads.
Richard Thompson
Acclaimed musician Richard Thompson discusses his new album, Electric, and his forty-plus years as an undervalued songwriter.
Gig Guide
We pick the stand out gigs around the country.

The Sampler: Alasdair Roberts and Friends
Nick Bollinger discusses modern Scottish folk songs by a scholar of musical, literary and linguistic tradition who incorporates New Orleans marching band music, rapping in Welsh, and evokes the plaintive drones of the Highland pipes.
4-5pm
Dinosaur Jr. in session
United Sates alt-rockers with a career spanning 27 years played NZ this week. They popped into Roundhead studios for this special session.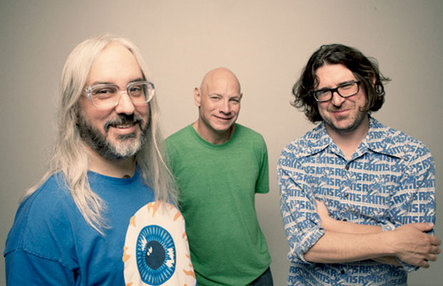 Moon Duo
The Portland pair on making rock to dance to, and repetition's power to deconstruct the universe.
Music played in this show
2-3pm
Artist: Radiohead
Song: Meeting In The Aisle
Composer: Radiohead
Album: Airbag/ How Am I Driving?
Label: Capitol
Atoms for Peace: Thom Yorke
Artist: Atoms For Peace
Song: Before Your Very Eyes..., Dropped, Amok
Composer:Atoms For Peace
Album: Amok
Label: XL
Artist: Darkstar
Song: Amplified Ease
Composer: Darkstar
Album: Timeaway
Label: Warp
Artist: Parallel Dance Ensemble
Song: Weight Watchers
Composer: Hansell/ Hannibal
Album: Turtle Pizza Cadillacs
Label: ISM
Badd Energy
Artist: Badd Energy
Song: Entro/Third Eye/How Do You Sleep/Riot/Ba-Zing
Composer: Badd Energy
Album: Underwater Pyramids
Label: Flying Nun
Artist: Killer Mike
Song: Untitled
Composer: Killer Mike
Album: R.A.P Music
Label: Williams St
Artist: Christoph El Truento
Song: Raindance
Composer: Christoph El Truento
Album: What We Used to Know
Label:
Gold Panda
Artist: Gold Panda
Song: Marriage / Snow & Taxis / Same Dream China
Composer: Gold Panda
Album: Lucky Shiner
Label: Ghostly International 978123

Artist: Gold Panda
Song: Quitter's Raga
Composer: Gold Panda
Album: Stereogum's 40 Best New Bands 2010
Label: INHOUSE 772

Artist: Gold Panda
Song: Burnt-Out Car In A Forest / Trust Intro / Trust
Composer: Gold Panda
Album: Trust EP
Label: Ghostly International

Artist: Gold Panda
Song: Financial District
Composer: Gold Panda
Album: Mountain / Financial District
Label: Ghostly International
 
Artist: Youth Lagoon
Song: Attic Door
Composer: Trevor Powers
Album: Wondrous Bughouse
Label: Fat Possum
Artist: Foxygen
Song: Shuggie
Composer:Foxygen
Album: We Are The 21st Century Ambassadors of Peace and Magic
Label: Jagjaguwar
3-4pm
Wu Mann Live
Artist: Wu Man
Song:Intro
Composer: Wu Man
Song:Flute and drum music at Sunset
Composer: Trad
Song:White Snow in Spring
Composer: Trad
Album: Unreleased
Label: Radio NZ
Artist: Ween
Song: Cold Blows The Wind
Composer: Ween
Album: The Mollusk
Label: Elektra
Anais Mitchell and Jefferson Hamer
(no music details supplied)
Richard Thompson
Song: Stony Ground, Salford Sunday, Sally B, Another Small Thing In Her Favour, Straight And Narrow, Saving The Good Stuff For You, Will You Dance Charlie Boy
Artist: Richard Thompson
Composer: Richard Thompson
Album: Electric
Label: Proper/Southbound
The Sampler: Alasdair Roberts and Friends- A Wonder Working Stone
Artist: Alasdair Roberts and Friends
Songs: The Year Of The Burning; The Laverock In The Blackthorn, The Merry Wake, Fusion Of Horizons, Scandal and Trance, Song Composed In December, The Wheels Of The World
Composer: Roberts
Album: A Wonder Working Stone
Label: Drag City
Artist: Angel Olsen
Song: Free
Composer: Olsen
Album: Half Way Home
Label: Bathetic
Gig Guide
Artist: Hugh Masekela
Song: Afro Beat Blues
Composer: Hugh Masekela
Album: Hugh Masekela, The Chisa Years. 1965-1975
Label: BBE

Artist: David Kilgour
Song: Today Is Gonna Be Mine
Composer: D. Kilgour
Album: A Feather In The Engine
Label: Arclife
 
4-5pm
Dinosaur Jr in Session
Artist: Dinosaur Jr
Song: Watch The Corners
Composer: Mascis
Song: Training Ground
Composer: Deep Wound
Song: Sludgefeast, Out There
Composer: Mascis
Song: Rude
Composer: Barlow
Song: Pond Song (Bug)
Composer:Mascis
Album: Unreleased
Label: 95bFM recording
Artist: Mudhoney
Song: I Like It Small
Composer: Mudhoney
Album: Vanishing Point
Label: Subpop
Artist: Suicide
Song: Ghost Rider
Composer: A. Vega, M. Rev
Album: Suicide
Label: Mute
Moon Duo
Artist: Moon Duo
Song:
Composer: Moon Duo
Album: Circles
Label: Sacred Bones
Introducing: Mongo Skato
Artist: Mongo Skato
Song: Delikca
Composer: Thomas Richards
Album: n/a
Label: n/a
Artist: The Yoots
Song: E Te Ariki
Composer: The Yoots
Album: Sing Along With The Yoots
Label: Economy