Music 101 for Saturday 26 January 2013
2-3pm
Fred Wesley
James Brown's band leader, trombonist Fred Wesley, on the universal language of funk, and why he doesn't believe it's such a man's man's man's world anymore.
Awesome Tapes from Africa
Ethnomusicologist and awesometapes.com blogger Brian Shimkovitz on how he acquired his extensive West African tape collection, and why he's posting it on the internet.
3-4pm
The Dirty Projectors
In the running for the title 'singers most likely to be confused with a church organ', we speak to Brooklyn's Dirty Projectors on their return trip to New Zealand.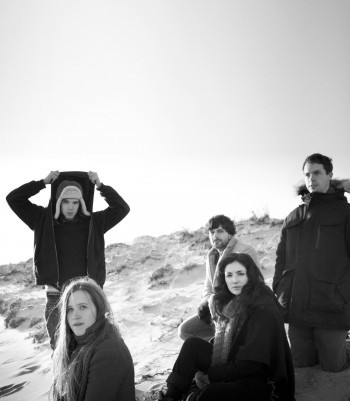 Image courtesy of Jason Frank Rothenberg
Lawrence Arabia Live
Hear James Milne and his 9-piece all-star band perform 'The Listening Times' and 'The Bisexual', live at the Whangateau Hall.
Woods + Woodsist
Guitarists Jeremy Earl and Jarvis Taveniere talk about their freak folk band Woods, and Jeremy's Woodsist label, which nurtured early releases from Kurt Vile, The Vivian Girls and Thee Oh Sees.
Moon Duo
Ripley Johnson, also of Wooden Shjips, introduces a song from Moon Duo's upcoming new album, recorded in German.
4-5pm
Live: The Black Seeds
The popular capital band is captured in fine form at the Powerstation in Auckland during the Dust and Dirt album release tour. Tracks include: Frostbite, Cool Me Down, Heavy Mono E, Cracks In Our Crown and Turn It Around.
The Sampler: Beck Song Reader
Nick Bollinger turns book reviewer, for Beck's new release Song Reader, an album worth of sheet music.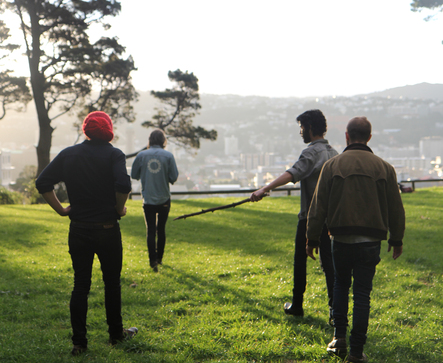 Music played in this show
2-3pm
Artist: James Brown
Song: Hey America
Composer:Brown
Album: Double Cookin: Classic Northern Soul Instrumentals
Label:Kent
Fred Wesley
Artist: The King All Stars
Song: Ham
Composer: Alfred "Pee Wee" Ellis
Album: The Fabulous King All Stars
Label: After Hours

Artist: The King All Stars
Song: Looks Like I'm Walkin'
Composer: Gregory Townson
Album: The Fabulous King All Stars
Label: After Hours

Artist: The J.B.s
Song: Pass The Peas
Composer: James Brown-John Starks-Charles Bobbit
Album: Funky Good Time: The Anthology
Label: Polydor
Artist: Fred Wesley & The J.B.s
Song: Damn Right I Am Somebody
Composer: James Brown-Fred Wesley
Album: Funky Good Time: The Anthology
Label: Polydor

Artist: Sharon Jones & The Dap-Kings
Song: 100 Days, 100 Nights
Composer: B. Mann
Album: 100 Days, 100 Nights
Label: Daptone

Artist: Fred Wesley and the Horny Horns featuring Maceo Parker
Song: A Blow For Me, A Toot For You
Composer: George Clinton-William Collins-Fred Wesley
Album: A Blow For Me, A Toot For You
Label: Atlantic

Artist: James Brown
Song: Sportin' Life
Composer: James Brown-Charles Bobbit-Fred Wesley
Album: Black Caesar
Label: Polydor

Artist: Fred Wesley
Song: Just Like That
Composer: Fred Wesley
Album: Comme Ci, Comme Ca
Label: Antilles

Artist: Abraham, Inc
Song: Trombonik
Composer: Fred Wesley
Album: Tweet Tweet
Label: Table Pounding Records
Artist: Lyn Collins
Song: Think About It
Composer: Collins
Album: James Brown Funky People
Label: Polydor
Awesome Tapes From Africa: Brian Shimkovitz
Artist: Dur Dur Band
Song: Dooyo
Composer: Dur Dur Band
Album: Dur Dur
Label: Awesome Tapes From Africa

Artist: VIP
Song: Ahoumka Womu
Composer: VIP
Album:Ahoumka Womu
Label: Out Here

Artist: Bola
Song:Buribunbol
Composer:Bola
Album: Volume 7
Label:Awesome Tapes From Africa

Artist: Na Hawa Doumbia
Song: Dan Te Dinye La
Composer: Na Hawa Doumbia
Album: La Grande Cantatrice Malienne, Vol. 3
Label: Awesome Tapes From Africa

Artist:Khaira Arby
Song:Ehe Youma
Composer: Arby
Album: Ya Rassoul
Label:Camara
Artist: Vieux Farka Toure
Song: Sokosondou
Composer: Vieux Farka Toure
Album: The Secret
Label: Six Degrees Records
Artist: Benny Tones
Song: Nevermind (Tayreeb rmx)
Composer: Benny Tones
Album:Chrysalis
Label: Every Waking Hour
Artist: Solange & Blood Orange
Song: Don't Let Me Down
Composer: Solange Knowles
Album: True
Label: I Records
Artist: Signer
Song: Set Piece
Composer: Smith
Album:
Label:
3-4pm
Artist: The Roots
Song: Dear God 2.0
Composer: T. Trotter, A. Thompson, P. Martinez, R. Nichols, J. James
Album: How I Got Over
Label: Def Jam
Dirty Projectors
Artist: Dirty Projectors
Song: Gun Has No Trigger, Just From Chevron,
Composer: Longstreth
Album: Swing Lo Magellen
Label: Domino
Artist: Sleater-Kinney
Song: Modern Girl
Composer: Carrie Brownstein, Janet Weiss, Corin Tucker
Album: The Woods
Label: Sub Pop
Artist: The Ruby Suns
Song: Real Life
Composer: Ryan McPhun
Album: Christoper
Label: Sub Pop
Lawrence Arabia LIVE
Artist: Lawrence Arabia
Song: The Listening Times, The Bisexual
Composer: Milne
Album: Unreleased
Label: RNZ Recording
Artist: Kurt Vile
Song: Baby's Arms
Composer: Kurt Vile
Album: Smoke Ring For My Halo
Label: Matador
Woods + Woodsist
Artist: Woods
Song: Cali in a Cup
Composer: Woods
Album: Bend Beyond
Label: Woodsist

Artist: Vivian Girls
Song: Where Do You Run To
Composer: Vivian Girls
Album: Vivian Girls
Label: Fck It Tapes

Artist: Kurt Vile
Song: Slow Talkers
Composer: Vile
Album:Constant Hitmaker
Label: Woodsist

Artist:Woods
Song: Be All Be Easy
Composer: Woods
Album: Sun and Shade
Label: Woodsist

Artist: Woods
Song:Rain On
Composer: Woods
Album: Songs Of Shame
Label: Woodsist


 
Artist: Moon Duo
Song: Ich Werde Sehen
Composer: Moon Duo
Album: TBC
Label: Souterrain Transmissions
Gig Guide

Artist: Chicks on Speed
Song:Art Rules
Composer:Chicks on Speed
Album:Art Rules
Label:Chicks on Speed/Shock.

Artist: Rodriguez
Song:Only Good For Conversation.
Composer:Rodriguez
Album:Cold Fact.
Label:Sussex.

Artist: Madlib
Song:Sir Bang (Bounce)
Composer:Madlib
Album:Madlib: Beat Konducta, Vol 1-2, Movies Scenes
Label:Stones Throw

Artist: Yeasayer
Song: I Remember
Composer:Chicks on Speed
Album:Odd Blood
Label: Matador
4-5pm
The Black Seeds Live
Artist: The Black Seeds
Songs: Frostbite, Cool Me Down, Heavy Mono E, Cracks In Our Crown, Turn It Around
Composer: The Black Seeds
Album: Unreleased
Label: RNZ recording
Artist: Beck
Song: Sunday Sun
Composer: Beck Hansen
Album: Sea Change
Label: Geffen
The Sampler: Beck- Song Reader
Artist: The Perfectly Violent Dream
Song: Please Leave A Light On When You Go
Composer: Beck Hansen
Artist: Song Preservation Society
Song: Just Noise
Composer: Beck Hansen
Artist: Seattle Rock Orchestra
Song: Old Shanghai
Composer: Beck Hansen
Artist: Jason Crosby           
Song: Do We? We Do
Composer: Beck Hansen
Artist: Portland Cello Project
Song: Mutilation Rag
Composer: Beck Hansen
Artist: Karl Engelmann
Song: America Here's My Boy
Composer: Beck Hansen
Artist: Max Miller
Song: Now That Your Dollar Bills Have Sprouted Wings
Composer: Beck Hansen
Artist: The Mover
Song: Don't Act Like Your Heart Isn't Hard
Composer: Beck Hansen
Artist: Hanna Silver
Song: We All Wear Cloaks
Composer: Beck Hansen
Artist: Inch Chua
Song: Just Noise
Composer: Beck Hansen
Album: Song Reader
Label: Faber & Faber
Introducing: John The Baptist
Artist: John The Baptist
Song: Hywel At The Moon
Composer: John The Baptist
Album: Hywel At The Moon
Label:
Artist: Phelps and Munro
Song:
Composer: Phillips
Album: Slow Poke
Label: Round Trip Mars