Music 101 for Saturday 19 January 2013
12-1pm
Tim Westergren
We speak with the brains behind online radio service Pandora, making a web of music with  the Music Genome Project.

Johnny Cash & the Forgotten Prison Blues (Part 2 of 2)
Writer and broadcaster Danny Robins explores the little-known side to Johnny Cash's career as a performer and reformer in prisons.
Part Two explores what Cash wanted to change about prisons, and how he tried to rehabilitate a prisoner and turn him into a Country and Western star. The programme also unearths a neglected album recorded in Sweden in 1972, the only prison concert Cash ever performed outside America.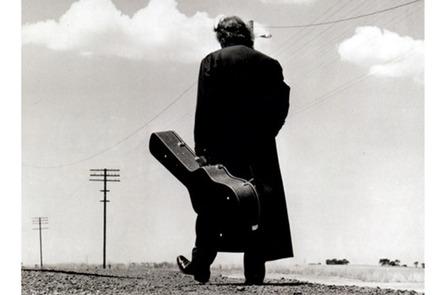 1-2pm
Adventures in Musicland: Dudley Benson in Japan
Composer and performer Dudley Benson spends two weeks as artist in residence in the Japanese historical city of Kurashiki, where traditional music and arts are a core part of everyday life. Through experiences with ancient instruments and art forms such as koto, shamisen, taiko drumming and ikebana, Dudley gets a sense of how heritage is part of both the present and future of Japanese traditional arts.


Mike Noga Session
Drummer for Australian rock band The Drones, Mike Noga  takes a break from supporting Band of Horses, and drops in to play songs from his new solo album The Balladeer Hunter.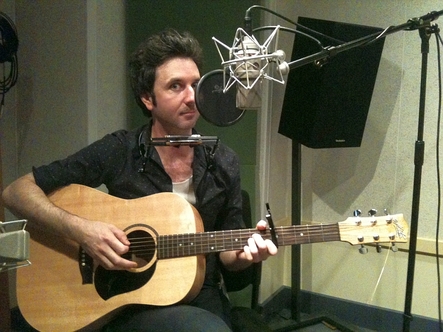 2-3pm

The Wire - The Wheels of Steel
A century of tinkering with speeds, mechanisms and materials changed the gramophone incrementally into the turntable. But over the last fifty years - from the early experiments of composer John Cage to the scratching innovations of today's superstar DJs - the turntable has become the nexus for whole new ways of thinking about music. The turntable is explained by the turntablists: musicians who play a turntable like a pianist plays a piano. (Part 7 of 8)
3-4pm
Live: The Adults with the Christchurch Symphony Orchestra
The Adults: Shihad frontman Jon Toogood, Shayne Carter (Dimmer and Straitjacket Fits) and Julia Deans (Fur Patrol) collaborated with the Christchurch Symphony Orchestra in June 2012. With conductor Hamish McKeich they present songs from The Adults self-titled album, and some new pieces arranged by Steve Bremner (who also plays drums here), Stephen Small, Hamish Oliver, and Claire Cowan.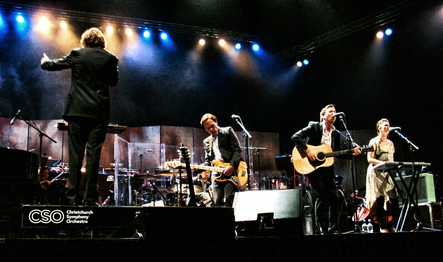 Off!
In Auckland playing support for Red Hot Chilli Peppers, Off! frontman Keith Morris – founder of seminal punk outfits Black Flag and Circle Jerks – and guitarist and producer Dimitri Coats about surviving the Circle Jerks reunion and forming Off!

4-5pm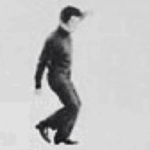 MixTape: Stephen O'Hoy
Invited musical guests compile a C60, and talk us through their selections.
One time band manager Stephen O'Hoy has been instrumental in the development of digital music in New Zealand, working for Amplifier.co.nz and music agrigator DRM, Digital Rights Management. He joins us to make a mixtape reflecting his work over the past decade.
Music played in this show
12-1pm
Artist: DJ Krush
Song: Outro
Composer: DJ Krush
Album: Stepping Stones
Label: Sony
Tim Westergren- Pandora
Artist: Grayson Gilmour
Song: Mirrored Mother
Composer: Gilmour
Album: The Most Fun You Can Have Dying OST
Label: Flying Nun

Artist: Tortoise and Thurston Moore
Song: Santorini
Composer: Yanni
Album: Live at the Acropolis
Label: Beck's Record Club

Artist: Steve Reich
Song: Fast
Composer: Reich
Album: New York Counterpoint
Label:None Such

Artist: Disasteradio
Song: You Win
Composer: Rowell
Album: Charisma
Label: A Low Hum

Artist: Eurythmics
Song: There Must Be An Angel
Composer: Lennox/ Stewart
Album:Be Yourself Tonight
Label:RCA

Artist: Barry White
Song: Playing Your Game Baby
Composer:Hudman, Johnson
Album:All Time Greatest Hits
Label:Mercury
Artist: Aaron Neville
Song: Ting A Ling
Composer:Nugetre
Album: My True Story
Label: Blue Note
Johnny Cash and the Forgotten Prisoner Blues
Artist: Chuck Berrry
Song: Too Much Monkey Business.
Album: Chuck Berry Gold
Composer:Chuck Berry
Label: Geffen
1-2pm
Adventures in Musicland: Dudley Benson in Japan
Artist: (Performed by) Sadako Sugimoto, Mari Kamegawa, Haruga Ishii
Song: Ko Kirino Kaze
Composer: Kotayama Dozan
Album: N/A
Label: N/A

Artist: Sho Asano
Song: Parade
Composer: Sho Asano
Album: Parade (CDS-3096)
Label: Victor Entertainment Inc.

Artist: (Performed by) Sho Asano
Song: Trad.
Composer: Unknown.
Album: N/A
Label: N/A

Artist: (Performed by) Mr Onishi
Song: Trad. Renzai Ceremonial Song
Composer: Unknown.
Album: N/A
Label: N/A

Artist: (Performed by Mr Onishi)
Song: Trad. Hokkaido Folk Song
Composer: Unknown.
Album: N/A
Label: N/A

Artist: Kokohana
Song: Kazeoi
Composer: Ms. Migiwa
Album: Hitoomoi
Label: Kukan Records
Artist: The Drones
Song: Minotaur
Composer: The Drones
Album: Havilah
Label: ATP
Mike Noga Session
Artist: Mike Noga
Song: M'belle, Ballad of An Ordinary Man
Composer: Noga
Album: Unreleased
Label: Radio NZ Recording
Artist: Kid Koala
Song: 2 Bit Blues
Composer: San
Album: 12 Beat Blues
Label: Ninja Tunes
2-3pm
The Wire- Episode  7 Wheels of Steel
Artist: DJ Food
Song: Spiral
Composer: DJ Food
Album: A Recipe for Disaster
Label: Ninja Tune
 
3-4pm
Artist: Owiny Sigoma Band
Song: Jalako Onyoono Paka
Composer: Owiny Sigoma Band
Album:Doyoi Nyajo Nam / Jalako Onyoono Paka
Label: Brownwood
Artist:Dimmer
Song: Crystalator
Composer: Carter
Album: Pop Eyed
Label: Flying Nun
The Adults With The Christchurch Symphony Orchestra
Artist: The Adults with the Christchurch Symphony Orchestra
Songs: Long Way Off, A New Beginning, Middle Of The Universe, Reunite
Composed: The Adults
Album: The Adults with the Christchurch Symphony Orchestra
Label: Warner Music NZ
Artist: Black Flag
Song: Nervous Breakdown
Composer: Ginn
Album: Black Flag: The First Four Years
Label: SST
Off! with Keith Morris and Demitri Coats
Artist: Off!
Songs: Harbor Freeway Blues/Wiped Out/I Got News For You /Jet Black Girls/I Need One (I Want One)/Man From Nowhere/Vaporized/Feelings Are Meant To Be Hurt
Composer: Off!
Album: Off!
Label: Vice Records
Artist: Woods
Song: Military Madness
Composer: Nash
Album: Songs of Shame
Label: Woodsist
Artist: Tame Impala
Song: Be Above It
Composer:Parker
Album: Lonerism
Label:Modular
4-5pm
Mixtape: Stephen O'Hoy
Artist: Lawrence Arabia
Song: Auckland CBD Pt 2
Composer: Milne
Album:Chant Darling
Label: Honorary Bedouin

Artist:The Yoots
Song: Nga Iwi E
Composer: Sin
Album: Sing Along With the Yoots
Label:Economy

Artist:SJD
Song: Southern Lights
Composer: Donnelly
Album:Southern Lights
Label: Round Trip MarsPr

Artist:Prince Tui Teka
Song: Mum
Composer: Laban
Album:The Best of Prince Tui Teka
Label: K Tel

Artist:Craig Smith
Song: The Wonky Donkey
Composer: Smith
Album: The Wonky Donkey
Label: Scholastic

Artist:Joe Dukie & DJ Fitchie
Song: Midnight Marauders
Composer: Joe Dukie & DJ Fitchie
Album: Heads Up!!!
Label:FMR

Artist:Jay Epae
Song: The Creep
Composer: Epae
Album: Wild Things Volume Two
Label: Zero

Artist:Patea Maori Club
Song: Poi E
Composer: Prime,Pewhairangi
Album:Poi E
Label:Jayrem

Artist:Tiki Taane
Song: Tangaroa
Composer: Taane
Album: Past Present Future
Label: Tiki Dub

Artist:P-Money
Song: Everything feat. Vince Harder
Composer: Wadams,Harder,Hansen
Album: Everything
Label:Dirty