Music 101 for Saturday 29 December 2012
12-1pm

Ten Years of Rhythm and Vines
Festival founder and director Hamish Pinkham shares the secrets of the Gisborne festival's success.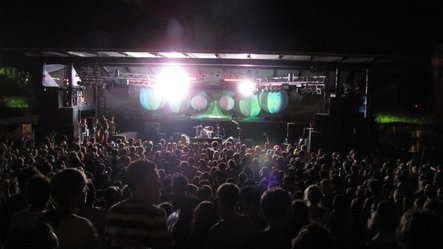 Mikey Dread
Mikey Dread's Channel One Sound system has been playing the Notting Hill festival in London for the past thirty years. We speak with him about the golden rules of running a soundsystem ahead of the Channel One Sound system's New Zealand tour.

1-2pm

Adventures In Musicland: Eurovision Song Contest 2012
Reporter Sophie Wilson presents a travelogue of her time at the Eurovision Song Contest, held this year in Baku, Azerbaijan.
We encounter colourful souvenirs of Sophie's week there, including an Icelandic broadcaster, a local taxi driver, a Swedish songwriter, a complex network of international fans, and the indispensable knowledge of Roy van der Merwe - the President of Eurovision's biggest fan club who has travelled from South Africa to attend nearly every  Eurovision since 1983.
Music 101's Musical Earworms of 2012
The Music 101 crew - Emma Smith, Trevor Reekie, Nick Atkinson and Kirsten Johnstone share the tunes that got hold of them and wouldn't let them go this year. More of our favourites of 2012, here.

2-3pm

The Wire - Hallo, Hallo. Episode 1 of 8.
The arrival of public electricity on the eve of the 20th century transformed virtually every aspect of daily life - not least of all, the experience of music. We begin our journey on The Wire with a reflection on how it has changed the way we think of the human voice, the way we communicate sound to large groups of people, and the way we now take for granted that sound is something that can be preserved, stored and heard again. (CBC)

3-4pm

Live: Elbow at the Power Station
Popular Manchester, UK act Elbow performed in New Zealand for the very first time in April 2012. Radio New Zealand were there to record the show for your Summer enjoyment.

Kendrick Lamar
Tom Scott of Homebrew interviews the man he describes as, "the most important MC since Outkast's Andre 3000" - Kendrick Lamar, of Compton, Los Angeles.

4-5pm

MixTape: Bic Runga
We invite musical guests to compile a C60, and talk us through the selections.
This week, Bic Runga takes us through an hour of her all-time favourite tunes, with a focus on beautiful arrangements, driving percussion, and artists going out on a limb.
Music played in this show
12-1pm
Artist: Djemba Djemba
Song: Oh Okay, Yeah It's Cool
Composer: Djemba Djemba
Album: Oh Okay, Yeah It's Cool
Label: Jeffrees
Rhythm and Vines- Hamish Pinkham
Artist: Shapeshifter
Song: Electric Dream
Composer: Shapeshifter
Album: Soulstice
Label: Truetone

Artist: Carl Cox
Song: The Latin Theme
Composer: Carl Cox
Album: Human Traffic
Label: FFRR

Artist: Netsky
Song: The Lotus Symphony
Composer: Boris Daenan
Album: Ministry of Sound SessioNZ
Label: Ministry of Sound
Artist: A Hori Buzz
Song: Turnaround
Composer: A Hori Buzz
Album: LOOP Summer Promo
Label: LOOP
Artist: Colour Red
Song: Natty Dreadlocks
Composer: Colour Red
Album: Revelation Time
Label: Charm
Mikey Dread- Channel One Soundsystem
Artist:Althea and Donna
Song: Uptown Top Ranking
Composer: Althea & Donna/ Thompson/ Gibbs
Album: Uptown Top Ranking
Label:Virgin
Artist: Lady Saw
Song: Man Is The Least
Composer: Lady Saw
Album: Man Is the Least
Label: Mad House
Artist: Lord Echo
Song: Rhythm 77
Composer: Mike August
Album: Melodies
Label: Economy
1-2pm
Eurovision Song Contest
Artist: Lys Assia
Song: Refrain
Composer: Émile Gardaz, Géo Voumard
Album: (2007a)
Label: Carinco

Artist: Sandie Shaw
Song: Puppet on a String
Composer: Bill Martin and Phil Coulter
2009 Youtube.com/eurovisiontv

Artist: ABBA
Song: Waterloo
Composer: Benny Andersson, Björn Ulvaeus, Stig Anderson
2009 Youtube.com/eurovisiontv

Artist: Celine Dion
Song: Ne partez pas sans moi
Composer: Nella Martinetti, Atilla Şereftuğ
2009 Youtube.com/eurovisiontv

Artist: Dana International
Song: Diva
Composer: Tzvika Pick
2008 Youtube.com/eurovisiontv

Artist: Lordi
Song: Hard Rock Hallelujah
Composer: Tomi Putaansuu
2011 Youtube.com/eurovisiontv

Artist: Rambo Amadeus (Montenegro)
Song: Euro Neuro
Composer: Rambo Amadeus
Supplied by EBU 2012

Artist: Gaitana (Ukraine)
Song: Be My Guest
Composer: Gaitana and KIWI Project
Supplied by EBU 2012

Artist: Valentine Monetta (San Marino)
Song: The Social Network Song (OH OH - Uh - OH OH)
Composer: Ralph Siegel, Timothy Touchton, Jose Santana Rodriguez
Supplied by EBU 2012

Artist: Greta Salóme & Jónsi (Iceland)
Song: Never Forget
Composer: Greta Salóme
Supplied by EBU 2012

(EBU postcard music)
(Don Omar - Danza Kuduro anon remix on taxi radio…)

Artist: Anmary (Latvia)
Song: Beautiful Song
Composer: Ivars Makstnieks, Rolans Ūdris
Supplied by EBU 2012

Artist: Ivi Amadou (Cyprus)
Song: La La Love
Composer: Alex Papaconstantinou, Björn Djupström, Alexandra Zakka, Viktor Svensson
Supplied by EBU 2012
Artist: Kurt Calleja (Malta)
Song:This is the Night
Composer: Johan Jämtberg, Kurt Calleja and Mikael Gunnerås
Supplied by EBU 2012

Artist: Loreen (Sweden)
Song: Euphoria
Composer: Thomas G:son, Peter Boström
Album: Single
Label: Warner Music Sweden AB 2012a

Artist: Willem Botha
Song: Hi Hi Ho (Bokke Weergawe/Springbok Version)
Composer: Jonas Liberg, Johan Sahlen, Claes Andreasson, Torbjörn Wassenius
Album: My Stem is Joune 2009a
Label: Vat 5 Musiek
Music 101's Most Gnawing Earworms of 2012
Artist: Alt J
Song: Breeze Blocks
Composer: Alt J
Album:An Awesome Wave
Label: Infectious

Artist: Lips
Song: Shadows
Composer: Brown/ Toy
Album: Look Listen
Label:

Artist: Rufus Wainwright
Song: Mantauk
Composer: Wainwright
Album:Out Of The Game
Label:Decca

Artist: Bat For Lashes
Song: All Your Gold
Composer: Kahn
Album: The Haunted Man
Label: EMI
Artist: Magnetic Fields
Song: Andrew in Drag
Composer: Merritt
Album: Love At The Bottom Of the Sea
Label: Merge
Artist: Harmonic 313
Song: Cyclotron
Composer: Pritchard
Album: When Machines Exceed Human Intelligence
Label: Warp
2-3pm
The Wire-episode 1
Artist: Crystal Castles
Song: Plague
Composer: Crystal Castles
Album: Three (III)
Label: Universal / Last Gang
3-4pm
Artist: Cinematic Orchestra feat: Fontella Bass
Song: All That You Give
Composer: Cinematic Orchestra/Fontella Bass
Album: Everyday
Label: Ninja Tune
Elbow: Live at the Powerstation
Artist: Elbow
Songs: Grounds For Divorce, One Day Like This.
Composer: Craig Potter, Guy Garvey, Mark Potter, Pete Turner, Richard Jupp.
Album: Unreleased
Label: RNZ Recording

Artist: Elbow
Songs: Lippy Kids, Weather To Fly.
Composer: Elbow/Guy Garvey
Album: Unreleased
Label: RNZ Recording
Artist: Bic Runga
Song: Devil on Tambourine
Composer: Runga/Nielson
Album: Belle
Label: Sony
Kendrick Lamar
Artist: Kendrick Lamar
Song: Sherane/Compton/Sing About Me, I'm Dying of Thirst/Real/Money Trees
Composer: K.Lamar
Album: good kid, m.A.A.d city
Label: Aftermath/TDE

Artist: Kendrick Lamar
Song: Ad-Soul's Outro
Composer: K.Lamar/H.Stevens
Album: Section A
Label: TDE
Artist: Nas
Song: Daughters
Composer: Nasir Bin Olu Dara
Album: Life Is Good
Label: Def Jam
Artist: @Peace
Song: Time Travelling
Composer: @Peace
Album: @Peace
Label: Young Gifted and Broke
4-5pm
Mixtape: Bic Runga
Artist: Tanga
Song: Eme N'gongo lami from the Soul of Angola anthology
Composer: Tanga
Album: Soul of Angola
Label: Lusafrica

Artist: Serge Gainsbourg
Song: Requiem Pour Un Con Composer: Gainsbourg
Album: Requiem Pour Un Con
Label:Mischief Brew

Artist: Francois Hardy
Song: Viens
Composer:Bilat/ Tuca
Album: La Question
Label: Sonopresse

Artist: Nina Simone
Song: Sinnerman
Composer: Traditional
Album: Nina Simone Gold
Label: Mercury

Artist: Marvin Gaye
Song: Trouble Man
Composer: Gaye
Album: Trouble Man
Label: Tamla

Artist: Alexander "Skip" Spence
Song: War in Peace
Composer: Spence
Album:Oar
Label: Columbia

Artist: The Four Tops
Song:Reach Out I'll Be There
Composer:Holland/ Dozier/ Holland
Album: Reach Out I'll Be There
Label: Motown

Artist: Vashti Bunyan
Song: Diamond Day
Composer: Bunyan
Album: Just Another Diamond Day
Label: Phillips

Artist:Shuggie Otis
Song:Aht uh Mi Hed
Composer: Otis
Album: Inspiration Information
Label: Epic

Artist:Opossom
Song: Fly
Composer: Nielson
Album: Electric Hawaii
Label: CRS