Music 101 for Saturday 17 November 2012
2-3 pm

Access All Areas: The New Musical Express
Reflecting on 60 years of the UK Music Magazine New Musical Express, Trevor Reekie speaks with Pat Long the author of The History of NME.

Up The Punks
We head to Up The Punks, an exhibition charting the stories of Wellington Punk, and speak with photographer John Lake.  Emma also speaks with original Wellington punk Graham "Hoody" Hood of The Normals, here.
If I Had A Gun playing a house party in Hanson Street, 2003. Photo by John Lake

Introducing: Mean Girls

3-4pm

SJD
Sean James Donnelly on his new album Elastic Wasteland.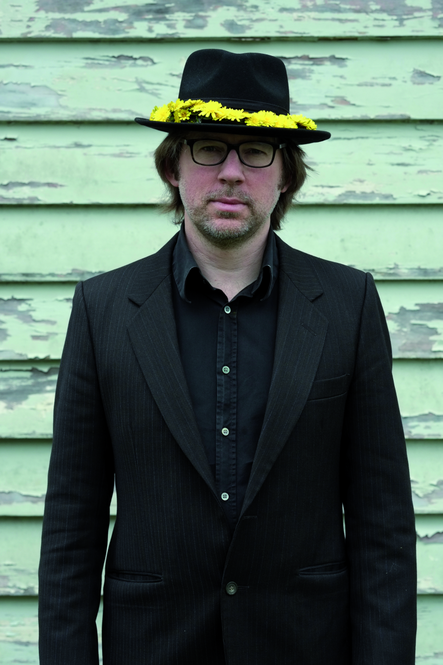 SJD, photo by Deborah Smith.

The Sampler: Jens Lekman
Nick Bollinger reviews a new set of bittersweet songs from Swedish pop crooner Jens Lekman I Know What Love Isn't.

Gig Guide

4-5pm
4:10 pm  The Secret Life of Loopers    
When Liam Finn made his solo debut at the inaugural Camp A Low Hum in 2007, he was armed with only a guitar, a drum kit… and a looping pedal, a device that allows musicians to layer sounds on the fly, adding rhythms, harmonies and/or textures to transform a one-man band set-up into big band proportions.
Built for lean times, live looping has come into favour around the world in recent years, as musicians have used looping to multiply their musical powers.
In The Secret Life of Loopers, Sam Wicks finds out more about the background and use of this 'band in a box' item of equipment, and goes in search of resourceful local practitioners building sounds bigger than the sum of their parts.

The Sampler: Led Zeppelin
Nick Bollinger reviews the document of Led Zeppelin's 2007 reunion.
Music played in this show
2-3pm
Artist: MC5
Song: High School (instrumental)
Composer: MC5
Album: Anthology
Label: Purple Pyramid
Access All Areas: New Musical Express
Artist: The Three Sons
Song: Twilight Time
Composer: NA
Album: "Theme Songs".
Label: RCA

Artist: Lonnie Donegan
Song: Rock Island Line
Composer: Kelly Pace
Album: 100 Classics (1952-1959)
Label: 360 Sound Records

Artist: Gene Vincent
Song: Jump Back, Honey Jump Back
Composer: NA
Album: Rare Recordings
Label: Favorite Classics

Artist: Al Martino
Song: Here In My Heart [Mono]
Composer: Levinson-Borelli
Album: Capitol Collector's Series
Label: Capitol Records

Artist: The Rolling Stones
Song: Everybody Needs Somebody To Love/Pain In My Heart
Composer: Burke
Album: Got Live If You Want It - EP
Label: Decca

Artist: The Beatles
Song: Within You, Without You (Instrumental)
Composer: George Harrison
Album: The Beatles Anthology
Label: Apple - EMI

Artist: Hawkwind
Song: Silver Machine
Composer: Calvert - Brock
Album: In Search of Space
Label: United Artists

Artist: Lou Reed
Song: White Light / White Heat
Composer: Reed
Album: Rock N Roll Animal
Label: RCA

Artist: Led Zeppelin
Song: Good Times Bad Times
Composer: Led Zeppelin
Album: Led Zeppelin Remasters (Disc 1)
Label: Atlantic Records

Artist: The Damned
Song: New Rose
Composer: James
Album: Smash It Up: The Anthology 1976-1987 [Disc 1]
Label: Castle Ent

Artist: The Smiths
Song: How Soon Is Now?
Composer: Morrisey - Marr
Album: The Sound of the Smiths (Deluxe Version) [Remastered]
Label: Rough Trade

Artist: Oasis
Song: Rock 'n' Roll Star
Composer: Oasis
Album: Definitely Maybe
Label: Creation Records

Artist: The Stone Roses
Song: I Wanna Be Adored (Remastered)
Composer: The Stone Roses
Album: The Stone Roses (20th Anniversary Collectors Edition)
Label: SilverTone Records
Artist: Flesh D-Vice
Song: Transmission
Composer: Joy Division
Album: Transmission 7"
Label: Jayrem
Up The Punks- John Lake
Artist: No Idea
Song: Class War
Composer: No Idea
Album: No Idea
Label: Jayrem

Artist: The Steroids
Song: Credit Card
Composer: The Steroids
Album: Wellingtonnzone
Label: Bunk

Artist: Naked Spots Dance
Song:Jack and Box
Composer: Naked Spots Dance
Album:Falling
Label: Jayrem

Artist: Suburban Reptiles
Song: Megaton
Composer: Suburban Reptiltes
Album: AK 79
Label: Flying Nun

Artist: Riot 111
Song: 1981
Composer: Riot 111
Album: Goats Milk Soap
Label: Ripper

Artist: Ayrian Army
Song: Filthy Punk Rockers
Composer: Ayrian Army
Album: Capitol Kaos
Label: Jayrem

Artist: Smut
Song: Pride Not Prejudice
Composer: Smut
Album: Liquid Lunch
Label: Private

Artist: Punchbowl
Song: You Can Stick That In My Silver Ring
Composer: Punchbowl
Album: Tropicanarchy
Label:

Artist: Numbskull
Song: Sloppy Johns
Composer: Numbskull
Album: Powderslave
Label:
 
Up The Punks- Graham "Hoody" Hood, and Abby Leaf
Artist: The Normals
Songs:Suburbanite, Bananas
Composer: The Normals
Album:
Label:
 
Artist: The Johnnys
Song: Bleeding Heart
Composer: Doherty, Hood, Pommer, Kelly, Jones
Album: Highlights of a Dangerous Life
Label:Mushroom
Introducing: Mean Girls
Artist: Mean Girls
Song: Vomit
Composer: Mean Girls
Album: Mean Girls
Label:Private
Artist: Proton Beast
Song: Tetris
Composer: Proton Beast
Album: Tetris
Label: Bones and Wood
3-4pm
Artist: SJD
Song: Superman You're Crying
Composer: Donnelly
Album: Southern Lights
Label: Round Trip Mars
SJD- Elastic Wasteland
Artist: SJD
Song: Empty World, Lena, Song of Baal, Jumping Over Fences
Composer: Sean Donnelly
Album: Elastic Wasteland
Label: Round Trip Mars

Artist: Connan Mockasin
Song: Faking Jazz Together
Composer: Connan Mockasin
Album: Please Turn me Into The Snat
Label: Rhythmethod
Artist: Holly Herndon
Song: Fade
Composer: Herndon
Album: Movement
Label: RVNG
Artist: Boycrush
Song: Secrets
Composer: Deverick
Album: Everybody All The Time
Label: Private
The Sampler: Jens Lekman- I Know What Love Isn't
Artist: Jens Lekman
Songs: The End Of The World Is Bigger Than Love, I Know What Love Isn't, Becoming Someone Else's, The World Moves On, Some Dandruff On Your Shoulder, She Just Doesn't Want To Be With You
Composer: Lekman
Album: I Know What Love Isn't
Label: Spunk
Artist: Marvin Gaye
Song: When Did You Stop Loving Me
Composer: Gaye
Album: Here, My Dear
Label: Motown
Gig Guide
Artist:JEFF The Brotherhood
Song: Leave Me Out
Composer: JEFF The Brotherhood
Album: Hypnotic Nights
Label: Warner Bros

Artist: A Place To Bury Strangers
Song: Ego Death
Composer: A Place to Bury Strangers
Album: Exploding Head
Label:Mute

Artist:Macklemore and Ryan Lewis
Song: Thrift Shop
Composer: Ryan Lewis / Macklemore
Album: Thrift Shop
Label: Warner

Artist: Alphabethead
Song: Faux Dreamy
Composer: Alphabethead
Album:Electricity
Label:Explorers Club

Artist: Grizzly Bear
Song:Yet Again
Composer:Grizzly Bear
Album:Shields
Label:Warp
4-5pm
Artist: Ray Cathode
Song: Time Beat
Composer: Fagandini/Martin
Album: Time Beat
Label:
The Secret Life of Loopers
Artist: Darren Harkness
Song: Live loop composition
Composer: D.Harkness
Label: Recorded for Radio New Zealand National

Artist: Grayson Gilmour
Song: Live loop composition
Composer: G.Gilmour
Label: Recorded for Radio New Zealand National

Artist: Liam Finn
Song: Better To Be. Second Chance
Composer: L.Finn
Label: Recorded for Radio New Zealand National

Artist: Mihirangi
Song: EEWOYIA
Composer: Mihirangi
Album: Unreleased
Artist: Neil Finn
Song: Song Of The Lonely Mountain
Composer: Finn/Finn/ Finn
Album: The Hobbit: An Unexpected Journey
Label: Watertower
The Sampler: Led Zeppelin-Celebration Day
Artist: Led Zeppelin
Song: Good Times Bad Times
Composer: Page/Jones/Bonham
Song: Whole Lotta Love
Composer: Page/Plant/Jones/Bonham
Songs: Misty Mountain Hop, Trampled Underfoot
Composer: Page/Plant/Jones
Song: Kashmir
Composer: Page/Plant/Bonham
Song: Stairway To Heaven
Composer: Page/Plant
Song: Rock and Roll
Composer: Page/Plant/Jones/Bonham
Album: Celebration Day
Label: Atlantic
 
Artist: Them Crooked Vultures
Song:Dead End Friends
Composer: Them Crooked Vultures
Album: Them Crooked Vultures
Label: RCA
Artist: Gary Clark Jr
Song: Bright Lights
Composer: Gary Clark Jr/Gil Scott Heron/Brian Jackson/Don Robey
Album:Black and Blu
Label: Warner
Artist: Freddy Martin
Song: Bumble Boogie
Composer: Freddy Martin
Album: The Swing Years
Label:Reader's Digest