Music 101 for Saturday 10 November 2012
2-3 pm

Connan Mockasin
We catch up with one of our favorite local quirky musician guys (and his chaperone), on a brief visit home to support Radiohead through Australasia.
Listen to an interview with Radiohead's Jonny Greenwood from their 1998 OK Computer tour, here.

The Sampler: Grizzly Bear
It's a task Nick Bollinger's been mulling over for a while now- just how to unfurl the tightly woven threads of Grizzly Bear's fourth album. He examines Shields just in time for their New Zealand shows.

Baths
LA producer Will Wiesenfield talks about found sounds and competing beats before his New Zealand shows next week.

3-4 pm

Omar Rodriguez Lopez
From the lean post-hardcore of At the Drive-In to the psychedelic wig-outs of The Mars Volta, Rodriguez-Lopez's records have offered some challenging listening to even his hardiest fans. Today Omar Rodriguez-Lopez talks about embracing democracy on his new project.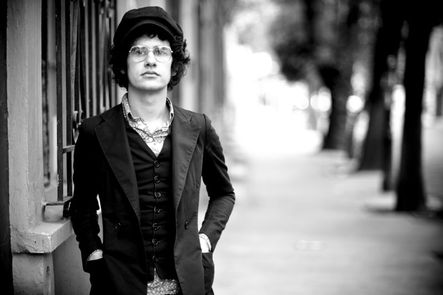 Introducing: Rogernomix

The Sampler: Southern Soul Reissues
An overview of some recent compilations of classic soul from the reissue label Ace/Kent.

Gig Guide

4-5pm

The Secret Life of Video Game Music Composers
From the simplest binary code ditties to huge orchestral scores with complex, interactive layers, video game soundtracks are integral to the action, emotion, and adrenaline levels of the gamer.
We take a look at the early history of computer game music with chip-tune enthusiast Disasteradio, meet British Composer Nitin Sawhney, who has worked on some big-budget games, and Jeramiah Ross, aka Module, a NZ Musician who has found his niche creating sound-worlds for mobile video games.

Nitin Sawhney.

Seth Frightening
Wellington's Sean Kelly aka Seth Frightening has been crafting curious folk offerings since high school. He joins us ahead of the release of his second album Don't You Worry (Heat Death), and Grizzly Bear support shows.

 
Music played in this show
2-3pm
Artist: Hirokazu Tanaka
Song: Tetris Theme/ Korobeiniki
Composer:
Album:
Label:
Connan Mockasin
Artist: Connan Mockasin/Tom Furse
Song: Faking Jazz Together (Tom Furse Remix)
Composer: Connan Mockasin
Album:
Label: Phantasy Sound

Artist: Charlotte Gainsbourg
Song: Out Of Touch
Composer: Connan Mockasin
Album: Stage Whisper
Label: Warner

Artist: Connan Mockasin
Song: Forever Dolphin Love
Composer: Connan Mockasin
Album: Please Turn me Into The Snat
Label: Rhythmethod
The Sampler: Grizzly Bear
Artist: Grizzly Bear
Songs: Sleeping Ute, Speak In Rounds, Yet Again, Half Gate, Gun Shy, What's Wrong, Sun In Your Eyes
Composer: Grizzly Bear
Album: Shields
Label: Warp
Artist: SJD
Song: The Lizard Kings
Composer: Donnelly
Album: Elastic Wasteland
Label: Round Trip Mars
Artist: The Books
Song: I Didn't Know That
Composer: The Books
Album: The Way Out
Label:Temporary
Baths
Artist: Beans
Song: Death Sweater
Composer: Beans
Album: End It All
Label: Anticon
Artist: Loui The Zu
Song: Live Yxoung Die Running
Composer: Loui the Zu
Album: Fruits of My Labour
Label: Private
3-4pm
Omar Rodriguez Lopez
Artist: Omar Rodriguez-Lopez
Song: Please Heat This Eventually/If Gravity Lulls, I Can Hear the World Pant
Composer: O. Lopez
Album: Se Dice Bisonte No Bufalo
Label: Gold Standard Laboratories

Artist: The Mars Volta
Song: Molochwalker/Zed and Two Naughts
Composer: Lopez/Zavala
Album: Noctourniquet
Label: Warner

Artist: At the Drive-In
Song: One Armed Scissor
Composer: At the Drive-In
Album: Relationship of Command
Label: Fearless
Artist: Zechs Marquise
Song: Mega Slap
Composer: Rodriguez-Lopez
Album: Getting Paid
Label:Lopez Rodriguez Productions
Introducing: Rogernomix
Artist: Rogernomix
Song: Punk Culture
Composer: Rogernomix
Album: Trickle Down Effect 7"
Label: Always Never Fun
Artist: Ayrian Army
Song: Filthy Punk Rockers
Composer: Ayrian Army
Album: Capital Kaos
Label: Jayrem
Artist: Devandra Barnhart
Song:Just Like A Child
Composer: Barnhart
Album: Cripple Crow
Label: XL
Seth Frightening
Artist: Neil Young
Song: Down By The River
Composer: Young
Album: Everybody Knows This is Nowhere
Label: Reprise
Gig Guide
Artist: Cat Power
Song:Cherokee
Composer:Cat Power
Album:Sun
Label:Matador

Artist: Watercolours
Song: Night Swimmer
Composer: Watercolours
Album: Unreleased
Label: N/a

Artist: Katchafire
Song: Colour Me Life
Composer: Bell,Ferguson
Album: Revival
Label: Mai Music

Artist: Coldplay
Song: In My Place
Composer: Berryman, Buckland, Champion, Martin.
Album: A Rush of Blood To The Head
Label: Parlophone

Artist: Signer
Song: Languidly Toot
Composer: Bevan Smith
Album: Next We Bring You The Fire
Label: ALOWHUM
4-5pm
Artist: London Philharmonic Orchestra
Song: Angry Birds Theme
Composer:
Album:The Greatest Video Game Music
Label: LPO
The Secret Life of Video Game Composers
Artist: Andrew Modia/RCA Cosmac
Song: Hey Jude
Composer: Lennon/McCartney
Album: The First Philadelphia Computer Music Festival
Label: RCA

Artist: Tomohiro Nishikado
Song: Space Invaders Soundtrack
Composer: Tomohiro Nishikado
Album: n/a
Label: n/a

Artist: Atari 800
Song: Boulder Dash
Composer: Peter Lieper
Album: n/a
Label: n/a

Artist: Sega
Song: Turbo Outrun
Composer: Jeroan Tel
Album: n/a
Label: n/a

Artist: Nintendo
Song: Super Mario Bros Theme
Composer: Koji Kondo
Album: Super Mario Bros Soundtrack
Label: n/a

Artist: Super Nintendo
Song: Star Fox
Composer: Koji Kondo
Album: Star Fox Soundtrack
Label: n/a

Artist: Nitan Sawhney
Song: Cloud Surfing
Composer: Sawhney
Album: Odyssey To The West Official Soundtrack
Label: Namco Bandai Games America Inc.

Artist: City of Prague Philharmonic Orchestra
Song: Fearless
Composer: Nitan Sawhney
Album: Heavenly Swords Soundtrack
Label: Namco Bandai Games America Inc.

Artist: Jeramiah Ross
Songs: Kinetic Harvest, Hyperspace Bonus Round
Composer: Ross
Album: Shatter Soundtrack
Label: bandcamp

Artist: Playstation 3
Song: Life As A Flower
Composer: Vincent Diamante
Album: Flower: Original Soundtrack from the Video Game
Label: Sony

Artist: Jeramiah Ross
Songs: Monster Condo Rarrr, Results Screen Music, Boathead's Theme, Reginald Starfire's Theme, Time Attack Theme, Credits Music
Composer: Ross
Album: Monsters Ate My Condo Soundtrack
Label: Adult Swim/PikPok
Artist: Harbour City Electric
Song: Game Life
Composer: Harbour City Electric
Album: Without A Sound
Label: Private
Artist: Fat Freddy's Drop
Song: Silver and Gold
Composer: Fat Freddy's Drop
Album: Blackbird (unreleased)
Label: Fat Freddy's Drop
Artist: Guitar Slim
Song: The Things That I Used To Do
Composer: Eddie "Guitar Slim" Jones / Guitar Slim
Album: Sufferin' Mind
Label:Specialty
The Sampler: Ace Soul Reissues
Artist: Various
Songs: I Worship The Ground You Walk On, Keep On Talking, You Really Know How To Hurt A Guy
Composer: Penn/Oldham
Album: Hall Of Fame
Label: Kent/Ace
 
Artist: Various
Song: Nobody Wins 'Til The Game Is Over
Composer: Crutcher/Rice
Album: Nobody Wins: Stax Southern Soul
Label: Kent/Ace
 
Artist: Various
Song: My Shoes Keep Walking Back To You
Composer: Ross/Wills
Songs: He Called Me Baby, Life Turned Her That Way
Composer: Howard
Album: Behind Closed Doors
Label: Kent/Ace