Music 101 for Saturday 27 October 2012
2-3 pm

Access All Areas: Tommy James & The Shondells: Me, the Mob, and the Music  
Tommy James was one of the biggest American rock'n'roll stars on the charts in the 60s and 70s. Perhaps best known in NZ as the writer of songs such as 'Mony Mony' and 'Crimson and Clover'; in the states Tommy had 23 gold singles plus nine gold and 9 platinum albums. He's also the co-author of a book called Me, the Mob, and the Music: One Helluva Ride with Tommy James & The Shondells.
It is a no holds barred story of hit records, payola and the complex and sometimes terrifying relationship with Roulette Records label founder Morris Levy, one of the "Godfathers" of the music business.

NZ @ CMJ 2012
Every October, the CMJ festival takes over New York City. It is one of the world's most important showcases for discovering new music, and this year Gemma Gracewood enters the fray for Music 101. She seeks advice on how to attend the festival, checks the pulse of the Kiwi bands, and meets surprising guests at the New Zealand CMJ party.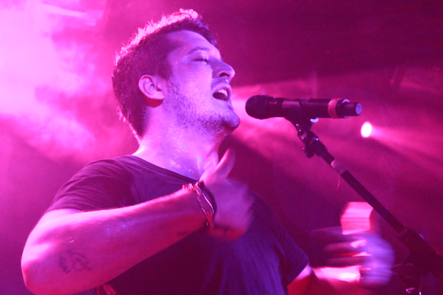 Matiu Walters of Six60.

Introducing: Zen Mantra

3-4 pm

Kora
For five years the family band have refined their sound to what they now call alien funk, distancing themselves from the roots and reggae labels they feel they've outgrown. We attend their album launch gig as nerves jangle and witness the arrival of the freshly pressed vinyl of their second album Light Years.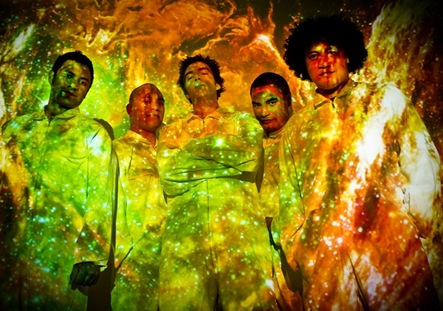 Dan McGruer center flanked by, from right to left, Brad, Francis, Stuart and Laughton Kora.

LIPS
Silver Scroll Winner Stephanie Brown aka LIPS releases her second EP Look: Listen this week. She talks from her NY home about getting noticed in the USA, and her painterly approach to synth sounds.
Islamist crackdown on music in Mali
Andy Morgan, former manager of Tuareg guitar slingers Tinariwen, speaks with The BBC's Samira Ahmed about the restrictions placed on music in the north of Mali, seven months after a military coup in the country.

Gig Guide

4-5 pm

Live: The Adults with the Christchurch Symphony Orchestra
A one-off collaboration between a local super group and the mainland's biggest band.
The Adults is the brainchild of Shihad's frontman Jon Toogood, joined by Shayne Carter (Dimmer and Straitjacket Fits) and Julia Deans (Fur Patrol)  - and others from time to time.
In June 2012 The Adults collaborated with the Christchurch Symphony Orchestra, conducted by Hamish McKeich to present new arrangements by Steve Bremner (who also plays drums for this performance), Stephen Small, Hamish Oliver, and Claire Cowan, of songs from The Adults self-titled album, and some new pieces. This is the result.

Marina & The Diamonds
Welsh hit maker Marina Diamandis of pop vehicle Marina And The Diamonds talks about talking about herself.  
Music played in this show
2-3pm
Artist: Herbie Hancock
Song: Just Around The Corner
Composer: Herbie Hancock / Melvin "Wah Wah" Ragin
Album: Mr Hands
Label: Tristar Music
AAA: Tommy James & The Shonells
Artist: Tommy James & The Shondells
Song: Crimson and Clover
Composer:James – Lucas
Song: Hanky Panky
Composer: Barry - Greenwich
Song: Say I Am (What I Am)
Composer:Mack - James
Song: Gettin' Together
Composer: Cordell
Song: It's Only Love
Composer: Cordell
Song: I Think We're Alone Now
Composer: Cordell
Song: Mony Mony
Composer: Cordell – Gentry - James
Song: Draggin' The Line
Composer: James - King
Song: Crystal Blue Persuasion
Composer: James - Gray
Album: The Essentials
Label: Rhino Records
Artist: Toy Love
Song: Yummy Yummy Yummy
Composer: Resnick/ Levine
Album:
Label:
Artist: Ghostwave
Song: Soundz
Composer: Ghostwave
Album: Ghostwave
Label: Arch Hill
CMJ
Artist: Six 60
Song:
Composer: Six60
Album: Unreleased
Label: bFM CMH recording

Artist: Opossom
Song: Fly
Composer: Nielson
Album: Electric Hawaii
Label: CRS

Artist: Pop Strangers
Song:
Composer:
Album: Unreleased
Label: bFM CMJ recording
Introducing: Zen Mantra
Artist: Zen Mantra
Song: Soothsayer
Composer:Perry
Album: How Many Padmes Hum
Label: Muzai
Artist: Beach Pigs
Song: XOXO
Composer: Beach Pigs
Album: XOXO
Label: Arch Hill
Artist: Dimmer
Song: Wrong Bus
Composer: Carter
Album: Degrees of Existence
Label: Warner
3-4pm
Kora
Artist: Kora
Song: Take You Down, Love In The Shadows, Little Star, Story Ain't Over
Composer: Kora
Album: Light Years
Label: Kora/The Label
 
Artist: Georgia Anne Muldrow
Song: Husfriend
Composer: Muldrow/ Madlib
Album: Seeds
Label: Stones Throw
Artist: Opensouls
Song: Standing In The Rain
Composer: Toy, Hammond
Album: Standing In The Raind
Label: FTC
Lips
Artist: Lips
Song: Everything To Me
Composer: Brown
Album: Look Listen
Label:

Artist: Lips
Song: Super Rich Kids
Composer: Ocean
Album: Channel Orange

Artist: Lips
Song: Shadows, We Don't Have Much Time, Ghosts & Demons
Composer: Brown
Album: Look Listen
Label:
Artist: Teena Marie
Song: Behind The Groove
Composer: Rudolph/ Marie
Album: Lady T
Album: Motown
Artist: Tinariwen
Song: Tamatan Tilay
Composer: Tinariwen
Album: Aman Iman
Label: World Village
Gig Guide with Melody 'play some Sabbath' Thomas
4-5pm
The Adults
Artist: The Adults with the Christchurch Symphony Orchestra
Songs:
Anniversary Day
Up & Gone
Nothing To Lose
Please Wake Up
Composed: The Adults
Album: The Adults with the Christchurch Symphony Orchestra
Label: Warner Music NZ
Artist: Julia Deans
Song: Broken Home
Composer: Deans
Album: We Light Fires
Label:
Artist: Bat For Lashes
Song: Horses of the Sun
Composer: Khan
Album: The Haunted Man
Label: EMI
Marina And The Diamonds
Artist: Marina and the Diamonds
Song: How To Be A Heartbreaker
Composer: Marina Diamandis, Lukasz Gottwald, Henry Walter, Benjamin Levin, Ammar Malik, Daniel Omelio
Album: How To Be A Heartbreaker - Single
Label: Atlantic

Artist: Marina and the Diamonds
Songs: Bubblegum Bitch / Homewrecker
Composer: Marina Diamandis, Rick Nowels
Album: Electra Heart
Label: Atlantic 500129

Artist: Marina and the Diamonds
Song: Starring Role
Composer: Marina Diamandis, Greg Kurstin
Album: Electra Heart
Label: Atlantic 500129

Artist: Marina and the Diamonds
Song: Power and Control
Composer: Marina Diamandis, Steve Angello
Album: Electra Heart
Label: Atlantic 500129

Artist: Marina and the Diamonds
Song: Radioactive
Composer: Marina Diamandis, M.S. Eriksen, T.E. Hermansen, F. Lennsen, C. Narain
Album: Electra Heart
Label: Atlantic 500129

Artist: Marina and the Diamonds
Song: Seventeen
Composer: Marina Diamandis
Album: Now Hear This August 2009
Label: Word August 2009

Artist: Marina and the Diamonds
Songs: Are You Satisfied / Hollywood
Composer: Marina Diamandis
Album: The Family Jewels
Label: Atlantic
Artist: Peaches
Song: Downtown
Composer: Kurstin/ Peaches
Album: Impeach My Bush
Label: XL
Artist: Poirier
Song: Marathon
Composer: Poirier
Album: Running High
Label: Ninja Tune