Music 101 for Saturday 13 October 2012
2-3pm

Tame Impala
Perth musician Kevin Parke has just released another glorious sun drenched psychedelic album Lonerism under the pseudonym Tame Impala. We talk with touring band mate, and old friend Dom Simper about taking the show on the road.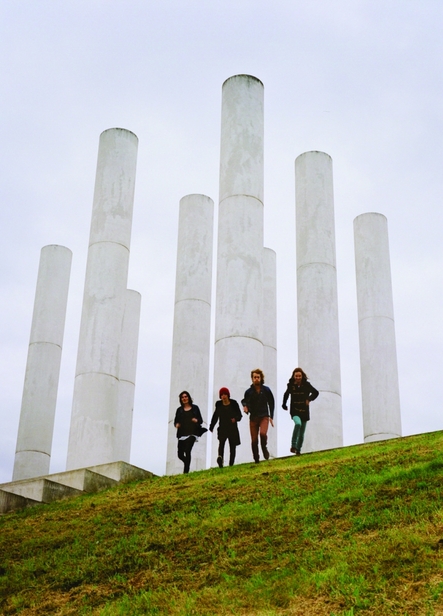 Kara Gordon
Auckland guitar slinger Kara Gordon is a man fuelled by rock'n'roll dreams. Inspired by the late '60s guitar greats in his father's record collection and his brother's passion for Van Halen and Joe Satriani, the classically-trained guitar virtuoso set about acquiring the skills that would allow him to shred with the best of them - most recently alongside Alabama 3.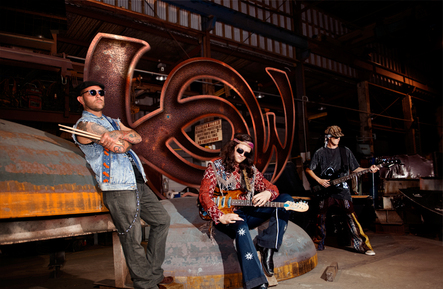 Kara Gordon: center.

The Sampler: ZZ Top
Nick Bollinger casts his ear over the fifteenth studio release from this iconic Texan band, beards and all.

3-4pm

Paul Ubana Jones & Tony Majdalani
Paul Ubana Jones & imported percussionist Tony Majdalani, originally from Haifa in northern Israel, are currently kicking up a whirlwind of rhythmic virtuosity on their East to West Tour. The pair come into Radio NZ National Auckland studio to perform a few song, hosted by Trevor Reekie.
From left: Paul Ubana Jones, Trevor Reekie, studio engineer Adrian Hollay and Tony Majdalani.

Krar Collective
The London based Ethiopian group tell stories of ancient instruments, electric harps, blending together the traditions of more than 80 ethnic groups in Ethiopia, and jamming with Paul McCartney.

The Sampler: Alt-J
Nick Bollinger reviews the Mercury Prize nominated indie pop quartet's debut, An Awesome Wave.

Gig Guide

4-5pm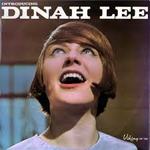 Essential New Zealand Albums Part 9, Introducing Dinah Lee
Music critic Nick Bollinger presents a selection of significant New Zealand music recordings adapted from his book 100 Essential Albums, published by Awa Press.
In 1964 20-year old Christchurch singer Dinah Lee stormed the national hit parade with her local variation on the Jamaican ska sound. In this programme Nick Bollinger discusses her debut, Introducing Dinah Lee.

Introducing: Both Sides of The Line

Blues Control
Off the back of their whirlwind New Zealand tour, we talk with the  Pennsylvanian-by-way-of-Brooklyn two piece who aren't afraid to get in touch with their New Age side.
Music played in this show
2-3pm
Artist: Tame Impala
Song: Jeremy's Storm
Composer: Parker
Album: Innerspeaker
Label: Modular
Tame Impala-Don Simper Lonerism
Artist: Tame Impala
Song: Apocolypse Dream, Endor Tois, Mind Mischief
Composer: Parker
Album: Lonerism
Label: Modular
 
Artist: Brian Eno
Song: Driving Me Backwards
Composer: Eno
Album: Here Come The Warm Jets
Label: Virgin
Artist: Alabama 3
Song: Woke Up This Morning
Composer:Black/ Spragg
Album:Exile on Cold Harbour Lane
Label:Elemental
Kara Gordon
Artist: Kara Gordon & The Wreckage
Song: Tell Me Why/80's Sleeze/Acid Man/Just a Freak/The Judge
Composer: K.Gordon
Album: Kara Gordon & The Wreckage
Label: Triple A Records
Artist: Cream
Song: Crossroads
Composer: Robert Johnson
Album: Wheels of Fire
Label: Polydor
The Sampler: ZZ Top
Artist: ZZ Top
Song: I Gotsa Get Paid
Composer: Dorsey/Gibbons/West/Brown/Hardy/Moon
Songs: Chartreuse
Composer: Gibbons/Hill/Beard/Moon
Song: Big Shiny Nine
Composer: Gibbons/Hardy/Moon
Song: Consumption
Composer: Gibbons
Song: It's Too Easy Manana
Composer: Welch/Rawlings
Song: Over You
Composer: Gibbons/Hambridge
Album: La Futura
Label: American

Artist: Run DMC
Song: It's Tricky
Composer: Run DMC/ Rubin
Album: Raising Hell
Label: Profile
Artist: Death Grips
Song: Pop
Composer: Death Grips
Album: No Love Deep Web
Label: ? Epic ?
3-4pm
Paul Ubana Jones & Tony Majdalani in session
Artist: Paul Ubana Jones &  Tony Majdalani
Song: Lazy Sunday
Composer: Paul Ubana Jones
Song: Lady Day and John Coltrane
Composer: Gil Scott Herron
Song: I Know My Rider Blues
Composer: Trad arr Paul Ubana Jones
Album: Live Recording
Label : RNZ Recording
 
Artist: Dub Colossus
Song: Guragigna
Composer: Dub Colossus
Album:Addis Through The Looking Glass
Label: Real World
Krar Collective
The Sampler: Alt J
Artist: Alt J
Songs: Intro, Tessellate, Breezeblocks, Something Good, Dissolve Me, Matilda, Fitzpleasure
Composer: Alt J
Album: An Awesome Wave
Label: Infectious/Pias Recordings
Gig Guide
Artist: Dirty Projectors
Song:About To Die
Composer: Dirty Projectors
Album:Swing Lo Magellan
Label: Domino Records

Artist: Hugh Masekela
Song: Moz
Composer: H. Masekela
Album: Phola
Label: Times Square

Artist: Dragon
Song: April Sun in Cuba
Composer:Paul Hewsen, Marc Hunter
Album: Running Free
Label: EMI

Artist: Trinity Roots
Song: Little Things
Composer:Trinity Roots
Album: True
Label:Trinity Roots

Artist:Bemsha Swing
Song:How to Get Close
Composer:Bemsha Swing
Album:Against Friends and Lovers
Label: Muzai
Artist: Major Lazer
Song: Cash Flow
Composer:Diplo/ Switch
Album: Guns Don't Kill People, Lazers Do
Label: Mad Decent
4-5pm
Artist: Prince Buster
Song: Al Capone
Composer: Prince Buster
Album: Young Gifted and Black (compilation)
Label: Trojan
Essential NZ Album: Introducing... Dinah Lee
Artist: Dinah Lee
Song: I'm Walkin'
Composer: Domino
Song: Do The Bluebeat
Composer: Raleigh/Barkan
Song: Say Mama
Composer: Albert
Song: Don't You Know Yockamo
Composer: Smith/Vincent
Song: Who Stole The Sugar
Composer: Healy
Song: Hallelujah I Love Him So
Composer: Charles
Song: I'm In Love Again
Composer: Domino/Bartholemew
Song: Happy Blue Beat
Composer: Evans
Song: Nitty Gritty
Composer: Viking
Song: Rock Around The Clock
Composer: DeKnight/Freedman
Album: Introducing Dinah Lee
Label: Viking
Introducing: Both Sides Of The Line
Artist: Both Sides Of The Line
Song: Lucky Ones
Composer: Both Sides of The Line
Album: Five
Label: Private
Artist: Booker T and the MGs
Song: Green Onions
Composer: Jackson/ Jones/ Steinburg/ Cropper
Album: Green Onions
Label:Atlantic
Blues Control
Artist: Blues Control
Song: Loves a Rondo, Iron Pigs, Gypsum
Composer: Cho/ Waterhouse
Album: Valley Tangents
Label: RIP Society

Artist: Dobie
Song: Prozac
Composer: Dobie
Album:... But Fear Itself
Label:Ninja Tune