Music 101 for Saturday 22 September 2012
2 - 3pm

Dead Can Dance
Lisa Gerrard discusses the trials and tribulations involved in recording the band's first album in over 15 years, Anastasis.

Mnozil Brass
The comedic Austrian brass band visit as part of the inaugural New Zealand Brass Festival.  Upbeat's Eva Radich talks with trombone player Zoltan Kiss.

The Sampler: Iva Lamkum
Nick Bollinger discusses Black Eagle a sunny reggae funk set from Wellingtonian Iva Lamkum

3 - 4pm

Return to Hawaiiki
Classically-trained pianist and beat maker Anonymouz was in Samoa for NZ-Samoa Friendship Week last month, and produced a found-soundtrack which stitches together recordings from his time in the islands. He tells us about the sonic ingredients he utilised for 'Return to Hawaiiki'. You can see the video for 'Return to Hawaiiki' here.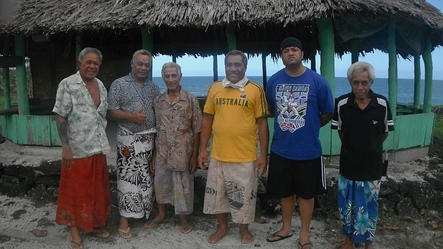 Photo by Noma Sio-Salapu

Mala
The cool, bass-heavy sounds of South London collide with hot Cuban rhythms on Mala in Cuba. We talk to Mala, one-half of the Digitial Mystikz production team, about getting outside his comfort zone on his album debut.

Introducing: Boy Crush

Gig Guide

4 - 5pm
Essential NZ Albums: The Crocodiles - Tears
The Crocodiles brought together some of the sharpest minds in Kiwi pop. In Essential New Zealand Albums, Nick Bollinger discusses their 1980 debut, Tears.

Band of Horses
Straight from the horse's mouth - the making of Seattle rockers' fourth album - Mirage Rock.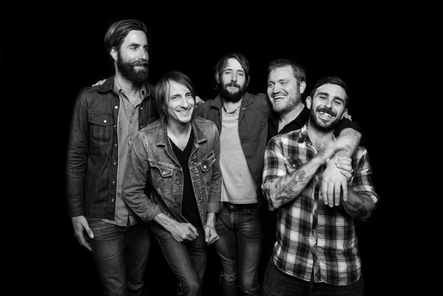 Music played in this show
2-3pm
Artist: Lisa Gerrard
Song:Journey Away
Composer: Gerrard
Album:Whale Rider OST
Label: 4AD
Dead Can Dance- Lisa Gerrard- Anastasis
Artist: Lisa Gerrard
Song: Go Forward
Composer: Lisa Gerrard
Album: Lisa Gerrard
Label: 4AD

Artist: Dead Can Dance
Songs: Children Of The Sun, Anabasis, Amnesia, Return Of The She-King
Composer: Dead Can Dance
Album: Anastasis
Label: PIAS/Liberator
Artist: Melody's Echo Chamber
Song: I Follow You
Composer: Prochet
Album: Melody's Echo Chamber
Label:Fat Possum
Mnozil Brass
Artist: Missy Elliot
Song: Triple Threat
Composer: Elliot/ Timbaland
Album:???
Label:Warner
The Sampler: Iva Lamkum- Black Eagle
Artist: Iva Lamkum
Songs: Bankrupt Visa, Blue Moscow, No, Raise Your Glass, Black Eagle, Why Do We Fall In Love, Dollar Paper
Composer: Lamkum/Robinson
Album: Black Eagle
Label: Sony
Artist: Harbour City Electric
Song: Seek And Destroy
Composer: Harbour City Electric
Album: Without A Sound
Label: Private
Artist: Harmonic 313
Song: Bazuka Riddim
Composer: Harmonic 313
Album: Invasion of the Mysteron Killer Sounds
Label:Soul Jazz
3-4pm
Artist: Savage
Song: I Love The Islands
Composer: Savelio, Boulai, Thomas, Thomas
Album: Savage Island
Label: Dawn Raid
Anonymouz- Return to Hawaiiki
Artist: Anonymouz
Song: Return to Hawaiiki
Composer: Salapu
Album: Unreleased
Label:
Artist: Tama Waipara
Song: Kiwi
Composer: Melbourne
Album: He Rangi Paihuarere
Label:Black Media
Artist: Lancelot Layne
Song: Carnival Drum Sound
Composer: Layne
Album: Carnival Drum Sound
Label: Soundways
Mala- Mala in Cuba
Artist: Mala
Song: Changuito/Como Como/The Tunnel/RevolutionCalle F
Composer: M.Lawrence
Album: Mala in Cuba
Label: Brownswood
Artist: Anonimo Consejo
Song: Cojimar
Composer: Anonimo Consejo
Album: Havana Cultura
Label: Brownswood
Artist: Righeira
Song: No Tengo Dinero
Composer: Righeira
Album:Righeira
Label: A&M
Artist: Boy Crush
Song: The Only One
Composer: Deverick
Album:
Label: Private
 
Gig Guide
Artist:Chris Knox
Song: Bonus track
Composer: Knox
Album:Stroke: Songs for Chris Knox
Label: A Major

Artist: Black Keys
Song: Gold on the Cieling
Composer: Dan Auerbach / Brian Burton / Patrick Carney
Album:El Camino
Label: Nonesuch

Artist: The Wellington International Ukulele Orchestra
Song: Cry Me A River
Composer: Justin Timberlake
Album: I Love You EP
Label:Ukulele

Artist: Don McGlashan
Song: Bathe in The River
Composer:McGlashan
Album: Marvellous Year
Label: Arch Hill

Artist:Anna Coddington
Song: Hold You Here
Composer:Coddington
Album: The Lake
Label: Tea Set
 
4-5pm
Artist: Jenny Morris
Song: She Has To Be Loved
Composer: Morris/ Farriss
Album: Shiver
Label:WEA
Essential New Zealand Album: The Crocodiles- Tears
Artist: The Crocodiles
Songs: New Wave Goodbye, In My Suit
Composer: Flaws
Song: Tears
Composer: Flaws/Baysting
Song: Any Day Of The Week, Working Girl
Composer: Flaws/Dasent/Backhouse
Song: All Night Long
Composer: Backhouse/Flaws
Songs: Young Ladies In Hot Cars, It's The Latest
Composer: Backhouse/Baysting
Song: Whatcha Gonna Do
Composer: Dasent/Baysting
Album: Tears
Label: RCA

Artist: Blerta
Song: Wild Man
Composer: Lawrence/Flaws
Album: Wild Man
Label: Bus

Artist: Mammal
Song: When Morning Comes
Composer: Backhouse/Hunt
Album: Beware The Man
Label: Red Rat
Artist: The Living Hamsters
Song: Permanent Battle
Composer: The Living Hamsters
Album: Unreleased
Label: n/a
Artist: fleaBITE
Song: Shelley The Sheep
Composer: Nathan
Album: Circus of Fleas
Label: Border
Artist: David Kilgour
Song: Dogs Barking
Composer: Kilgour
Album: Frozen Orange
Label: Arch Hill
Band Of Horses Mirage Rock
Artist: Band of Horses
Song: Everything's Gonna Be Undone, How To Live, Slow Cruel Hands
Composer: Ben Birdwell
Album: Mirage Rock
Label: SONY
Artist: Bonnie 'Prince' Billy
Song: Beast For Thee
Composer: Oldham
Album: Now Here's My Plan
Label: Drag City