Music 101 for Saturday 8 September 2012
2-3pm

The xx
London minimalists The xx return with new album Coexist this week – we meet up with front people Oliver Sim and Romy Madley Croft to talk about retooling their "quiet storm" sound.

Going Global Seminar
We talk with music publicist Brooke Black and CMJ Editor In Chief Lisa Hresko about adapting to the ever changing social media landscape.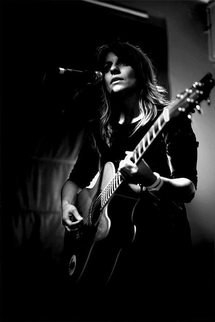 Ben King
Ben King of Goldenhorse and food blog Never Too Full To Eat is balancing feeding the ears and the belly. Nick Atkinson talks with Ben about producing the Little Lapin (pictured left) self titled EP- and a tasty batch of ice cream.

 
The Sampler: Sean Rowe
Nick Bollinger listens to The Salesman and The Shark, a new offering from New York singer songwriter Sean Rowe, who sports a similar "deep dark bass baritone" to performers Leonard Cohen and Johnny Cash.
3-4pm

Earth
Meet Seattle cult figure, and founder of the doom drone genre, Dylan Carlson, from long running group Earth, playing debut NZ shows this week.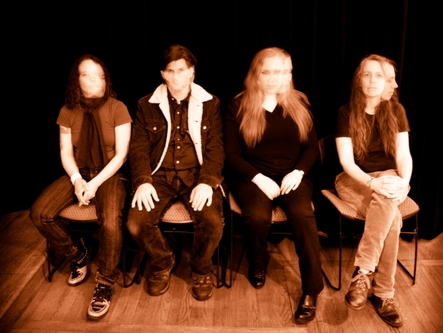 Photo by Sarah Barrick
Kasey Chambers & Shane Nicholson
It's been four years since Kasey Chambers and Shane Nicholson released their last album together, the highly-acclaimed Rattlin' Bones. Since then the Australian couple have each released their own solo albums and produced their second child. On the new album Wreck & Ruin the duo add even more hillbilly to their mix of North American roots, country and blues. Marty Duda speaks with Kasey and Shane ahead of their Australian tour.  

The Sampler: Andy Laking and Gerry Paul
Nick Bollinger weighs in on new solo albums from ex-pat members of traditional Irish music group Gráda - Andy Laking's warm, folky Here By The Fire, and Gerry Paul's ludicrous-yet-listenable children's album Tales From The Sea and An Elephant Tree. 
Gig Guide
4-5pm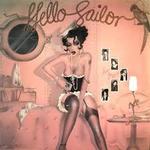 4:10 pm Essential New Zealand Albums Part 4 Hello Sailor – Hello Sailor
Music critic Nick Bollinger presents a selection of essential New Zealand albums, adapted from his book 100 Essential Albums, published by Awa Press.
The release of Hello Sailor's first album was a sign that local rock had lost its innocence. In this episode of Essential New Zealand Albums Nick Bollinger discusses this smart and seedy Kiwi classic.
Seva Hifi
Nick Atkinson checks out a new album of Pacific Soul from Seva Hifi- out on Sugarlicks.

Seva Hifi are Barry Suamili and Gareth Farry (Baz and GMUVA), photo by Yuki Sato.
Music played in this show
2-3pm
Artist: Young Marble Giants
Song: Click Talk
Composer: Moxham/ Moxham
Album:Colossal Youth
Label:Domino
The xx
Artist: Young Marble Giants
Song: Click Talk
Composer: Moxham/ Moxham
Album:Colossal Youth
Label:Domino
Artist: PJ Harvey
Song: Hanging in the Wire
Composer: PJ Harvey
Album: Let England Shake
Label: Island
Going Global
Artist: Eyeliner
Song: Earth
Composer: Rowell
Album: High Fashion Mood Music
Label: Crystal Magic

Artist: Popstrangers
Song: What Else Could They Do
Composer: Popstrangers
Album: What Else Could They Do
Label: Flying Nun

Artist: Chrome Csnyon
Song: Generations
Composer: Morgan Z
Album:Elemental Themes
Label: Stones Throw

Artist: Temper Trap
Song: Sweet Disposition
Composer: Dundas, Mandagi, Sillitto
Album:Conditions
Label: Liberation

Artist: Eyeliner
Song: Scenery
Composer: Rowell
Album: High Fashion Mood Music
Label: Crystal Magic
Ben King on Little Lapin
Artist: Little Lapin
Song: Silent Tears
Composer: Lucy Cioffi
Single
Label: Aeroplane
Artist: Anna Calvi
Song: The Wall
Composer: The Invisible
Album: The Wall
Label: n/a
The Sampler: Sean Rowe The Salesman and The Shark
Artist: Sean Rowe
Songs: Flying, Bring Back The Night, The lonely Maze, Signs, Horses, Long Way Home
Composer: Rowe
Album: The Salesman and the Shark
Label: Anti
3-4pm

Artist: Nirvana
Song: On A Plain
Composer: Kurt Cobain
Album: Unplugged in New York
Label: Geffen
Earth
Artist: Earth
Song: Old Black
Composer: Davies/ Carlson
Album: Angels of Darkness, Demons of Light I
Label: Southern Lord

Artist: Earth
Song: Rise To Glory
Composer: Earth
Album: The Bees Made Honey In The Lion's Skull
Label: Southern Lord

Artist: Earth
Song:The Corascene Dog
Composer:
Album:Angels of Darkness, Demons of Light II
Label: Southern Lord
Artist: Dirty Three
Song: Great Waves
Composer: Turner, Ellis, White
Album: Cinder
Label: Touch + Go
Kasey Chambers and Shane Nicholson
Artist: Kasey Chambers & Shane Nicholson
Song: Wreck And Ruin, Adam And Eve, The Quiet Life, Have Mercy On Me, Sick As A Dog, Troubled Mind
Composer: Kasey Chambers & Shane Nicholson
Album: Wreck & Ruin
Label: Essence/Liberation
 
Artist: CW Stoneking
Song: Jungle Lullaby
Composer: CW Stoneking
Album: Jungle Blues
Label: King Hokum
The Sampler: Andy Laking and Gerry Paul
Artist: Andy Laking
Songs: These Curving Streets, Here By The Fire, Bright Particular, The Cool Months
Composer: Laking
Album: Here By The Fire
Label: Independent
Artist: Gerry Paul
Songs: Charlie The Cannibal Green Pepper, Wobble Like A Jellyfish, Workin' On the Worm Farm, Rudolph the Rowdy Reindeer
Composer: Paul
Album: Tales From the Sea and an Elephant Tree
Label: Wacky Tales
Artist: Bob Dylan
Song: Duqesne Whistle
Composer: Dylan
Album: Tempest
Label:Columbia
Gig Guide
4-5pm
Essential NZ Album: Hello Sailor Hello Sailor
Artist: Hello Sailor
Songs: Gutter Black, All Around This Town
Composer: McArtney
Songs: When Your Lights Are Out, Blue Lady, Latin Lover
Composer: Brazier
Song: Lyin' In The Sand
Composer: Lyon
Song: Watch Your Back
Composer: Brazier/Lyon
Song: Hooked
Composer: McArtney/Brazier
Album: Hello Sailor
Label: Key
Artist: Murk108
Song: Capsule Remix Instrumental
Composer: Starr
Album: The Murkwon LP
Label: Sugar Licks
Seva Hifi
Artist: Seva Hifi
Song: Starting Up
Composer: Suamili, Farry, Vosasi
Album: Early
Label: Sugarlicks

Artist: Seva Hifi
Song: The Sound Of Music
Composer: Suamili, Farry
Album: Early
Label: Sugarlicks

Artist: Seva Hifi
Song: Pressures of Life feat. Nat Rose
Composer: Suamili, Farry, Aesili, Valamaka
Album: Early
Label: Sugarlicks
Introducing: Tipene
Artist: Tipene
Song: West Side Hori
Composer: Stephen Harmer
Album: Tautoko
Label: Empire/Warner
Artist: Mark Vanilau
Song: Giant of the Sea
Composer: Vanilau
Album: Giant of the Sea
Label:
Artist: Ghostlamp Killer
Song: Holy Mt Washington
Composer: Ghostlamp Killer
Album: Breakthrough
Label: Brainfeeder