Music 101 for Saturday 4 August 2012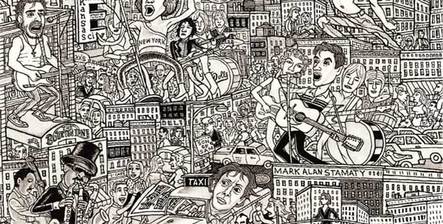 2 - 3pm
Access All Areas: Love Goes to Buildings On Fire - Five Years in New York City That Changed Music Forever
New York City in the mid-1970s was a pretty grim place. Bankrupt, crime rates soaring and burning buildings were frequent. At the same time musical history was being made. Punk rock and hip-hop, disco and salsa, the loft jazz scene and the downtown modern minimalist classical composers were all creating a uniquely vibrant legacy . . .
Will Hermes, author of Love Goes to Buildings on Fire talks to Trevor Reekie about Five Years in New York That Changed Music Forever.
(Cover art of the book above)
The Sampler: Dirty Projectors
Dirty Projectors mastermind David Longstreth has concentrated on traditional love songs for the latest album Swing Low Magellen - but with his typically heady and deconstructionist style - Nick Bollinger takes a listen.
Jimmy Cliff
One of the founding fathers of reggae music, Jimmy Cliff reflects on his fifty year career, as well as fifty years of Jamaican independence, and his new album 'Rebirth'. Listen on the BBC website here.
3 - 4pm
APRA Silver Scroll Finalists
We take a listen to Getaway Tonight by Opposom (Kody Nielson), Everything to Me by Lips (Stephanie Brown), Hibernate by Lydia Cole, State Houses By The River by The Eastern and Girl In Stilettos by Annah Mac.
 
The Sampler: Old Crow Medicine Show
Nick Bollinger reviews Carry Me Back, the latest set of punked-up old-timey songs from Nashville based string band Old Crow Medicine Show.
Splendour in the Grass
A report from last week's music festival in Byron Bay, Australia. Shihad tore up the stage, and Bloc Party talk about their new work.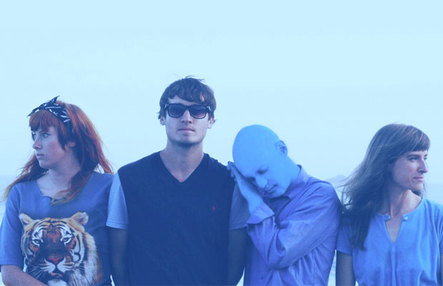 The Blueness
Mëstar's John White talks about his new band The Blueness (pictured right) in which his trademark wispy vocals and fantastical lyrical matter are set amongst Casio keyboard stock beats and synth sounds on the debut album Ravendah Dream.
 
4 - 5pm
The Musical Pen
From Tolstoy to Terry Pratchett, from Murakami to Nick Hornby, authors the world over have waxed lyrical about music. But putting music into words is a trick of hand-ear coordination that only the brave attempt.
In The Musical Pen, publisher and jazz reviewer Fergus Barrowman explains why putting music into words is probably the hardest form of writing there is; jazz pianist Norman Meehan explains why it helps to be a musician - but not always; novelist Eleanor Catton reads from her award-winning first book The Rehearsal and reviewer Simon Sweetman speaks about what he feels music reviewers should offer the reader.
Trip to the Moon
Guitarist Trevor Reekie and pianist Tom Ludvigson talk about the jazz-inflected ambient-electronica on their fifth Trip To The Moon album together - The Invisible Line.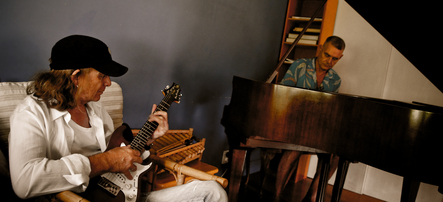 Trevor Reekie and Tom Ludvigson - Trip To The Moon
Music played in this show
2-3pm
Artist: Steve Reich
Song: Eight Lines, Howie B Remix
Composer: Steve Reich
Album: Steve Reich Remixed
Label: Nonesuch
Interview: Will Hermes, author of Love Goes To Buildings On Fire
Artist: Talking Heads
Song: Love -> Building On Fire
Composer: Byrne
Album: Best Of Talking Heads
Label: Sire. Warner Music

Artist: The Ramones
Song: 53rd & 3rd
Composer: Ramones
Album: Ramones
Label: Sire – Warner Music

Artist: New York Dolls
Song: Private World
Composer: Thunders - Johansen
Album: New York Dolls
Label: Mercury - Universal

Artist: T.J.M.
Song: I Don't Need No Music
Composer: T.J.M.
Album: Get Down with the Philly Sound [[Disc 1]]
Label: BBE Records

Artist: Suicide
Song: Dream Baby Dream (Long Version)
Composer: Alan Vega
Album: Ze Records Story 1979>2009
Label: Ze Records

Artist: William Parker, Charles Gayle & Rashied Ali
Song: Touchin' On Trane, Pt. E
Composer: William Parker, Charles Gayle & Rashied Ali
Album: Touchin' On Trane
Label: Jazzwerkstatt

Artist: Grandmaster Flash
Song: Intro
Composer: Grandmaster Flash
Album: Essential Mix: Classic Edition
Label: Rhino Records

Artist: Incredible Bongo Band
Song: Bongo Rock
Composer: Incredible Bongo Band
Album: Bongo Rock
Label: Mr Bongo

Artist: Celia Cruz – Johnny Paceco
Song: Quimbara
Composer: Celia Cruz
Album: Fania Records 1964-1980
Label: Fania Records

Artist: Grandmaster Flash
Song: The Adventures Of Grandmaster Flash On The Wheels Of Steel
Composer: Grandmaster Flash
Album: Mojo Music Guide Vol. 2 - Roots Of Hip Hop
Label: mojo Magazine Sampler

Artist: Philip Glass
Song: November 25: morning
Composer: Philip Glass
Album: Original Music by Phillip Glass
Label: download

Artist: Rhys Chatham
Song: Guitar Trio
Composer: Rhys Chatham
Album: Die Donnergötter (The Thundergods)
Label: Radium

Artist: Steve Reich Ensemble
Song: Music for 18 Musicians: Section IIIB
Composer: Steve Reich Ensemble
Album: Steve Reich: Works - 1965-1995
Label: download

Artist: The Trammps
Song: The Night the Lights Went Out [Dimitri From Paris Disco Re-Edit]
Composer: The Trammps
Album: Get Down with the Philly Sound (The Reworks)
Label: BBE Records
Artist: LCD Soundsystem
Song: New York, I Love You But You're Bringing Me Down
Composer: Mahoney, Murphy, Pope
Album: Sound Of Silver
Label: DFA
The Sampler: Dirty Projectors
Artist: Dirty Projectors
Songs: Swing Lo Magellan, Gun Has No Trigger, Offspring Are Blank, About To Die, Maybe That Was It, Unto Caesar, The Socialites, Irresponsible Tune
Composer: Dirty Projectors
Album: Swing Lo Magellan
Label: Domino
Artist: Major Lazer
Song: Get Free feat Amber Coffmann
Composer: Pentz/Coffman
Album: Get Free EP
Label: Downtown
Artist: Snoop Lion
Song: La La La
Composer: Pentz/Broadus
Album: Reincarnation
Label: Berhane Sound System
Interview: Jimmy Cliff
Artist: Jimmy Cliff
Songs: Reggae Music
Composer: Cliff
Album: Rebirth
Label: UME

Artist: Jimmy Cliff
Songs: Many Rivers To Cross, You Can Get It If You Really Want, Miss Jamaica
Composer: Cliff
Album: The Harder They Come - The Definitive Collection
Label: Trojan
3-4pm
Silver Scroll 2012 Finalists
Artist: Opossom
Song: Getaway Tonight
Composer: K Nielson
Album: Electric Hawaii
Label: DSR

Artist: Lips
Song: Everything To Me
Composer: S Brown
Album: n/a
Label: self-released

Artist: Lydia Cole
Song: Hibernate
Composer: L Cole
Album: Me + Moon
Label: self-released

Artist: The Eastern
Song: State Houses By The River
Composer: A McGrath
Album: Hope and Wire
Label: Rough Peel

Artist: Annah Mac
Song: Girl In Stilettos
Composer: A MacDonald
Album: Little Stranger
Label: Sony
Report: Splendour In The Grass
Artist: Shihad
Song: Factory
Composer: Toogood/Kippenberger/Knight/Larkin
Album: Churn
Label: Wildside

Artist: Bloc Party
Song: Like Eating Glass
Composer: Bloc Party
Album: Silent Alarm
Label: V2

Artist: Bloc Party
Song: Octopus
Composer: Bloc Party
Album: Four
Label: V2
Artist: Jack White
Song: Wayfaring Stranger
Composer: Trad
Album: Cold Mountain OST
Label: Columbia
The Sampler: Old Crow Medicine Show
Artist: Old Crow Medicine Show
Songs: Sewanee Mountain Catfight, Levi, We Don't Grow Tobacco, Steppin' Out, Mississippi Saturday Night, Country Girl, Ain't It Enough
Composer: Old Crow Medicine Show
Album: Carry Me Back
Label: ATO
Artist: Liz Green
Song: Bad Medicine
Composer: Green
Album: O Devotion
Label: Rogue
Introducing: Males
Artist: Males
Song: Marion Bates Thievery
Composer: Males
Album: MalesMalesMales
Label: Private
Artist: Mestar
Song: Ovientar
Composer: White/ Mestar
Album: Porcupine
Label: Yellow Eye
Interview: The Blueness
Artist: The Blueness
Song: Ravendah Dream, The Blueness, Galaxy II, Disco Daydream,
Composer: White
Album: Revendah Dream
Label: self-released
Gig Guide Bed
Artist: Billy Bragg
Song: To Have and To Have Not
Composer: Bragg
Album: Must I Paint You A Picture?
Label: FMR

Artist: Red Hot Chili Peppers
Song: Give It Away
Composer: Flea, Frusciante, Kiedis
Album: Live At Hyde Park
Label: Warner

Artist: Reuben Bradley
Song: OK Monitor
Composer: Bradley
Album: Resonator
Label: Rattle
4-5pm
Artist: Leroy Anderson
Song:The Typewriter
Composer: Anderson
Album: Leroy Anderson: Collection, Vol 1 & Vol 2
Label: MCA
Feature: The Musical Pen
Artist: The Fabulous Counts
Song: Dirty Red
Composer:
Album: Funk Drops Vol. 1
Label: Virgin

Artist: Maurizio Pollini
Song: No 1 in C
Composer: Chopin
Album: Chopin Etudes
Label: Deutsche Gramophone

Artist: Robert U.Brown & Robert B.Nicol
Song: The End of the Great Bridge (Trad) 11.31
Composer: Trad
Album: Masters of Piobaireachd: Vol 2
Label: Greentracks

Artist: Rezilloes
Song: Somebody's Gonna Get Their Head Kicked In Tonight
Composer: Jeremy Spencer
Album: Greatest Hits
Label: Sensible

Artist: The Dirty Dozen Brass Band
Song: Open Up
Composer: C Joseph
Album: Whatcha Gonna Do For the Rest of Your Life?
Label: Columbia

Artist: Dirty Projectors
Song: Offspring Are Blank
Composer: Longstreth
Album: Swing Lo Magella
Label: Domino

Artist: Norman Meehan
Song: Midnight
Composer: Meehan, Cummings
Album: Sun Moon Stars Rain
Label: Attar

Artist: Keith Jarrett, Gary Peacock & Jack DeJohnette
Song: Bye Bye Blackbird
Composer: Mort Dixon/ Ray Henderson
Album: Bye Bye Blackbird
Label: ECM

Artist: Charles Mingus
Song: Cumbia and Jazz Fusion
Composer: Mingus
Album: Thirteen Pictures, the Anthology
Label: Rhino

Artist: Louis Armstrong
Song: What Did I Do To Be So Black and Blue
Composer: Fats Waller
Album: Satch Plays Fats
Label: Columbia

Artist: Paul Buchanan
Song: After Dark
Composer: Buchanan
Album: Mid Air
Label: Essential
Artist: Peggy Lee
Song: There Ain't No Sweet Man That's Worth The Salt Of My Tears
Composer: Fisher
Album: I'm A Woman
Label: Capitol
Artist: Desi Arnaz
Song: We're having a baby
Composer: Arnaz
Album: I Love Lucy - The Best Of Desi Arnaz
Label: Master Classics Legacy
Interview: Trip To The Moon
Artist: Trip To The Moon
Song: Trip-o-phonic, Slant Of Light, Blue Was Everywhere, The Inivisible Line, The Landscape Listens, Blues Was Everywhere
Composer: Trevor Reekie, Tom Ludvigson
Album: The Invisible Line
Label: Jazzscore
Artist: Grizzly Bear
Song: Yet Again
Composer: Droste/Rossen
Album: Shields
Label: Warp
Artist: Purity Ring
Song: Fireshrine
Composer: James/Roddick
Album: Shrines
Label: 4AD
Artist: Wild Bill Ricketts  
Song: Quail
Composer: Ricketts
Album: West Wind
Label: Economy