Music 101 for Saturday 28 July 2012
2-3pm
The Sampler: Muddy Waters and the Rolling Stones at the Checkerboard Lounge 1981.
One not so quiet night in Chicago, The Rolling Stones went to see their hero Muddy Waters perform at the Checkerboard Lounge... and gate-crashed the stage, resulting in a 'loose and well-juiced' blues set. Nick Bollinger reviews the official release of that recording and DVD more than 30 years later.
APRA Maioha Award Finalists 2012
We take a listen to the finalists for the APRA Maioha Awards 2012, which celebrates te reo in contemporary music.
Toni Huata
Māori singer songwriter Toni Huata has played a large part in introducing the rest of the world to Te Ao Māori (the Māori world), having performed in her native tongue on stages in the UK, Europe, Canada, Australia and The Pacific Islands. Her latest album Hopukia was made in collaboration with Pitch Black's Paddy Free and composer Gareth Farr, and is her first to use the English language as well as te reo. Huata and Free talk about the album, and the role music has to play in the survival of te reo Māori. (Toni Huata and Paddy Free performing in Solomon Islands recently for the Festival Of Pacific Arts )
3-4pm
Artisan Guns
They stopped skateboarding to preserve their guitar-playing wrists and the result is a carefully woven debut album Coral.
Fugazi
Twenty five years after they formed in Washington D.C., Ian Mackaye talks about his band's huge archive of live recordings, which captures his infamous diatribes against crowd-surfing.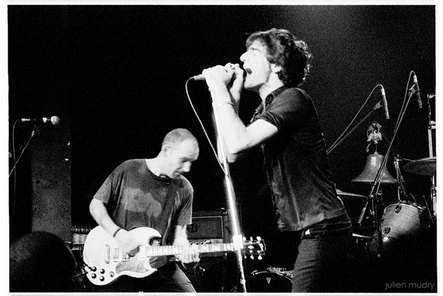 Fugazi, live at Irving Plaza, NYC 1995
Session: Die! Die! Die!
Hot off the heels of their Harmony album release tour, Die! Die! Die! play a live session at Roundhead studios.
Gig Guide
4-5pm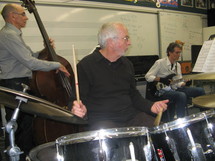 Musical Chairs featuring: Dr Trevor Thwaites
On a sun-shiny day in 1991, New Orleans brass band The Dirty Dozen marched down Queen St, Auckland, and later performed a show in a big shed on Princess Wharf.
Watching from a bus stop, with a crowd of his most keen music students clambering on top to get a better view, was Dr Trevor Twaithes, world class drummer, inspiring music teacher, and head of the Selwyn College Music Department.
On spotting the Dirty Dozen Brass Band, the group shimmied off the bus shelter roof to march behind the band, clapping and dancing, in awe of the virtuosic horn players.
Nick Atkinson looks back on what was a pivotal day in the musical development of several well known local musicians with Dr Trevor Thwaites.
The Sampler: The Eversons
Nick Bollinger takes a listen to these hapless protagonists and their self-deprecating humour on the Wellington pop band's debut album Summer Feeling.

Introducing: Rhiain and the Utter Strangers
Music played in this show
2-3pm
Artist: Muddy Waters
Song: Evans Shuffle (Ebony Boogie)
Composer: Morganfield
Album: Screamin and Cryin
Label: Doxy
The Sampler: Muddy Waters/The Rolling Stones
Artist: Muddy Waters
Song: Rollin' Stone
Composer: Morganfield
Album: The Chess Box
Label: Chess

Artist: Muddy Waters/The Rolling Stones
Songs: Hoochie Coochie Man
Composer: Dixon
Songs: Baby Please Don't Go, Long Distance Call, Mannish Boy, Champagne and Reefer
Composer: Morganfield
Album: Checkerboard Lounge Live – Chicago 1981
Label: Eagle Vision (CD/DVD)
Artist: Aretha Franklin
Song: Can't Get No) Satisfaction
Composer: Jagger, Richards
Album: Aretha Arrives
Label: Rhino
Maioha Award Finalists:
Artist: Ahorangi
Song: Pounamu
Composer: Winitana/ Diamond
Album: Pounamu
Label:Warner

Artist: Awa
Song: Matahiapo
Composer: Reeder/ Atai/ Morrison
Album:Native Intel
Label:Private

Artist: Ria Hall
Song: I Am A Child
Composer: Hall
Album:Ria Hall
Label: n/a
Interview: Toni Huata and Paddy Free
Artist: Toni Huata
Songs: Hopukia te Tao, A Muri Ra
Composer: T. Huata/G. Farr
Album: Hopukia
Label: Ode Records

Artist: Toni Huata
Song: Matariki, Aio
Composer: T. Huata/P. Free
Album: Hopukia
Label: Ode Records
Artist: Paddy Free, Richard Nunns, Tiki Taane
Song: Wairua
Album: Karekare: Te Reo O Te Whenua
Composer: Free, Nunns,Taane
Label: Dub Conspiracy
Artist: 3 The Hard Way
Song: Hip Hop Holiday
Composer: McNaughton/3 the Hard Way
Album: Old Skool Prankstas
Label: Deepgrooves
Artist: Flying Lotus
Song: Between Friends
Composer: Ellison/Kgositsile
Album: single
Label: Adult Swim
Artist: The XX
Song: Angels
Composer: Smith, Madley-Croft, Sim
Album: Co-Exist
Label: Young Turks
Artist: Adi Dick
Song: Shuggie
Composer: Dick
Album: Spacedust EP
Label: n/a
3-4pm
Artist: Shihad
Song: Right Outta Nowhere
Composer: Toogood/Larkin/Kippenburger/Knight
Album: Single
Label: Warners
Interview: Artisan Guns
Artist: Artisan Guns
Song: Heights, Rain In Summer, It Aches, Heights, Pulled You In
Composer: Matthew Hope
Album: Coral
Label: Raccoon Jacket

Artist: Artisan Guns
Song: Autumn
Composer: Matthew Hope
Album: Bird and Bone EP
Label: EMI

Artist: Artisan Guns
Song: Into the Cold
Composer: Matthew Hope
Album: Hearts EP
Label: Raccoon Jacket
Artist: Dear Times Waste
Song: Fortune
Composer: Duncan
Album: Some Kind Of Eden
Label: Universal
Artist: Grizzly Bear
Song: Sleeping Ute
Composer: Droste/Rossen
Album: Shields
Label: Warp
Artist: Minor Threat
Song: Straight edge
Composer: Minor Threat
Album: Complete Discography
Label: Dischord
Interview: Ian McKaye - Fugazi
Artist: Fugazi
Song: Turnover - Styrofoam
Composer: Fugazi
Album: Live at DVT 1991
Label: Dischord

Artist: Fugazi
Song: Break
Composer: Fugazi
Album: Live in Dunedin 1995
Label: Dischord

Artist: Fugazi
Song: Waiting Room, Public Witness Program, Birthday Party, Reclamation
Composer: Fugazi
Album: Live in Peoria, Illinois 1995
Label: Dischord
Live: Die Die Die
Artist: Die! Die! Die!
Song: Harmony; Oblivious Oblivion; We Built Our Own Oppressors
Composer: Die! Die! Die!
Album: Unreleased
Label: live session
Gig Guide Bed
Artist: Nicki Minaj
Song: Beez In The Trap
Composer: O. Maraj/T. Epps/M.Jordan
Album: Pink Friday Roman reloaded
Label: Universal

Artist: Boh, Anika and Hollie
Song: Be Mine
Composer: Runga/Moa/Smith
Album: single
Label: n/a

Artist: Frode Gjerstad, William Parker, Rashid Bakr
Song: Ear
Composer: Seeing New York From The Ear
Album: Gjerstad, Bakr, Parker
Label: Cadence Jazz

Artist: Brockaflowersaurus Rex
Song: Long Road
Composer: Brockaflowersaurus Rex
Album: EP
Label: n/a
4-5pm
Artist: Three Bips and A Bop with Babs Gonzales
Song: Professor Bop
Composer: Gonzales
Album: The Beat Generation
Label: Rhino
Musical Chairs: Trevor Thwaites
Artist: Trevor Thwaites
Song: Don't Look Now
Composer: Trevor Thwaites
Album: A Bridge To Somewhere
Label: Private

Artist: Cannonball Adderly
Song: Brother John
Composer: Yusef Latteef
Album: Noppon Soul
Label: Original Jazz Classics

Artist: John Mayall with Eric Clapton
Song: All Your Love
Composer: Otis Rush
Album: Blues Breakers
Label: Decca

Artist: Superbrew
Song: Agbekor
Composer: Barry Young, Jim Langabeer
Album: Africa/Aroha
Label: Alma/Ode

Artist: The Dirty Dozen Brass Band
Song: Feet Don't Fail Me Now
Composer: Davis, Harris, Jones, C.Joseph, K.Joseph, Lewis, Marshall, Towns
Album: We Got Robbed! – Live in New Orleans
Label: RYCO

Artist: The Dirty Dozen Brass Band
Song: Remember When
Composer: Kevin Harris
Album: Whatcha Gonna Do For The Rest Of Your Life
Label: Columbia

Artist: The Dirty Dozen Brass Band
Song: Open Up (Whatcha Gonna Do For The Rest Of Your Life)
Composer: C.Joseph
Album: Whatcha Gonna Do For The Rest Of Your Life
Label: Columbia

Artist: Lever Brothers Gay Flamingoes
Song: Egbi Mi O/Black man's Cry (Medley)
Composer: Lever Brothers Gay Flamingoes
Album: Black man's Cry: The Inspiration Of Fela Kuti
Label: Now Again

Artist: Spektrum
Song: Robocops and Flip-flops
Composer: Spektrum
Album: Single
Label: Private
Artist: Black Moth Super Rainbow
Song: Windshield Smasher
Composer: Black Moth Super Rainbow
Album: Cobra Juicy (TBC)
Label: Rad Cult
The Sampler: The Eversons
Artist: The Eversons
Songs: Going Back To Work, Terminally Lame, Could It Ever Get Better, Marriage, Heading Overseas, Creepy, Kick Him Out
Composer: The Eversons
Album: Summer Feeling
Label: Li'l Chief
Artist: The Blueness
Song: Galaxy II
Composer: White
Album: The Blueness
Label: Private
Artist: Opposite Sex
Song: Hamish and Chips
Composer: Hunter/ Taylor/ Player
Album: Opposite Sex
Label: Fishrider
Introducing: Rhiain and the Utter Strangers
Artist: Rhiain and the Utter Strangers
Song: All A Flutter
Composer: McGrath
Album: Heartplusmelody
Label: n/a
Artist: Cinematic Orchestra
Song: Necrology
Composer: Swinscoe
Album: In Motion Part 1
Label: Ninjatune