Music 101 for Saturday 21 July 2012
2 - 3pm
Ice T
Influential US rapper Ice T talks about his documentary The Art of Rap, featuring Kanye West, Snoop, Eminem, KRS-One, Doug E Fresh, Melle Mel and many more. Listen to the interview with Ice T on BBC World Service program The Strand here.
Michael Kiwanuka
A Londoner born to Ugandan parents, Michael Kiwanuka is blessed with a uniquely soulful voice and authentic songwriting skills. His timeless sounding debut album Home Again is attracting a global audience, with the BBC naming him as the winner of their 'Sound of 2012' poll. Michael Kiwanuka pops by for chat and performs a few songs live in the Music 101 studio.
Pictured left to right - bassist Pete Randall, Trevor Reekie, Michael Kiwanuka and engineer Jeremy Ansell. Photo: Linda Whittaker.
Nas
Much like Marvin Gaye's Here, My Dear, an emotionally raw record that reflected on the late soul musician's first marriage to Anna Gordy, New York hip hop stalwart Nas has turned his attention to his much-publicised divorce from R'n'B singer Kelis on his new album Life is Good. The notoriously private artist talks about opening up his private life on album number ten.
3 - 4pm
Pacific Arts Festival
A sample of the sounds on offer at this year's Pacific Arts Festival in the Solomon Islands last week, and a chat with Hiliako Iaheto of Dunedin band Koile, one of the bands which represented Aotearoa.
NZ at Festival of Pacific Arts - Te Matarae i o Rehu. Photo: Puawai Cairns.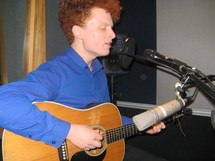 Jesse Sheehan
Looking and sounding like a young Dave Dobbyn, Jesse Sheehan (pictured left) brings his fiery guitar skills and dynamic voice in for a live session featuring new unreleased songs.
The Sampler: The Raw Nerves
Nick Bollinger gets his record player cranking to review new vinyl from local primitive punk band The Raw Nerves.
Gig Guide
4-5pm
Keep on Truckin'
'Truck Drivin' Man', 'The Truck Song', 'Will There Be Big Rigs in Heaven', - Ever wondered what songs fuel truck drivers on long-haul journeys as they guide their big rigs along New Zealand's highways and byways?
In Keep on Truckin', Sam Wicks loads up for a long, strange trip with music-mad truckers to seek out the ideal truckin' soundtrack.
Jason 'Rockpig' Hall and his truck. Photo: Sam Wicks
The Sampler: Gianmarco Liguori
Nick Bollinger listens to the the cinematic space jazz of Gianmarco Liguori.
Stanier Black-Five
Lyttleton-based sound artist Jo Burzynska talks about her work with the rumbles of earthquakes and the rustles of vineyards.
This Way Up: The neglected link between sound and our sense of taste with experimental psychologist Professor Charles Spence.
Music played in this show
2-3pm
Artist:Dennis Coffey
Song: Scorpio
Composer: Coffey
Album: Big City Funk
Label: Vampi Soul
Interview: Ice T
Session: Michael Kiwanuka
Artist: Michael Kiwanuka
Song: I'm Getting Ready, Home Again
Composer: Kiwanuka
Song: May This Be Love
Composer: Jimi Hendrix
Album: n/a
Label: Radio New Zealand recording
 
Artist: Marvin Gaye
Song: Anger (J.Sole Edit)
Composer: Gaye
Album: Hear My Dear
Label: Motown
Interview: Nas
Artist: Nas
Song: Memory Lane
Composer: N.Jones
Album: Illmatic
Label: Columbia

Artist: Nas
Song: The Don/Cherry Wine/Summer on Smash/Bye Bye Baby
Composer: N.Jones
Album: Life is Good
Label: Def Jam

Artist: Nas and Damian Marley
Song: As We Enter
Composer: N.Jones/D.Marley
Album: Distant Relatives
Label: Def Jam
Introducing: Randa
Artist: Randa
Song: Brave New Galaxy
Composer: Larkin
Album: n/a
Label: Private
Artist: Narasirato Panpipers
Song: Ao (The Cry of the White Heron
Composer:Manuasi
Album: Cry of the Ancestors
Label: Arc
3-4pm
Feature: Festival of Pacific Arts, Solomon Islands 2012
Artist: Pacific Curls
Song: We Three Sisters
Composer: Barlow / Halliday
Album: Te Po
Label: Ode
Session: Jesse Sheehan
Artist: Jesse Sheehan
Song: Nothing To Lose, Meredith, To Be By Your Side, The Mongrel
Composer: Jesse Sheehan
Album: n/a
Label: Radio New Zealand recording
Artist: Amiria Grenell
Song: Charming Day Saturday
Composer: Grenell
Album: Three feathers
Label: Central Records
Artist: Kitty Wells
Song: It Wasn't God Who Made Honky Tonk Angels
Composer: Wells
Album: Country Music Hall of Fame
Label: MCA
Artist: Deep Purple
Song: Black Night
Composer: Blackmore/Paise/Lord/Gillan/Glover
Album: Deep Purple in Rock
Label: Warner
The Sampler: The Raw Nerves
Artist: The Raw Nerves
Songs: Black Times, Clay, Nazi, Scared Bear, All F***ed Up
Composer: The Raw Nerves
Album: The Raw Nerves
Label: 1:12 Records
Gig Guide Bed
Artist: Smash Mouth
Song: Walkin On The Sun
Composer: Camp
Album: Fush You Mang
Label: Interscope

Artist: Hypnotic Brass Ensemble
Song:Spottieottiedopaliscious
Composer: A Benjamin/A Patton (Outkast)
Album: The Heritage EP
Label: Choice Music
4-5pm
Artist: C.W. McCall
Song: Convoy
Composer: Davis / Fries / McCall
Album: The Best of C.W. McCall
Label: Polygram
Feature: Keep On Truckin'
Artist: Johnny Chester
Song: Once I Was a Truck Drivin' Man
Composer: J.Chester
Album: 20 Truck Driving Favourites
Label: Fable

Artist: Soundgarden
Song: Drawing Flies
Composer: Soundgarden
Album: Badmotorfinger
Label: A&M

Artist: You Am I
Song: The Ocean
Composer: T.Rogers
Album: You Am I
Label: Other Tongues

Artist: The Orb
Song: Shine of You Crazy Diamond (Part 2)
Composer: R.Waters/R.Wright/D.Gilmour
Album: Return to the Dark Side of the Moon
Label: Mojo

Artist: Drive By Truckers
Song: Lookout Mountain
Composer: Drive-By Truckers
Album: The Dirty South
Label: New West

Artist: Herbs
Song: Long Ago
Composer: Herbs
Album: Listen – The Very Best of
Label: Warner

Artist: John Rowles
Song: If I Only Had Time
Composer: Fugain/Delanoe/Fishman
Album: John Rowles The Hits Collection
Label: EMI

Artist: Willie Nelson
Song: I Walk Alone
Composer: W.Nelson
Album: 16 Top Tracks
Label: RCS

Artist: Dave Dobbyn/Herbs
Song: Slice of Heaven
Composer: D.Dobbyn/Herbs
Album: Listen – The Very Best of
Label: Warner

Artist: Jack White
Song: I'm Shakin'
Composer: J.White
Album: Blunderbuss
Label: Third Man Records

Artist: The Grateful Dead
Song: Truckin'
Composer: Garcia/Weir/Lesh/Hunter
Album: American Beauty
Label: Warner Bros

Artist: Drive By Truckers
Song: The Buford Stick
Composer: Drive-By Truckers
Album: The Dirty South
Label: New West

Artist: Soundgarden
Song: Rusty Cage
Composer: Soundgarden
Album: Badmotorfinger
Label: A&M
Artist: Ina Ray Hutton & Her Melodears
Song: Truckin'
Composer: Kohler / Bloom
Album: The Definitive Collection
Label: Fantastic Voyage
The Sampler: Gianmarco Liguori
Artist: Gianmarco Liguori
Songs: Cosmic Protrusion, Primitive Nighhtmare, Indian Milk, Energy Wind, Translucent Formlessness
Composer: Liguori
Album: Duga 3
Label: Sarang Bang
Artist: Brian Eno
Song: Bless This Space
Composer: Eno / Holland
Album: Drums Between the Bells
Label: Warp
Interview: Stanier Black Five
Artist: Stanier Black Five
Song: Trains In Trouble
Composer: Burzynska
Album: n/a
Label: n/a

Artist: Stanier Black Five
Song: Body Waves
Composer: Burzynska/Riddoch
Album: n/a
Label: n/a

Artist: Stanier Black Five
Song: ephemeris
Composer: Burzynska
Album: Avast!
Label: Argot