Music 101 for Saturday 14 July 2012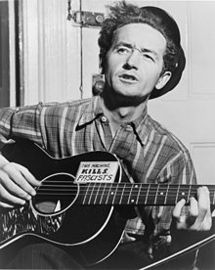 2 - 3pm
Woody Guthrie at 100
American folk singer and social commentator Woody Guthrie would have turned 100 today. We speak to Jeff Place, head of the Folklife Archives at the Smithsonian Institute, and co-producer of Woody At 100, an in-depth commemorative collection of songs, radio performances, photos, drawings and essays.
Hear a session with Adam McGrath, Steve Abel and Bernie Griffin in honour of Woody Guthrie's Birthday here.
The Sampler: Chuck Perkins
Nick Bollinger checks out Chuck Perkins, a spoken word poet and musician, whose album A Love Song for Nola deals with all things New Orleans - Hurricane Katrina, Jazz Funerals, and crack houses.
3 - 4pm
Levity Beet
We talk with the winner of this year's Apra Children's Songwriter award, about his song Sometimes I Make Mistakes. Hear Levity on Musical Chairs here.
The Wyld
Auckland trio The Wyld talk about the amalgamation of influences on the debut album Preface. Check out rapper Mo Kheir's stand up here.
THE WYLD - Full Circle (Official Video) from The Wyld on Vimeo.

Introducing: The Raw Nerves
Kirsten Te Rito
After a decade backing up bands such as Little Bushman and Wai, and singing in musical theatre productions, Wellington singer Kirsten Te Rito has just released her debut album, Te Rito. Sung entirely in Te Reo Maori, it features production from her keys-playing partner James Illingworth - we speak to the couple about the collaboration.
Gig Guide
4 - 5pm
Musical Chairs featuring Bruce King
Bruce King has been a leading drummer in Auckland for over 50 years. His career began as a teenager, performing in a rock'n'roll band the Swingsters, and was soon on tour with the Stereotones, backing the singer Vince Callaher.
At the age of 18 he was touring New Zealand with the Howard Morrison Quartet in the 'Showtime Spectacular' tours. He would go on to play in the legendary Auckland Neophonic Orchestra with the city's top jazz players, and perform country music with singers such as Al Hunter, and on the 'Highway of Legends' tour. Every week, King still packs up his drum kit and heads to a gig somewhere in Auckland. In Musical Chairs Bruce King talks to Chris Bourke about his long career at the back of the bandstand.
Bruce King with his first band the Swingsters, at Magness Studios, Auckland, 1957. From left: Kevin Paul, Bruce King, Ron McDonald, Dick Blundell. Photo credit: courtesy Bruce King
2 am Orchestra session
Californian kiwi David Kelly and friends bring mandolins, cellos, guitars and a thermos full of incredibly aromatic ginger tea into Radio New Zealand's Auckland studio to perform refreshing chamber pop for us.
Music played in this show
2-3pm
Artist: Ry Cooder
Song: Great Dream from Heaven
Composer: Spence
Album: Into The Purple Valley
Label: Reprise
Interview: Jeff Place on Woody Guthrie
Artist: Woody Guthrie
Songs: Pastures Of Plenty, Jolly Banker, Pretty Boy Floyd, Talking Dust Bowl Blues, Ramblin' Round, When That Great Ship Went Down, Car Song, Do Re Mi, This Land Is Your Land, Goodnight Little Cathy, Howdjadoo
Composer: Guthrie
Album: Woody At 100
Label: Smithsonian

Artist: Billy Bragg + Wilco
Song: California Starts
Composer: Guthrie/Bennett/Tweedy
Album: Mermaid Avenue
Label: Elektra
Artist: Adam McGrath
Song: Hard Travellin'
Composer: Guthrie
Album: RNZ Recording
Label: RNZ
Artist: Sharon Jones and the Dap-Kings
Song: This Land Is Your Land
Composer: Guthrie
Album: Naturally
Label: Daptone
The Sampler: Chuck Perkins
Songs: We Don't Fear The Water, Jazz Funeral, Lil Liza Jane, Everybody Swears, Crack House, Jokes, R&B Superstar, I Can Do Anything, We Ain't Dead Yet
Composer: Perkins
Album: A Lovesong For NOLA
Label: Trikont
Artist: Treme Brass Band
Song: Just A Closer Walk With Thee
Composer: Trad
Album: Treme Soundtrack
Label: Hollywood
Artist: Antibalas
Song: Dirty Money
Composer: Antibalas
Album: Antibalas
Label: Daptone
Artist: Faris + Terakaft
Song: Derhan Alkher
Composer: Faris + Terakaft
Album: Songs For Desert Refugees
Label: Glitterhouse
3-4pm
Interview: Levity Beet
Artist: Levity Beet
Song: Sometimes I Make Mistakes
Composer: Hollis
Album: unreleased
Label: n/a
Artist: Alt-J
Song: Dissolve Me
Composer: Newman/Hamilton/Bridgeman/Gormley
Album: An Awesome Wave
Label: Infectious
Interview: The Wyld
Artist: The Wyld
Song: Phoenix/Uphill/Revolution/Rome/Heart Attack/Preface
Composer: J.Pascoe/M.Kheir/B.Nigri
Album: Preface
Label: Dryden Street
Artist: Loui The ZU
Song: Live Yxung, Die Running
Composer: Ngubane
Album: LBSB The Fruits of My Labour
Label: self-released
Introducing: The Raw Nerves
Artist: The Raw Nerves
Song: Shizo
Composer: The Raw Nerves
Album: The Raw Nerves
Label: 1:12 Records
Artist: Wai
Song: Maranga Ake Ai feat. Rio Hemopo
Composer: Joe Williams
Album: Ora
Label: Jayrem
Interview: Kirsten Te Rito and James Illingworth
Artist: Kirsten Te Rito
Songs: Ne Rā, Kō Tenei Rā Ahau, Kāinga, Whakamātau, Neke
Composer: K Te Rito/J Illingworth/J S Te Rito
Album: Te Rito
Label: Ode
Artist: Bebe Deluxe
Song: Walking Away feat. Tyna
Composer: K Te Rito/J Illingworth/T Keelan
Album: Unreleased
Label: n/a
Gig Guide Bed
Artist: Weezer
Song: Buddy Holly
Composer: R Cuomo
Album: Weezer
Label: Geffen

Artist: Regina Spektor
Song: Don't Leave Me
Composer: Spektor
Album: What We Saw From The Cheap Seats
Label: Warner

Artist: Mono/Poly
Song: Distant Form
Composer: Mono/Poly
Album: Beat Dimensions
Label: BTS Radio

Artist: Julien Dyne
Song: Mask
Composer: J Dyne
Album: Glimpse
Label: BBE

Artist: Lawrence Arabia
Song: The 03
Composer: J Milne
Album: The Sparrow
Label: Spunk
4-5pm
Musical Chairs: Bruce King
Artist: Allison Durbin
Song: I Have Loved Me a Man
Composer: Janice Weaver
Album: New Zealand Gold
Label: EMI HITS 12

Artist: the Chicks
Song: Jandals advertisement
Composer: Wayne Senior
Album: Top of the Dial
Label: EMI

Artist: Woody Herman & His Orchestra
Song: Golden Wedding
Composer: Gabriel Marie
Album: Golden Wedding
Label: Decca U622

Track: Hawaiian Rock'n'Roll
Artist: Morgan Clark & the Hulawaians
Composer: Stebbing
Album: Early Rock & Roll and Boppin' Hillbilly Recordings Vol 7
Label: Collector CLCD 7756 A/B

Artist: Bill Haley & the Comets
Song: Rock Around the Clock
Composer: DeKnight-Freedman
45rpm single
Label: MCA – MCS 6353

Track: Gravedigger's Rock
Artist: Clyde Scott and the Zanyopolis
Album: Pie Cart Rock'n'Roll
Composer: O'Sullivan-Crookes
Label: Zerox DZEROX02

Artist: Vince Callaher with the Stereotones
Song: It's All Because (Because I Love You)
Composer: Gene O'Leary
45rpm single
Label: Prestige PSP0145

Artist: Helen Shapiro
Song: Walking Back to Happiness
Composer: John Schroeder and Mike Hawker
Album: The Very Best of Helen Shapiro
Label: EMI Gold 746232.2

Artist: Gene Pitney
Song: The Man Who Shot Liberty Valance
Composer: Bacharach-David
45rpm single
Label: Eric 4004

Artist: the Pretty Things
Song: Honey, I Need
Composer: Smithling-Taylor-Button
Album: Rock Legends
Label: Mercury 63181 032

Artist: Dinah Lee
Song: Don't You Just Know It
Composer: Huey Smith & Johnny Vincent
Album: The Very Best Of
Label: EMI 533578-2

Artist: Judge Wayne and the Convicts
Song: Little Miss Rhythm and Blues
Composer: Barry Gibb
45rpm single
Label: Viking VS188

Artist: Antoni Williams
Song: Twistin' the Night Away
Composer: Sam Cooke
45rpm single
Label: La Gloria GSP 052

Artist: Auckland Neophonic Orchestra
Song: Artistry in Rhythm
Composer: Stan Kenton
Album: 9th National [Tauranga] Jazz Festival 1971
Label: TJFS 3

Artist: Radio Times Orchestra
Song: Radio Times introduction
Composer: Bernie Allen
Album: Radio Times
Label: Video Pacific Communications
Artist: Deep Sea Arcade
Song: Lonely In Your Arms
Composer: McKenzie/Weaver/Chaimberlain
Album: Outlands
Label: Ivy League
Artist: Tame Impala
Song: Apocalypse Dream
Composer: Tame Impala
Album: Lonerism
Label: Modular
Session: 2.a.m. Orchestra
Artist: 2.a.m. Orchestra
Song: Home, Signature
Composer: David Kelly
Album: N/A
Label: Radio New Zealand recording
Artist: The Frogs
Song: Starboy
Composer: Flemion/ Flemion
Album: Starjob
Label: Mercury
Artist: Glass Vaults
Song: Crystallize
Composer: Lawson/ Pierce
Album: Crystallize
Label: Private
Artist: Eyeliner
Song: America
Composer: Rowell
Album: High Fashion Mood Music
Label: n/a