Music 101 for Saturday 7 July 2012
2 - 3 pm
Access All Areas: Devo
Gerald Casale and Mark Mothersbaugh met at Kent State University and founded Devo forty years ago, after witnessing the murder of four students by the National Guard during the infamous Vietnam War protest. The plastic hats, matching outfits, and songs such as 'Whip It' and 'Jocko Homo' and covers of 'I Can't Get No Satisfaction' and Neil Young's 'Ohio' made them cult favourites throughout the late 70s and 80s.
The two main creative forces in Devo have hardly been idle in the past two decades. Gerald Casale is a successful director of music videos and TV commercials, while Mark Mothersbaugh composes music scores for films, computer games and TV shows (notably the kids' TV show Rugrats). Founding member of Devo Gerald Casales talks to Trevor Reekie for Access All Areas.
Die! Die! Die!
"It's all the same... trinity... trinity..." sing Die! Die! Die! (pictured right) on the new album Harmony - but since the Dunedin trio's last album, they have a new bass-player - ex-Mint Chick Michael Logie. The band talks about what has changed, and what remains the same.
The Sampler: Sigur Ros
Valtari, the first album of new material from Sigur Ros in four years sees their shimmering soundscapes, noble chord progressions and glacial tempos grander than ever. Nick Bollinger listens.
3 - 4pm
The Sampler: Fiona Apple
The Idler Wheel Is Wiser Than The Driver Of The Screw and Whipping Cords Will Serve You More Than Ropes Will Ever Do is the first album in seven years from North American singer-songwriter Fiona Apple. Nick Bollinger attunes his ears.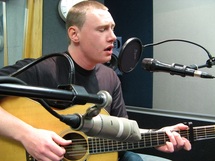 Louis Baker session
Soul singer Louis Baker (pictured left) was spotted by Little Bushman Warren Maxwell while playing small gigs in Wellington. Now the 22 year old is recording his first EP with Maxwell at his Featherston studio. He previews some songs in the RNZ studio.
Collapsing Cities
The Auckland band has gained a sober sense of perspective after wild times on the road touring the successful first record Elixir Always. The new album Strangers Again sees the quartet concentrating on the tunes and forgetting about world domination.
4 - 5pm
Otoitu In Flood: Tales from a Dunedin community recording studio.
On the crest of the 21st century, Dunedin's Arc cafe was a vibrant creative hub for established and emerging musicians. In the attic above the café - the former home of the Arclife record label - was Otoitu, a community recording studio run by a collection of dance music producers. Named after Toitu stream, which once ran down Serpentine Ave to the Exchange in central Dunedin, Otoitu captured experiments and performances from a wide range of artists, including George D Henderson (The Puddle), Tristan Dingemans (HDU, Mountain Eater), and Anji Sami (The Sami Sisters/ She's So Rad), local cult figures, dancers, and sprawling experimental noise ensembles.
Emma Smith sorts through the sounds and stories of the now defunct studio, on the release of a four disc compilation: Otoitu in Flood.

Otoitu In Flood - The Bing Harris Building, Dunedin. Illustration by Tim Cornelius from the liner notes of Otoitu in Flood.
EL-P
From his 1996 debut Funcrusher with New York rap trio Company Flow, through to his solo records, El-P has infused his music with a creeping paranoia. And on Cancer 4 Cure, his new solo release on Fat Possum Records the Brooklyn native has brought his jarring worldview into sharp focus.
Music played in this show
2-3pm
Artist: Royal Tenenbaum Orchestra
Song: Lindbergh Palace Hotel Suite
Composer: Mark Mothersbaugh
Album: The Royal Tenenbaums Soundtrack
Label: Hollywood
Interview: Devo
Artist: Devo
Song: Ohio
Composer: Neil Young
Album: When Pigs Fly: Songs You Never Thought You'd Hear
Label: Xemu Records

Artist: Devo
Song: Too Much Paranoias, Uncontrollable Urge, Jocko Homo
Composer: Mothersbaugh
Album: Q: Are We Not Men? A: We Are Devo! [2009 Remaster]
Label: Warner Music

Artist: Devo
Song: Beautiful World, Through Being Cool, Whip It, Here To Go, Girl U Want
Composer: Casale - Mothersbaugh
Album: Greatest Hits
Label: Warner Music

Artist: Devo
Song: (I Can't Get No) Satisfaction
Composer: Jagger - Richards
Album: Greatest Hits
Label: Warner Music

Artist: Devo
Song: What We Do (Album Version)
Composer: Casale - Mothersbaugh
Album: Something For Everybody
Label: Warner music
Artist: Datarock
Songs: Computer Cap Love
Composer:Datarock
Album: Datarock datarock
Label: Nettwerk
Interview: Die! Die! Die!
Artist: Die! Die! Die!
Songs: Trinity, Oblivious Oblivion, Twitching Sunshine, Harmony, Season's Revenge
Composer: A Wilson/Die Die Die
Album: Harmony
Label: Private
Artist: HDU
Song: Lull
Composer: Dingemans/Karlis/Phillips
Album: Higher + +
Label: Flying Nun
The Sampler: Sigur Ros
Artist: Sigur Ros
Songs: Eg Anda, Ekki Mukk, Varuo, Rembihnutur
Composer: Birgisson/Dyrason/Holm/Sveinsson
Album:Valtari
Label: Parlophone
Introducing: Carb On Carb
Artist: Carb On Carb
Song: Trace Minerals
Composer: Carb On Carb
Album: No Body Perfect EP
Label: n/a
3-4pm
Artist: John Lennon
Song: Mother
Composer: Lennon
Album: Plastic Ono Band
Label: EMI
The Sampler: Fiona Apple
Artist: Fiona Apple
Songs: Anything We Want, Left Alone, Periphery, Daredevil, Hot Knife, Jonathan, Regret
Composer: Apple
Album: The Idler Wheel Is Wiser…
Label: Clean Slate/Epic
Artist: Michael Kiwanuka
Song: Home Again
Composer: Kiwanuka
Album: Home Again
Label: Polydor
Session: Louis Baker
Artist: Louis Baker
Song: Even In The Darkness, Movin'
Composer: Louis Baker
Album: N/A
Label: Radio New Zealand recording
Artist: Pacific Underground
Song: Malie
Composer: Mavaega
Album: Island Summer
Label: Private
Interview: Collapsing Cities
Artist: Collapsing Cities
Song: Seriously
Composer: Collapsing Cites
Album: Elixir Always
Label: Pastel Pistol

Artist: Collapsing Cities
Song: Regret, Tazer, Queue For The Queue, This Mess
Composer: Collapsing Cites
Album: Strangers Again
Label: Pastel Pistol/CRS/Rhythmethod
Gig Guide Bed
Artist: Ben Harper
Song: Ground On Down
Composer: Harper
Album: Fight For Your Mind
Label: Virgin

Artist: Knxwledge
Song: Wait
Composer: Boothe
Album: Klouds
Label: All City

Artist: Fat Freddy's Drop
Song: The Raft Stepper's Dub
Composer: Fat Freddy's Drop
Album: The Raft 7"
Label: The Drop

Artist: Takacs Quartet
Song: Sring Quartet Number 1, Allegro Vivace
Composer: Bartok
Album: Bartok 6 String Quartets
Label: Decca

Artist: State Of Mind
Song: Novacain Dub
Composer: S Maxwell/P Hawkins
Album: Nil By Ear
Label: SOM
4-5pm
Artist: Sola Monday
Song: Cool Candy
Composer: Monday
Album: Arcbeats
Label: Arclife
Feature: Otoitu In Flood
Artist: Katrina Thomson
Song: Catno Del Pilon
Composer: Thomson
Artist: Ray Off
Song: (st petersburg)
kunstkammer blues
Composer: Currin/ Cornelius/ Thomson/ Voufis/ Wilsom/ Riemersma/ Kikkawa
Album: Otoitu In Flood
Label: Otoitu

Artist: Alpharhythm
Song: Sentient Beings
Composer: Cumming
Album: Dunedin Muisc Compilation 2
Label: Dunedinmusic.com

Artist: Rory Storm
Song: Your Building Is On Fire
Composer: Rory Storm

Artist: Consolidating Goldfields
Song: LSD Vespers
Composer: McGregor

Artist: Maya Papaya
Song: Prayer
Composer: Maya Papaya

Artist: Kahu
Song: Ancien (de la meler piano)
Composer: Dingemans

Artist: Stuey Mitchell
Song: Legalize It
Composer: Mitchell

Artist: Kahu
Song: Ancien (de la meler piano)
Composer: Dingemans

Artist: Lunam Pool
Song: Human Come Walking
Composer: Stephens

Artist: The St Leonards Rock N Roll Club
Song: Vampyre!
Composer: Houston/ Noufis/ Wilson/ Anal/ Wallace/ Tuwairua

Artist: AJ Sharma
Song: 9 planets and 5 balls
Composer: Sharma

Artist: Anji Sami
Song: El Dorado
Composer: Sami

Artist: Ray Off
Song: (st petersburg)
kunstkammer blues
Composer: Currin/ Cornelius/ Thomson/ Voufis/ Wilsom/ Riemersma/ Kikkawa
Album: Otoitu In Flood
Label: Otoitu
Artist: Nine Inch Nails
Song: Only (El-P Remix)
Composer: Reznor/Meline
Album: single
Label: Interscope
Interview: El-P
Artist: El-P
Song: The Jig is Up/Request Denied/Works Every Time/The Full Retard/For My Upstairs Neighbor (Mums the Word)
Composer: J.Meline
Album: Cancer 4 Cure
Label: Fat Possom
Artist: Unknown Mortal Orchestra
Song: I'll Come Back 4 U
Composer: R Neilson
Album: single
Label: Fat Possum
Introducing: Cool Cult
Artist: Cool Cult
Song: Ayurveda
Composer: L Powell, M Vella. A Grant
Album: Cool Cult EP
Label: n/a