Music 101 for Saturday 9 June 2012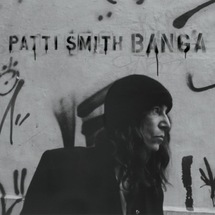 2 - 3pm
Patti Smith
Musician, poet, and photographer Patti Smith has released her first album of new material in eight years, Banga. Patti discusses her tendency to write elegies, collaborating with Johnny Depp, and writing songs on the ill-fated Italian cruise ship Costa Concordia. Hear Patti interviewed on BBC's The Strand here.
The Sampler: Neil Young and Crazy Horse
Neil Young has just released Americana with his sometimes band Crazy Horse - a band Nick Bollinger describes as sounding like "a bunch of teenagers jamming in the garage with the amps cranked up to ten". We take a listen to the album of old-time folk-songs, with some unexpected inclusions.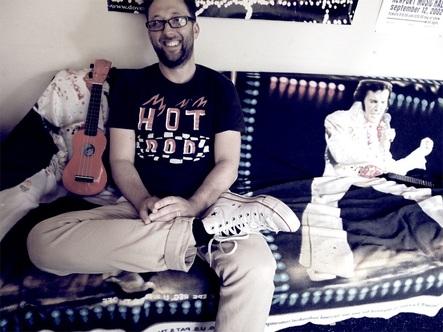 Songs From The Backyard featuring Rodney Fisher
Rodney Fisher is best known as one of the two singer/songwriters in Goodshirt, the recently reformed Auckland pop group. Fisher's been living in London for the past few years, but before he left, he recorded a solo album with Andy Lovegrove of Breaks Co-Op. Songs From The Backyard has finally been released, we ask about the hold-up.
3 - 4pm
Access All Areas - The Audience
A new interactive music website - theaudience.co.nz gives new and un-released NZ acts a platform where they can showcase their songs and connect to potential fans.
Trevor Reekie explores theaudience with entertainment lawyer and founder Chris Hocquard, Brendan Smyth from NZ on Air and Mike Hall from bands Pluto and Nightchoir.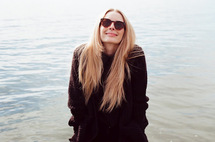 Introducing: Watercolours (aka Chelsea Jade Metcalfe, pictured left)      
See Watercolours performing in a garden hosted by Rodney Fisher here. 
Zoh Zoh
Yaw Boateng is a Ghanaian drummer and dancer, who has adopted Auckland as his home. He leads Zoh Zoh, a seven-piece band who bring together the beats and melodies of Ghana, Nigeria, and Jamaica. But can Yaw make Kiwi audiences overcome their fear of the dance floor? We speak to him about addictive rhythms, and the new record Lady.
Gig Guide
4-5pm
No Nukes: How NZ Music helped us Ban the Bomb
Marking the 25th anniversary of New Zealand's ground-breaking nuclear free legislation, 'No Nukes' highlights the role of Kiwi music and musicians in winning people over to the anti-nuclear cause.
Featuring protest music from Shona Laing, Topp Twins, From Scratch, Don McGlashan and Herbs, alongside interviews with some of the main players, we recapture the spirit of the nuclear free movement in song.
In doing so we explore how, decades later, this country's once controversial anti-nuclear stance has become a significant part of our national identity.
Busker in Radiation Suit by Davian Lorson
Joe Walsh
A member of The Eagles since 1975, Joe Walsh has just released his first solo album in 20 years Analog Man. As the titles suggests, Joe Walsh has one foot in the past. We speak to him about the digital age, US politics, and how New Zealand inspired him to become sober.
Music played in this show
2-3pm
Artist: Fleshtones Feat. Lenny Kaye
Song: You Give Me Nothing to Go On
Composer: Taylor
Album: Brooklyn Sound Solution
Label: Yeprock
Interview: Patti Smith
Artist: Patti Smith
Songs: Amerigo, April Fool, Maria
Composer: Smith/Shanahan
Songs: Fuji-San, Seneca, Constantine's Dream
Composer: Smith/Kaye
Song: This is The Girl
Composer: Smith/Shanahan/Lerman
Song: Banga
Composer: Smith
Album: Banga
Label: Sony
The Sampler: Neil Young and Crazy Horse - Americana
Artist: Neil Young with Crazy Horse
Song: Tom Doola, Clementine, Jesus' Chariot
Composer: Trad. Arr. Young
Song: O Susannah
Composer: Foster, Arr. Rose
Song: High Flying Bird
Composer: Billy Edd Wheeler
Song: Get A Job
Composer: Lewis/Beal/Edwards/Horton
Song: God Save The Queen
Composer: Arne, Arr. Young
Album: Americana
Label: Reprise
Artist: Jamie Woon
Song: Wayfaring Stranger
Composer: Trad
Album: Brownswood Bubblers
Label: Brownswood
Artist: Breaks Co-Op
Song: Last Night
Composer: Clark, Lowe, Whittington
Album: The Sound Inside
Label: EMI
Interview: Rodney Fisher, The Backyard
Artist: The Backyard featuring Rodney Fisher
Song: Timeline, Hold Me Close, From Mrs Lovegrove, Tonight, Sun Goes Down
Composer: Rodney Fisher
Album: Songs From The Backyard
Label: Hark Entertainment
Artist: Goodshirt
Song: Buck It Up
Composer: Goodshirt
Album: Fiji Baby
Label: Cement
Artist: Pikachunes
Song: Disco Baby
Composer: Pikachunes
Album: Pikachunes
Label Lil Chief
3-4pm
Artist: Pluto
Song: She's Jive
Composer:Pluto
Album: Red Light Syndrome
Label: Antenna
Feature: The Audience.co.nz
All Tracks unreleased
All Courtesy of The Audience

Artist: Bill Borman
Song: When I Rule The World (I'll Tell You All To Love)
Composer: Bill Borman

Artist: Tom Ludvigson
Song: Slant of Light
Composer: Ludvigson

Artist: Nightchoir
Song: Caveman
Composer: Nightchoir

Artist: Lightning Bells
Song: Wreckin' Boots
Composer: Lightning Bells

Artist: Watercolours
Song: Nightswimmer
Composer: Watercolours

Artist: Pikachunes
Song: Love Hate
Composer: Pikachunes

Artist: Louis the Zu
Song: Smokers Lung
Composer: Louis the Zu

Artist: Drunken Seas
Song: Leaves
Composer: Drunken Seas

Artist: Bill Borman
Song: When I Rule The World (I'll Tell You All To Love)
Composer: Bill Borman
Introducing: Watercolours
Artist: Watercolours
Song: Nightswimmer
Composer: C J Metcalfe
Album: single
Label: n/a
Artist: Bobby Womack
Song: The Bravest Man In The Universe.
Composer: Womack
Album: The Bravest Man In The Universe
Label: XL
Interview: Zoh Zoh
Artist: Zoh Zoh
Song: Beautiful Woman, Downtown Pressure, Modern Civilisation, 365 Days, Dagomba
Composer: Yaw Boateng
Album: Lady
Label: Zoh Music
Gig Guide Bed
Artist: Grizzly Bear
Song: Southern Point
Composer: Droste/Rossen
Album: Veckatimest
Label: Warp

Artist: Earth
Song: Old Black
Composer: Earth
Album: Angels of Darkness, Demons of Light I
Label: Southern Lord Records

Artist: A Hori Buzz
Song: The Turnaround
Composer: Tokona
Album: unreleased
Label: n/a
4-5pm
Artist: The Sons Of The Pioneers
Song: Old Man Atom
Composer: Partlow
Album: This Record Is Not To Be Broadcast: 50 More Records Banned By The BBC
Label: Future Noise
Feature: No Nukes
Artist: Herbs
Song:French Letter
Composer: FONOTI T/KARAKA J/FUSIMALOHI S
Album: Sensitive to a Smile
Label: Aeroplane Music

Artist: Herbs
Song: No Nukes
Composer: FONOTI T/KARAKA J/FUSIMALOHI S
Album: Sensitive to a Smile
Label: Aeroplane Music

Artist: Herbs
Song: Nuclear Waste
Composer: FONOTI T/KARAKA J/FUSIMALOHI S
Album: Sensitive to a Smile
Label: Aeroplane Music

Artist: Topp Twins
Song: Mr Ronald Reagan
Composer: TOPP L/TOPP J
Album: Top Twins Go Vinyl
Label: Topp Twins/Diva Productions

Artist: Topp Twins
Song: Radiation
Composer: TOPP LYNDA BETHRIDGE
Album: Twinset & Pearls
Label: Topp Twins/Diva Productions

Artist: Shona Laing
Song: Soviet Snow
Composer: LAING SHONA
Album: South
Label: TVT Records/Epic Records

Artist:Shona Laing
Song: Shipping Lanes
Composer: LAING SHONA
Album: Pacific Messages
Label: Video Pacific Communications

Artist: Blam Blam Blam
Song: There is No Depression in New Zealand
Composer: MCGLASHAN D/VON STURMER R
Album: The Complete Blam, Blam, Blam
Label: Propeller

Artist: Front Lawn
Song: Claude Rains
Composer: MCGLASHAN D/SINCLAIR H
Album: Songs From The Front Lawn
Label: Front Lawn Records/Virgin

Artist: Midnight Oil
Song: Put Down That Weapon
Composer: HIRST/MOGINIE/GARRETT/ROTSEY/GIFFORD
Album: Diesel and Dust
Label: Columbia/Spirit Music

Artist: Midnight Oil
Song: Blossom and Blood
Composer: HIRST/MOGINIE/GARRETT/ROTSEY/GIFFORD
Album: Species Deceases
Label: CBS/Spirit Music

Artist: Midnight Oil
Song: Hercules
Composer: HIRST/MOGINIE/GARRETT/ROTSEY/GIFFORD
Album: Species Deceases
Label: CBS/Spirit Music

Artist: Shona Laing
Song: Neutral and Nuclear Free
Composer: LAING SHONA
Album: South
Label: TVT Records/Epic Records
Artist: The Eagles
Song: Life In The Fast Lane
Composer: Frey, Henley, Walsh
Album: Hotel California
Label: Asylum
Interview: Joe Walsh
Artist: Joe Walsh
Songs: One Day At A Time
Composer: Joe Walsh
Album: Analog Man
Label: Universal

Artist: The Herbs
Song: Ordinary Average Guys
Composer: Gordon Joll, Dilworth Karaka, Tama Lundon, Thom Nepia, Charlie Tumahai, Joe Walsh, Morrie Watene
Album: Homegrown
Label: Tribal
Artist: Fleetwood Mac
Song: Sentimental Lady
Composer: Welch
Album: Bare Trees
Label: Reprise
Artist: The Platters:
Song: Twilight Time
Composer: Ram/ A Nevins/ M Nevins/ Dunn
Album: Golden Hits
Label: Mercury