Music 101 for Saturday 2 June 2012
2-3pm
Access All Areas: Fifty Years of the Rolling Stones.
In March 1962 The Rolling Stones played their debut gig at the Marquee Club. This year the band celebrate 50 years of riotous living, a plethora of historic recordings, inner turmoil, sex and excess, death, drugs and investment portfolios. For Access All Areas Trevor Reekie talks to author Christopher Sandford about his new book Fifty Years ­Of The Rolling Stones.
The Sampler: Anais Mitchell
Nick Bollinger reviews an alt-folk opus from this folk singer with a literary bent.
We celebrate the winners of the Country Music Awards for 2012, Delaney Davidson and Tammy Neilson.
And a tribute to American folk music hero Doc Watsonwho died this week. Hear the full interview with Doc Watson on NPR here.
3-4pm
Remix the Orchestra
Now in its fifth year, Remix the Orchestra joins players from the Auckland Philharmonia Orchestra with local hip hop talent. We go behind the scenes of the latest instalment, an Auckland Town Hall performance.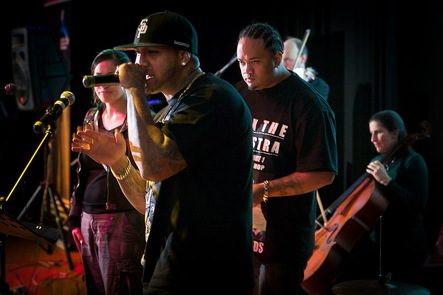 Remix The Orchestra. Photo: Adrian Malloch
Pacific Music Awards
Nick Atkinson reports back from the annual Pacific Music Awards in Manukau this week.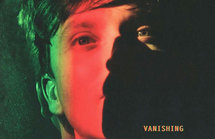 James Duncan
"It's like all the tunes are emerging from this murky place. It's not a pristine sounding record" says musician Tom Watson about Vanishing, the new solo album from James Duncan. James, Tom and Sean James Donnelly talk about the genesis of this existential crisis-inducing second album.
Gig Guide
4-5pm
Live: Hello Sailor
The heritage band plays to its home crowd shortly after being inducted into the New Zealand Music Hall of Fame. Radio New Zealand captures Hello Sailor performing classics such as Billy Bold, Blue Lady, Gutter Black and others for an ecstatic crowd at The Powerstation, Auckland in November 2011.
D.I.Y. World Music Touring with Blink
A Low Hum tour manager and festival organiser Ian Jorgenson, aka Blink, has written a practical guide for NZ bands touring in the U.S.A. and Europe. Blink tells of his own experiences on the road, and the little things that can make a world of difference.
Blink in Chicago. Photo: Sally Mainland
Music played in this show
2-3pm
Artist: The Andrew Oldham Orchestra
Song: Satisfaction
Composer: Jagger, Richards
Album: The Rolling Stones Songbook
Label: Decca
Artist: Muddy Waters
Song: Can't Be Satisfied
Composer: Morganfield
Album: Chess Blues Classics
Label: Chess
Artist: The Rolling Stones
Song: I Just Want To Make Love To You
Composer: Muddy Waters
Album: England's Newest Hit Makers
Label: Decca
Interview: Christopher Sandford, Author of '50 Years Of The Rolling Stones'
Artist: The Rolling Stones
Song: Get Off Of My Cloud
Composer: Jagger - Richards
Album: December's Children (And Everybody's)
Label: Decca

Artist: The Rolling Stones
Song: Paint It, Black
Composer: Jagger - Richards
Album: Aftermath
Label: Decca

Artist: The Rolling Stones
Song: Live With Me
Composer: Jagger - Richards
Album: Let It Bleed
Label: Decca

Artist: The Rolling Stones
Song: Honky Tonk Women (Live)
Composer: Jagger - Richards
Album: Get Yer Ya-Ya's Out! (Remastered)
Label: Decca

Artist: The Rolling Stones
Song: Happy
Composer: Jagger - Richards
Album: Exile On Main Street [Deluxe Edition] [Disc 1]
Label: Universal

Artist: The Rolling Stones
Song: Sympathy For The Devil
Composer: Jagger - Richards
Album: Beggars Banquet
Label: Decca

Artist: The Rolling Stones
Song: Tumbling Dice
Composer: Jagger - Richards
Album: Exile On Main Street [Deluxe Edition] [Disc 1]
Label: Universal

Artist: The Rolling Stones
Song: Time Waits For No One
Composer: Jagger - Richards
Album: It's Only Rock 'N Roll
Label: Virgin

Artist: The Rolling Stones
Song: It's Only Rock 'N Roll (But I Like It)
Composer: Jagger - Richards
Album: It's Only Rock 'N Roll
Label: Virgin

Artist: The Rolling Stones
Song: Brown Sugar
Composer: Jagger - Richards
Album: Sticky Fingers
Label: Decca
Artist: Nick Cave
Song: The Lyre of Orpheus
Composer: Cave, Ellis, Casey, Sclavunos
Album: The Lyre of Orpheus
Label: Mute
The Sampler: Anais Mitchell
Artist: Anais Mitchell
Songs: Dyin' Day, Venus, Annemarie, Young Man In America, Shepherd, Ships
Composer: Mitchell
Album: Young Man In America
Label: Wilderland
Artist: Anais Mitchell
Song: Wedding Song
Composer: Mitchell
Album: Hadestown
Label: Righteous Babe
Artist: Here We Go Magic
Song: Hard To Be Close
Composer: Temple
Album: A Different Ship
Label: Secretly Canadian
Obituary: Doc Watson
Artist: Doc Watson
Song: Georgie Buck, Black Mountain Rag
Composer: Trad/Public Domain
Album: Doc Watson
Label: Vanguard
Artist: The Watson Family
Song: Ground Hog
Composer: Trad
Album: The Watson Family
Label: Smithsonian Folkways

Artist: Doc Watson
Song: My Creole Belle,
Composer: Hurt, Watson
Album: Songs From Home
Label: Vanguard

Artist: Doc Watson
Song: Stand By Me
Composer: E Tubb
Album: Legacy
Label: Vanguard
 
Introducing: Bill Morris
Artist: Bill Morris
Song: Mud
Composer: Morris
Album: Mud
Label: Private
Artist: Delaney Davidson
Song: You're a Loser
Composer: D Davidson
Album: Bad Luck Man
Label: Voodoo Rhythm
3-4pm
Artist: 2pac
Song: I Ain't Mad At Cha
Composer: Shakur/Arnaud/Stewart/Jordan
Album: All Eyez On Me
Label: Death Row/Interscope
Feature: Remix the Orchestra
Artist: Keil Isles
Song: Say Mama
Composer: Vincent/ Davis
Album:Early Rock and Roll From New Zealand
Label: Collector
Feature: The Pacific Music Awards
Artist: Kas Fuitialo
Song: Kaufeai Li Nu'u
Composer: Kas Futialo
Album: N/A
Label: Radio New Zealand recording

Artist: Samoan Autalavou P.I.P.C. Newton
Song: Tatou Te Olioli - Hymn No. 34
Composer: Traditional
Album: N/A
Label: Radio New Zealand recording

Artist: Mutalau Ululauta Matahefonua Trust Choir
Song: Lologo Tapu
Composer: Traditional
Album: N/A
Label: Radio New Zealand recording
Artist: SJD
Song: Beautiful Haze
Composer: Donnelly
Album: Songs From A Dictaphone
Label: Round Trip Mars
Interview: James Duncan
Artist: James Duncan
Song: Wha, You Better Wait, Standard Oblivion, Something Better
Composer: James Duncan
Album: Vanishing
Label: Banished To The Moon
Artist: Beach House
Song: The Hours
Composer: V Legrand/A Scally
Album: Bloom
Label: Sub Pop
Gig Guide Bed
Artist: Rufus Wainwright
Song: Out Of The Game
Composer: Wainwright
Album: Out Of The Game
Label: Decca
Artist: Hypnotic Brass Ensemble
Song: Ballicki Bone
Composer: Hypnotic Brass Ensemble
Album: Hypnotic Brass Ensemble
Label: Honest Jons
4-5pm
Live: Hello Sailor
Artist: Hello Sailor
Songs: I'm A Texan, Billy Bold, Looking For My Shades, Gutter Black, Blue Lady
Composer: Brazier
Album: RNZ recording
Label: RNZ
Artist: The Who
Song: Postcard
Composer: J Entwistle
Album: Odds and Sods
Label: Track Records/MCA
Interview: Blink, aka Ian Jorgenson - D.I.Y. World Touring

Artist: Over The Atlantic
Songs: Fly To The States, Kevin Shields
Composer: N Brinkman/B Smith
Album: Junica
Label: Carpark

Artist: Disasteradio
Songs: The Cat, Gravy Rainbow, You Win
Composer: Rowell
Album: Charisma
Label: A Low Hum
 
Artist: Joe Blossom
Song: Neon Beaus
Composer: S O'Brien
Album: Nocturnes
Label: Private
Artist: Lightning Bells
Song: Pockets Full Of Gold
Composer: C Whelan
Album: Single
Label: n/a
Artist: Blockhead
Song: Never Forget Your Token.
Composer: A Simon
Album: Interludes After Midnight
Label: Ninjatune