Music 101 for Saturday 26 May 2012
2-3pm
Music Streaming Services
With the launch of Spotify in Australasia this week, we take a look at what the various new subscription music streaming services provide to the public, and what impact they might have on local music business - what's in it for musicians, songwriters and labels? We speak to Stephen O'Hoy of local music aggregator Digital Rights Management (DRM), Round Trip Mars label manager Jim Pinckney, Phoenix Foundation's Sam Scott, and author of 'The Economic Reality Of Streaming' Anil Prasad.
Hear Peter Griffin on This Way Up talking about Spotify here.
Other Links you may be interested in:
Anil Prasad's webinar
Sean Ludwig: Streaming Music Service comparisons
Andrew Harris: Spotify's Missing Profits
Ziggy Changed My Life
Gary Kemp - founder and guitarist of Spandau Ballet - marks the 40th anniversary of David Bowie's influential album The Rise and Fall of Ziggy Stardust and The Spiders from Mars, which was released on 6 June 1972.
The Sampler: Sinead O'Connor
The Irish singer-songwriter further breaks down the barriers between her public and private life in the songs on How About I Be Me (And You Be You) - Nick Bollinger takes a listen.
3-4pm
Opossom
Ex-Mint Chicks singer Kody Neilson is about to release Electric Hawaii, the debut album from his new project Opossom. It's an album of genre- and era-mashed psychedelic pop, which unsurprisingly bears some comparison with his brother Reuben's latest outing as Unknown Mortal Orchestra.
Golden Awesome
Wellington shoegazers dissect their sound, and reveal just what vocalist Stef Animal is singing about on their debut Autumn.
Shayne Carter
We catch up with the Dimmer front man as he ends the long-running project with a live bang this week, and find out 'what's next?' for this enduring songwriter and performer.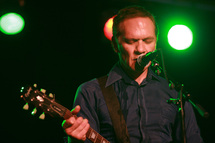 Photo: Rebekah Davies
Gig Guide
4-5pm
Bic Runga Live at Holy Trinity
The beautiful voice and songs of Bic Runga, captured in the lofty surrounds of the Holy Trinity Church in Parnell, Auckland, The set includes songs from the latest album Belle, as well as favourites such as Drive, Beautiful Collision and Bursting Through, backed by ex-Mint Chicks Kody Neilson and Michael Logie.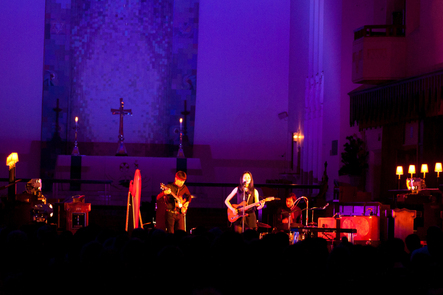 Junior Lyric Writing Competition 2012
the Play It Strange Trust runs a number of initiatives to promote songwriting in schools including the Junior Lyric Writing Competition. Singer-songwriter Annah Mac spent time mentoring pupils of East Tamaki Primary School in South Auckland as they practiced their ukuleles and worked on their entry. Nick Atkinson tagged along.
Temper Trap
Australian indie rock group Temper Trap have a new album and a new member - we speak to Kiwi keys player Joseph Greer about his new job.
Music played in this show
2-3pm
Artist: Fourtet
Song: Circling
Composer: K Hebden
Album: There Is Love In You
Label: Domino
Feature: Music Streaming Services
Artist: Disasteradio
Song: Vector Wars, Cat
Composer: L Rowell
Album: Charisma
Label: A Low Hum

Artist: The Phoenix Foundation
Song: Omerta
Composer: Phoenix Foundation, Wedde
Album: Happy Ending
Label: EMI

Artist: Scratch 22
Song: Medicine Man
Composer: R Doyle
Album: Distance From View
Label: Round Trip Mars

Artist: Module
Song: Endlessly Ocean
Composer: J Ross
Album: Imagineering
Label: Loop
Artist: Radiohead
Song: Little By Little
Composer: Radiohead
Album: King Of Limbs
Label: XL
Feature: Ziggy Saved My Life
Artist: David Bowie
Album: The Rise And Fall Of Ziggy Stardust and the Spiders from Mars
Songs:
Andy Warhol
Rock n Roll Star
Lady Stardust
Soul Love
Moonage Daydream,
Ziggy Stardust,
Starman,
Suffragette City,
Rock & Roll Suicide
Composer: Bowie
Song: It Ain't Easy
Composer: Davies
Label: EMI

Artist: Vince Taylor And His Playboys
Song: Brand New Cadillac
Composer: Vince Taylor
Album: Rockin' Bones: 1950's Punk & Rockabilly
Label: RHINO

Artist: Various
Song: Clockwork Orange theme
Composer: Wendy Carlos
Album: A Clockwork Orange
Label: WARNER
The Sampler: Sinead O'Connor
Artist: Sinead O'Connor
Song: Queen Of Denmark
Composer: Grant
Songs: 4th and Vine,
Composer: O'Connor/Reynolds/Adams
Song: Reason With Me
Composer: O'Connor/Smith
Songs: V.I.P., Very Far From Home, Back Where You Belong
Composer: O'Connor
Album: How About I Be Me (And You Be You)?
Label: One Little Indian/Shock
Artist: Justin Adams and Juldeh Camara
Song: Djanfa Moja
Composer: Adams/Camara
Album:Juju
Label: Real World
3-4pm
Artist: Halau Hula Ka No'eau Hawaii Arts Ensemble
Song: Kaulana Na Pua/Mele Ai Pohaku
Composer: Prendergast
Album:Hawaii Traditional Hula
Label: Arc
Interview: Kody Neilson of Opossom
Artist: Opossom
Song: Electric Hawaii/Fly/Blue Meanies/Watchful Eye/Outer Space
Composer: K.Nielson
Album: Electric Hawaii
Label: Dark Summer Records
Introducing: Marconi Receiver
Artist: Marconi Receiver
Song: Radio Love Song
Composer: T Taylor
Album: Single
Label: n/a
Artist: Mink
Song: Radio Cruel
Composer: Spittle/Rx/ Cotton
Album: For My Mink
Label: Infinite Regress

Interview: Golden Awesome
Artist: Golden Awesome
Song: Astronomy, Autumn, Ruby
Composer: Golden Awesome
Album: Autumn
Label: M'Lady's
 
Artist: My Bloody Valentine
Song: You Made Me Realise
Composer: K Shields
Album: EPs 1988-91
Label: Sony
Artist: Dimmer
Song: Crystalator
Composer: Carter
Album: Pop Eyed
Label: Flying Nun
Interview: Shayne Carter
Artist: James Duncan
Song: You Better Wait
Composer: J Duncan
Album: Vanishing
Label: Banished From The Universe/EMI
Gig Guide Bed
Artist: Missy Higgins
Song: Scar
Composer: Higgins
Album: Scar EP
Label: Eleven

Artist: The Black Seeds
Song: Loose Cartilage
Composer: August,
Jaray,Murphy,Patterson,Weetman,Weir
Album: Dust And Dirt
Label: Blackseeds
4-5pm
Live: Bic Runga at the Church Of The Holy Trinity, Parnell, Auckland
Artist: Bic Runga
Songs: When I See You Smile, Drive, Belle, Everything Is Beautiful & New, Beautiful Collision, Bursting Through, Gravity
Composer: B Runga
Song: Darkness All Around Us
Composer: K Nielson
Album: RNZ Recording
Label RNZ
Music details:
Artist: Samoan Autalavou P.I.P.C. Newton
Song: Tatou Te Olioli - Hymn No. 34 Dur: 2.42"
Composer: Traditional
Album: N/A
Label: Radio New Zealand Recording
Feature: Junior Lyric Writing Competition
Artist: Annah Mac
Song: Proud and Strong
Composer: Year 6 and 7 pupils from East Tamaki Primary School, Anna Mac
Album: unreleased
Label: Radio New Zealand Recording
Artist: Naked and Famous
Song: The Sun
Composer: Powers, Xayalith, Short
Album: Passive Me, Aggressive You
Label: Universal
Interview: The Temper Trap
Artist: The Temper Trap
Songs: Leaving Heartbreak Hotel, Need Your Love, London's Burning, Miracle, Where Do We Go From Here, This Isn't Happiness
Composer: The Temper Trap
Album: The Temper Trap
Label: Infectious/Liberation
Artist: Rolling Stones
Song: Title 5
Composer: Jagger, Richards
Album: Exile On Main St
Label: Virgin