Music 101 for Saturday 19 May 2012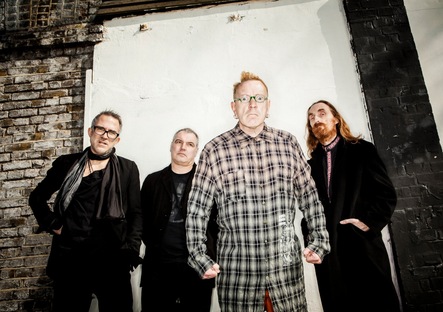 2-3pm
Access All Areas - John Lydon
Johnny Rotten aka John Lydon first set the world on fire with the Sex Pistols, who imploded on their first American tour in January 1978. Within 12 months Lydon went on to form the more experimental Public Image Limited which NME dubbed "arguably the first post rock band". Fast fo rward to 2012 and Lydon is preparing to release his first album with PIL in 20 years, called This Is PIL. Trevor Reekie talks to John Lydon about the new PIL album and what makes his world go around.
Photo: Paul Heartfield
Frank Turner
Hardcore punk turned stadium folkie Frank Turner was here this week charming Auckland audiences with a rowdy set of songs about Gene Simmons' lovers, a time machine, and being English. Nick Atkinson caught him before the show.
Sampler: Lisa Marie Presley
The heir of The King of Rock'n'roll has just released her first album in seven years, which finds her in a confessional state of songwriting. Nick Bollinger speaks to Lisa Marie Presley about the rootsy, soulful Storm and Grace.
3 - 4pm
We pay tribute to the late Donna Summer.
10 Years of Dirty
A local label founded in 2001 by P-Money and Callum August, Dirty Records rode the crest of New Zealand hip hop's third wave and launched the careers of Scribe, David Dallas and PNC. We talk with the key players about 10 years of Dirty.
Urbantramper
Urbantramper is the work of Wellingtonian Lake McKenna, who has been self-releasing indie-pop since 2004, surrounding himself with an ever-changing lineup of collaborators. For his latest album Internet Freedom is Love, Urbantramper investigates features of the modern world - high-speed connections, emoticons, and 'the sharing of sentiment and ideas across vast distance'.
4-5pm
Live: The Clean
For Flying Nun Records' 30th anniversary the band responsible for its earliest success took to the stage to celebrate.
Enduring trio The Clean gathered together from Dunedin and New York in November 2011 for a handful of rambunctious local performances, featuring some of their best loved songs such as: Wipe Me I'm Lucky, In The Dreamlife U Need A Rubber Soul, Getting Older, and Tally Ho. (The Clean's Hamish Kilgour pictured left, courtesy of Petra Jane)
Great North
Auckland quintet Great North have just released their second album Halves - songwriter Hayden Donnell reflects on the big questions in life.
We pay tribute to Donald 'Duck' Dunn of Booker T and the M.G.s and Go-Go funk star Chuck Brown.
Music played in this show
2-3pm
Artist: Jah Wobble
Song: Elevator Music 3
Composer: Wardle
Album: I Could Have Been a Contender
Label: Trojan
Artist: The Sex Pistols
Song: God Save the Queen
Composer: Cook, Jones, Matlock, Rotten
Album: Jubilee
Label: Virgin
Interview: John Lydon
Artist: Public Image Ltd
Song: One Drop, This Is PiL, Human, Out of the Woods, Terra Gate, It Said That, The Room I Am In, Lollipop Opera, Reggie Song. I Must Be Dreaming, Deeper Water, This Is PiL
Composer: John Lydon - PiL
Album: This Is PiL
Label: PiL Official Ltd
Artist: Billy Bragg
Song: It Says Here
Composer: Bragg
Album: Brewing Up with Billy Bragg
Label: Go! Discs
Interview: Frank Turner
Artist: Frank Turner
Song: Eulogy, Peggy Sang The Blues, English Curse, Rivers, Redemption
Composer: Frank Turner
Album: England Keep My Bones
Label: Epitaph
Artist: Richard Hawley
Song: Leave Your Body Behind You
Composer: R Hawley
Album: Standing At The Sky's Edge
Label: Parlophone
The Sampler: Lisa Marie Presley
Artist: Lisa Marie Presley
Song: You Ain't Seen Nothing Yet
Composer: Presley/McCollom
Song: So Long
Composer: Presley/Skarbek
Song: Over Me, Soften The Blows
Composer: Presley/Harcourt
Song: Weary
Composer: Presley/Hawley
Song: Presley/Booker
Album: Storm and Grace
Label: XIX/Universal/Island
Artist: Norman Blake
Song: I Am A Man Of Constant Sorrow
Composer: Blake
Album: O Brother Where Art thou
Label: Lost Highway
3-4pm
Artist: Donna Summer
Song: I Feel Love
Composer: Summer/ Bellotte/ Moroder
Album: I Remember Yesterday
Label: Casablanca
Artist: Scribe feat. Tyra Hammond
Song: Say It Again
Composer: Hammond/Luafutu/Wadams
Album: Rhyme Book
Label: Dirty
Interview: 10 Years Of Dirty Records
Artist: Scribe
Song: Stand Up
Composer: M.Luafutu/P.Wadams
Album: 10 Years of… Dirty
Label: Dirty/Frequency Media Group

Artist: P-Money
Song: Scribe 2001
Composer: M.Luafutu/P.Wadams
Album: 10 Years of… Dirty
Label: Dirty/Frequency Media Group

Artist: Frontline
Song: What Was You Thinkin?
Composer: D.Dallas/N.McLaren
Album: Borrowed Time
Label: Dirty

Artist: Frontline
Song: Come and Get Me
Composer: D.Dallas/N.McLaren
Album: What You Expect?
Label: Line Em Up

Artist: Scribe
Song: Not Many (The Remix)
Composer: M.Luafutu/P.Wadams/D.Dallas
Album: 10 Years of… Dirty
Label: Dirty/Frequency Media Group

Artist: PNC
Song: Who Betta Than This?
Composer: S.Hansen/P.Wadams
Album: Rookie Card
Label: Dirty

Artist: P-Money
Song: Get Back
Composer: S.Hansen/P.Wadams/D.Dallas
Album: Magic City
Label: Dirty

Artist: David Dallas
Song: Caught in a Daze
Composer: D.Dallas
Album: The Rose Tint
Label: Dirty/Frequency Media Group
Introducing: Loui The ZU
Artist: Loui the Zu
Song: Stranger
Composer: Loui The Zu
Album: LBSB The Fruits of My Labour
Label: n/a
Artist: Kate Bush
Song: Running Up That Hill
Composer: K Bush
Album: Hounds Of Love
Label: EMI
Interview: Urbantramper
Artist: Urbantramper
Songs: Kate Bush Saved My Life, Je Ne Crois Pas En L'Avenir, Utopia In Williamsburg, I Saw The Takapau Dawn, Internet Freedom Is Love, Know My Kind
Composer: L McKenna
Album: Internet Freedom Is Love
Label: Private
Gig Guide Bed
Artist: Coldplay
Song: Clocks
Composer: Martin/Coldplay
Album: A Rush Of Blood To The Head
Label: Parlophone

Artist: Slash
Song: Watch This Dave
Composer: S Hudson
Album: Slash
Label: Selecta

Artist: The Black Seeds
Song: Loose Cartilage
Composer: August,
Jaray,Murphy,Patterson,Weetman,Weir
Album: Dust And Dirt
Label: Blackseeds

Artist: The Nudge
Song: Yesterday's Blues
Composer: Prebble/Whakamoe/Coyle
Album: Big Nudge Pie
Label: Keen
4-5pm
Live: The Clean
Artist: The Clean
Songs: At The Bottom, Two Fat Ladies, Wipe Me I'm Lucky, Flowers, In The Dream Life U Need A Rubber Soul, Getting Older, Tally Ho
Composer: Scott/D Kilgour/H Kilgour
Album: RNZN Recording
Label: n/a
Artist: She's So Rad
Song: Confetti
Composer: Toy/Sami
Album: single
Label: Round Trip Mars
Interview: Great North
Artist: Great North
Song: To Leave Someone, The Spring Tide, Actors, Lead Me To The Light
Composer: Hayden Donnell
Album:  Halves
Label: Private
Donald "Duck" Dunn Tribute
Artist: Booker T and the MGs
Song: Time Is Tight
Composer: Jones
Album: Time Is Tight
Label: Stax
Artist: The Blues Brothers
Song: Peter Gunn Suite
Composer: Mancini
Album: The Blues Brothers OST
Label: Atlantic
Artist: Patrick Watson
Song: Into Giants
Composer: Watson
Album: Adventures in your Own Backyard
Label: Domino
Artist: Eden Mulholland
Song: Shanty Town
Composer: E Mulholland
Album: Jesus Don't You Get My Jokes
Label: n/a
Artist: Chuck Brown
Song: Bustin Loose
Composer:  C Brown
Album: Best Of Chuck Brown
Label: Raw Venture