Music 101 for Saturday 5 May 2012
2-3pm
He Rangi Paihuarere - A Tribute To Hirini Melbourne
We investigate He Rangi Paihuarere - an album of songs by the late Hirini Melbourne performed by Ria Hall, Warren Maxwell, Te Awanui Reeder, Maitreya, Anna Coddington, Tama Waipara and others, with arrangements ranging from acoustic to dancefloor. We speak to some of the contributing artists and the producers - Ngatapa Black, and Hirini's niece, Peata Melbourne.
Loudon Wainwright III
Loudon Wainwright III talks about his new album Older Than My Old Man Now, which has his characteristic gloomy humour on songs that deal with getting older, like "My Meds", "Over The Hill" and "I Remember Sex".
Sherpa
Since forming at a South Auckland High School for Rockquest a couple of years back, this psychedelic pop band has played Laneway Festival, had huge support from student radio and supported The Clean and Brooklyn hipster Darwin Deez. We speak to Muumuu-clad frontman Earl Ho about Sherpa's debut album Lesser Flamingo. (Sherpa pictured left)
3-4pm
The Sampler: Dr John
Nick Bollinger's back to review Locked Down the new album by voodoo veteran Dr. John, which was produced by Dan Auerbach of the Black Keys.
Home Brew
The Auckland trio talk about the most controversial local hip hop double-album to be released this week...
Dub FX
We meet youtube sensation, Melbourne born street performer Dub FX, who wields a rainbow of effects pedals, making live roots and hip hop one vocal loop at a time.
4-5pm

Live: Fetus Productions
November 2011 marked the first time Fetus Productions had played in NZ for over 20 years. The avant-garde experimental art group, led by the saw-toothed Jed Town reconvened to perform underground classics such as 'Flicker' and 'What's Going On?' from their 1980s back catalogue, live at the The Kings Arms in Auckland as part of Flying Nun's 30th anniversary celebrations.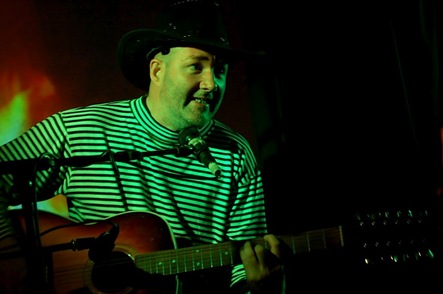 Jed Town, photo by Petra-Jane
Kirin J Callinan
Drawing on the spirit of Scott Walker, Australian soloist Kirin J Callinan was one of the most memorable acts from Camp a Low Hum 2012. We talk with Kirin about his theatrical style and playing some of Sydney's more unusual venues. (Pictured playing Camp below, photo by Blink)
Music played in this show
2-3pm
Artist: The Beastie Boys
Song: Son Of Neck Bone
Composer: The Beastie Boys
Album: The In Sounds From Way Out
Label: Grand Royal
Artist: The Beastie Boys
Song: So What'cha Want
Composer: The Beastie Boys
Album: The Sounds of Science
Label: Grand Royal
Artist: Ruatoki Children/Hirini Melbourne
Song: Korero Maori E
Composer: H Melbourne
Album: Ruatoki Children sing songs by Syd Melbourne
Label: Replay Radio RNZ
He Rangi Paihuarere, A Tribute To Hirini Melbourne
Artist: Maitreya
Song: Korero Maori E
Composer: H Melbourne
Album: He Rangi Paihuarere
Label: Black Media

Artist: Anna Coddington
Song: Purea Nei
Composer: H Melbourne
Album: He Rangi Paihuarere
Label: Black Media

Artist: Tama Waipara
Song: Hora Nga Whetu
Composer: H Melbourne
Album: He Rangi Paihuarere
Label: Black Media

Artist: Warren Maxwell
Song: Whakarongo
Composer: H Melbourne
Album: He Rangi Paihuarere
Label: Black Media

Artist: Ria Hall
Song: Tihore Mai Te Rangi
Composer: H Melbourne
Album: He Rangi Paihuarere
Label: Black Media
Artist:DD Smash
Song: Outlook for Thursday
Composer: Dobbyn
Album: Deep in the heart of Texas
Label: Festival
Country Music Finalists 2012
Artist: Aaron Jury
Song: 29
Composer: A Jury
Album: n/a
Label: WJO Distribution

Artist: Delaney Davidson
Song: You're A Loser
Composer: D Davidson
Album: Bad Luck Man
Label: Voodoo Rhythm

Artist: Marlon Williams/Harbour Union
Song: Ghost Of This Town
Composer: M Williams
Album: Harbour Union
Label: Social End Product

Artist: The Unfaithful Ways
Song: Yesterday I Loved You But Today I Just Don't Care
Composer: M Williams
Album: Free Rein
Label: Aeroplane

Artist: Tami Neilson
Song: No Good For My Soul
Composer: T Neilson
Album: The Kitchen Table Sessions Vol II
Label: Ode
The Sampler: Loudon Wainwright III
Artist: Loudon Wainwright III
Song: The Days That We Die, Older Than My Old Man Now, The Here & The Now, I Remember Sex, In C
Composer: Loudon Wainwright III
Album: Older Than My Old Man Now
Label: Southbound/Proper
Sherpa
Artist: Sherpa
Song: Chalk, Turner, Turtles, Lunar Bats, Tired Again, It's All Good
Composer: Earl Ho & Sherpa
Album: Lesser Flamingo
Label: Little White
Artist: Golden Axe
Song: Bees To Meet You
Composer: Golden Axe
Album: Liquid Bacon
Label: Golden Axe
3-4pm
Artist: Screamin' Jay Hawkins
Song: Frenzy
Composer: Hill / Stevenson
Album: Voodoo Jive
Label: Rhino
The Sampler: Dr John
Artist: Dr. John
Songs: Ice Age, Locked Down, Kingdom Of Izness, Getaway, My Children My Angels
Composer: Dr John/Auerbach/Weissenfeldt/Michaels/Moushon/Olive)
Album: Locked Down
Label: Nonesuch
Artist: Blakroc
Song: Ain't Nothing Like You
Composer: Auerbach /Carney / Mos Def / Jones
Album: Blakroc
Label: Blakroc
Package- Homebrew
Artist: Home Brew
Song: Benefit
Composer: T.Scott/H.Huavi/L.Tuiasau
Album: Home Brew
Label: Young, Gifted & Broke

Artist: Home Brew
Song: Datura/White Flowers/The Truth is Ugly
Composer: T.Scott/H.Dick/L.Tuiasau
Album: Home Brew
Label: Young, Gifted & Broke

Artist: Home Brew
Song: Basketball
Composer: T.Scott/H.Huavi/ State of Mind
Album: Home Brew
Label: Young, Gifted & Broke

Artist: Home Brew
Song: Bourbon and Coke
Composer: T.Scott/S.Hopkins
Album: Home Brew
Label: Young, Gifted & Broke

Artist: Home Brew
Song: Space
Composer: T.Scott/J.Iusitini/A.Iusitini
Album: Home Brew
Label: Young, Gifted & Broke
Artist: Isaac Hayes
Song: Theme From Shaft
Composer: Hayes
Album: Shaft
Label: Stax
Package- Dub FX
Artist: Dub FX
Songs: improvised
Composer: Ben Stanford
Album: Unreleased
Label: Unreleased
Gig Guide
Artist: Smashing Pumpkins
Song: Soma
Composer:
Album: Siamese Dream
Label:Virgin

Artist:Opposom
Song: Get Away Tonight
Composer: Nielson
Album:Electric Hawaii
Label:Dark Summer

Artist: Disasteradio
Song: Electric Ecstacy
Composer: Rowell
Album: Charisma
Label: A Low Hum

Artist: Rhythm is Rhythm
Song: Strings of Life
Composer: Mayday/ James
Album: Strings of Life
Label: Transmat
4-5pm
Artist: The Features
Song: City Scenes
Composer: The Features
Album:AK79
Label: Flying Nun
Fetus Productions: LIVE
Artist: Fetus Productions
Songs:It's Alright, Desert Lands, What's Going On, Flicker, Backbeat, Sparks Fly
Composer:Town
Album: Unreleased
Label: RNZ Recording
Artist: Street Chant
Song: Frail Girlz
Composer: Street Chant
Album: Frail Girlz/ Salad Daze
Label: Arch Hill
Kirin J Callinan
Artist: Kirin J Callinan
Songs: She, Apology Accepted
Composer: Callinan
Album: She EP
Label: Siberia
Artist: Scott Walker
Song: Cossacks Are
Composer: Walker
Album: The Drift
Label: 4AD
Introducing: Luckless
Artist: Luckless
Song: Hawkes
Composer: Luckless
Album: Luckless
Label: Private
Artist: Tommy McCook
Song: Green Mango
Composer: Riley
Album: Top Secret
Label:Beatville