Music 101 for Saturday 21 April 2012
2-3 pm

Levon Helm
We pay tribute to Levon Helm - influential member of The Band, who died this week with an interview from 2007 (For the full interview with Levon Helm, go to  Fresh Air on NPR with Terry Gross)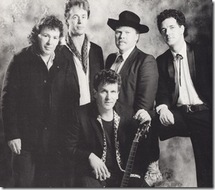 Access All Areas: 25 years of The Warratahs
As writer and broadcaster Chris Bourke once wrote, the Warratahs have earned their reputation by playing "what seems like a tiny wooden hall down the end of every gravel road in New Zealand… like the main trunk line and the Edmonds Cookbook, the place wouldn't be the same without them"
This year marks the 25th anniversary of The Warratahs, and they are celebrating with a newly remastered 19-track album of their best, plus a 5 track E.P. of new songs, together entitled The Warratahs 25 Year Collection. For Access All Areas this week Trevor Reekie catches up with the two founding members, singer-songwriter Barry Saunders and violinist Nik Brown. (Pictured right in 1987 - (L-R): John Donoghue, Wayne Mason, Barry Saunders, Marty Jorgensen, Nik Brown)
Dictaphone Blues
Songwriter Ed Castelow has led Dictaphone Blues through several line-up changes, but now he's found a committed band to take his new album Beneath The Crystal Palace on the road. Nick Atkinson visited Auckland studio The Lab where the band bake up their sound. Ed talks about being a musical 'yes-man'.
Taite Music Prize
We have the winner of the third annual Taite Music Prize, which awards $10,000 to a local musician with an outstanding album.
3 - 4pm
International Record Store Day
We check out local celebrations of bricks and mortar music retail.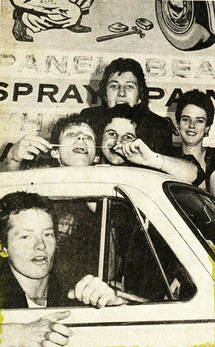 The Sampler: Toy Love: Live at The Gluepot
Seminal NZ punk band Toy Love played one of their last gigs at defunct Auckland venue The Gluepot in 1980 - the recording of that show is released on vinyl today, as a special International Record Store Day release -
Hear three songs in full here.
Photo: Real Groovy
Introducing: The Shocking And Stunning
Gig Guide
4-5 pm
Around The World in 80 Tunes Pt 5: Romania
Romania is a country with a vibrant music scene that has one foot in the past and one foot firmly in the future. From the big brass assault and Roma bravado of bands like Mahala Rai Banda to emerging young electronic talent- which is fast giving Romania's capital Bucharest a reputation for its forward thinking club culture. Nick Dwyer meets with Aurel Ionita, band leader of Mahala Rai Banda and Cosmin TRG, one of the leading production talents in Romanian club music, for an insight into the country's rich and unique culture and heritage.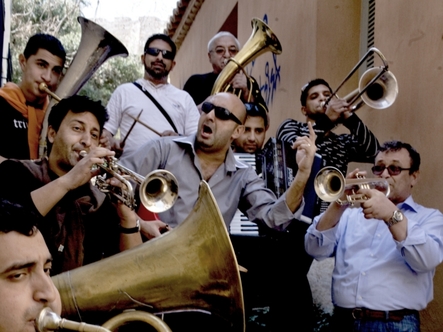 Mahala Rai Banda - Photo used with Permission
DJ CXL
After a decade-plus career behind the turntables DJing for Aotearoa hip hop's finest, DJ CXL talks about calling in the favours for his own album Represent.
Music played in this show
2-3pm
Artist: The Band
Song: Theme from The Last Waltz
Composer: R Robertson
Album: The Last Waltz
Label: Rhino

Interview: Levon Helm with Terry Gross in 2007 for NPR's Fresh Air

Artist: Levon Helm
Songs: False Hearted Lover Blues, The Blind Child, Little Birds
Composer: All Trad
Album: Dirt Farmer
Label: Vanguard

Artist: Bob Dylan + The Band
Song: Yazoo Street Scandal   
Composer: J R Robertson
Album: The Basement Tapes
Label: Columbia

Artist: The Band
Song: The Weight
Composer: J R Robertson
Album: Music From The Big Pink
Label: Capitol

Artist: The Band
Song: I Shall Be Released
Composer: Trad.
Album: The Last Waltz
Label: Rhino
Interview: The Warratahs
Artist: The Warratahs
Song: Kupe's Tears, Big Sky, St Peter's Rendezvous, Maureen, Fools Paradise, Sykes, Good Combinations, Only Game In Town, Taranaki, Rescue Me
Composer: Saunders
Album: 25 Year Collection
Label: Ode Records

Artist: The Warratahs
Song: East Of Mt Eden, Hands Of My Heart
Composer: Saunders - Mason
Album: 25 Year Collection
Label: Ode Records

Artist: The Warratahs
Song: Inter-Islander
Composer: Winch
Album: The Warratahs Collection
Label: Pagan

Artist: The Warratahs
Song: Cape Turnagain / Naming The Gods
Composer: Saunders - Hunt
Album: 25 Year Collection
Label: Ode Records
Artist: The Lonesome Buckwhips
Song: The Wahine Was A Once Off
Composer: The Lonesome Buckwhips
Album: n/a
Label: Radio NZ Recording
Artist: Sam Hunt and Mammal
Song: Sandshoe Shuffle
Composer: Hunt/Mammal
Album: Beware The Man
Label: Red Rat Records

Interview: Dictaphone Blues
Artist: Dictaphone Blue
Song: Spicy Fruit Loaf, What Happened To Our Love, As I Of You, Friends Need Friends
Composer: Edward Castelow and Dictaphone Blues
Album: Beneath The Crystal Palace
Label: Banished From the Universe/EMI
Taite Prize Ceremony

Artist: Unknown Mortal Orchestra
Songs: F-F-Funny Friends, How Can U Luv Me  
Composer: R Neilson
Album: Unknown Mortal Orchestra
Label: Seeing Hand
3-4pm
Artist: The Tweeds
Song: I Need That Record
Composer: The Tweeds
Album: Yellow Pills
Label: Numero Group
Artist: Lawrence Arabia
Song: Perfect Specimens
Composer: Milne
Album: 7"
Label: Honorary Bedouin
The Sampler: Toy Love Live At The Gluepot 
Artist: Toy Love
Song: Sheep, Squeeze, Don't Ask Me, Toy Love Song, Photographs Of Naked ladies
Composer: Bathgate/Dooley/Kean/Knox/Walker
Song: Pull Down The Shades
Composer: Bathgate/Dawson/Dooley/Knox
Album: Live At The Gluepot
Label: Real Groovy Records
Aritst: Holly Fullbrook
Song: Toy Love Song
Composer:Bathgate/ Knox/ Walker/ Dooley/ Kean
Album: Unreleased
Label: na
Artist: Pokey La Farge
Song: Shenadoah River
Composer: Pokey La Farge
Album: Shenadoah River
Label: Evangelist
Aritst: Ugly Custard
Song: Hung Upside Down
Composer: Stills
Album: Ugly Custard
Label: Strut
Artist: Deerhoof + of Montreal
Song: A Filthy Fifth
Composer:
Album: Stygian x} Bisection
Label: Polyvinyl
Introducing: The Shocking And Stunning
Artist: The Shocking And Stunning
Song: Return of the Rock God
Composer: The Shocking and Stunning
Album: I met them, they were c**ts
Label: Private
Artist: Jack White
Song: Blunderbuss
Composer: White
Album: Blunderbuss
Label: Third Man
4-5pm
Around The World in 80 Tunes - Romania
Artist: Mahala Rai Banda
Song:Mahalageiasca
Composer:Mahala Rai Banda
Album: Mahala Rai Banda
Label: Crammed Discs

Artist: Cosmin TRG
Song: Infite Helsinki
Composer: Cosmin Nicola
Album: Simulat
Label: 50 Weapons

Artist:Cosmin TRG
Song:Magnetic Bodies
Composer: Cosmin Nicolae
Album: Rush Hour Single
Label: Rush Hour

Artist: Cosmin TRG
Song: Izolat
|Composer: Cosmin Nicolae
Album:Separat 12"
Label: 50 Weapons
Artist: Christian Paduraru
Song: Clickno Anthemn (Rhadoo Remix)
Composer: Rhadoo
Album: Clickno Single
Label: Christian Paduraru
Artist:Moonlight Breakfast
Song: Shout
Composer: Moonlight Breakfast
Album: Moonlight Breakfast EP
Label: Play All
Artist:Moonlight Breakfast
Song: Silent Disco
Composer: Moonlight Breakfast
Album: Moonlight Breakfast EP
Label: Play All
Artist: Mahala Rai Banda
Song: Spoiteresa, Balkan Reggae
Composer: Mahala Rai Banda
Album: Mahala Rai Banda
Label: Crammed Discs
Artist: Deliric 1
Song: This Is Raw, Negro, Povesti Cu Noi
Composer: Deliiric 1
Album: Periodical Inspection
Label: We Records
Pacific Music Awards Finalists
Artist: Adeaze
Song: Paradise
Composer:
Album: Rise and Shine
Label:Universal

ArtisT: Ria
Song: Over You
Composer:
Album:
Label: Frequency

Artist: David Dallas
Song: Take A Picture
Composer:
Album: The Rose Tint
Label: Dirty
Artist: Warren Maxwell
Song: Whakarongo
Composer: H Melbourne
Album: He Rangi Paihuarere
Label: Black Media
Artist: Ill Semantics
Song: Highway
Composer:
Album: Theory of Meaning
Label: Dawn Raid
Interview: DJ CXL
Artist: DJ CXL
Song: Represent/Make a Change/My Love/How to be a Real DJ/You Got It/Number One
Composer: P.Chambers
Album: Represent
Label: Illegal Musik
Artist: Beach House
Song: Myth
Composer: V Legrand/A Scally
Album: Bloom
Label: Sub Pop