Music 101 for Saturday 11 February 2012
2 - 3pm
Access All Areas: Etta James guitarist Bobby Murray
The long reigning Queen of the blues, Etta James passed away on January 20 2012, aged 73. She was an original - a supremely talented natural born singer who had a career dating back to the 1950s.  Etta's guitarist for the past 20 years was Bobby Murray, who was born in the '50s. The three-time Grammy award winning guitarist talks to Trevor Reekie about the virtuosity and vulnerability of the great Etta James.
Nick Bollinger reviews a new solo album by musician Joe Henry.
Loopy guitarist Mark McGuire from Cleveland, Ohio three piece Emeralds stops in for a session in our studio.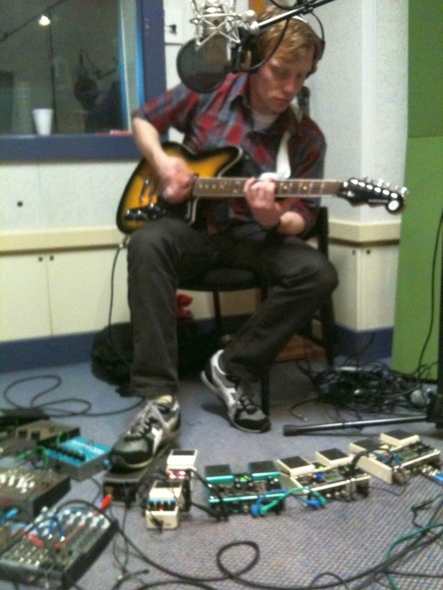 3 - 4pm
Bernard Sumner talks about re-forming New Order without bassist Peter Hook, Joy Division's legacy and returning to New Zealand 30 years after they first came here.  
Sugar Mountain Festival
We attend a festival in Melbourne which sees art and music intersect in the iconic Forum Theatre. Shaun D Wilson heads into the shadows to meet looping vocalist Julianna Barwick, some sisters who were raised on Hare Krishna and now make psychedelic rock, an Australian who thinks pop started with Justin Timberlake, and to save one of the festival's headliners from certain death.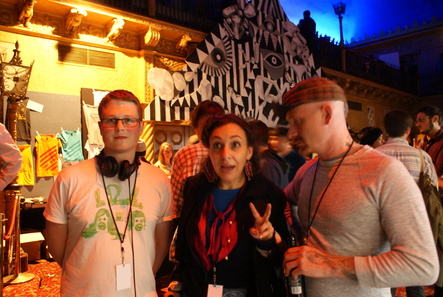 Shaun D Wilson with artists Maya Hayuk & Kyle Ranson. The triangular beast in the background was their creation. For more of Shaun's photos click here
4 - 5pm
Camp A Low Hum 2012
Visit Camp Wainui near Wellington, for boutique indie festival Camp A Low Hum. This year's line-up includes musical adventurers from as far afield as Argentina and Canada, as well as a strong showing of local and Australian bands, covering everything in the sonic spectrum from thrash to minimalist choral music. We introduce you to a whole lot of acts that will be new to your ears, and catch up with some old friends too.
Click here to hear related audio and see photos from Camp A Low Hum 2012.
(This year's Camp is in the same place as 2009's festival was held - highlights above. NB - Meatloaf was NOT on the bill.) 
Work hard/play hard Auckland band talk about their six sick singles and twisted videos.
Music played in this show
2-3pm
Artist: Yesterdays New Quintet
Song: Superstition
Composer: Wonder
Album: Stevie: Instrumental Tribute To Stevie Wonder
Label: Stones Throw
Access All Areas: Etta James Remembered by Bobby Murray
Artist: Etta James
Song Title: The Blues Is My Business
Composer: Bowe - Cherney
Album Title: Let's Roll
Label: Private
Cat no.: 411646

Artist: Etta James
Song Title: Inner City Blues (Make Me Wanna Holler)
Composer: Marvin Gaye
Album Title: Life, Love & The Blues
Label: BMG

Artist: Etta James
Song Title: W-O-M-A-N
Composer: Hawkins - James
Album Title: The Definitive Collection
Label: Geffen

Artist: Etta James
Song Title: Tell Mama
Composer: Clarence Carter
Album Title: The Definitive Collection
Label: Geffen

Artist: Etta James
Song Title: At Last
Composer: Harry Warren
Album Title: The Definitive Collection
Label: Geffen

Artist: Etta James
Song Title: Respect Yourself (Live)
Composer: Ingram - Rice
Album Title: Red, Hot & Live
Label: BMG

Artist: Etta James
Song Title: I'd Rather Go Blind
Composer: Jordan – Foster - James
Album Title: The Definitive Collection
Label: Geffen

Artist: Etta James
Song Title: Born Under A Bad Sign
Composer: James - Bell
Album Title: Life, Love & The Blues
Label: BMG

Artist: Etta James
Song Title: I've Been Lovin' You Too Long
Composer: Otis Redding
Album Title: Love's Been Rough On Me
Label: Private

Artist: Etta James
Song Title: Spoonful
Composer: Burnett
Album Title: Etta James - At Last
Label: Chess
Cat no.: download

Artist: Etta James
Song Title: Stormy Weather
Composer: Arlen - Koehler
Album Title: Etta James - At Last
Label: Chess

Artist: Etta James
Song Title: Don't Cry Baby
Composer: Bernie - Johnson
Album Title: Etta James: Her Best: The Chess 50th Anniversary Collection
Label: Chess

Artist: Etta James
Song Title: I'll Take Care Of You
Composer: Brook Benton
Album Title: Life, Love & The Blues
Label: BMG

Artist: Allen Toussaint
Song: St James Infirmary
Composer: Armstrong
Album:The Bright Mississippi
Label:Nonesuch
The Sampler: Joe Henry Reverie
Artist: Joe Henry
Songs: Unspeakable, Grand Street, Odetta, Deathbed Version, Strung, After the War
Composer: Henry
Album: Reverie
Label: Anti
Artist: Brian Borcherdt
Song: Torches
Composer: Borcherdt
Album: Torches/ The Ward Colorado Demos
Label:Hand Drawn Dracula
Session: Mark McGuire
Artist:Mark McGuire
Song: Get Lost, Untitled
Composer: McGuire
Album: Unreleased
Label: RNZ Session
3-4pm
Artist: Sexy Merlin
Song: Shannon:
Composer: Sexy Merlin
Album:Sexy Merlin
Label:Pleasence Records
Artist: Rites Wild
Song: Thieves
Composer: Wilson
Album: Rites Wild
Label: Faux Friends
Artist: Joy Division
Song: Transmission
Composer: Joy Division
Album: Transmission
Label: Factory
Interview: Bernard Sumner
Artist: New Order
Song: Dreams Never End/Age of Consent/Let's Go (Nothing for Me/Bizarre Love Triangle/World in Motion
Composer: New Order
Album: New Order: The Best of
Label: Qwest

Artist: Joy Division
Song: Heart and Soul
Composer: Curtis/Hook/Morris/Sumner
Album: Closer
Label: Factory/Qwest
Artist:John Cooper Clark
Song: I Don't Wanna Be Nice
Composer: Clark
Album: Me And My Big Mouth
Label: Epic
Artist: Alabama 3
Song: Woke Up This Morning
Composer:Black/Spragg
Album: Exile On Coldharbour Lane
Label: One Little Indian
Sugar Mountain Festival Report
Artist: Fox & Sui
Song: I Don't Wanna Go / Grass in Flight / Petite Mort
Composer: Becky Freeman & Andrew Wilson
Album: Taboo
Label: Two Bright Lakes/Remote Control

Artist: Tuneyards
Song: Gangsta
Composer: Nate Brenner, Merrill Garbus
Album: WhoKill
Label: 4AD

Artist: Prince Rama
Song: Rest in Peace / Trust
Composer: Taraka Larson
Album: Trust Now
Label: Paw Tracks

Artist: Prince Rama
Song: Lightening Fossil
Composer: Taraka Larson
Album: Shadow Temple
Label: Paw Tracks

Artist: The Harpoons
Song: Walk Away / Keep You Around
Composer: The Harpoons
Album: Walk Away/Keep You Around EP
Label: Polyester

Artist: Julianna Barwick
Song: The Magic Place /Bob In Your Gait
Composer: Julianna Barwick
Album: The Magic Place
Label: Asthmatic Kitty
Artist: 5678s
Song:Roadrunner
Composer:Umekawa
Album:Teenage Mojo Workout
Label: Sweet Nothing

Gig Guide
Artist:Lady Gaga
Song:Judas
Composer: Germanotta, Khayat
Album: Born This Way
Label:Interscope
Artist:The Sonics
Song:Witch
Composer:Roslie
Album: Here Are the Sonics
Label: Norton
Artist:Boris
Song:Spoon
Composer:Boris
Album:New Album
Label:Daymare
Artist: Suren Unka
Song:Merlin
Composer:Suren Unka
Album:Suren Unka
Label:
4-5pm
Artist: Phoenix Foundation
Song:Flock Of Hearts
Composer:Phoenix Foundation
Album:Buffalo
Label:EMI
Camp A Low Hum 2012
Artist: Megalex
Song: Camp rap RNZ 2012
Composer: A Wilson/ D Morrison (alphabethead)
Album: n/a
Label: RNZ recording

Artist: Disasteradio   
Song: Cats
Composer: L Rowell
Album: Charisma
Label: A Low Hum

Artist: Guerre
Song: River Hymnal
Composer: L Lee
Album: n/a
Label: RNZ Recording

Artist: Shenandoah Davis 
Song: Oh Way Oh
Composer: S Davis
Album: n/a
Label: RNZ Recording

Artist: Kikuyu
Song: Hobyah, Kikuyu (The Grass Thief)
Composer: S Wilks
Album: Hunter Gathered
Label: Private

Artist: So So Modern
Song: Berlin
Composer: So So Modern
Album: So So Modern
Label: So So Modern
Artist: Usurper of Modern Medicine
Song: Dental Plan
Composer: Usurper of Modern Medicine
Album: Acid Chess
Label: Heartless Robot
Interview: Rackets
Artist: Rackets
Song: Bugs/Fish in a Squirrel Suit/Goner/Karma is a Drag/Pegasus/Yesterday's Bread/Staple Guard/Fast Cars/Horoshema
Composer: Rackets
Album: Rackets
Label: Independent
Artist: Juian Dyne
Song: Ernst (Rutherford 121)
Composer: Dyne
Album: Glimpse
Label:BBE/ Wonderful Noise