Music 101 for Saturday 4 February 2012
2-3pm
Laneway Festival
Music 101 went to Auckland's Laneway festival at Silo Park on Monday, and met some of the stars of the show. Hear interviews including nostalgic Frenchman Anthony Gonzales from M83, Anna Calvi, whose delicate speaking voice belies a powerful operatic singing voice, tightly trousered British band The Horrors, and the man who made 'that' song, Gotye.
Hear all the interviews from Laneway and see photos here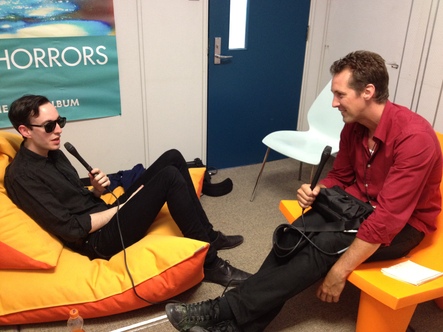 Tom Cowan from the Horrors, speaking to Nick Atkinson at Laneway
Live: Sherpa
Local power pop quartet Sherpa play in session at Roundhead studios.
And here's Shayne P Carter's live set (recorded at The Kings Arms)
3-4pm
The Sampler: The Rolling Stones - Some Girls
In the 50th year of their career, the 'Stones revisit the album many claim to be the last good thing they did.
The Sisters Of Mercy
Keen fencer and leader of cult rock band The Sisters Of Mercy, Andrew Eldrich talks about phone tapping, tabloids, and tattoos.
Gig Guide
4-5pm
Revolution Rock: The Clash In New Zealand
Celebrating the 30th anniversary of The Clash's 3-city tour of New Zealand in February 1982.
This was the first tour by a British punk band since the movement began 6 years earlier. New Zealand had one of the most active punk scenes in the world and fans were more than ready to welcome The Clash when they finally arrived. Among those fans were future TV presenter John Campbell, radio personality Martin Devlin, filmmaker Jonathan King and others who share their memories of the historic tour that helped shaped the sound of New Zealand music.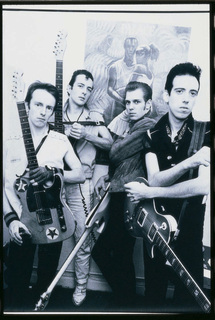 The Clash n 1983

The Sampler: Sigur Ros
Check out a new live audiovisual recording from the quirky/beautiful Icelandic band.

 
Music played in this show
2-3pm

Artist: M83
Song: Where the Boats Go
Composer: A Gonzalez
Album: Wake Up We're Dreaming
Label: Pod

Nick Atkinson at Laneway

Artist: Pajama Club
Song: From A Friend To A Friend
Composer: Pajama Club
Album: Pajama Club
Label: Universal

Artist: Gotye
Song: Smoke And Mirrors
Composer: Wally de Backer
Album: Making Mirrors
Label: Universal


Interview: M83

Artist: M83
Song: Midnight City
Composer: Gonzalez
Album: Hurry Up We're Dreaming
Label: Pod

Artist: M83
Song: Run Into Flowers
Composer: A Gonzalez, Fromageau, Benoît de Villeneuve
Album: Dead Cities, Red Seas + lost Ghosts
Label: Gooom

Artist: M83
Song: Teen Angst
Composer: A. Gonzalez, Y. Gonzalez
Album: Before the Dawn Heals Us
Label: Mute/Gooom

Artist: M83
Song: Kim and Jessie
Composer: A. Gonzalez, Yann Gonzalez, Morgan Kibby
Album: Saturdays = Youth
Label: Virgin
Artist: SBTRKT
Song: Wildfire (feat Little Dragon)
Composer: Y Nagano / E Bodin / H Wirenstrand / F Wallin
Album: SBTRKT
Label: Young Turks
Interview: The Horrors
Artist: The Horrors
Song: Who Can Say
Composer: The Horrors
Album: Liberty Bells
Label: XL
Artist: The Horrors
Songs: Monica Gems, Changing The Rain, Endless Blue
Composer: The Horrors
Album: Skying
Label: XL
Artist: Shayne P Carter
Song: Joe 90 live
Composer: Carter
Album: RNZ Recording
Label: RNZ
Interview: Anna Calvi
Artist: Anna Calvi
Songs: Rider To The Sea, Desire, Suzanne & I
Composer: Calvi
Album: Anna Calvi
Label: Domino

Artist: Anna Calvi
Song: Wolf Like Me
Composer: Adebimpe
Album: single
Label: Domino
Sherpa in Session
Artist: Sherpa
Songs: Personal Destiny, Turner  
Composer: Sherpa
Album: Roundhead Recording
Label: BFM
 
3-4pm
Artist: Jack White
Song: Love Interruption
Composer: White
Album: Blunderbuss
Label: Third Man

The Sampler: Rolling Stones - Some Girls

Artist: The Rolling Stones
Songs: Claudine, No Spare Parts
Composer: Jagger-Richards
Song: We Had It All
Composer: Seals-Fritts
Song: Talahasse Lassie
Composer: Slay-Crewe-Picariello
Album: Some Girls
Label: A&M

Artist: Cult Hero
Song: I'm a Cult Hero
Composer: R Smith
Album: Single
Label: Fiction

Interview: Andrew Eldrich of The Sisters Of Mercy

Artist: The Sisters Of Mercy
Song: Dominion/Mother Russia
Composer: A. Eldtrich
Album: A Slight Case OfOverbombing
Label: N/A

Artist: The Sisters Of Mercy
Song: This Corrosion
Composer: A. Eldtrich
Album: A Slight Case OfOverbombing
Label: N/A

Artist: The Sisters Of Mercy
Song: More
Composer: A. Eldtrich
Album: A Slight Case OfOverbombing
Label: N/A

Artist: The Sisters Of Mercy
Song: Gimme Shelter
Composer: M. Jagger/K.Richards
Album: N/A – b-side
Label: N/A

Artist: The Sisters Of Mercy
Song: Temple Of Love
Composer: A. Eldtrich
Album: A Slight Case OfOverbombing
Label: N/A
 
Artist: David Bowie
Song: Fame
Composer: Bowie
Album: Soul Train- 25th Anniversary
Label: MCA

Artist: MFSB
Song: The Sound of Philadelphia
Composer: Gamble/Huff
Album: Soul Train- 25th Anniversary
Label: MCA

Artist: Curtis Mayfield
Song: Pusherman
Composer: Mayfield
Album: Soul Train- 25th Anniversary
Label: MCA
Artist: Yandall Sisters
Song: Sweet Inspiration
Composer: Pennington/Oldham  
Album: The Very Best Of The Yandall Sisters
Label: EMI

Artist: NiuSeiLAH
Song: Feel The Reggae
Composer: NiuSeiLAH
Album: NiuSeiLAH
Label: NiuSeiLAH

Artist: Amiria Grenell
Song: Dreamland
Composer: A Grenell
Album: Three Feathers
Label: Central

Gig Guide Bed

Artist: Johnny Clegg & Savuka / Juluka
Song: Scatterlings of Africa
Composer: Clegg
Album: Anthology
Label: Rhythm Safari

Artist: Cut Chemist, Hymnal
Song: What's the Altitude
Composer: L MacFadden/ T Robinson/ C Knight
Album: What's the Altitude
Label: Warner

Artist: Shenandoah Davis
Song: Oh! Captain
Composer: S Davis
Album: The Company We Keep
Label: Private

Artist: An Emerald City
Song: Circa Scaria
Composer: An Emerald City
Album: The Forth
Label: Emerald

Artist: The Yoots
Song: Tutira Mai
Composer: Trad
Album: Sing Along with The Yoots
Label: Economy
4-5pm
Artist: Blam Blam Blam
Song: There Is No Depression In New Zealand
Composer: McGlashan/Von Sturmer  
Album: Blam Blam Blam: The Complete
Label: Propeller
Revolution Rock: The Clash In New Zealand
Artist: The Clash
Song: This Is Radio Clash
Composer: The Clash
Album: The Singles
Label: Sony/BMG

Artist: The Androidss
Song: Auckland Tonight
Composer: Steve Marsden
Album: Get A Haircut: 31 Of The Best New Zealand Rock'N'Rollers Ever!
Label Zerox

Artist: The Clash
Song: Armagideon Time
Composer: Willi Williams
Album: London Calling and Armagideon Time 12"
Label: CBS

Artist: Newmatics
Song: Riot Squad
Composer: Newmatics
Album: Riot Squad
Label: Newmatics

Artist: The Clash
Song: London Calling
Composer: Joe Strummer-Mick Jones
Album: NA Live performance
Label: NA

Artist: The Clash
Song: White Riot
Composer: Joe Strummer-Mick Jones
Album: The Singles
Label: Sony/BMG

Artist: The Clash
Song: The Magnificent Seven
Composer: The Clash
Album: NA Live performance
Label: NA

Artist: The Clash
Song: Jimmy Jazz
Composer: Joe Strummer-Mick Jones
Album: NA Live performance
Label: NA

Artist: The Clash
Song: One More Dub
Composer: The Clash
Album: Sandinista!
Label: Epic

Artist: The Clash
Song: One More Time
Composer: The Clash
Album: NA Live performance
Label: NA

Artist: The Clash
Song: Career Opportunities
Composer: Joe Strummer-Mick Jones
Album: Live At Shea Stadium
Label: Sony/BMG

Artist: The Clash
Song: Revolution Rock
Composer: Joe Strummer-Mick Jones
Album: London Calling
Label: Columbia

Artist: The Clash
Song: Should I Stay Or Should I Go
Composer: The Clash
Album: Live At Shea Stadium
Label: Sony/BMG

Artist: Aa
Song: Mossy Wreath
Composer: Aa
Album: 12" Single
Label: Deleted Art
The Sampler: Sigur Ros
Artist: Sigur Ros
Songs: Svfen-G-Englar, Ny Batteri
Composer: Birgisson, Gunnarsson, Holm, Sveinsson
Songs: Hoppipolla, Hafsol, Popplagio, Glossoli, Fljotavik
Composer: Birgisson, Dyrason, Holm, Sveinsson
Album: Inni
Label: Krunk