Music 101 for Saturday 24 December 2011
12 - 1pm
Economy Christmas Re-Session
The chaps that produced albums by The Yoots, Lord Echo, and The Shogun Orchestra this year pop by to spread some Christmas cheer. (pictured in the RNZ studios, left)
The Secret Life of the Musical Saw
The musical saw is a brain teaser - the most homely of domestic tools that, when bowed by the right player, produces the most haunting, otherworldly melodies. In this documentary Karl Steven investigates the world of the musical saw and digs out a couple of bona fide New Zealand saw players. Auckland retiree Alan Pitts shares the story of how his 10 bob saw from a tool shop took him around the world making music. Alan's near century of sawing began with being captivated by the sound of the saw on the radio in the late Thirties, lead to becoming world champion (twice) in the Nineties, and he still hasn't hung up his saw. Marton resident David Maas not only plays musical saws, but designs, builds, and exports his 'soprano' saws to players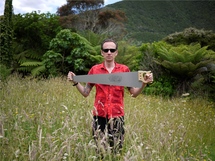 around the globe. He tells his story, shares his passion for the musical saw, gives us a demonstration of his soprano model, and explains how it all works. We also take quick look at the history of the saw both as a cutting tool and as a musical instrument, digress into other instruments that produce similar sounds in different ways like the theremin and ondes martenot, and get the chance to listen to more saw music than you've ever heard in your life! (Photo right: Karl Steven, by Laura Macfehin)
1 - 2pm
Music Futurenomics
It has been worrying times for the music industry as physical sales continue to sail downstream while revenues sink to record lows. But thanks to the  worldwide success of a few artists such as Adele, steady growth in digital sales, and widespread enthusiasm surrounding digital streaming services many in the industry are now talking up its prospects. One person who understands the current state of the music biz better than many is journalist Steve Knopper. A contributing editor for Rolling Stone Magazine and published author, Knopper chronicled the decline of the music industry in his 2008 book Appetite for Self-Destruction: The Spectacular Crash of the Record Industry in the Digital Age. More recently he wrote an article exploring the new economics of the digital age and what it holds for labels & musicians alike. We asked Steve Knopper if the tide is really turning for the music industry  - or has it  just acquired a new set of new water wings...
Panel: NZ Music Retail 2011
CD sales are at an all-time low internationally, and record stores have been shutting up shop all over the world. Digital sales are growing, but not replacing the drop in physical sales. In this panel discussion we canvas how New Zealand music retail is faring, how the charts are compiled, how many albums an artist needs to sell to make the NZ Top 10, why five new record shops have opened for business this year, and - with new digital music retail options such as Spotify finally coming to NZ - what the future of music retail in Aotearoa might look like.
2 - 3pm
The Lost Notebooks of Hank Williams
From writings left behind by country music's "lovesick blues boy", The Lost Notebooks of Hank Williams contained the debut performances of 12 previously unheard Hank Williams songs. This radio special traces how the "lost notebook" of unrecorded songs were found then recorded by a range of artists whose own sensibilities have been shaped by Williams. Featuring interviews and recordings with Bob Dylan, Lucinda Williams, Jack White, Merle Haggard and Sheryl Crow, among others.
The Sampler: Local Americana
There's been a glut of Country, Rockabilly and Americana coming out of Aotearoa this year - Nick Bollinger takes a look back at some of his favourites. 
3 - 4pm
Live: Little Bushman at the Powerstation
Featherston four-piece The Little Bushman celebrate the release of their third studio album Te Oranga with a live blast of psychedelic rock, Mississippi blues & lyrical folk music under the balconies of the beating heart of Mt Eden Rd, Auckland.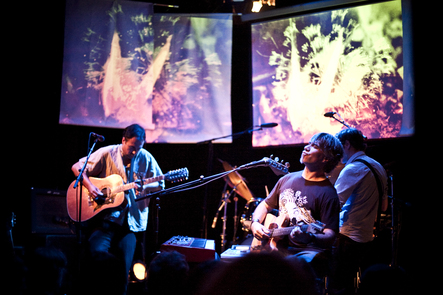 Little Bushman. Photo: Pat Shepherd
Pete Rock & DJ HouseShoes
Detroit hip hop royalty Pete Rock is one of the architects of jazz-infused hip hop production - he's interviewed by another cornerstone of the Detroit hip hop scene, DJ HouseShoes.

Gig Guide
4 - 5pm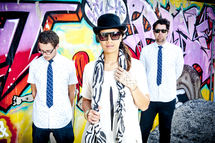 MixTape: Ladi 6
Musical guests compile a C60, and talk us through their selections.
Recently returned from a successful summer sojourn in Europe, where she played a slew of festivals and several high profile support slots, Karoline Tamati, aka Ladi 6, was named Best Female Artist and her sophomore album The Liberation of… Best Urban/Hip Hop album at the 2011 New Zealand Music Awards in November. Here she talks Kirsten Johnstone through tunes she, partner/producer Parks, and drummer Julian Dyne have enjoyed in the tour-van this year while reflecting on her musical influences and big year. (Ladi, Parks and Julian pictured left)
 
Tracklist
Artist: Jay Dilla
Song: Beej-N-Dem Pt. 2

Artist:  Electric Wire Hustle
Song: Chaser

Artist: Redman
Song:  Smoke Buddah

Artist: Will Bill Ricketts
Song: Riki

Artist: Mos Def feat. Slick Rick
Song: Auditorium

Artist: SamIYam
Song: Bedtime

Artist: Gang Starr feat Inspectah Deck  
Song: Above The Clouds

Artist: Donny Hathaway
Song: Someday We'll All Be Free

Artist: The Sylvers
Song:  More Love

Artist: Jonti
Song: Batmilk (instrumental)
 
Music played in this show
2-3pm
Artist:President's Choice Band (Economy Records)
Song: Leogan
Composer: L Johnson
Album: RNZ Recording
Label: RNZ

Artist:President's Choice Band (Economy Records)
Songs: Joy To The World, A-E-I-O-U
Composer: Trad
Album: RNZ Recording
Label: RNZ
Artist: Hurra Torpedo
Song: Rex Rodney A Horse With No Name
Composer: Aslag Guttormsgaard
Album: Kolossus Of Makedonia
Label: Duplex
 
The Secret Life Of The Musical Saw
Artist: Emmanuel Brun
Song: Aux Sources de L'Eldonrado
Composer: Emmanuel Brun
Album: Magie De La Scie Musicale
Label: Caravage

Artist: Alan Pitts
Song: Harbour Lights
Composer: Hugh Williams (aka Wilhelm Grosz) & Jimmy Kennedy
Album: Alan Pitts –Master Sawyer Musical Saw
Label: N/A (self released)

Artist: Hajime Sakita
Song: Twinkle Twinkle Little Star
Composer: traditional
Album: Musical Saw Songs "S"
Label: Music CAB

Artist: Alexander Courage
Song: Star Trek (Original Series Main Title)
Composer: Alexander Courage, Gene Rodenberry
Album: The Best of Star Trek -30th Anniversary Special (Original TV Soundtracks)
Label: GNP Crescendo Recordings

Artist: The Drab Doo-Riffs
Song: Theme From A Fistful of Dooriffs
Composer: K. Steven, L. Stewart, M. Joyce et al.
Album: A Fistful of Dooriffs
Label: Liberation Music

Artist: Thomas Bloch
Song: Kleine Tonstucke: Commodetto
Composer: Mozart and Beethoven
Album: Bloch: Glass Harmonica
Label: Naxos

Artist: Pierre Arvay
Song: Luciole
Composer: Pierre Arvay
Album: Musique Pour Ondes Martenot
Label: Smith & Co.

Artist: Radiohead
Song: The National Anthem
Composer: Radiohead
Album: Kid A
Label: Parlophone

Artist: Clara Rockmore
Song: The Swan
Composer: Camille Saint-Saens
Album: The Art of the Theremin
Label: Delos International

Artist: La Molina
Song: La Molina
Composer: Francisco Ballesteros
Album: The Very Best Of Yma Sumac
Label: Burning Fire

Artist: R. Crumb and his Cheap Suit Serenaders
Song: Yearning and Blue
Composer: Lloyd Smith
Album: Singing in the Bathtub
Label: Sanachie Entertainment

Artist: Jack Nitzsche
Song: One Flew Over The Cuckoo's Nest (Opening Theme)
Composer: Jack Nitzsche
Album: One Flew Over The Cuckoo's Nest (Original Soundtrack)
Label: Fantasy Inc.

Artist: Elfriede Hable and Hans Kann
Song: Melodie
Composer: Hans Kann, Frederic Chopin
Album: Musik zum Verweilen-Gedanken zum Weiterdenken
Label: Preiser Records

Artist: Stanley Holloway
Song: Hi-de-hi
Composer: Stanley Holloway
Album: Stanley Holloway's finest
Label: Delta
Artist: Francisco Javier Ledías
Song: La Llorona
Composer:
Album: La Llorona -Single
Label:

Artist: Alan Pitts
Song: Sweet Leilani
Composer: Harry Owens
Album: Alan Pitts –Master Sawyer Musical Saw
Label: self released

Artist: Alan Pitts
Song: Blue Hawaii
Composer: Leo Robin & Ralph Rainger
Album: Alan Pitts –Master Sawyer Musical Saw
Label: self released
 
Artist: Neutral Milk Hotel
Song: Engine
Composer: Mangam
Album: Oh Merge!
Label: Merge

Artist: Juian Koster
Song: The First Noel
Composer: Trad
Album: The Singing Saw At Chrismastime
Label: Merge
1-2pm
Artist: Adele
Song: Rolling in the Deep
Composer: Atkins/Epworth
Album: 21
Label: XL
Steve Knopper Interview
Artist: Adele
Song: He Won't Go
Composer: Adkins / Epworth
Album: 21
Label: XL

Artist: Radiohead
Song: Separator
Composer: Radiohead
Album: The King of Limbs
Label: XL

Artist: Chris Brown
Song: Forever
Composer: Brown / Jones / Kennedy / Merritt/ Allen
Album: Exclusive
Label: Jive

Artist: Metronomy
Song: The Bay
Composer: J Mount
Album: English Riviera
Label: Warner
Music Retailers at Christmas

Artist: Herbie Hancock
Song: Rockit
Composer: Hancock/Laswell/Beinhorn
Album: Future Shock
Label: CBS

Artist: Tom Waits
Song: Last Leaf
Composer: Tom Waits
Album: Bad As Me
Label: Anti

Artist: Natalie Wood
Song: Tonight
Composer: Sondheim/Berstein  
Album: West Side Story
Label: Columbia

Artist: Connan Mockasin
Song: Dolphin Love
Composer:Hosford
Album:Please Turn Me Into The Snat
Label: Rhythmethod
Music Retail Panel
Artist: Wilco
Song: I Love my Label
Composer: Lowe
Album: The Whole Love
Label: Anti
Artist: She And Him
Song: Have Yourself A Merry Little Christmas
Composer: Trad
Album: A Very She and Him Christmas
Label: Merge
2-3pm
Artist: C W Stoneking
Song: On A Christmas Day
Composer: Stoneking
Album: King Hokum
Label: Low Transit Industries
Hank Williams feature
Artist: You're Through Fooling Me
Song: Patty Loveless
Composer: H.Williams
Album: The Lost Notebooks of Hank Williams.
Label: Egyptian/Columbia

Artist: Bob Dylan
Song: The Love that Faded
Composer: H.Williams
Album: The Lost Notebooks of Hank Williams.
Label: Egyptian/Columbia

Artist: Hank Williams
Song: Lovesick Blues
Composer: H.Williams
Album: Best of Hank Williams.
Label: Universal

Artist: Levon Helm
Song: You'll Never Again Be Mine
Composer: H.Williams
Album: The Lost Notebooks of Hank Williams
Label: Egyptian/Columbia

Artist: Hank Williams
Song: Your Cheatin' Heart
Composer: H.Williams
Album: Best of Hank Williams.
Label: Universal

Artist: Merle Haggard
Song: Sermon On The Mount
Composer: H.Williams
Album: The Lost Notebooks of Hank Williams
Label: Egyptian/Columbia

Artist: Hank Williams
Song: Move It On Over
Composer: H.Williams
Album: Best of Hank Williams.
Label: Universal

Artist: Lucinda Williams
Song: I'm So Happy That I Found You
Composer: H.Williams
Album: The Lost Notebooks of Hank Williams
Label: Egyptian/Columbia

Artist: Hank Williams
Song: Cold Cold Heart
Composer: H.Williams
Album: Best of Hank Williams.
Label: Universal

Artist: Jakob Dylan
Song: Oh Mama Come Home
Composer: H.Williams
Album: The Lost Notebooks of Hank Williams
Label: Egyptian/Columbia

Artist: Vince Gill & Rodney Crowell
Song: I Hope You Shed A Million Tears
Composer: H.Williams
Album: The Lost Notebooks of Hank Williams
Label: Egyptian/Columbia

Artist: Sheryl Crow
Song: Angel Mine
Composer: H.Williams
Album: The Lost Notebooks of Hank Williams
Label: Egyptian/Columbia
Artist: Gillian Welch
Song: Scarlet Town
Composer: Welch/Rawlings
Album: The Harrow And the Harvest
Label: Anti
The Sampler: Local Americana of the year
Artist: The Vietnam War
Songs: Heavy On My Mind, High Window
Composer: The Vietnam War
Album: The Vietnam War
Label: Round Trip Mars
 
Artist: The Unfaithful Ways
Songs: Katie My Darling, Restless Reckless and Ready, Yesterday I Loved You
Composer: Williams
Album: Free Rein
Label: Aeroplane
 
Artist: The Harbour Union
Song: How Lucky You Are
Composer: Davidson
Song: The Waterside
Composer: McGrath
Song: Prentice Boys
Composer: Park
Album: The Harbour Union
Label: Social End Product
 
Artist: Thrashing Marlin
Songs: A Rock To The South, Tangiwai Train, Time Of Your Life
Composer: Thrashing Marlin
Album: Donkey Deep
Label: Braille
 
Artist: Kasey Chambers, Poppa Bill and the little Hillbillies
Song: Christmas Time
Composer: Kasey Chambers
Album: Kasey Chambers, Poppa Bill and the little Hillbillies
Label: Liberation
Artist: Stepkids
Song:La La
Composer:Stepkids
Album:Stepkids
Label: Stonestrow
3-4pm
Little Bushman Live In Concert
Artist: Little Bushman
Song: Nature of Man, Big Man, The Dream of the Astronaut Girl, Little Bird
Composer: Little Bushman
Album: Unreleased
Label: RNZ Recording
 
Artist: James Brown
Song: 100 Christmas
Composer: Brown
Album: Soulful Christmas
Label: Universal
Pete Rock Interview
Artist: Pete Rock and CL Smooth
Song:Return of the Mecca/Soul Brother Number One/They Reminisce Over You (T.R.O.Y.)
Composer: P.Phillips/C.Penn
Album: Mecca and the Soul Brother
Label: Elektra

Artist: J Dilla
Song: Nothing Like This
Composer: J. Yancey
Album: Ruff Draft
Label: Stones Throw

Artist: James Brown
Song: Licking Stick
Composer: J. Brown
Album: Say It Loud I'm Black and I'm Proud
Label: Polydor
Gig Guide Bed
Artist: Death Cab For Cutie
Song: New Year
Composer: Gibbard
Album: Transatlantacism
Label: Barsuk

Artist: Mark McGuire
Song: Get Lost
Composer: McGuire
Album: Get Lost
Label: Editions Mego

Artist: Skream
Song: Fields Of Emotion
Composer: O Jones
Album: Outside the Box
Label: Tempa

Artist: Head Like A Hole
Song: Spanish Goat Dancer
Composer: HLAH
Album: Flick Yrself Off Yrself
Label: Wildside
 
Artist: Ladi 6
Song: Bang Bang
Composer: Parks/Tamati/Dyne
Album: The Liberation Of
Label: Ladi 6
4-5pm
Ladi 6 - Mixtape
Artist: Jay Dilla
Song: Beej-N-Dem Pt. 2
Composer: J Dilla
Album: Welcome 2 Detroit (2001)
Label: BBE

Artist:  Electric Wire Hustle
Song: Chaser
Composer: D Wright/M Manzanza/M Te Kahika
Album: Electric Wire Hustle
Label: Every

Artist: Redman
Song:  Smoke Buddah
Composer: R Noble
Album: Muddy Waters
Label: Def Jam (1996)

Artist: Will Bill Ricketts
Song: Riki
Composer: W Ricketts
Album: Ricketts meets Fabulous at Maitland Rd
Label: Private

Artist: Mos Def feat. Slick Rick
Song: Auditorium
Composer: D T Smith
Album:  The Ecstatic (2009)
Label: Downtown

Artist: SamIYam
Song: Bedtime
Composer: S Baker
Album: Sam Baker's Album
Label: Brainfeeder

Artist: Gang Starr feat Inspectah Deck  
Song: Above The Clouds
Composer: Elam/Martin
Album: Moment Of Truth (1998)
Label: Virgin

Artist: Donny Hathaway
Song: Someday We'll All Be Free
Composer: Hathaway
Album: Extension of A Man
Label: Rhino
 
Artist: The Sylvers
Song:  More Love
Composer: Sylvers
Album: Foster Sylvers
Label: Pride

Artist: Jonti
Song: Batmilk (instrumental)
Composer: J  Danilewitz
Album:  Twirligig
Label: Stonesthrow