Music 101 for Saturday 17 December 2011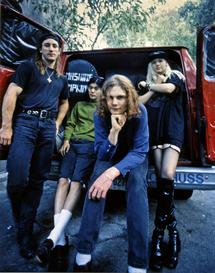 2 - 3pm

Smashing Pumpkins
It's 20 years since Chicago band Smashing Pumpkins (pictured right) released their debut, Gish. Its layers of fuzzed out guitar, dreamy soundscapes, and melodrama were not an instant hit - it took 1993's Siamese Dream to make Billy Corgan, D'arcy Wretzky, James Iha and Jimmy Chamberlain heroes of the teenage population of the 90s. Both albums have just been re-released - Billy Corgan talks about the old days.

The Sampler: The Best of the Internationals 2011
Nick Bollinger tells us about some of the overseas albums that tickled his cochleae this year. Click here for Nick's local picks.
Jarvis Cocker
The lead singer and songwriter of influential Brit-pop band Pulp writes songs full of awkward, lusty moments, with keen cultural and social commentary along the way. His lyrics have just been published in book form, to stand naked without music, for all the world to see. Jarvis Cocker talks about his lyrical habits.

3 - 4pm

King Kapisi
Borderline compulsive collector and prolific musician King Kapisi shows us round his Overstayer HQ from which songs, magazines, a clothing-line, television programmes and music videos all pour forth.


Guitar Wolf
Japan's loudest rock band talk about their rockabilly roots, and gruesome adventures in stage diving. (Seiji - AKA Guitar Wolf - pictured left with Music 101's Emma Smith)

Gig Guide and Review
We review the week of gigs, and talk about our favourite gigs of the year, as well as letting you know about some shows to look forward to.
 
4 - 5pm
Live: Pajama Club In Session
Neil and Sharon Finn's new band perform live at their very own studio - Roundhead. This was the very first 'public' outing of this line up of the Pajama Club, and was recorded mere days before the band headed off to tour the USA. with Wilco.
Neil and Sharon Finn, live at Roundhead
Introducing: Paquin

God Bows To Math
We talk with the other Martin Phillips, guitarist and vocalist for God Bows to Math, about the debut long-player, and their literary approach to songwriting.
Music played in this show
2-3pm
Artist: Electric Light Orchestra
Song: Daybreaker
Composer: Lynne
Album: On the Third day
Label: Warner

Billy Corgan Interview (Smashing Pumpkins)

Artist: Smashing Pumpkins
Songs: I Am One, Siva
Composer: B Corgan
Album: Gish
Label: Hut

Artist: Smashing Pumpkins
Songs: Cherub Rock, Mayonaise, Today
Composer: B Corgan
Album: Siamese Dream
Label: Hut
Artist: Pink Floyd
Song: Breathe
Composer: Gilmour, Waters, Wright
Album: Dark Side of the Moon
Label: EMI

The Sampler: 2011 International Review
Artist: Tuneyards
Songs: Esso, Biz-ness, You Yes You
Composer: Garbus
Album: Whokill
Label: 4AD
Artist: Feist
Songs: The Bad In Each Other, Caught A Long Wind
Composer: Feist
Album: Metals
Label: Polydor
Artist: Jessica Lea Mayfield
Songs: Our Hearts Are Wrong, Somewhere In Your Heart, Sometimes At Night
Composer: Mayfield
Album: Tell Me
Label: Nonesuch
Artist: Various
Song: You've Been Lonesome Too
Composer: Williams/Jackson
Song: You Know That I Know
Composer: Williams/White
Song: The Sermon On The Mount
Composer: Williams/Haggard
Album: The Lost Notebooks Of Hank Williams
Label: Egyptian/Columbia
Artist: Pulp
Song: Underwear
Composer: Cocker, Banks, Mackey, Senior, Doyle    
Album: Different Class
Label: Island
Jarvis Cocker Interview
Artist:Pulp
Songs: Babies, Mis-shapes
Composer: Cocker
Albums: His'n' Hers, Different Class
Label: Islands
Artist: The Stone Roses
Song: Waterfall
Composer: Brown / Squire
Album: The Stone Roses
Label: Silvertone
3-4pm

Artist: MC Stormtrooper
Song: Lord Vadar
Composer: n/a
Album: n/a
Label: n/a
Music Mix - King Kapisi
Artist: King Kapisi
Song: Clap Ya Hands, Won't Stop Can't Stop
Composer: Bill Urale, Tere Urale
Album: Hip Hop Live Here (unreleased at the time of writing)
Label: Quabax Wax

Artist: King Kapisi
Song: Elination instrumental
Composer: Bill Urale
Album: unreleased
Label: unreleased
 
Artist: Dam Native
Song: The Horrified One feat Teremoana Rapley
Composer: Haimoana / Lowe/ Rapley
Album: Kaupapa Driven Rhymes Uplifted
Label: Tangata
Artist: The Roots
Song: Stomp
Composer: T Trotter/ G Spearman/ D Matthews/ L Coppin
Album: Undun
Label: Def Jam

Artist: Ramones
Song: Rockaway Beach
Composer: DD Ramone
Album: Rocket To Russia  
Label: Sire
Guitar Wolf Interview
Artist: Guitar Wolf
Song:Can-Nana Fever
Composer: Aoyagi/ Guitar Wolf
Album: Missle Me!
Label: Matadors

Artist: Guitar Wolf
Song: Summertime Blues
Composer: Capehart, Cochran
Album: Jet Generation
Label: Matador

Artist: Guitar Wolf
Song: Rumble
Composer: Wray
Song:Invader Ace
Composer: Guitar Wolf
Album:Planet of The Wolves
Label: Matador
Artist: Sufjan Stevens
Song: Too Much
Composer:S Stevens
Album: Age Of Adz
Label: Asthmatic Kitty

Gig Guide Bed

Artist: 10cc
Song: I'm Not In Love
Composer: Sterwart/Gouldman
Album: I'm Not In Love
Label: Slam   

Artist: Men
Song: Off Our Backs
Composer: Samson
Album: 7" single
Label: Columbia

Artist: Golden Awesome
Song: Astronomy
Composer: Golden Awesome
Album: Autumn
Label: M'lady's Records
4-5pm
Artist: Split Enz
Song: One Step Ahead
Composer: N Finn
Album: Waiata
Label: Mushroom

Artist: The Pajama Club
Songs: Can't Put It Down, Daylight, Tell Me What You Want
Composer: N Finn/S Finn
Album: Roundhead Session  
Label: RNZ
 
Artist: The Beach Boys
Song: Surfin Safari
Composer: Love/Wilson
Album:  Surfin' Safari
Label: Capitol

Introducing - Paquin

Artist: Paquin
Song: Tether
Composer: Healey
Album: Tether EP
Label: Private
 
Artist: Minutemen
Song: Paranoid Chant
Composer: Minutemen
Album: Paranoid EP  
Label: SST

God Bows To Math Interview

Artist: Blind Lemon Jefferson
Song: See That My Grave Is Kept Clean
Composer: Jefferson
Album: Smithsonian Folk Ways Anthology Of Folk Music  
Label: Smithsonian

Artist: Son House
Song: Death Letter
Composer: House
Album: Father Of the Delta Blues - The Complete 1965 Sessions
Label: Columbia
Artist: Heart Attack Alley
Song: Too Hot Blues
Composer: Heart Attack Alley
Album: single  
Label: n/a