Music 101 for Saturday 10 December 2011
2 - 3pm
Jane's Addiction
Three original members of L.A. alt-glam band Jane's Addiction have made it through three break-ups and reunions. Now they're back with a new offering - their fourth studio album in 26 years, The Great Escape Artist. Motor-mouth Tom Morello from Rage Against the Machine interviews Jane's Addiction singer Perry Farrell.
Kurt Vile Vs Emily Littler
Street Chant's Emily Littler made her solo debut supporting Philadelphian Kurt Vile last week, and took the opportunity to interview her musical hero. The fellow guitar-slingers talked about their favourite New Zealand bands and the curious art of songwriting.  Hear Street Chant LIVE here.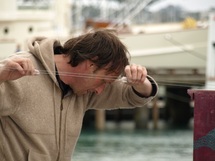 Alistair Galbraith
This Dunedin sound-explorer and instrument inventor has gone from strumming guitars in Flying Nun bands to playing entire buildings. His latest venture brings him to the Auckland waterfront where he turns an old industrial concrete silo into an instrument. Nick Atkinson finds Alistair Galbraith in the process of stringing up the huge structure… (photo left, by Angela Busby)
3-4 pm
The Sampler: The Locals 2011
Our resident critic Nick Bollinger re-visits some of his favourite NZ releases of the past year.
The Broadsides
The Broadsides sing songs of love and loss with swagger in their holsters and strut in their spurs. We speak to these fiddle-n-banjer playing Aucklanders about their new EP Bring Me Love.
Wheel Of Experience
Find out about an intriguing show which is part of Auckland's Random Acts street theatre festival. Spin the wheel and get a slice of NZ's history in songs of Sealers, Loggers, Diggers, and Killers. (Musicians Dave Ward, and Peter Daube pictured right)
Gig Guide
4 - 5pm
Musical Chairs featuring Chip Matthews
Often in the background, Chip Matthews is one of the hardest working bass player in New Zealand with a long roll-call of acts he's contributed to. Chip was part of the first and arguably best line-up of Che Fu's band The Krates. Since then he's been a lodestone in bands such as Opensouls and Eru Dangerspiel as well as providing the bottom end for Anika Moa, Anna Coddington, Ladi 6 and Sola Rosa among many others. Now he hosts the breakfast show on Base FM and teaches at the Music and Audio Institute of New Zealand (MAINZ). Nick Atkinson follows this dedicated musician and DJ during a busy day behind the turntables, on stage, in the studio and in front of the classroom.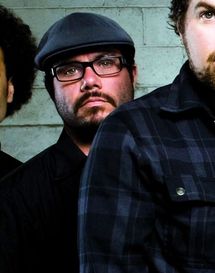 Chip Matthews with Opensouls. Photo: Adam Custins
Bernie Griffen and the Grifters in session
Bernie Griffen is a charitable character who has had a lot of experience in the recording and distribution business. He runs his own record label Flaming Pearl Records, was the Chairperson for Independent Music New Zealand (IMNZ), and for more than a decade was the CEO of the now defunct distribution company Global Routes. After something of a sabbatical Bernie Griffen and his band The Grifters are back doing what he loves the most - writing songs and singing 'em live.
Music played in this show
2-3pm
Artist: Vitamin String Quartet
Song: Been Caught Stealing
Composer: Farrell/Navarro
Album: The Vitamin String Quartet Tribute to Jane's Addiction
Label: Vitamin Records

Janes Addiction interview

Artist: Janes Addiction
Song: End To The Lies, Underground, Irresistible Force  
Composer: P Farrell/D Navarro/S Perkins/D Sitek
Album: The Great Escape Artist
Label: Capitol

Artist: Dinosaur Jr
Song: Repulsion
Composer: Mascis
Album: Dinosaur
Label: Shiny

Kurt Vile Vs Emily Littler

Artist: Kurt Vile
Song: Smoke Ring for My Halo, In My Baby's Arms
Composer: K.Vile
Album: Smoke Ring for My Halo
Label: Matador
 
Artist: Alistair Galbraith
Song: Huxley
Composer: Galbraith
Album: Seely Girn
Label: Feel Good All Over
Alistair Galbraith's Concrete Silo
Artist: Talking Heads
Song: Love --> Building on Fire
Composer: Byrne
Album: single
Label: Sire
Artist: Suicide
Song: Dream Baby Dream
Composer: Vega
Album: 7" Single
Label: Island
Introducing: Beach Pigs
Artist: Beach Pigs
Song: Edie
Composer: Beach Pigs
Album: Beach Pigs
Label: Private
Artist: The Bambi Molesters
Song: Long Gun
Composer:  Bambi Molesters/ Dalibor Pavičić/ Dinko Tomljanović
Album: Dumb Loud Hollow Twang
Label: Kamikaze
3-4pm
Artist: Shapeshifter
Song: Monarch
Composer: Shapeshifter
Album: unreleased
Label: Truetone
The Sampler: Best of 2011 Part 1
Artist: Fabulous Arabia
Songs: Perm
Composer: August/Milne/Laing
Album: Unlimited Buffet
Label: Economy
Artist: Fabulous Arabia
Song: Tony's Chord, Eugenics
Composer: August/Milne
Album: Unlimited Buffet
Label: Economy
Artist: Pajama Club
Songs: These Are Conditions, Can't Put It Down
Composer: N Finn/ S Finn
Album: Pajama Club
Label: Lester
Artist: Pajama Club
Song:Tell Me What You Want,
Composer: Finn/Finn/Donnelly
Album: Pajama Club
Label: Lester
Artist: The Bats
Songs: Simpletons, Free All The Monsters, Fingers Of Dawn
Composer: Scott/The Bats
Album: Free All The Monsters
Label: Flying Nun
Artist: Haunted Love
Songs: Love Underwater, Teenage Fever, Robot Boyfriend
Composer: Haunted Love
Album: Spirit Revival
Label: Round Trip Mars
Artist: Bosco Delrey
Song: Baby's Got a Blue Flame
Composer: Delrey
Album: Everybody Wah
Label: Mad Decent

Artist: Black Keys
Song: Dead and Gone
Composer: Auerbach/Carney/Burton
Album: El Camino
Label: Nonesuch
 
The Broadsides Interview

Artist: The Broadsides
Songs: Where's My Love, What Have I Done, Bring My Love  
Composer: Meharry/Ward/Kahn/Harris/Michelson
Album: Bring Me Love EP
Label: Private

Artist: Dave Ward, Dave Kahn, Peter Daube
Song: 100 Trees
Composer: Ward/Daube
Album: RNZ Recording
Label: RNZ
 
Gig Guide Bed

Artist: New Order
Song: Blue Monday
Composer: Sumner/Hook/Gilbert/Morris
Album: 12" Single
Label: Factory

Artist: Aa
Song: Mossy
Composer: Wahl/Bonati/Atkinson
Album: MAate
Label: Sensory Projects

Artist: The Broken Heartbreakers
Song: The New Yeah
Composer: Howell
Album: The Broken Heartbreakers
Label: Private
Artist: Explosions in the Sky
Song: Postcard from 1952
Composer: Explosions in the Sky
Album: Take Care Take Care Take Care
Label: Bella Union
4-5pm
Artist: Sharon Jones and the Dap Kings
Song: The Dap Dip
Composer: Mann
Album: Dap- Dippin with...
Label: Daptone
Musical Chairs featuring Chip Matthews
Artist: Che Fu
Song: Hoodies, Waka, Hold Your Ground
Composer: Che Ness
Album: 2b S.Pacific
Label: BMG

Artist: Opensouls
Song: Hold You Close,
Composer: Hammond, J.Toy, H.Davey
Album: Standing In The Rain
Label: FTC Records

Artist: Opensouls
Song: When You Gonna Stop?
Composer: T.Hammong, J.Toy
Album: Standing In The Rain
Label: FTC Records

Artist: Tyra Hammond and the Bluebirds
Song: Breakaway
Composer: T.Hammond, J.Toy
Album: n/a
Label: Radio New Zealand Recording

Artist: Dilated People
Song: No Retreat
Composer: M.Perretta, T.Ray, R.Taylor, L.Freese
Album: The Platform
Label: Capitol

Artist: Homebrew
Song: Listen To Us
Composer: Homebrew
Album: Single
Label: Private

Artist: Homebrew
Song: Ffunny Ffriends
Composer: R.Nielson
Album:n/a
Label: Radio New Zealand recording
 
Bernie Griffen and the Grifters in Session
Artist: Bernie Griffen and the Grifters
Song:  29 Diamonds; Sometimes I Feel So Sad; The Horse Song; Take the Money and Run
Composer: B Griffen
Album: RNZ Recording
Label: RNZ
 
Jazz Tui Finalists
Artist: Roger Fox's Wellington Jazz Orchestra   
Song: Bebop and Roses
Composer: Broadbent
Album: Journey Home
Label: T Bone

Artist: Phil Broadhurst Quartet
Song: Brazilian Like
Composer: Petrucciani
Album: Delayed Reaction
Label: Rattle

Artist: Tim Hopkins
Song: Road from Perdition
Composer: Hopkins
Album: Seven
Label: Rattle
Artist: Reuben Bradley
Song: Doppler Effect
Composer: R Bradley
Album: Resonator
Label: Rattle