Music 101 for Saturday 3 December 2011
2 - 3pm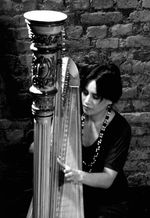 Natalia Mann
Classical pieces, Samoan folk song, Turkish tunings, and jazz are just some of the things you might hear at a Natalia Mann concert. The professional harp player is currently touring churches in support of Bic Runga. Natalia describes the far-flung places the harp has taken her. (Natalia pictured right)
Jordie Lane
in Session Australian country/folk songwriter Jordie Lane is in New Zealand for the first time - playing songs of fleeting romantic encounters, cautionary tales of falling in love with the wrong girl, and of Internet relationships. He stops by to play for us in the Music 101 studio and chat about his love affair with North American music.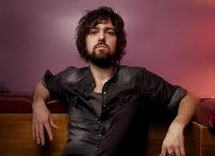 3 - 4pm
Access All Areas: Captain Sensible - Damned for Life
Raymond Burns a.k.a. Captain Sensible was a toilet cleaner in Croydon, U.K. before he joined the Damned. He went on to have a career unlike many others in punk. When Sensible left the Damned, he reinvented himself as an the UK's least likely pop star.
Jordie Lane - photo: Simon Schluter
Sticky Filth
Sticky Filth have survived for 26 years, but the Taranaki-born band's nearly came to the end of the line recently. Guitarist Chris Snowdon was run over and nearly killed, then bass player and vocalist Craig Radford had an industrial accident on an oil rig, when a 50-tonne piece of machinery crushed his leg. Now they've come back to release a new album 'Fourth Domain'. All hail the Filth!
Gig Guide
4 - 5pm
Musical Chairs featuring Chris Tubbs
He's DJ-ed from Paris to Prague and is known for being a connoisseur of boutique dance music. For over a decade, ex-Wellingtonian, Chris Tubbs has carved himself various niches in London's mutating musical landscape, particularly since starting with his blog 'Heads Down' two years ago. He now juggles private DJ-ing and production, broadcasting and consultancy, being the UK ambassador for DJ software pioneers 'Serato' and presenting Basement Sessions, an online music show for UK fashion label All Saints. Our London music reporter Jason Moon meets Chris Tubbs in Camden, and finds out why Tubbs knows way too much about disco.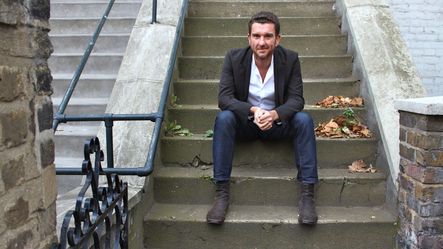 Chris Tubbs at home in Camden.Photo: Jason Moon
Glastonbury booker Malcolm Haynes
Shapeshifter, Ladi6, King Kapisi, Electric Wire Hustle and Bella Kalolo all owe their 2011 performances at the U.K.'s biggest music festival to Malcolm Haynes. The Dance Village Programmer for the Glastonbury Festival talks about his soft spot for NZ Music.
Music played in this show
2-3pm
Artist: Taksim Trio
Song: Güle Yel Degdi
Composer: Hasret Gültekin
Album: Taksim Trio
Label: Double Moon
Natalia Mann Interview
Artist: Natalia Mann
Song: Göl Çayı, Butterfly Effect, Üç Adı, Greenstones
Composer: Natalia Mann
Album: pasif.ist
Label: Rattle

Artist: Alice Coltrane
Song: Blue Nile
Composer: Alice Coltrane
Album: Ptah The El Daoud
Label: Impulse
Artist: Joanna Newsom
Song: '81
Composer: J Newsom
Album: Have One On Me
Label: Drag City
Artist: Gram Parsons
Song: She
Composer: Ethridge/Parsons
Album: Gram Parsons: Anthology
Label: Rhino

Jordie Lane Session
Artist: Jordie Lane
Songs: I Could Die Looking At You, On The Net Til Morn, The Publican's Daughter
Composer: J Lane
Album: Recorded live for RNZ
Label: RNZ
NZ Music Award for a Folk Album 2011 Nominees
Artist: Mel Parsons
Song: I Won't Let You Down
Composer: Parsons
Album: Red Grey Blue
Label: Cape Road

Artist: Amiria Grenell
Song: Dreamland
Composer: A Grenell
Album: Three Feathers
Label: Central

Artist: The Chaps
Song: Mama Bear
Composer: Ballard
Album: Don't Worry 'Bout Your Age
Label: The Chaps

Artist: Wires and Wood
Song: Love Please Come Home
Composer: Jackson
Album: Over the Moon
Label:  Wires

Artist: Laura Marling
Song: My Friends
Composer: Marling
Album: A Creature I Don't Know
Label: Virgin
 
3-4pm
Artist: The Dance Exponents
Song: Victoria
Composer: J Luck
Album: Prayers Be Answered
Label: Mushroom

Artist: Toy Love
Song: Rebel
Composer: Knox/ Bathgate/ Walker/ Dooley/ Keen
Album: Squeeze single
Label: Elektra
Access All Areas: Captain Sensible - Damned for Life
Artist: The Damned
Song Title: Neat Neat Neat
Composer: James
Album Title: Smash It Up – Damned Anthology
Label: Castle Communications
Cat no.: Castle 681232

Artist: Captain Sensible
Song Title: Croyden
Composer: Rodgers and Hammerstein
Album Title: Captain Sensible Collection
Label: Spectrum
Cat no.: 631932

Artist: The Damned
Song Title: I Feel Alright
Composer: Osterberg Asheton Asheton Alexander
Album Title: Smash It Up – Damned Anthology
Label: Castle Communications
Cat no.: Castle 681232

Artist: The Damned
Song Title: Feel The Pain
Composer: Vanian - Miller -Burns
Album Title: Smash It Up – Damned Anthology
Label: Castle Communications
Cat no.: Castle 681232

Artist: The Damned
Song Title: New Rose
Composer: James
Album Title: Smash It Up – Damned Anthology
Label: Castle Communications
Cat no.: Castle 681232

rtist: The Damned
Song Title: Wait For the Blackout
Composer: Burns - Vanian
Album Title: Smash It Up – Damned Anthology
Label: Castle Communications
Cat no.: Castle 681232

Artist: The Damned
Song Title: Machine Gun ettiquette
Composer: miller burns vanian ward
Album Title: Smash It Up – Damned Anthology
Label: Castle Communications
Cat no.: Castle 681232

Artist: Captain Sensible
Song Title: Haappy Talk
Composer: Rodgers and Hammerstein
Album Title: Captain Sensible Collection
Label: Spectrum
Cat no.: 631932

Artist: Captain Sensible
Song Title: Wot
Composer: Burns
Album Title: Captain Sensible Collection
Label: Spectrum
Cat no.: 631932

Artist: The Damned
Song Title: Eloise
Composer: ryan
Album Title: Smash It Up – Damned Anthology
Label: Castle Communications
Cat no.: Castle 681232

Artist: The Damned
Song Title: Smash It Up
Composer: Miller burns
Album Title: Smash It Up – Damned Anthology
Label: Castle Communications
Cat no.: Castle 681232

Artist: Flesh D Vice
Song: Strange TV
Composer: Flesh D Vice
Album:  Secrets Of The Estranged
Label: Jayrem
Sticky Filth Interview
Artist: Sticky Filth
Song: The Witch That Got Away, Leave In The Morning, Happy Birthday, Unkind, Hate Remains, Bruise Easily
Composer: Sticky Filth
Album: Fourth Domain
Label: ElevenFiftySeven Records
Artist: Hanni El Khatib
Song: You Rascal You
Composer: Armstrong
Album: Will the Guns Come Out
Label: Pod
Introducing: The Blue Onesies
Artist: The Blue Onesies
Song: Endless Green
Composer: The Blue Onesies
Album: Jim Roger's Party Shack
Label: Private
Gig Guide Bed
Artist: Florence And The Machine
Song: You've Got The Love
Composer: A Stephens
Album: Lungs
Label: Island

Artist: Yes
Song: Heart Of The Sunrise
Composer: Anderson/Squire/Bruford
Album: Fragile
Label: Atlantic

Artist: Mayer Hawthorne
Song: A Long Time
Composer: Hawthorne
Album: How Do You Do
Label: Universal

Artist: Black Joe Lewis and the Honeybears
Song: Humpin'
Composer: Alexander/Cauley/Jones
Album: Tell 'Em What Your Name Is
Label: Lost Highway
4-5pm
Artist: Machine
Song: There But For The Grace Of God Go I
Composer: Darnell/Nance
Album: 12" single
Label: RCA
Musical Chairs Featuring Chris Tubbs
Artist: Breaks Co-Op
Song: Duet
Composer: Breaks Co-Op and Christopher Tubbs (Atlantic Conveyor Mix)
Album: The Sound Inside
Label: Parlophone

Artist: Atlantic Conveyor
Song: Nasty Things-EP
Composer: Christopher Tubbs
Album: Fantastic Incidents EP
Label: Untracked (Christopher Tubbs's label)

Artist: Tubbs
Song: The Storm
Composer: Christopher Tubbs
Album: Good Days, Better Nights
Label: Carbon Records

Artist: Tubbs
Song: Missing U
Composer: Christopher Tubbs
Album: Good Days, Better Nights
Label: Carbon Records

Artist: African Soul Power
Song: Disco Music
Composer: Christopher Tubbs
Album: 12"
Label: Sofrito

Artist: Atlantic Conveyor
Song: We Are
Composer: Christopher Tubbs
Composer:
Album: Fantastic Incidents EP

Artist: Tubbs - feat Dallas & Hamish Clark
Song: Tubbs 'New Way Of Life'
Composer: Christopher Tubbs/Dallas Tamaira/Hamish Clarke/Neil Higgins
Album: Good Days, Better Nights (rerelease)
Label: Exceptional Records
Artist: Tubbs
Song: I feel
Composer: Tubbs/Ankers
Album: Good Days Better Nights
Label: Loop

Artist: Robyn
Song: Fem Bots
Composer: Åhlund/Carlsson
Album:  Body Talk
Label: Konichiwa
Interview with Glastonbury booker Malcolm Haynes
Artist: Lykez
Song:  Mic Check
Composer: Lykez
Album: N/A
Label: N/A

Artist: Electric Wire Hustle
Song: Tom Boy
Composer: Mara TK, Taay Ninh, Myele Manzana, Jeremy Toy
Album: Electric Wire Hustle
label: Every Waking Hour

Artist: Bella Kalolo
Song: Envy
Composer: Isobel Kalolo, Alistair Isdale
Album: Without The paper
Label: Bella Sounds

Artist: Shapeshifter
Song: Lifetime
Composer: Shapeshifter
Album: The System Is A Vampire
Label: Truetone

Artist: King Kapisi
Song: Clap Ya Hands
Composer: Bill Urale
Album: Single
Label: Overstayer
 
Artist: Gwen Gurthrie
Song: Seventh Heaven (Larry Levan remix)
Composer: Smith/ Levan
Album: Stop and Listen 5- compiled by Masters at Work
Label: BBE