Music 101 for Saturday 26 November 2011
2 - 3pm
The Sampler: The Beach Boys
"The most famous album never released" - The Beach Boys SMiLE has finally made it to the people. Nick Bollinger takes a listen 45 years after it was produced.
Kinchasa One Two
Recorded over five hectic days in the Democratic Republic of Congo, Kinshasa One Two is another ambitious musical project undertaken by Blur lead singer Damon Albarn. With 10 producers in tow he set off for Africa to collaborate with over 50 local musicians, often playing home-made instruments. We speak to Kwes - one of the producers - about the project.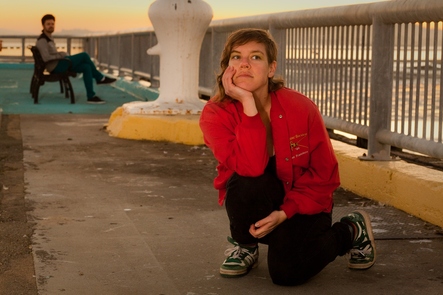 Merrill Garbus, with bandmate Nate Brenner, photo by Anna M Campbell
tUnE-yArDs
Merrill Garbus roars, raps, yodels, hollers and croons about social justice and personal issues on Whokill, her second album under the moniker tUnE-yArDs. We talk to her about her background in acting and puppetry, and her collage style approach to making music.
3-4 pm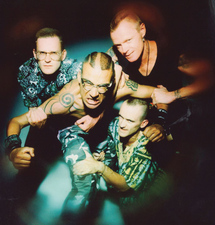 The Sampler: Hallelujah Picassos
Genre-busting Auckland band Hallelujah Picassos mixed reggae bass lines with thrash guitar, dubbed out horns with Flying Nun-like jangle, Jamaican Patois alongside broad kiwi accents. The band, together from 1988 to 1996, have just released a compilation Rewind The Hateman - Nick Bollinger takes a listen and speaks to band-member Peter McLennon.
Access All Areas: Adrian Sherwood - 30 Years Of On-U Sound
Adrian Sherwood is the elder statesman of UK dub. He's a producer who in the Jamaican tradition employs the mixing desk like a musical instrument. He has worked with a who's who of UK and Jamaican artists and is also the founder of the On-U Sound label, one of the UK's most crucial independent labels which this year celebrates its 30th anniversary. Trevor Reekie talks to Adrian Sherwood.
Gig Guide
4-5 pm
Musical Chairs featuring Rim D Paul
Tai at the Tama was where Rotorua's in-crowd danced in the 1950s. Tai Paul and his Pohutu Boys held down a long residency at the Ohinemutu marae. The group also launched the career of Rim D Paul, Tai's son, who became a Maori show band star with the Quin-Tikis, and a leading solo act in the cabarets of Australia. Paul wrote and recorded 'Poi Poi Twist' and sang the theme tune of the film Runaway. He also worked as a musical arranger for the Howard Morrison Quartet and of the Maori National Choir. Chris Bourke spoke to Rim at his home in the Bay of Plenty.
Riddim Central
We profile a new local Reggae, Dancehall and Hip-Hop label run by producer Iron Will, home to artists such as Jah Red Lion, Silva MC and Solomonix.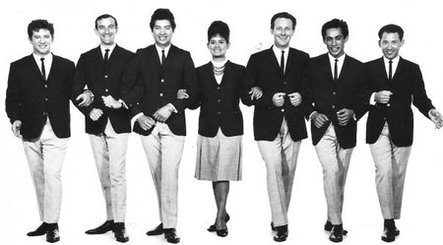 The Quin Tikis. Rim D. Paul is second from the right. Image from www.nzmusic.org.nz
Music played in this show
2-3pm
Artist: Brian Wilson
Song: Mrs. O'Leary's Cow
Composer: Wilson
Album: Brian Wilson Presents Smile
Label: Nonesuch
The Sampler: The Beach Boys
Artist: The Beach Boys
Songs: Our Prayer, Wonderful, Child Is Father To The Man, Barnyard, Do You Like Worms
Composer: Wilson/Parks
Album: The Smile Sessions
Label: Capitol

Artist: Brian Wilson
Song: Cabinessence
Composer: Wilson/Parks
Album: Smile
Label: Nonesuch

Artist: The Beach Boys
Song: Heroes and Villains
Composer: Wilson/Parks
Album: Smiley Smile
Label: Capitol

Artist: The Beach Boys
Songs: Surf's Up
Composer: Wilson/Parks
Album: Surf's Up
Label: Capitol
Artist: The Beatles
Song: A Day In The Life
Composer: Lennon/MCCartney
Album: Sgt Pepper's Lonely Hearts Club Band
Label: Apple
Artist: Francois & The Atlas Mountains
Song: Les Plus Beaux
Composer: Marry
Album: E Volo Love
Label: Domino
Artist: Mali Music
Song: Tennessee Hotel
Composer: D Albarn
Album: Mali Music
Label: Astralwerks
Kinchasa One Two interview
Artist: Kwes
Song: Get Up
Composer: Kwes
Album: Single
Label: Warp

Artist: Damon Albarn featuring Tout Puissant Mukalo and Nelly Liyemge
Song: Hallo
Composer: Damon Albarn, Nelly Liyemge
Album: Kinshasa One Two
Label: DRC Music

Artist: Bokatola System
Song: Departure
Composer: Kwes
Album: Kinshasa One Two
Label: DRC Congo

Artist: Jupiter Bokondji and Bokatola System
Song: Ah Congo
Composer: Jupiter Bokondji
Album: Kinshasa One Two
Label: DRC Congo

Artist: Baaba Maal 
Song: Television
Composer: D Maal
Album: Television
Label: Palm
Tune-Yards interview
Artist: Tuneyards
Songs: Bizness, Gangsta, My Killa, Country
Composer: Merrill Garbus
Album: WhoKill
Label: 4AD

Artist: Sam Hamilton
Song: Alumbra Tides
Composer: S Hamilton
Album: Pala
Label: Tumbling
3-4pm
 
Artist: Tenor Saw
Song: Ring The Alarm
Composer: Bright/ Riley
Album: Ring the Alarm
Label: Techniques
The Sampler: Hallelujah Picassos
Artist: Hallelujah Picassos
Songs: God Gave Us Boom Boom Washington, Rewind, Hateman, Black spade Picasso Core, Snaqkeman's Cry, Drinking With Judas, Sister Stacy
Composer: Pauling/Straub/McLennan/Payne
Album: Rewind The Hateman
Label: Independent
Artist: Sound Foundation
Song: Ram Dancehall
Composer: McNaughton/ Waller
Album: Deep In the Pacific Of Bass
Label: Deepgrooves
Artist: Lee Scratch Perry and the Full Experience
Song: Disco Devil
Composer: Romeo
Album:Black Magic Reggae
Label: Castle Pulse
Adrian Sherwood Interview
Artist: Strange Parcels
Song Title: Disconnection
Composer: Strange Parcels
Album Title: Adrian Sherwood Presents The Master Recordings, Volume 2
Label: On U Sound

Artist: Lee Scratch Perry
Song Title: International Broadcaster
Composer: Perry
Album Title: Nu Sound & Version
Label: On U Sound

Artist: Singers & Players featuring Bim Sherman
Song Title: A Matter of Time
Composer: Sherman
Album Title: Adrian Sherwood Presents The Master Recordings, Volume 2
Label: On U Sound
Cat no.: 518700

Artist: Prince Far I/Singers & Players
Song Title: Prince Far I / Water The Garden
Composer: Prince Far I
Album Title: Pay It All Back Vol. 2
Label: On U Sound

Artist: Creation Rebel
Song Title: Space Movement Section 4
Composer: Creation Rebel
Album Title: Adrian Sherwood Presents The Master Recordings, Volume 2
Label: On U Sound

Artist: Tackhead
Song Title: Ticking Time Bomb
Composer: Tackhead
Album Title: Tackhead Power Inc., Vol. 1
Label: On U Sound

Artist: African Head Charge
Song Title: African Head Charge / Throw It Away
Composer: African Head Charge
Album Title: Pay It All Back Vol. 2
Label: On U sound
Cat no.: 518642

Artist: Eskimo Fox
Song Title: Digital
Composer: Eskimo Fox
Album Title: Pay It All Back Vol. 2
Label: On U Sound

Artist: Harry Beckett
Song Title: Out Of The Blue
Composer: Beckett
Album Title: Modern Sound Of Harry Beckett
Label: On U Sound

Artist: Little Axe
Song Title: Down and Dirty
Composer: McDonald - Sherwood
Album Title: If You Want Loyalty Buy A Dog
Label: On U Sound

Artist: Lee "Scratch" Perry & Dub Syndicate
Song Title: Train to Doomsville
Composer: Perry
Album Title: Adrian Sherwood Presents The Master Recordings, Volume 2
Label: On U Sound
Artist: Lijadu Sisters
Song: Danger
Composer: T Lijadu/ K Lijadu
Album: Afrobeat Soul Sisters
Label: Souljazz
Gig Guide Bed
Artist: Kitty Daisy and Lewis
Song: Buggin' Blues
Composer: L Durham
Album: Kitty Daisy and Lewis
Label: Sunday Best
Artist: Jordie Lane
Song: Diamond Ring
Composer: J lane
Album: Blood Thinner
Label: Vitamin
Artist: How To Dress Well
Song: Ready For The World
Composer: T Krell
Album: Love Remains
Label: Lefse
Artist: The Game
Song: Let's Ride (Instrumental)
Composer: J Taylor/S Storch
Album: Single
Label: Universal
Artist: Hieronymous Bosch
Song: Blood Countess
Composer: Hieronymous Bosch
Album: The Divided Self
Label: Club Bizarre
Artist: The Dirty Three
Song: Some Summers they Drop Like Flies
Composer: The Dirty Three
Album: Whatever You Love, You Are
Label: Touch And Go
4-5pm
Artist: Jay Epae
Song: Putti Putti
Composer: Epae
Album: Waiata: Maori Showbands, Balladeers and Pop Stars
Label: EMI
Musical Chairs Featuring Rim D Paul
Artist: Rim D Paul
Song: Haere Mai Means Welcome
Composer: O'Shea-Flynn
Album: That's Live
Label: Philips

Artist: Rim D Paul
Song: Goodnight Song
Composer: Vic Bartholomew
Private recording, 2011

Artist: Rim D Paul
Song: Danny Boy
Composer: Weatherly
Album: That's Live
Label: Philips

Artist: Rim D Paul
Song: Poi Poi Twist
Composer: Jay Epae-Rim D Paul
45rpm single
Label: Zodiac

Artist: Rim D Paul
Song: Ol' Man River
Composer: Hammerstein-Kern
45rpm single
Label: Zodiac

Artist: Billy Eckstine
Song: I Only Have Eyes for You
Composer: Warren-Dubin
Album: Mister B. and the Band: The Savoy Sessions
Label: Savoy

Artist: Rim D Paul
Song: The Someplace I Call Home
Composer: Luciano Tomei-Pat Aulton
45rpm single
Label: Festival

Artist: Rim D Paul and the Quin Tikis
Song: Runaway
Composer: Robin Maconie
45rpm single
Label: Zodiac

Artist: Rim D Paul
Song: She's the Girl
Composer: Flynn-O'Shea
Album: Don't Let It Get You
Label: HMV

Artist: Rim D Paul
Song: Up Up and Away
Composer: Jimmy Webb
Album: That's Live
Label: Philips

Artist: Rim D Paul
Song: Soul Medley/Sweet Soul Music
Composer: Eddie Floyd
Album: That's Live
Label: Philips PDS323

Artist: Rim D Paul
Song: Poi Poi Twist
Composer: Jay Epae/Rim D Paul
45rpm single
Label: Zodiac
Riddim Central Interview
Artist:  Solomonix
Song:  "Blessed Is The Man"
Composer:  S. Heke, W. Mark-Brown
Album:  Benediction
Label:  Riddim Central
Artist:  Jah Red Lion
Song:  "Burn Vampires"
Composer:  N. Reyne, W. Mark-Brown
Album:  Jah Red Lion EP
Label:  Riddim Central / Reality Chant
Artist:  Silva MC
Song:  "Here We Go Again"
Composer:  T. Dyer, W. Mark-Brown
Album:  CD single
Label:  Riddim Central
Artist:  Del Rey System ft Joe Dukie
Song:  "Sweet Division" (Riddim Central Remix)
Composer:  D. Goodward, D. Tamaira, W. Mark-Brown
Album:  unreleased
Label:  Riddim Central / Groovadelica
Artist: Snypa Levi
Song: Inna The Dance
Composer: Feci/ Calcott/ Bimler/ White/ Ticharwa
Album: The Soujourner
Label: Reality Chant
Introducing: Strange Harvest
Artist: Strange Harvest
Song: The Sky is on Fire
Composer: Strange Harvest
Album: Here Is Where You Are
Label: Private
Artist: Grey Reverend
Song: Little Eli
Composer: L D Brown
Album: Of The Days
Label: Motion Audio