Music 101 for Saturday 19 November 2011
2-3 pm
Bic Runga & Kody Nielson
Former Mint Chick Kody Nielson has produced Bic Runga's new album, Belle, and his distinctly skewiff pop aesthetic can be heard across its 10 tracks. The partners in love and music interview each other about the collaboration, musical discussions 'round the house and Nielson's new project, Opossom.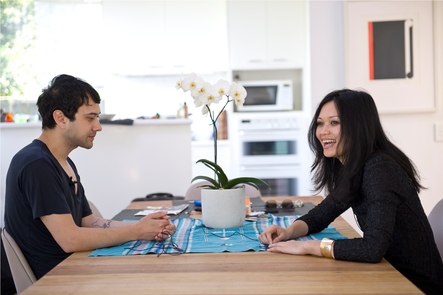 Kody & Bic. Photo:  Volume/Ted Baghurst
Bret McKenzie and Kermit
Kermit and Bret sing the theme for the new film The Muppets together for the New York Times.
Chris Isaak
American crooner Chris Isaak talks about covering classic songs for his latest album, recorded in the legendary Sun Studios in Memphis.
3 - 4pm
The Sampler: Lulu
Nick Bollinger braves the Lou Reed and Metallica collaboration, to try and determine just who it's audience might be.
Cobra Kahn
Producer, engineer and musician, Evan Short, pulls double-duties in Auckland metal outfit, Cobra Khan - he's the bass player and the engineering ears behind their new LP, Adversities. Sam Wicks dropped by Short's Eden Terrace studio along with with frontman, Milon Williams, to have a 'Behind the Music'-style listen to the album.
Gig Guide
4 - 5pm
Musical Chairs featuring Denise Roughan
As multi-instrumentalist and vocalist for all-girl Dunedin group Look Blue Go Purple, The 3D's, Ghost Club, and the new recruit in Marineville, Denise Roughan has spent the last few decades on the fringes of indie rock fame. We speak to her about her journey from playing house parties in Dunedin in the 80s, to being lauded by British music media, playing sell-out shows in the UK and USA, and touring with Pavement and Superchunk in the 90s, to her return to a small indie band in Wellington.
Denise on bass with the 3Ds in Brixton, London. Photo: Ewan Munro (Creative Commons License)
The Chicks Project
Supporting Dunedin high school bands to up-skill and get some road experience through local tours and after-school shows at grown-up venues. There's a sub-plot of collaboration running through this week's show... send us your suggestions of most unlikely/weird/beautiful musical collaborations: music101@radionz.co.nz
Music played in this show
2-3pm
Artist: Angelo Badalamenti
Song: Twin Peaks Theme
Composer: Angelo Badalamenti
Album: Twin Peaks Soundtrack
Label: Warner
Artist: Run DMC + Aerosmith
Song: Walk This Way
Composer: Tyler/Perry
Album: Raising Hell
Label: Arista
Bic Runga / Kody Neilson conversation
Artist: Bic Runga
Song: Tiny Little Piece of My Heart
Composer: B.Runga/K.Nielson/R.Nielson
Album: Belle
Label: Sony Music

Artist: Bic Runga
Song: Devil on Tambourine/Darkness All Around Us
Composer: B.Runga/K.Nielson
Album: Belle
Label: Sony Music

Artist: Bic Runga
Song: Darkness All Around Us
Composer: K.Nielson
Album: Belle
Label: Sony Music

Artist: Opossom
Song: Cola Elixer
Composer: K.Nielson
Album: Unreleased
Label: Independent
Artist: Nick Cave and Kylie Minogue
Song:Where The Wild Roses Grow
Composer: Cave
Album:Murder Ballads
Label:Mute

Artist: Queen and David Bowie
Song: Under Pressure
Composer: Queen and David Bowie
Album: Hot Space
Label: EMI

Artist: Stevie Wonder and Paul McCartney
Song:Ebony and Ivory
Composer: McCartney
Album: Tug of War
Label:Parlophone
Artist: David Lynch
Song: Good Day Today
Composer: D Lynch
Album: Crazy Clown Time
Label: Sunday Best Recordings/PIAS America
Chris Isaak Interview
Artist: Chris Isaak
Song: Ring Of Fire
Composer: June Carter Cash, Merle Kilgore
Album: Beyond The Sun
Label: Universal

Artist: Chris Isaak
Song: I Walk The Line
Composer: Johnny Cash
Album: Beyond the Sun
Label: Universal

Artist: Chris Issak
Song: So Long I'm Gone
Composer: Sam Phillips
Album: Beyond The Sun
Label: Universal

Artist: Chris Issak
Song: Live It Up
Composer: Chris Isaak
Album: Beyond The Sun
Label: Universal

Artist: Chris Issak
Song:  My Baby Left Me
Composer: Arthur Crudrup
Album: Beyond The Sun
Label: Universal

Artist: Chris Issak
Song: Crazy Arms
Composer: Ralph Mooney, Charles Seals
Album: Beyond The Sun
Label: Universal

Artist: Chris Issak
Song: Your True Love
Composer: Carl Perkins
Album: Beyond The Sun
Label: Universal
Artist: Billl Lister
Song: RC Cola and Moon Pie
Composer: B Lister
Album: Country Boy's Dream
Label: Bear Family

Artist: Black Sabbath
Song: War Pigs
Composer: Osbourne/Iommi/Ward Butler
Album: Paranoid
Label: Vertigo

3-4pm
Artist: Lou Reed
Song: Satellite of Love
Composer: L Reed
Album: Transformer
Label: RCA
The Sampler: Lulu
Artist: Lulu
Songs: Brandenburg Gate, Pumping Blood, Mistress Dread, Iced Honey, The View, Cheat On Me, Junior Dad
Composer: Lou Reed
Album: Lulu
Label: Vertigo
Artist: Mastodon
Song: Black Tongue
Composer: Mastodon
Album: The Hunter
Label: Roadrunner
Cobra Kahn interview
Artist: Cobra Khan
Song: Borderlines/Velvet Trenches/Grave Weight/Strung by Staves
Composer: Cobra Khan
Album: Adversities
Label: Elevenfiftyseven
Artist:Tom Waits and Crystal Gayle
Song:This One's From The Heart
Composer: Waits
Album:One From The Heart
Label:Columbia
Artist: Tinarawen
Song: Tenere taqhim tossam
Composer: Ibrahim Ag Alhabib
Album: Tassili
Label: V2
Artist: Jackie Leven
Song: Call Mother A Lonely Field
Composer: J Leven
Album: The Mystery of Love
Label: Cooking Vinyl
Gig Guide bed
Artist: The Dance Exponents
Song: Victoria
Composer: J Luck
Album:     Prayers Be Answered
Label: Mushroom

Artist: Urge Overkill
Song: Girl, You'll Be A Woman Soon
Composer: N Diamond
Album: Pulp Fiction OST
Label: MCA

Artist: Cornerstone Roots
Song: Soundsplash
Composer: Cornerstone Roots
Album: Soul Revolution
Label: Motherland

Artist: The Clean
Song: Wipe Me I'm Lucky
Composer: Kilgour, Scott
Album: Unknown Country
Label: Flying Nun

Artist: Roseneath Centennial Ragtime Band
Song: My Smile's A Mile Wide
Composer: Roseneath Centennial Ragtime Band
Album: Roseneath Centennial Ragtime Band
Label: Private
4-5pm
Artist: Fair Sect plus One
Song: Mohair Sam
Composer:Frazier
Album: Here Come The Kiwi Girls
Label: EMI
Musical Chairs Featuring Denise Roughan
Artist: Look Blue Go Purple
Songs: Safety In Crosswords, Cactus Cat, As Does The Sun, I Don't Want You Anyway
Composer: Look Blue Go Purple
Album: Look Blue Go Purple Compilation
Label: Flying Nun

Artist: 3Ds
Song: Outer Space
Composer: Roughan/Mitchell/Stones/Saunders
Album: Hellzapoppin
Label: Flying Nun

Artist:3Ds
Song: Hey Seuss, The Venus Trail, The Golden Grove, Beautiful Things
Composer: Roughan/Mitchell/Stones/Saunders
Album: The Venus Trail
Label: Flying Nun

Artist: 3Ds
Song: The Wish
Composer: Roughan/Mitchell/Stones/Saunders
Album: Strange News From The Angels
Label: Flying Nun

Artist: 3Ds
Song: Meluzina Man (Pile-Up Version)
Composer: Roughan/Mitchell/Stones/Saunders
Album: Early Recordings 89-90
Label: Flying Nun

Artist: Ghost Club
Song: Ghost Club Theme Song
Composer: Mitchell
Album: Ghostcubbing
Label: Flying Nun

Artist: Ghost Club
Song: Subterranean, Mother London, La Maree
Composer: Mitchell
Album: Suicide Train
Label: Flying Nun
Artist: Bonnie Prince Billy
Song: New Whaling
Composer: W Oldham
Album: Wolfroy Goes To Town
Label: Drag City
Introducing: Two Cartoons
Artist: Two Cartoons
Song: Better Coast
Composer: Two Cartoons
Album: unreleased
Label: n/a

The Chicks Project

Artist: The Suds
Song: Addict
Composer: The Suds
Album:The Fetus of Michael
Label: Private

Artist: Gun Slinger
Song:
Composer:Gun Slinger
Album: Unreleased
Label: Live Recording

Artist: Cult Disney
Song: Jesu
Composer: Cult Disney
Album: Jesu
Label: Private

Artist:Astro Children
Song: The One We Start With
Composer: Astro Children
Album: Unreleased
Label: Live Recording

Artist:Astro Children
Song: The Really Long One
Composer: Astro Children
Album: Unreleased
Label: Live Recording


Artist: Thundercat
Song: Jambouree
Composer: Stephen Bruner
Album: The Golden Age of the Apocalypse
Label: Brainfeeder