Music 101 for Saturday 12 November 2011
2 - 3pm 
Sampler: Tom Waits
Nick Bollinger reviews Bad As Me - a collection of new songs from the gruff American songwriter.

Gin Wigmore
After walking down railroads in Mississippi and watching O Brother Where Art Thou? several times Gin Wigmore found the flavour for her new album Gravel And Wine.
The Checks
The Checks have remained thick as thieves as they've graduated from Auckland high school band to established rock outfit with three records  - including the new one Deadly Summer Sway  - under their belt. We head to The Checks' downtown HQ, and catch the band mid-jam.
3-4pm
Sampler: The Bats
Nick Bollinger reviews Free All The Monsters - the latest album from stalwarts of the Flying Nun label, The Bats.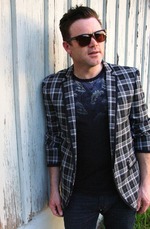 Lindon Puffin
Loyal Lytteltonian Lindon Puffin's latest lovely LP was to be released around the time of the February 22nd Earthquake, but – understandably – was put on the back-burner. He talks about what it means to go on a Hope Holiday, and finally accept that he is a pop song writer.; (Lindon pictured right)
Introducing: Psych Tigers

Gig Guide 
Including reviews of Portishead, Bic Runga, and Flying Nun shows this week. 
4 - 5pm
Manthyng 
Meet Queer-core duo Manthyng, making electro-pop in Dunedin. Hear about earlier top ten hits, and the time one of them kissed Debbie Harry. 
Live: Dudley Benson with the Dawn Chorus
Presenting re-interpretations of Hirini Melbourne's bird waiata as well as fresh takes on his own back-catalogue, Dudley Benson and his a capella ensemble of alt-barbershoppers and beatbox belle-du-jour Hopey One deliver a powerhouse performance inspired by Aotearoa's avian beauty. This programme was recorded at the Waitakere's Oratia Settlers Hall – the final show of Benson's 2010 nationwide tour of marae and community halls.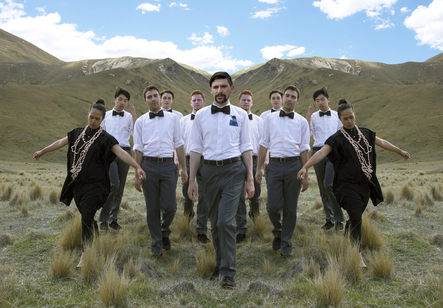 Dudley Benson, The Dawn Chorus, and Hopey One
Music played in this show
2-3pm
Artist: Tom Waits
Song: Knife Chase
Composer: Brennan/Waits
Album: Blood Money
Label: Anti

The Sampler: Tom Waits
Artist: Tom Waits
Songs: Chicago, Raised Right Men, Bad As Me, Last Leaf, Satisfied, Hell Broke Luce, New Year's Eve, Get Lost
Composer: Waits
Album: Bad As Me
Label: Anti


Artist: Captain Beefheart
Song: Big Eyed Beans From Venus
Composer: D Van Vliet
Album: Clear Spot
Label: Reprise

Artist: Dirty Projectors + Bjork
Song: On And Ever Onward
Composer: D Longstreth
Album: Mount Wittenberg Orca
Label: Domino

Artist: My Brightest Diamond
Song: Escape Routes
Composer: S Worden
Album: All Things WIll Unwind
Label: Asthmatic Kitty

Gin Wigmore Interview

Artist: Gin
Song: Black Sheep
Composer: Gin Wigmore, Butch Walker
Album: Gravel And Wine
Label: Universal

Artist: Gin
Song: Poison
Composer: Gin Wigmore, Butch Walker, Dan Wilson
Album: Gravel And Wine
Label: Universal

Artist: Gin
Song: If Only
Composer: Gin Wigmore, Dan Wilson
Album: Gravel And Wine
Label: Universal

Artist: Gin
Song: Man Like That
Composer: Gin Wigmore, Julian Hamilton, Gary Clark
Album: Gravel And Wine
Label: Universal

Artist: Gin
Song: Singin' My Soul
Composer: Gin Wigmore
Album: Gravel And Wine
Label: Universal
 
Artist: Delmore Brothers
Song: Freight Train Boogie
Composer: J Scott/N Nabor
Album: The Roots Of Rock n Roll
Label: Hip O


The Checks interview

Artist: The Checks
Song: Ready to Die/Jetplane/One Sock/Dogs of Perfection
Composer: The Checks
Album: Deadly Summer Sway
Label: Pie Club Records

Artist: Coasting
Song: Portland
Composer: Campbell/Farmer  
Album: You're Never Going Back
Label: M'Lady's

Artist: Wooden Shjips
Song: Rising
Composer: Wooden Shjips
Album: West
Label: Thrill Jockey
3-4pm
The Sampler: The Bats
Artist: The Bats
Songs: Free All The Monsters, Long Halls, Simpletons, See Right Through Me, Fingers Of Dawn
Composer: Scott/Bats
Album: Free All The Monsters
Label: Flying Nun
 
Artist: Atlas Sound-
Song: Parallax
Composer: B Cox
Album: Parallax
Label: 4AD

Lindon Puffin: Interview

Artist: Lindon Puffin
Songs: Outta Reach, Dust + Doubt, Drink Like Police, Drive By, Fresh Cut Rose, Down To The Sea
Composer: L Puffin
Album: Hope Holiday
Label: Private
 
Artist: Psych Tigers
Song: 2011
Composer: S Perry
Album: unreleased
Label: unreleased

Artist: Twin Sister
Song: Bad Street
Composer: Twin Sister
Album: In Heaven
Label: Domino

Artist: Bic Runga
Song: Devil On Tambourine
Composer: Runga/Nielson
Album: Belle
Label: Sony
Artist:HDU
Song: Space Blues
Composer: Dingemans/ Phillips/ Karlis
Album: Crosschannel Multitap
Label: Flying Nun
Gig Guide Bed

Artist: The Dresden Dolls
Song: Dirty Business
Composer: Palmer
Album: Yes, Virginia
Label: Roadrunner

Artist: Joe Satriani
Song: Surfing with The Alien
Composer: Satriani
Album: Joe Satriani: The Electric, An Anthology
Label: Columbia

Artist: Ghost Club
Song: Subterranean
Composer: D Mitchell
Album: Suicide Train
Label: Flying Nun
4-5pm
Artist: Double J and Twice the T
Song: Def To Be Green
Composer: Baysting/ Tala/ Daubney
Album: Def To Be Green
Label: EMI

Manthyng Interview

Artist:Manthyng
Song: Star, Levitate, Thief of Bethlehem, Fling Your Hair, The Shaman
Composer: Manthyng
Album: Love Child
Label: Private

Artist: Manthyng
Song: Farrah
Composer: Manthyng
Album: Manthyng
Label: Private
 

Artist: Blondie
Song: One Way Or Another
Composer: Harry/Harrison
Album: Parallel Lines
Label: Capitol
Live: Dudley Benson with the Dawn Chorus
Artist: Dudley Benson with the Dawn Chorus
Song: Tonight You Belong To Me
Composer David/Rose
Song: Pīpī Manu E; Pūrerehua; Tīrairaka; Pūngāwerewere
Composer (Melbourne)
Song: Rapaki; Nothing Left At All
Composer (Benson)
Album: Unreleased
Label: Golden Retriever Records
 
Artist: Heavy D + The Boyz  
Song: Now That We Found Love
Composer: T Riley
Album: Peaceful Journey
Label: Uptown Records

Artist: Slugabed
Song: Dragon Drums
Composer: Greg Feldwick
Album: Sun Too Bright Turn It Off
Label: Ninjatune