Music 101 for Saturday 15 October 2011
2 - 3pm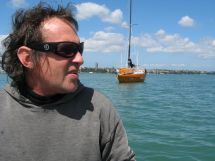 Andrew Fagan
Admiral of the Narrow Seas is the name of former Mocker Andr ew Fagan's new solo album. We join him on his boat to discuss the different parts of his brain dedicated to music and sailing, and his songs of shipwreck.
Dean Wareham/Galaxie 500
Wellington born musician Dean Wareham left to live in New York when he was a kid. He formed alt-rock-shoegaze band Galaxie 500 at Harvard University in 1987, and released three influential records before the trio had a messy break-up. He's back in his homeland this week playing those well-aged songs.
3 - 4pm
Ria Hall
Singer Ria Hall seemed to appear fully-fledged when she sang the theme song 'World in Union' to millions at the Rugby World Cup opening ceremony last month. But Ria already has a long story in local live music, leading to the recent release of her self titled, bilingual debut EP, with synth driven future beats by Riki Gooch. She talks about her Kapa Haka roots, and Te Reo education.
Fabulous Arabia
Mike Fabulous (Blackseeds) and James Milne (Lawrence Arabia) have teamed up to indulge their Northern Soul fetishes for Unlimited Buffet. We speak to them about their mutual admiration.
Gig Guide
4 - 5pm
The Sampler: Shelby Lynne
Nick Bollinger speaks to Alabama country singer Shelby Lynne, about her personal new album Revelation Road.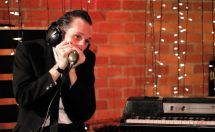 Live: Heart Attack Alley in Session
Heart Attack Alley reigns in its feisty blues harmonica and buzz-guitar-driven live show for this more restrained session in the comfortable surrounds of the Roundhead studios Brick Room. This good-time band features members of Super Groove, The Drab Doo Riffs and The Vietnam War.
Music played in this show
2-3pm

Artist: Paddy Burgin & The Wooden Box Band
Song: Swift Current
Composer: Paddy Burgin
Album: Gentle Landings
Label: Private

Artist: The Mockers
Song: Forever Tuesday Morning
Composer: Curtis/ Fagan/ Wedde
Album: Woke Up Today, The Definitive Collection
Label: Sony

Package- Andrew Fagan

Artist: Andrew Fagan
Song: Get Light, Engoy The Show, Messiah, I Know
Composer: Andrew fagan
Album: Admiral Of The Narrow Seas
Label: Aeroplane Music

Artist: Mutton Birds
Song: Anchor Me
Composer: Mana, McGlashan, Warner
Album: Salty
Label: Virgin

Artist: Velvet Underground
Song: Sister Ray
Composer: Cale, Morrison, Reed, Tucke
Album: White Light/ White Heat
Label: Polydor

Package- Dean Wareham/ Galaxie 500

Artist: Galaxie 500
Songs: Fourth Of July, Flowers, Blue thunder, Tugboat, Strange
Composer: Krukowski, Wareham, Yang
Album: The Portable Galaxie 500
Label: Ryko

Artist: The Chills
Song: Part Past Part Fiction
Composer: Phillips
Album: Submarine Bells
Label: Flying Nun

Artist: Teen Fortress
Song: Leaving
Composer: Z Doney
Album: Learning
Label: Private

3-4pm

Artist: Prince Tui Teka
Song: Po Mai
Composer: trad
Album: Prince Tui Teka: The Greatest, 45 Hits
Label: BMG

Package- Ria Hall

Artist: Ria Hall
Songs: Ko Au Ko La, One, I Am A Child, Best Of Me
Composer: Ria Hall
Album: Ria Hall EP
Label: Private

Artist: Mark De-Clive Lowe
Song: Hooligan
Composer: De Clive Lowe
Album: Renegades
Label: Tru Thoughts

Artist: Robin Hannibal
Song: Plastic
Composer: Hannibal
Album: Bobby
Label: Plug

Artist: Lord Echo
Song: Honest I Do
Composer: August
Album: Melodies
Label: Economy

Package- Fabulous/ Arabia

Artist: Fabulous/Arabia
Songs: Ballad of State Highway 1, Eugenics, Southern Gentlemen, Up To My Neck In Shit, Perm
Composer: August/ Milne
Album: Unlimited Buffet
Label: Economy

Artist: Spartacus R
Song: Rapata
Composer: Spartacus R
Album: The View
Label: Loop

Artist: The Bats
Song: See Right Through Me
Composer: The Bats
Album: Free All The Monsters
Label: Flying Nun

Gig Guide

Artist: HDU
Song: Amino
Composer: Karlis, Dingemans, Phillips  
Album: Memento Mori
Label: Flying Nun

Artist: M83
Song: You, Appearing
Composer: A Gonzalez
Album: Saturdays =Youth
Label: EMI

Artist: Gaslamp Killer
Song: Fun Over 100
Composer: W Bensussen
Album: Death Gate
Label: Brainfeeder

Artist: Pumice
Song: Eyebath
Composer: S Neville
Album: Pebbles
Label: Private

4-5pm

Artist: Jack White
Song: You Know That I Know
Composer: Hank Williams
Album: The Lost Notebooks of Hank Williams
Label: Columbia

The Sampler: Shelby Lynne

Artist: Shelby Lynne
Songs: Revelation Road, Heaven's Only Days Down The Road, Toss It All Aside, I Want To Go Back, Lead Me Love, Woebegone, I'll Hold Your Head
Composer: Shelby Lynne
Album: Revelation Road
Label: Everso

Artist: Steve Earle
Song: Heaven or Hell
Composer: S Earle
Album: I'll Never Get Out Of This World Alive
Label: Newwest

Live: Heart Attack Alley

Artist: Heart Attack Alley
Songs: Ain't It Funny, Cryin', Don't Waste My Time, My Beating Heart, Slave To Your Mojo
Composer: K. Gallagher / C. MacFehin / K. Steven
Album: Unreleased
Label: RNZ recording

Artist: The Monsters
Song: Cry
Composer:
Album: Pop Up Yours
Label: Voodoo Rhythm

Artist: Delaney Davidson
Song: I'm So Depressed
Composer: Abner Jay
Album: Bad Luck Man
Label: Voodoo Rhythm

Artist: Abner Jay
Song: Woke Up This Morning
Composer: Jay
Album: True Story of Abner Jay
Label: Mississippi Records

Artist: Dance Exponents
Song: Darlin I Say Goodbye
Composer: Luck
Album: Nature's Best III
Label: Sony