Music 101 for Saturday 8 October 2011
2-3pm
Portishead
We ask Geoff Barrow from revived Bristol band Portishead what went wrong the first time around, why they're touring now, and about Beth Gibbons' shy stage manners.
Chris O'Connor
Poly-rhythms abound when local drummer Chris O'Connor tests a theory on the relationship between rhythm and harmony.
Bert Jansch
We farewell influential acoustic guitarist and singer Bert Jansch, who died this week.
Mono
Japanese noisescapers Mono brought their drawn-out loud-quiet-loud sound to New Zealand recently. We speak to them about their evolution over 12 years together.
3-4 pm
Bella Kalolo
Soul singer Bella Kalolo is currently playing shows in support of her debut solo album Without The Paper. Bella talks with Nick Atkinson about her ties with Samoa, playing Glastonbury and missing Mum.
Rip It Up: Leonie Hayden
Magazine editor Leonie Hayden was one of the casualties when the glossy monthly Real Groove merged with weekly freebie Groove Guide. A year on, she has a new gig as editor of long-running local title Rip It Up. We speak to Leonie Hayden about the politics of publishing.
Gig Guide
4-5 pm
Live: Princess Chelsea in session
"I'm kinda like New Zealand's answer to Katy Perry… but with a vintage aesthetic". So says Chelsea Nikkel a.k.a. Princess Chelsea - only partially tongue in cheek - during this charming, fun session, captured live at Roundhead studios in Auckland. Attended by a band including Jonathan Bree of The Brunettes and Little Chief Records, and co-conspirators from Chelsea's former band TeenWolf, we eavesdrop on songs from the album Lil' Golden Book. These woozy pop tunes feature glockenspiel, xylophone and whirly, while telling tales of boyfriends, personality clashes, smoking, drinking, the 'great' Kiwi O.E. …and the end of the world.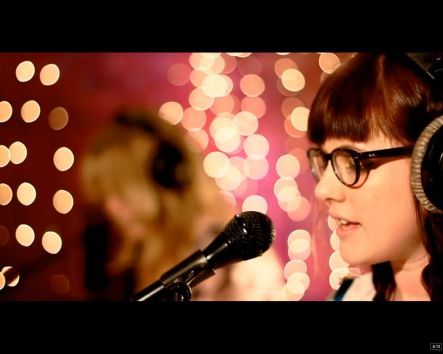 Princess Chelsea live at Roundhead
The Sampler: Gang Gang Dance
Nick Bollinger reviews new music from noise-rockers-turned-beatmakers Gang Gang Dance.
Music played in this show
2-3pm
Artist: Massive Attack
Song: Heat Miser
Composer: De Vries/ Del Naja/ Hooper
Album: Protection
Label:Circa
Package- Portishead
Artist: Portishead
Songs: Glory Box, Sour Times, Strangers
Composer: Barrow/Gibbons/Utley
Album: Roseland NYC Live
Label: Polydor
Artist: Portishead
Songs: Machine Gun
Composer: Barrow/Gibbons
Album: Third
Label: Island
Artist: Portishead
Song: Silence, Threads
Composer: Barrow/Gibbons/Utley
Album: Third
Label: Island
Artist: Portishead
Song: Chase The Tear
Composer: Barrow/Gibbons/Utley
Album: n/a
Label: Amnesty International
Artist: Portishead
Song: Silence
Composer: Barrow/Gibbons/Utley
Album: Third
Label: Island
Artist: Silver Apples
Song: Oscillations
Composer: Taylor/ Simeon
Album: Silver Apples
Label: Kapp
Artist: Bjork
Song: Virus
Composer: Gudmundsdottir,Sjon
Album: Biophilia
Label: Polydor
Package- Chris O'Connor
Artist: John Maus
Song: Quantum Leap
Composer: Maus
Album: We Must Become The Pitiless Censors Of Ourselves
Label: Upset The Rhythm
Artist: Lana Del Ray
Song: Video Games
Composer: Del Ray
Album: Video Games
Label: Stranger
The Strand- Bert Jansch
Artist: Bert Jansch
Song: The Edge of a Dream
Composer: B Jansch
Album: Recorded by BBC World Service
Label: n/a
Artist: Daughter
Song: Landfill
Composer: Tonra
Album: His Young Heart
Label: Private
Package- Mono
Artist: Mono
Songs: Follow The Map, The Battle To Heaven
Composer: Takaakira "Taka" Goto, Tamaki, Yasunori Takada, Yoda
Album: Hymm to the Immortal Wind
Label: Valve
3-4pm
Artist: Rufus feat. Chaka Khan
Song: Ain't Nobody
Composer: Wolinski
Album: Stomping At The Savoy
Label: Warner
Package- Bella Kalolo
Artist: Bella Kalolo
Song: Get Ready    
Composer: Isobel Kalolo
Album: Without The paper
Label: Bella Sounds
Artist: Bella Kalolo
Song: Without The Paper, Mama's Eyes  
Composer: Isobel Kalolo, Alistair Isdale
Album: Without The paper
Label: Bella Sounds
Artist: Ria Hall
Song: Best Of Me
Composer: Ria Hall
Album: Ria HallTu
Label:Tu Taniwha
Artist: Orange Juice Edwyn Collins
Song: Rip It Up
Composer:Collins
Album: A Causal Introduction 1981/2001
Label: Setanta
Package- Leonie Hayden Rip It Up
Artist: Blood Orange
Song: Champagne Coast
Composer: Blood Orange
Album: Coastal Groove
Label: Domino
Artist: Feist
Song: Comfort
Composer: Feist
Album: Metals
Label: Polydor
Package- Critic's Choice
Artist: Fabulous/ Arabia
Song: Perm
Composer: August/ Milne
Album: Unlimited Buffet
Label: Economy
Gig Guide Bed
Artist: Tuneyards
Song: Bizness
Composer: M Garbus
Album: Who Kill
Label: 4AD
Artist: Soul II Soul
Song: Back to Life (However Do You Want Me)
Composer: Romeo, Wheeler, Law, Hooper
Album: Dance R&B Anthems: The Platinum Collection
Label: Vicious
Artist: Shapeshifter
Song: New Day Come
Composer: Shapeshifter
Album: Soulstice
Label: Truetone
Artist: Timothy Blackman
Song: A Dance
Composer: T Blackman
Album: Everybody Needs Something To Hold On To
Label: Homealone
4-5pm
Princess Chelsea, Live at Roundhead
Artist: Princess Chelsea
Songs: Too Fast To Live, Positive Guy Meets Negative Man, The Cigarette Duet, Overseas, Frack
Composer: Chelsea Nikkel
Album: Unreleased
Label: live session
Artist: Princess Chelsea
Song: Your Woman
Composer: Jiyoti Mishra
Album: Unreleased
Label: live session
Artist: The Brunettes
Song: I Miss My Coochie Coo
Composer: Bree/Mansfield
Album: Boyracer EP
Label: Lil Chief
Artist: Flea Bite
Song: Cat Scratch Fever
Composer: R Nathan
Album: In Your Ear
Label: Jayrem
Artist: Esben and The Witch
Song: Hexagons II (The Flight)
Composer: Esben and The Witch
Album: Hexagons EP
Label: Matador
Artist: Alexander Harmer
Song: Above The Clouds
Composer: Alexander Harmer
Album: unreleased
Label: Private
The Sampler: Gang Gang Dance
Artist: Gang Gang Dance
Songs: Chinese High, Adult Goth, Midkilla, Romance Layers, Thru and Thru, Glass Jar
Composer: Gang Gang Dance
Album: Eye Control
Label: 4AD
Artist: CSS
Song: La Liberatión
Composer: A Cintra
Album: La Liberatión
Label: Subpop