Music 101 for Saturday 26 March 2011
Saturday 26 March
2-3 pm
Funk Architect George Clinton talks about finding inspiration, sampling the samplers and funkin from outer space. Listen to George Clinton here.
We talk with Melbourne-based no-wave and afrobeat inspired No Zu about their niche sound, and the merits of aggressive dancing. Listen to No Zu here.
Nick Bollinger reviews the new album from Of Montreal, 'False Priest' for The Sampler. Hear more from The Sampler here.
3-4 pm
Justin Townes Earle plays American roots music live in the studio. Listen to Justin Townes Earle in session here.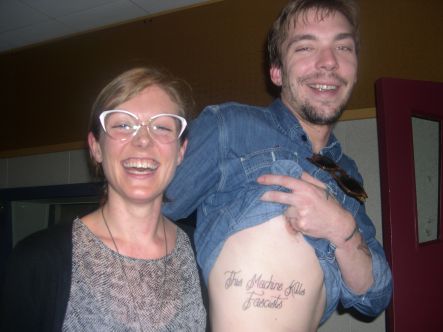 Attila The Stockbroker, real name  John Baine, is a politically active punk poet and road warrior who's spent the last 30 years performing uncompromising, mile a minute verse. For Access All Areas, Attila The Stockbroker joins us on the eve of his 'A Bang and A Wimpey' tour of NZ. Listen to Attilla The Stockbroker with Trevor here.
We catch up with local song bird Anna Coddington on the brink of a huge national tour in support of her new album Cat and Bird.
4-5 pm
Musical Chairs: Thumb to the Highway (Part 1 of 2) Tom Thumb's Blues
Rick White, founder and bass player of 60s Wellington blues-rock band Tom Thumb joins singer Bruce Sontgen, to talk about their lives breaking the musical mould. More Thumb To The Highway sound and pictures here
Gomez vocalist Ben Ottewell shares tales of 'Shapes and Shadows', his debut solo album, with Marty Duda here.