Music 101 for Saturday 19 March 2011
Saturday 19 March
Music 101 Live at WOMAD Taranaki 2011
The World of Music Arts and Dance festival is back in the leafy Bowl of Brooklands in New Plymouth this weekend to entertain and enlighten a friendly, diverse audience.
Music 101 is broadcasting live from the WOMAD festival, with hosts Kirsten Johnstone and Emma Smith bringing you live sessions and interviews from Amadou & Mariam, Nitin Sawhney, Don Letts, Hanggai, Calypso Rose, Bob Brozman, Horace Andy, Sidestepper, Rajendra Prasanna, Tanya Tagaq, Nga Tae/Paddy Free, a guided tour of the site and music performances fresh from the main stage.
Watch this space for photos, and join us on Twitter for live updates .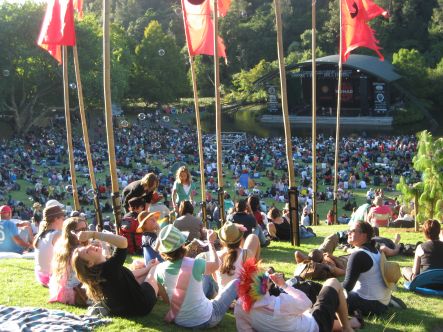 WOMAD Taranaki, photo by Peter De Graaf