Music 101 for Saturday 15 May 2010
Saturday 15 May

2-3pm
Los Angeles retroist Dâm-Funk brings the boogie back to the future - we speak to him following his sexy smooth NZ shows.
Nick Bollinger listens to a new release by Sax player turned synth obsessive, Lewis McCallum,
and part two of our ethnomusicological probe into the nooks and crannies of NZ music with Jordan O' Jordan. This week: Wanganui and Wellington. Listen here
3-4pm
Clever folkies Rosy Tin Teacaddy won the Wild Creations D.O.C. residency in the Tarawera region, scene of the erruption that buried the Pink And White Terraces - they made an audio diary and sent us new songs ahead of their stage show at Bats in Wellington. Listen here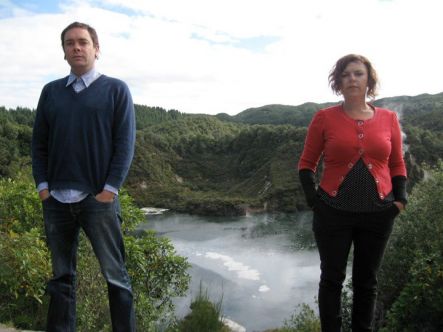 Billy Earl and Betty Grey - Rosy Tin Teacaddy - at Lake Tarawera(more photos at their blog, here)
Nick Bollinger reviews the debut solo album from ex-Goldenhorse singer Kirsten Morrell.
Seattle based Band Of Horses have just released their third album, Infinite Arms - singer Ben Bridwell talks about their new collective approach. Listen here
And a roundup of imminent live music events.
4-5pm
We speak to rockabilly queen, Wanda Jackson - listen here
Live: Gin & The Cardinals at the Powerstation
Gin Wigmore first came to prominence as the unknown 16 year-old Aucklander who won the inaugural International Song Writing Competition in 2004, triumphing over 11,000 songwriters from 77 countries.
In short time she was in Hollywood recording her debut album for Universal Motown Records assisted by respected band The Cardinals, known for their work alongside Ryan Adams.
The Cardinals joined Gin for her first New Zealand gig at The Powerstation in November 2009, ahead of the album 'Holy Smoke' debuting at the top of the charts. RNZ recorded the live show and that is what we'll hear today. Listen here
George And Queen talk about their macabre subject matter and new album.