Music 101 for Saturday 8 May 2010
2-3 pm
Arhoolie Records founder Chris Strachwitz has a life long passion for documenting some of America's finest roots musicians. Trevor Reekie talks to him for For Access All Areas. Listen here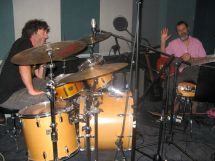 Doug Jerebine and Miles Gillette in RNZ Auckland Studio
Doug Jerebine, legendary NZ guitarist who played in The Brew in the 60s and set the template for Human Instinct returns from over 30 years living within the Hare Krishna religion in India to play us a couple of songs on his own invention- the raag-taar. Listen here
3-4 pm
The Flying Nun is dusting off her habit - we talk to Grayson Gilmour, Roger Shepherd and ex Sneaky Feeling David Pine about the label's revival. Listen here
Auckland's Artisan Guns peel back their melodramatic pop layers to reveal a soft folky centre- through song! Listen here
American troubador Jordan O'Jordan takes us on a tour through New Zealand's musical nooks and crannies - this week: Hamilton. Listen here
And a nationwide roundup of gigs - just announced, coming up this week and our picks of the past week.
4-5 pm
South Auckland rapper Young Sid talks about new beginnings, and his struggles to keep his hood's message from tarring the messenger.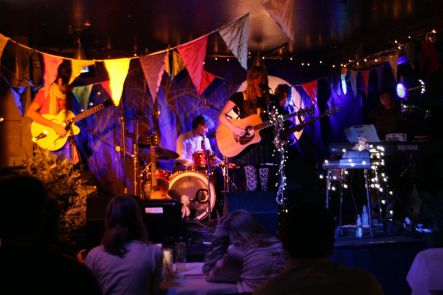 Miriam Clancy and band live at the Bacco Room, photo by JP Winger
Live: Miriam Clancy Live (a little later than previously advertised)
Miriam Clancy's second album Magnetic made music reviewer Nick Bollinger "think of the daring, eclectic and uncategorisable things that some of the supposedly mainstream pop singers did back in the 60s - people like Dusty Springfield or Sandie Shaw … the starting point is always a strong song with the fundamentals like hooks and good lyrical ideas firmly in place. Which means that a more stripped down track … is no less effective than the more epic ones."
Radio New Zealand recorded Miriam and her equally accomplished six-piece band, live in Auckland's Bacco Room for the launch of Magnetic.