Music 101 for Saturday 1 May 2010
1 May 2010
2-3 pm
Christchurch MC J-Dubs gets a helping hand from his local heroes. Listen here
P-Money talks us through cuts from his new album, which forays into boogie funk, stadium rave and house music as well as his first love, hip hop.
Nick Bollinger reviews new reggae from the East 'Coast'.
3-4 pm
Meet new local talent at the Borderline Music Festival, which saw around 30 little-known acts play at St Kevins Arcade in Auckland during Easter. Listen here
Balladeer/scientist Jordan O'Jordan plays us a song or two before departing on a tour of NZ's musical nooks and crannies. Listen here
Nick Bollinger reviews original takes on old folk tunes from Forbidden Joe.
4-5 pm
Live: Liam Finn and Friends: BARB
A collaboration between friends, an Auckland super group… a bit of fun. This is BARB - Liam Finn, Eliza-Jane Barnes, Connan Mockasin, James Milne (Lawrence Arabia), Seamus Ebbs (drums) and Jol Mulholland (bass); Recorded by Radio New Zealand Live at The Power Station in Auckland, August 2009.
On the night the band played a set from each songwriter. Here we have a selection of Liam Finn's songs taken from his successful solo debut 'I'll Be Lightning'; Liam & E.J.'s recent EP Champagne In Seashells; and a collaboration - the group's "theme song" Having A Baby. Listen here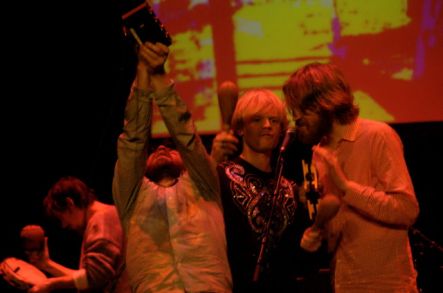 Barb - L-R, Seamus, Liam, Connan and James- photo by Petrajane
Dubbed "Spooky Adu" by her latest producer Steve Albini, Ghanian New Zealander Leila Adu returns home to play songs from her latest album, 'Dark Joan'.