Music 101 for Saturday 13 March 2010
Saturday 13 Mar 2010
Live At WOMAD Taranaki 2010
Music 101 comes to you live today from WOMAD Taranaki, where a feast of colourful music is on offer.
Artists from places as far flung as Ethiopia, France, Tibet and here in NZ converge on the beautiful Bowl of Brooklands for a weekend of diverse music, arts, dance, food and fashion, in a family-friendly exchange of culture and good will.
The Music 101 team is live in the field. Kirsten Johnstone, Trevor Reekie and Emma Smith will talk with artists, host live-to-air sessions, and share some of the performances from the main stage.
Hopefully we'll hear from: Nickodemus, Babylon Circus, Mariem Hassan, Ojos De Brujo, Kamel El Harrachi, Blue King Brown, Amal Murkus, Ross Daly and Paula Henderson of WOMAD UK.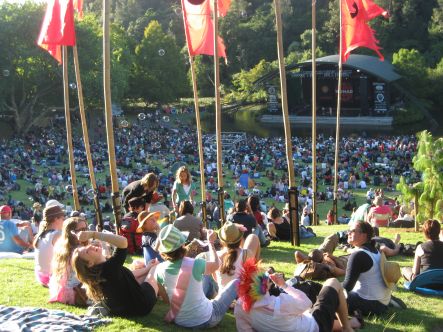 You can listen to segments of the show, and see photos of the team hard at work here